If you're looking for a real Cajun food experience, you can find it at LeBleu's Landing in Sulphur, Louisiana.
The restaurant is named for the earliest settler of this southwest corner of Acadiana, Bartheleme Blaise LeBleu. The family history includes a lot of Jean Lafitte lore. Obviously Lafitte loved good food. I can be sure of that since he was French. Have you ever known a Frenchman who didn't love good food?
Shelley and Kevin Downs, LeBleu's Landing owners, are carrying on the tradition in a big way. They have a friendly family oriented place where you can dine on good Cajun food either as entrees or from their plentiful buffet. They also have something unusual. When you enter the shop side of the building, you are facing a huge window. If you arrive at the right time, you can see another Cajun tradition being performed before your eyes.
Cajuns are known for many types of food, mostly seafood but the most traditional food is boudin. Originally this spicy Cajun sausage was made by families when they butchered their hog. Here, you can see it made from scratch then buy your own to take home or eat it there.
This was what we went to see primarily. Matthew Fruge met us and explained how he was going to make the boudin. He told he that he had been making boudin at home since he was a youngster. Some things have changed over the years. They no longer use the organs or the blood. Instead he uses pork chops. We were able to watch the entire process through that big glass window. He explained that the entire process takes about an hour and a half to two hours if you count the cooking time. He makes boudin every second day so check before your visit.
He had already boiled the pork and rice and proceeded to feed the steaming hot pork mixed with the rice, onions and spices thought the grinder. As he ground he added a bit of the broth he had used to cook the pork.
Here he used a big commercial grinder but he told us that at home they used a smaller one. Then he carefully scraped it all into a large stainless steel container.
Next step involved stuffing it into the casing. He dumped the mixture into a black iron cylindrical container that was used to pump it out into the casing which he then carefully fed it onto a pipe-like fitting that he called a "horn" on the black container.
Presto! Within minutes, the meat and rice mixture was filling the casings and Matthew was twisting it off to appropriate length of sausage.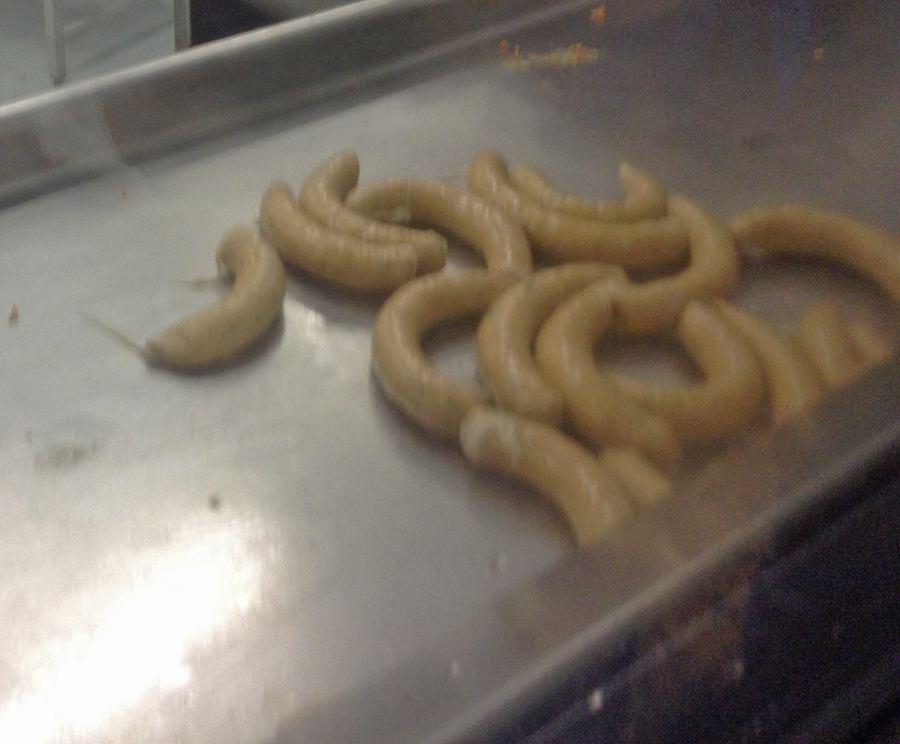 It was a spicy delicious treat. For those who do not like it quite as spicy, he makes a milder version as well. Just watching it made is part of the magic of boudin.
For more info: