Published 11-29-2018
Say "sandwich" in Pittsburgh and it conjures up a different image than anywhere else in the world. In Pittsburgh, a sandwich is often a Primanti created by Joe Primanti during the depression. For those of you who have never been to Pittsburgh, that's a big sloppy, delicious concoction consisting of meat, cheese, a haughty helping of French fries, cold slaw, and tomatoes all stuffed between two slices of fresh Italian bread.
The Primanti was born during the depression. Joe Primanti parked his sandwich cart to feed hungry truckers and blue collar workers in the Strip District of Pittsburgh. In case you don't know what the Strip is there's more here.
The truck did so well that Joe brought his brothers, Dick and Stanley into the business and hired their nephew John DePriter as a cook. They began serving their hungry customers from a small sandwich shop at 18th and Smallman.
One day while testing a load of potatoes from a local trucker, they got an inspiration. What if they piled all the sides on the sandwich? Truckers, their main customer base who needed to grab a quick meal and get back on the road, could hold this in one hand and get back to driving. Their livelihood depended on how fast they could get their loads delivered.
The truckers as well as the other customers loved it. A new Pittsburgh tradition was born. (Pittsburgh is big on traditions.)
Joe did so well with this unique sandwich he retired to California in the 40s. His family continued the tradition until the 70s. Then a new face took over the business, Jim Patrinos, but the tradition continues.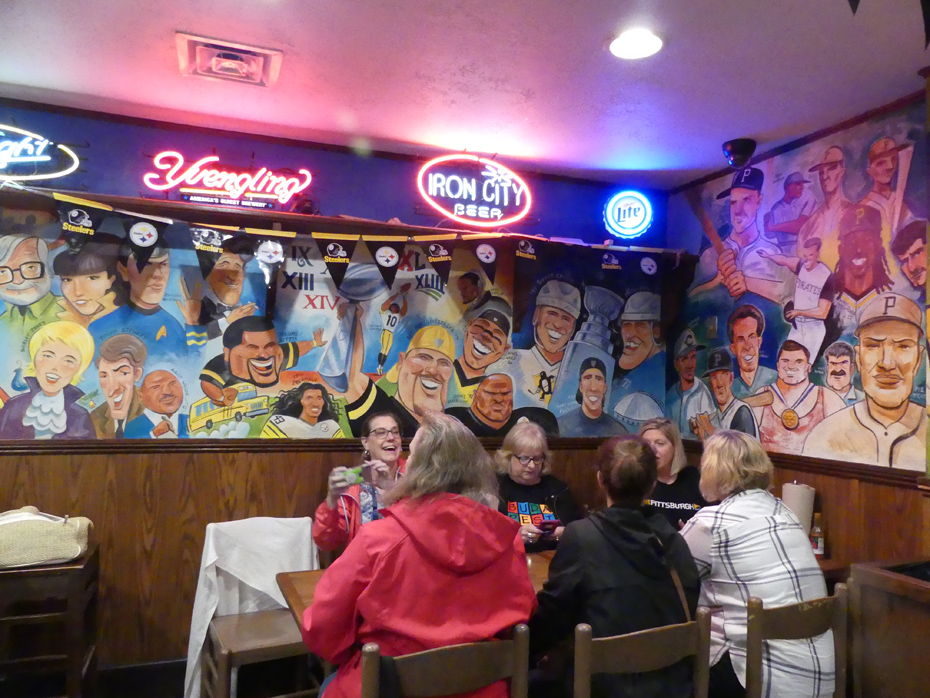 This visit I got to find out why "The Primanti" has spread from a tiny storefront in Pittsburgh's Strip District to seven states and counting. The interior of the original restaurant on Smallman Street is cute. The walls are covered with a giant mural of Pittsburgh sports heroes and a few other famous local sons and daughters like Fred Rodgers, Shirley Jones, Jimmie Steward, and August Wilson. But the décor alone can't explain the fame of Primanti.
When our friendly waitress brought our sandwiches, no tray; all seven of them all snuggled in waxed paper in her arms, we found out the secret. It's their "Almost Famous" sandwich. Unchanged since the 1930s, those babies were unique. I ordered the kielbasa and cheese. It stood over six inches tall and was filled with goodies. I admit, I had to deconstruct my sandwich to eat it. And I've been told I have a big mouth.
If you're either super hungry or crazy, you can order extra cheese for just fifty cents. Their pickles are delicious too. We had a helping of those to share. Needless to say, there were lots of leftovers by the time we were too full to eat one more bite.
It's no wonder Primanti Brothers' is named a James beard American Classic and included in Patricia Schultz's book, 1000 Places to See Before You Die, USA and Canada.
We'd love your comments!