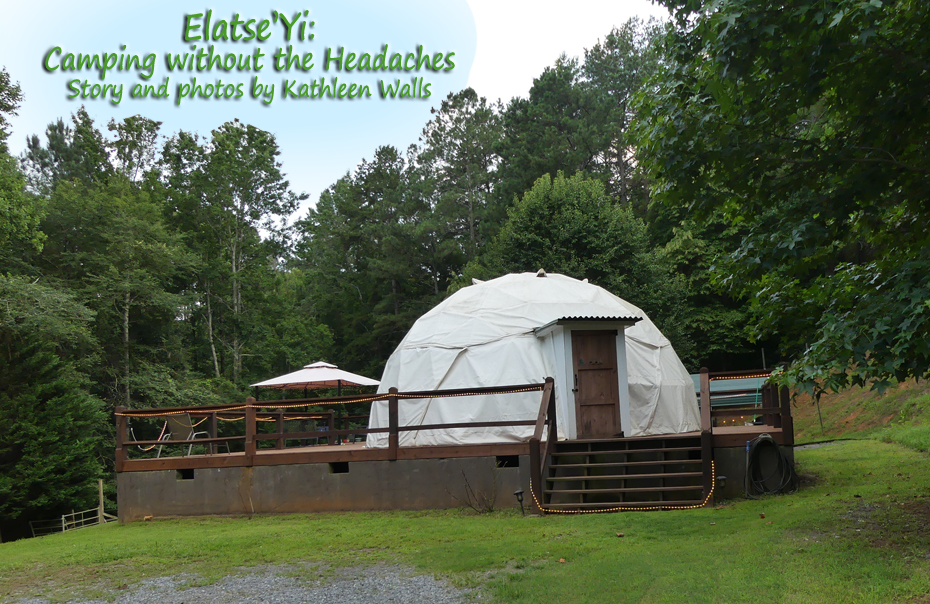 Published 8-11-2019

In the not too distant past, if you wanted to get close to nature you needed to pack your camping supplies or hitch up your RV. I just did a magnificent close to nature trip with neither of those things. How? I went glamping in Ellijay in the North Georgia Mountains.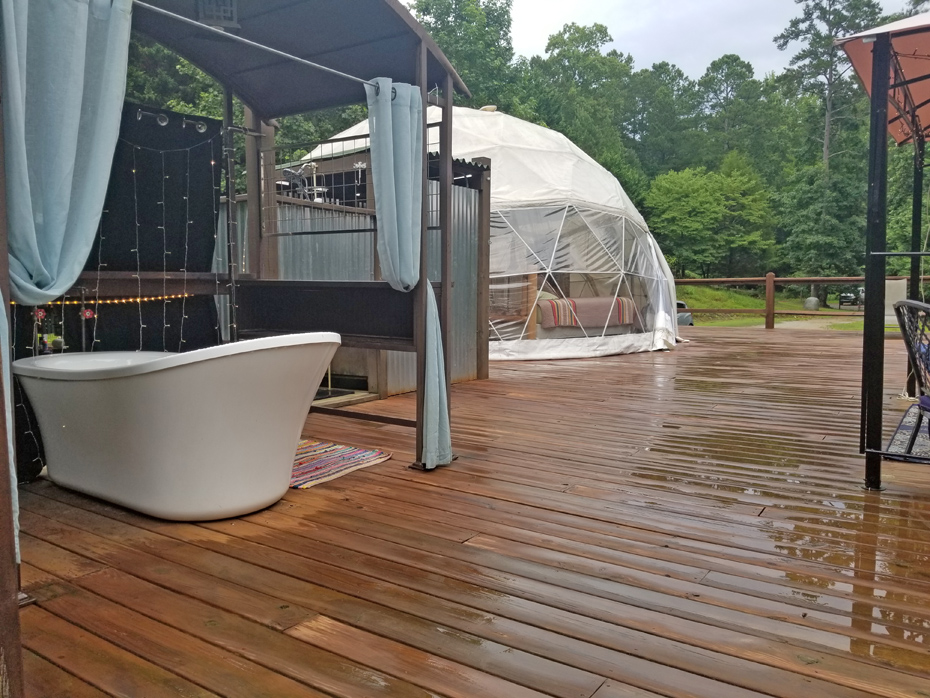 My home base was Elatse'Yi , a Cherokee word meaning "verdant, green earth," and got me close to nature without any fuss on my part. I drove up the mountain on a winding gravel road. Rebekah Buchanan greeted me and showed me to my glamping home for the next few days. As I admired my lodging, an Argentine geodesic dome far from civilization on their six-acre farm, Rebekah told me a little about the dome.
Basically it is a large tent shaped like a hemisphere with triangular supports that are structurally rigid and distribute the weight and stress throughout the structure, making them able to maintain very heavy loads for their size. It is about 30 feet diameter and furnished comfortably. There are three fans to keep it cool in summer and a heater for winter. The fans kept a green parachute billowing over head inside as a dream catcher. It might have gotten a little warm in midday but then I was busy exploring the many attractions in Ellijay.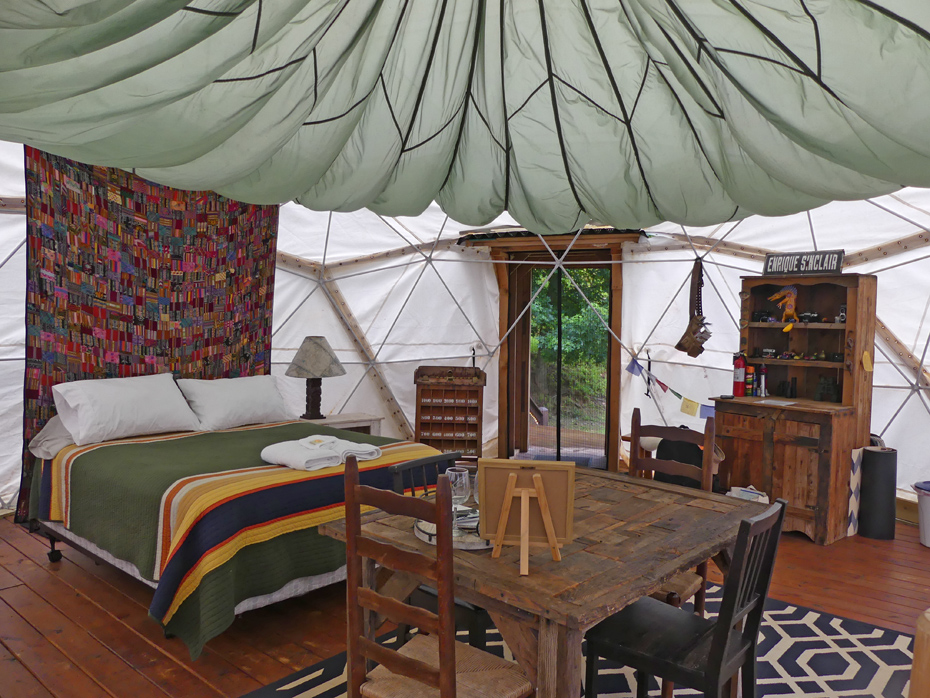 The dome sat on a fenced wooden dock. Towards the rear of the dock I had a private outdoor bathroom and shower and a deep soaking tub. There is a canopied picnic table and chairs if you want to dine outside.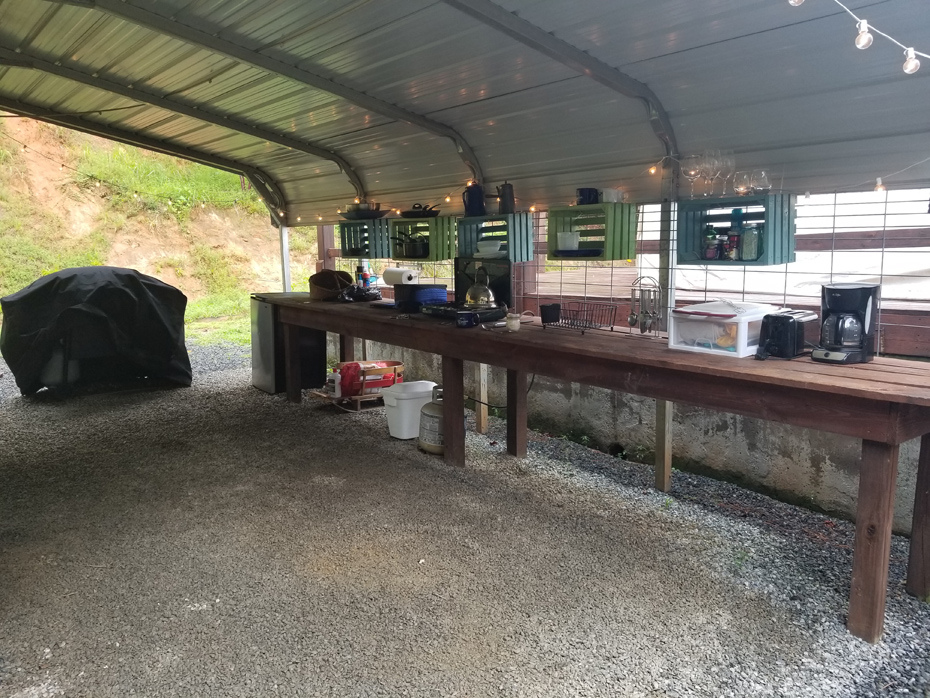 Go down a few steps in back and there is a well-stocked cowboy kitchen. It even has a barbeque pit if I wanted to do some serious cooking. I enjoyed cooking an omelet on my butane stove with fresh eggs from my neighboring chickens stocked in the small fridge. Set back in the yard facing the woods behnd me there is a campfire circle and chairs. The kitchen is even stocked with the makings for some-mores.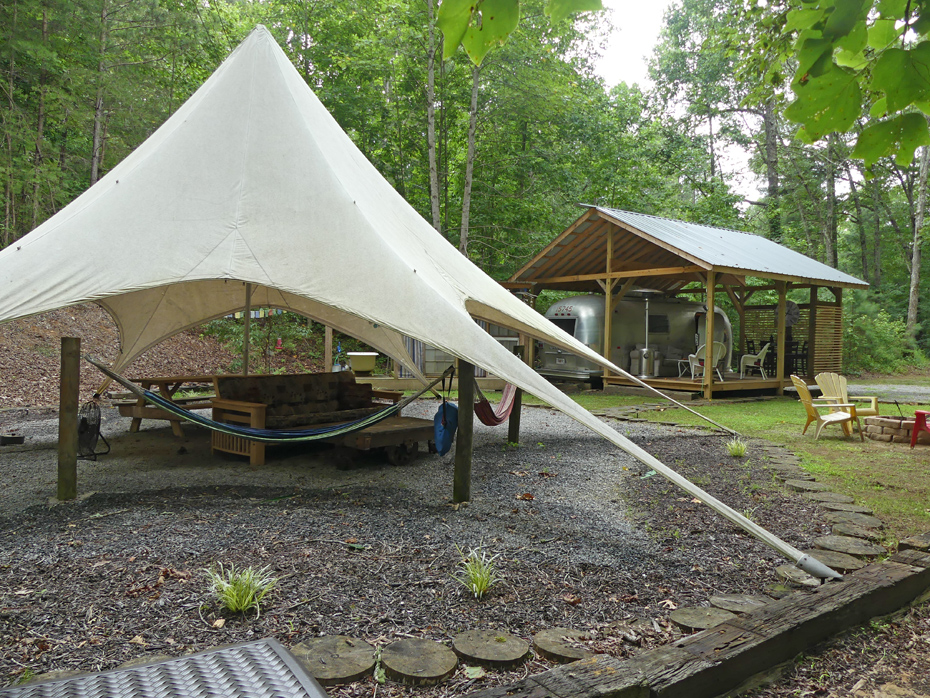 Rebekah drove me around to view the other choices for glampers on her farm. There's the Tree Loft Airstream. It's a renovated 1969 Airstream with so much more added. The raised front porch is furnished with an outdoor living and dining room. It has a star shade tent with picnic table, seating and a hammock. The fire pit is between the airstream and tent. The outdoor bathroom and tub is enclosed with antique looking glass windows. The icing on the cake here is a little tree house loft perched midway up in the trees that surround the site.

The Pavilion is a 1977 Airstream set deep into the woods. It has an oriental feel to it. The airstream is completely renovated and set up on a raised deck which is furnished with a complete living room and dining area. You access your outdoor bath and shower from the deck. There is a wooden Japanese soaking tub on the deck. Naturally you have a fire pit to make those some-mores and roast hot dogs.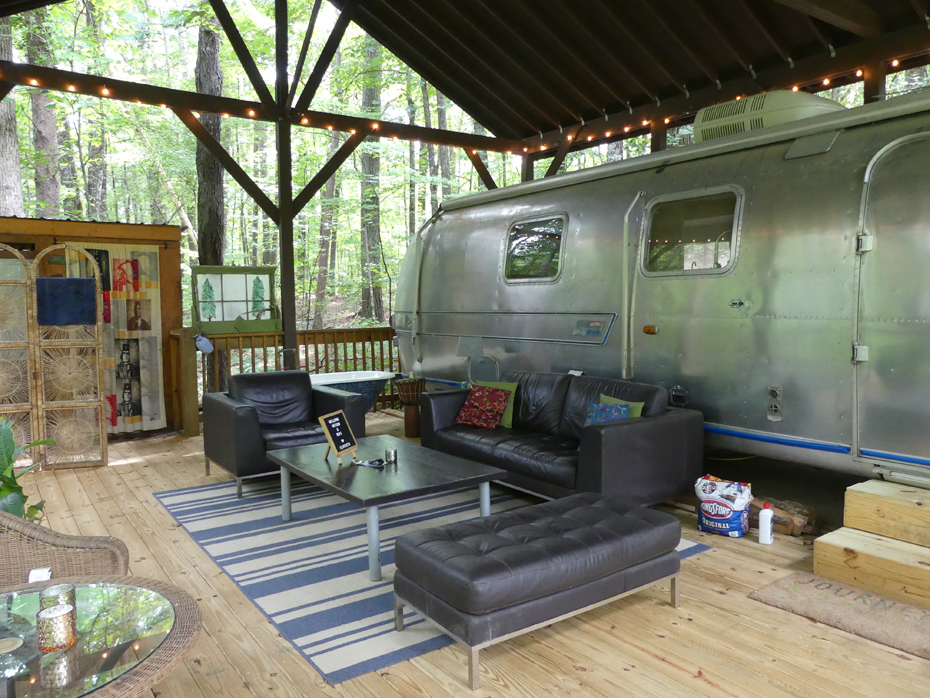 If you want a bit more civilization, you can stay at a cabin set deep in a scenic wooded area. Choose from a log cabin on a small lake or a rustic timber frame next to a babbling creek.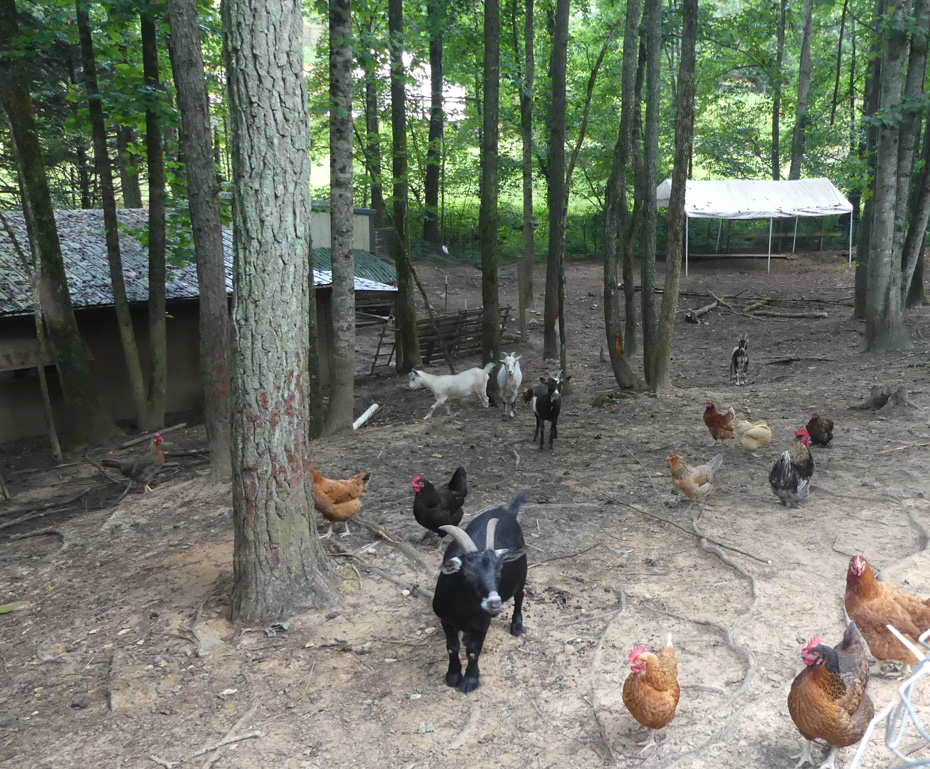 That night I slept soundly with chickens, goats, and a Great Pyrenees named Max for neighbors. Next day I set out to explore all Ellijay has to offer. Here's a list of things to see and do while glamping at Elatse'Yi.
Carters Lake: kayaking or other water sports at man-made, 3200-acre lake. There is a visitor's center with a marina, store, camping and cabin rental, and a seasonal restaurant. Several other water-related spots like Doll Mountain Recreation Area on Carters Lake.

Coosawatee River: Coosawattee River Tubing Company offers shuttled tubing trips on the scenic river.

Antique shopping: Around the square in Ellijay you will find many shops like Main Street Antiques, Antiques on North Main, and Antiques Outback. Another interesting one is Black Bear in East Ellijay.

Expedition Bigfoot: A do-not-miss whether you are a believer or not. This museum is a real-life investigative research hub. Owner, David Bakara, has collected tons of artifacts and interesting information.

Build an Ark Animal Rescue: This is an unusual rescue where you can interact with farm and domestic animals.

Tabor House Museum: This is the oldest house in Gilmer County and houses a Civil War and Native American museum.

Gilmer Arts Gallery and Playhouse: They are just down the block from one another and support all form of the arts. Visual art, live entertainment and more.

Agri tourism: R and A Orchard is a third generation orchard open year round where you can find home-grown apples, peaches, and other produce in the roadside market as well as a small restaurant serving home-style meals and the best peach ice cream ever.

Other agri-tourism options include Engelheim Winery, Cartecay Winery, Fainting Goat Vineyards, Mountain Valley Farm, and more.

Dining: So many choices here. Three good picks but try more if you can since there are so many choices. I dined at Cantaberry, Ellijay Coffeehouse, and Back Porch Bistro. Totally recommend them.

For more info: https://www.northgeorgiaglamping.com
We'd love your comments!
Connect with us on:
| | |
| --- | --- |
| | |
American Roads and
Global Highways has so many great articles you
may want to search it for your favorite places
or new exciting destinations.