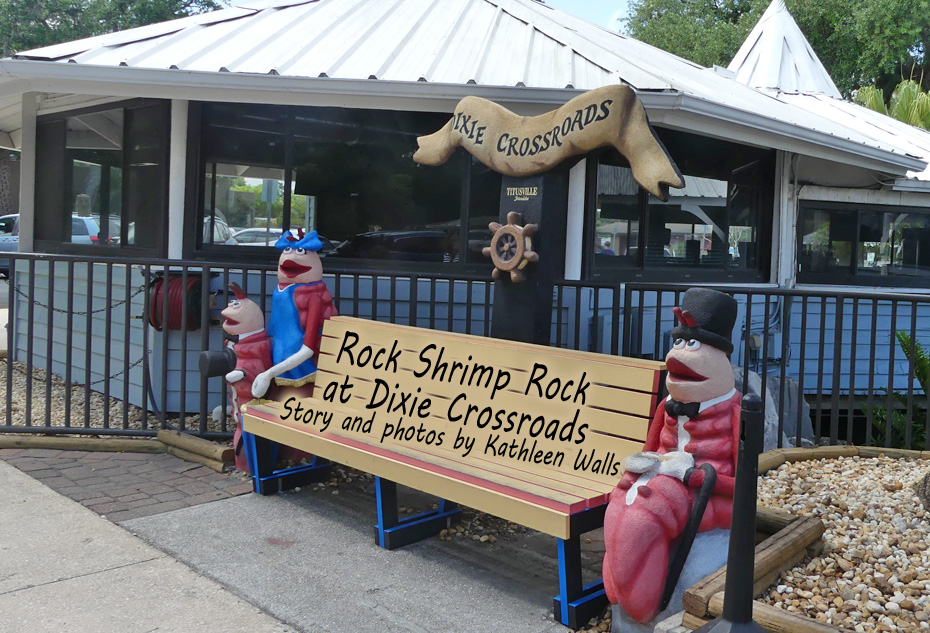 Published 4-26-2019

Seafood lovers, have you ever eaten rock shrimp? If not, head to Dixie Crossroads in Titusville, Florida as soon as you can. These little critters are delicious and there are not too many places you can find them. They are a cross between shrimp and lobster leaning heavily to the lobster side but having the shrimp size. The story of how Dixie Crossroads began serving them is almost as good as the tasty crustacean itself.
TThe story began in the 1960's. Rodney Thompson was developing fiberglass hull shrimping boats. During the late 70's when shrimping took an economic downturn, he began trying to figure out a way to market a hard-shelled shrimp called "peanuts," or "hardheads." Traditional shrimpers considered it a trash catch and tossed them back. They were considered too hard to market commercially due to the size and hard shell.
Rodney and his wife, Mary Jean, opened up a seafood market. They soon found people wanted their seafood cooked. Rodney had cooking experience from his stint in the Air Force so they opened a small 30 seat diner style restaurant called Dixie Crossroads Seafood Restaurant. It served not only rock shrimp but local-caught seafood dinners. They found a way to process and cook the rock shrimp successfully. Daughter and current owner, Laurilee Thompson, suggested they serve it like a tiny lobster by splitting and butterflying it and topping with melted butter.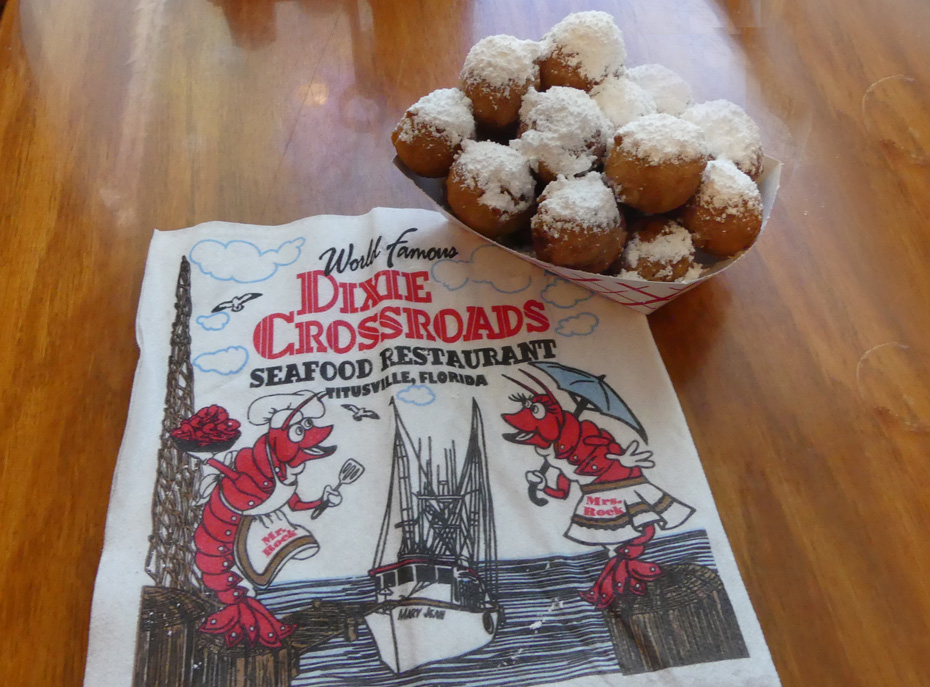 Their recipes were such a success the tiny restaurant grew to a world famous 460 seat sensation. Today it is managed by Laurilee Thompson. Inside it is filled with art, signed photos with testimonial from many astronauts and other famous people who dined there, and usually a crowd of waiting patrons. Believe me, it's well worth the wait. Besides several choices of those luscious rock shrimp, there are many other choices of fresh caught seafood from their own fleet. Then there are their special corn fritters. They are a cross between corn nuggets, Beignets, hush puppies and a taste of Heaven. Probably addictive.
I visited many years ago when I lived in Brevard County and was amazed at the changes. The art work alone is worth a visit. While waiting for a seat you can browse around and admire it. Outside ther are may rock shrimp statures and a bench that is perfect for selfies. You can get some fish food inside and feed the Kio that swim in a pond in front.
Naturally I had the rock shrimp, a basket with the shrimp and a baked potato. My friend had a Mahi Mahi dish she also loved. Yes, they do serve other dishes. Even things besides seafood but for me it's the rock shrimp that is the star of the show.
Laurilee is justly proud of her restaurant. She is a big proponent of using fresh and wild caught seafood. "All the shrimp served at Dixie Crossroads are wild caught not farm raised."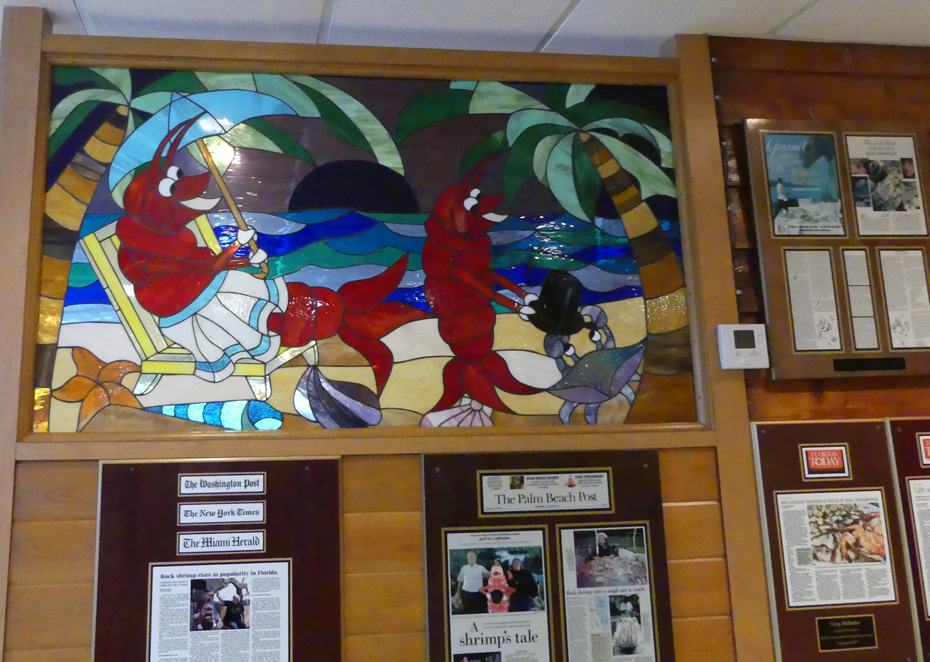 Incidentally Dixie Crossroads is named for a highway not the Deep South. It is located at a crossroads of Dixie Highway which runs from the Canadian border to Miami./p>
Rodney kept his shrimping operation and you can purchase fresh seafood at nearby Wild Ocean Seafood Market which is run by his other daughter, Sherri. /p>
We'd love your comments!