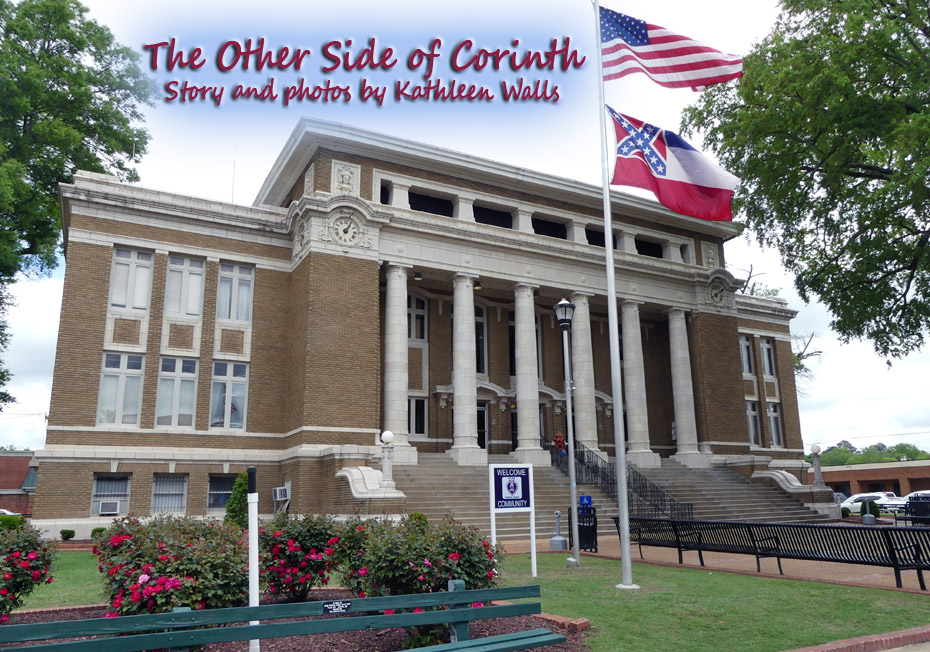 Published 6-25-2019

We all recognize Corinth as a history center. Its Corinth Civil War Interpretive Center detailing the Battle of Corinth and its importance in the Civil War is the first thing most of us think when we hear Corinth mentioned. I do love visiting those spots but here is another side of Corinth that makes it a fun place to visit.
Museums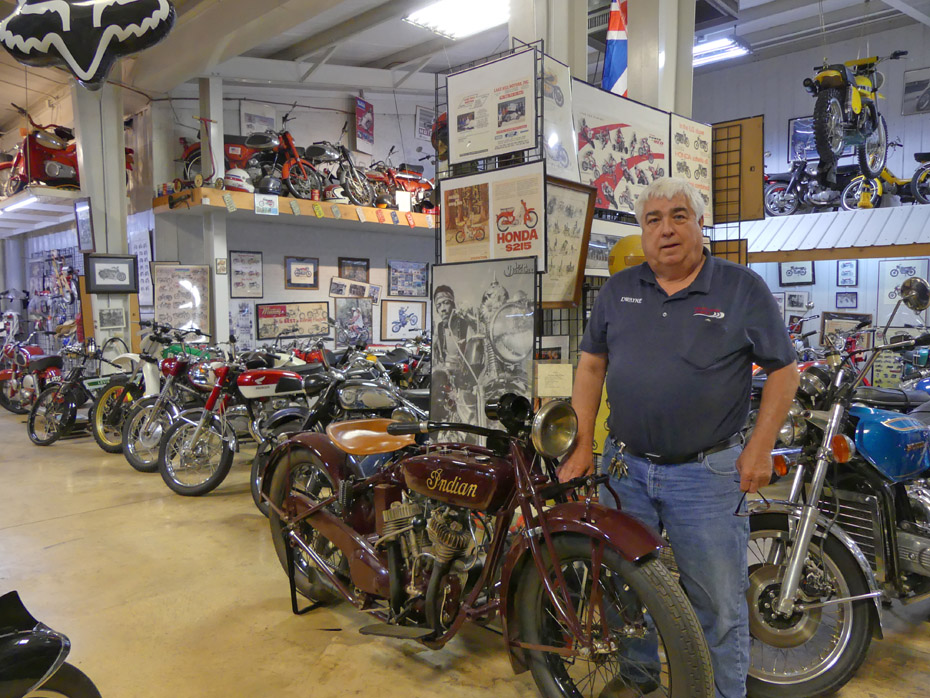 Corinth has some quirky museums that offer a fun visit. The last place you would expect a museum is in the back of Lake Hill Motors. I was enthralled at what I found there. Lake City Motorcycle Museum is a labor of love for owner, Dwayne McLemore. A lifetime rider himself, he had spent 30+ years collecting some unique motorcycles. Some are from his years riding and racing; some are one-of-a-kind collectables.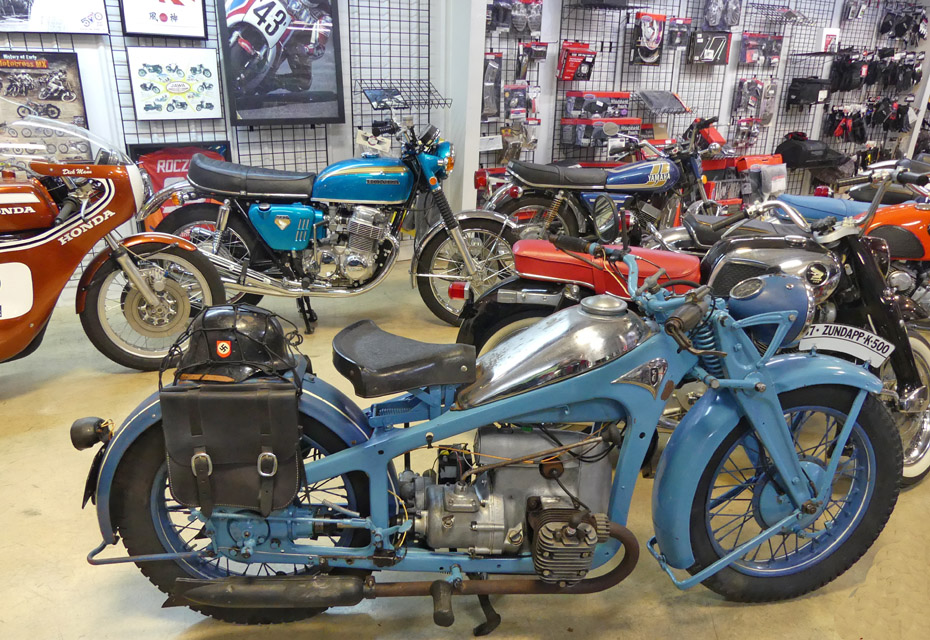 Some of his treasures are a 1953 Indian Motorcycle, the last year the original Indian was manufactured. He has another Indian from 1926. One was a German Zundapp from WWII, a 1937 Flying Squirrel, there's a Cushman Airborne that was originally dropped out of airplanes. He called it a "ratbike." This one is tricked out with all kind of weird stuff. It actually runs. I could go on and on but it's better to go see for yourself.

His grandson, Casey Cochran, is following in the family tradition. One of the exhibits is a 'cycle ridden by the 12 year old when he won in multiple races. He has a picture of the grandson jumping his cycle over a school bus, shades of Evel Knievel. Naturally there are images and artifacts related to that motorcycle daredevil as well.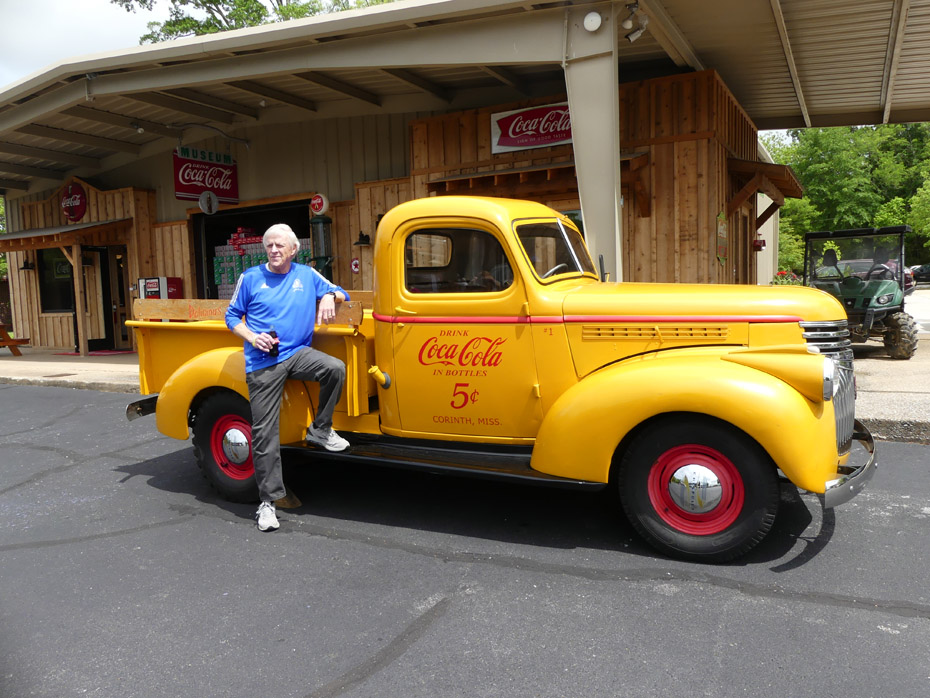 Another off beat museum is The Corinth Coca-Cola Museum. Coke and Corinth have more than a century relationship. Corinth Coca-Cola Bottling Works' collection tells that story. The authentic Coca-Cola memorabilia and old-fashioned drink machines from years gone by will evoke nostalgic memories. The 1946 delivery truck outside was a favorite.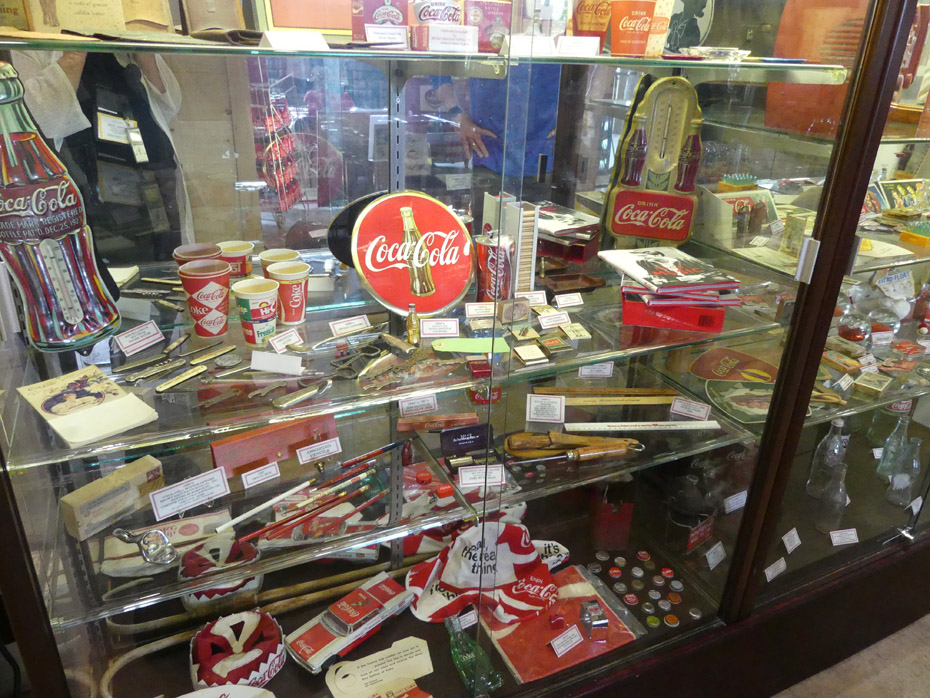 Kenneth Williams, third generation president of Corinth Coca-Cola Bottling Works, led us through the museum. He told the story of how his grandfather got into the bottling business. "My grandfather was a pants salesman and was traveling in Arkansas. He got tired of selling pants and he spotted a small bottling plant and came back to Corinth and found a way to get into the business for $500 and it went from there."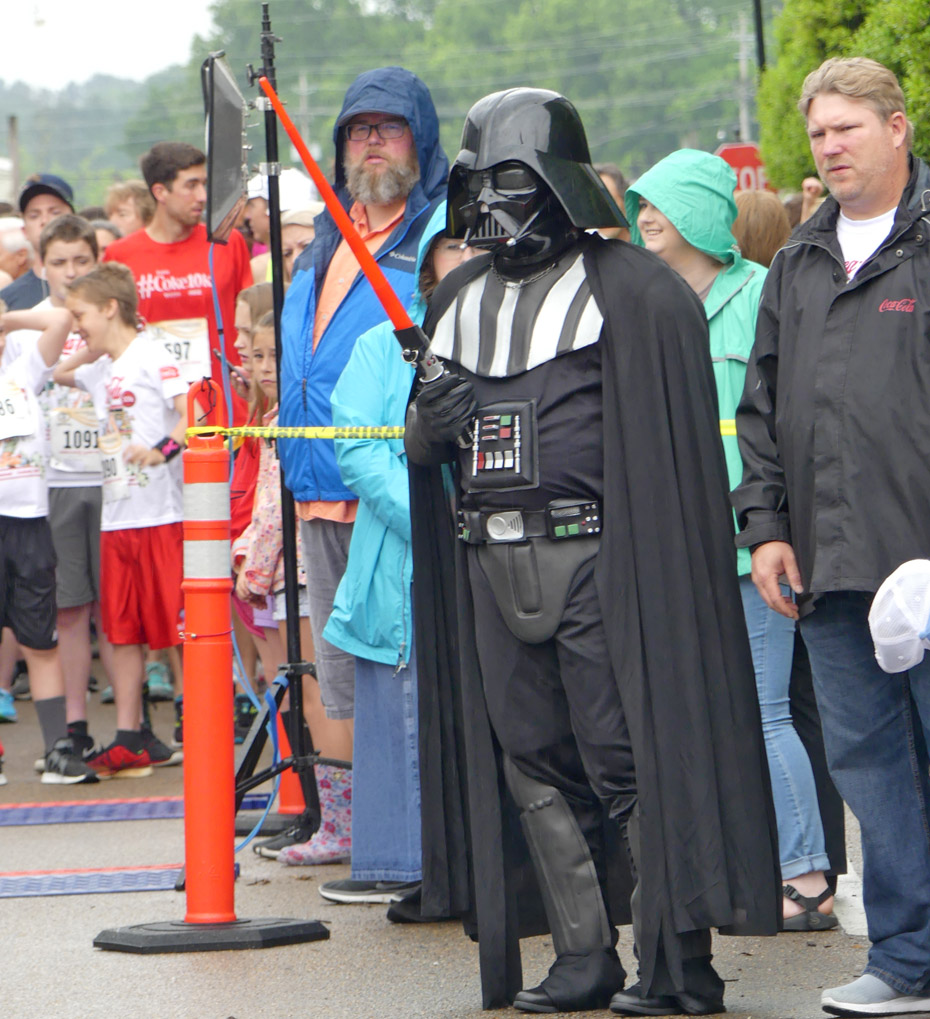 The Coca Cola Bottling museum sponsors an annual 10K run that was happening when we visited. To give you an idea of how far away Corinth draws one guest from a galaxy far far away, Darth Vader, was attending the race. It was held on May the Fourth which may account for why Darth would be with us.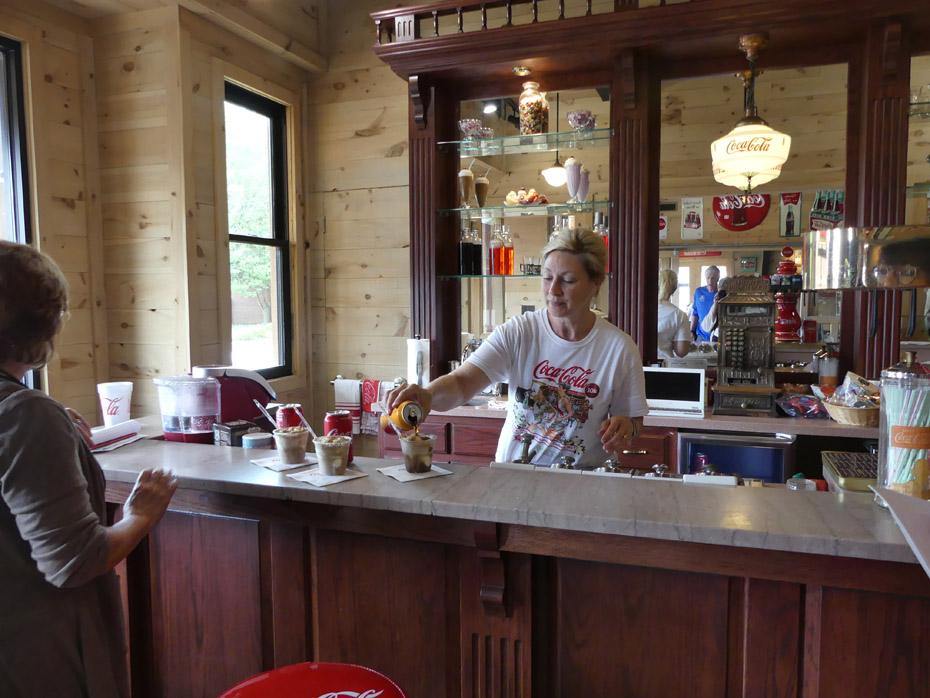 Mona Lisa-- yes that is her real name-- at the soda fountain will treat you to a coke or a float. Try the new Orange Vanilla Coke. It's a winner.

Crossroads Museum and Historic Corinth Depot is located only a few feet from the original railroad crossroads that gave the town its nickname, "The Crossroads." The museum is filled with artifacts detailing the city's rich history. One of the last things you might expect to find is and exhibit detailing the hot tamale and it significance in Corinth.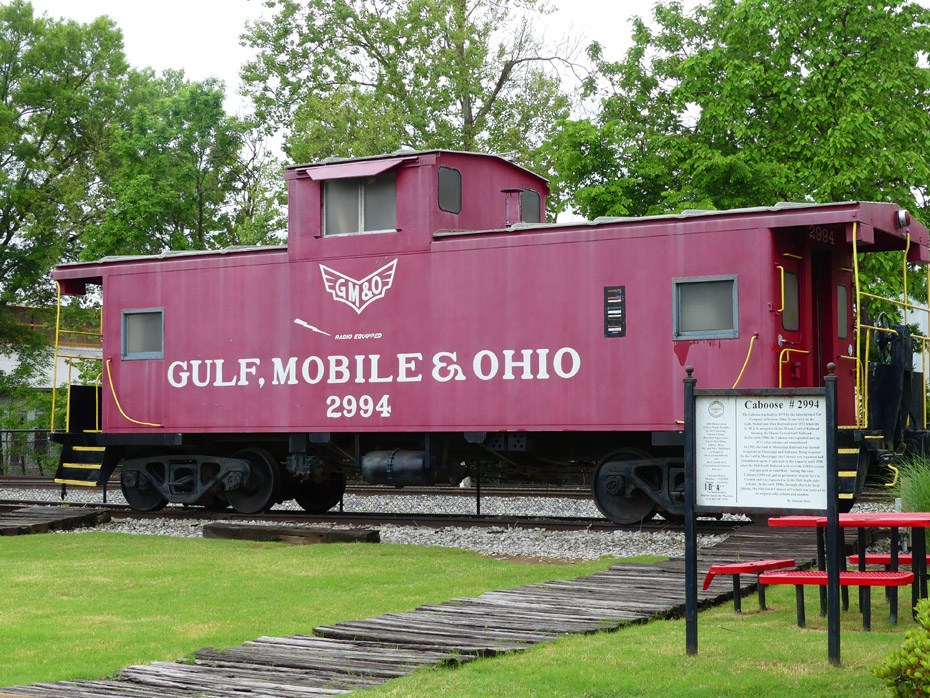 Just outside the depot, you'll find the ever popular vintage, red caboose. This one was in use up until the 1980s.
The Crossroads Museum is known for its paranormal activity. Is it any wonder consider how many young men died defending this very crossroads?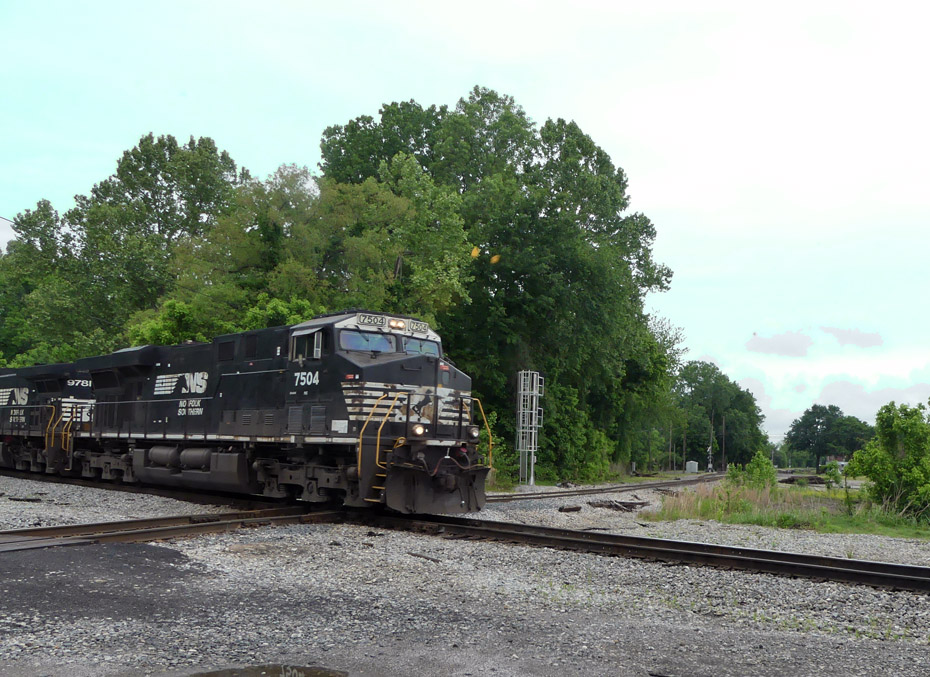 Dining

Everyone needs to eat. So why not pick some of Corinth's most iconic eateries? Start your morning off right. If you just want a quick jolt of caffeine and a light breakfast try SoCo Grind. It's one of Corinth's newest coffee shops located in the heart of Corinth's recently restored collection of shops, dining and entertainment around Wick Street downtown called the SoCo district.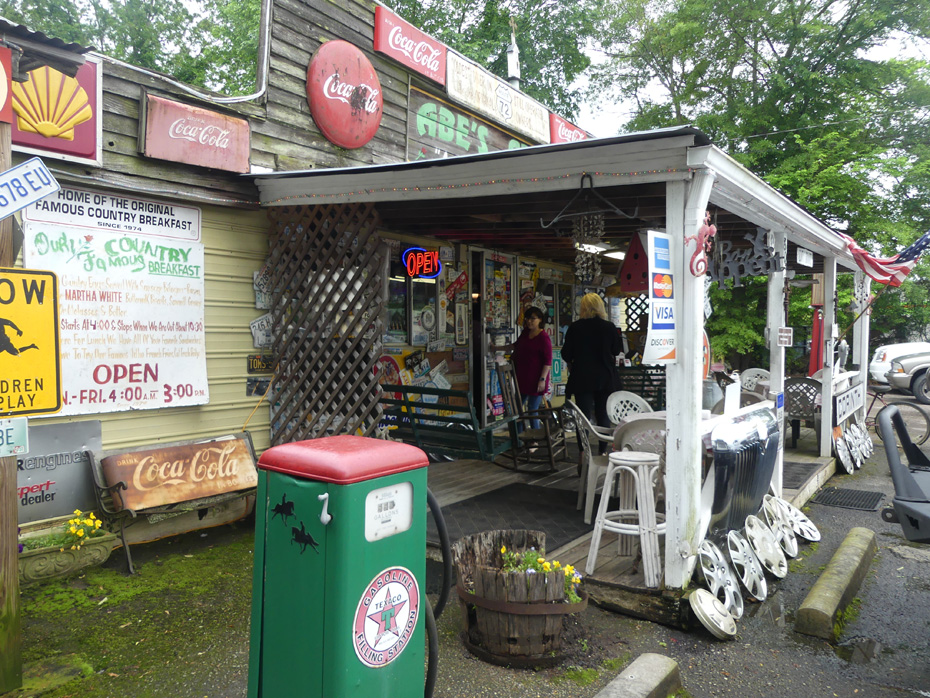 If you want to really chow down of solid breakfast as well as see a historic diner, Abe's Grill is the place to start your day. It's the oldest diner on Highway 72. Abe built it himself over 40 years ago and is still going strong. It's a narrow frame building with a long counter and barstools with Abe and family all pitching in behind the counter.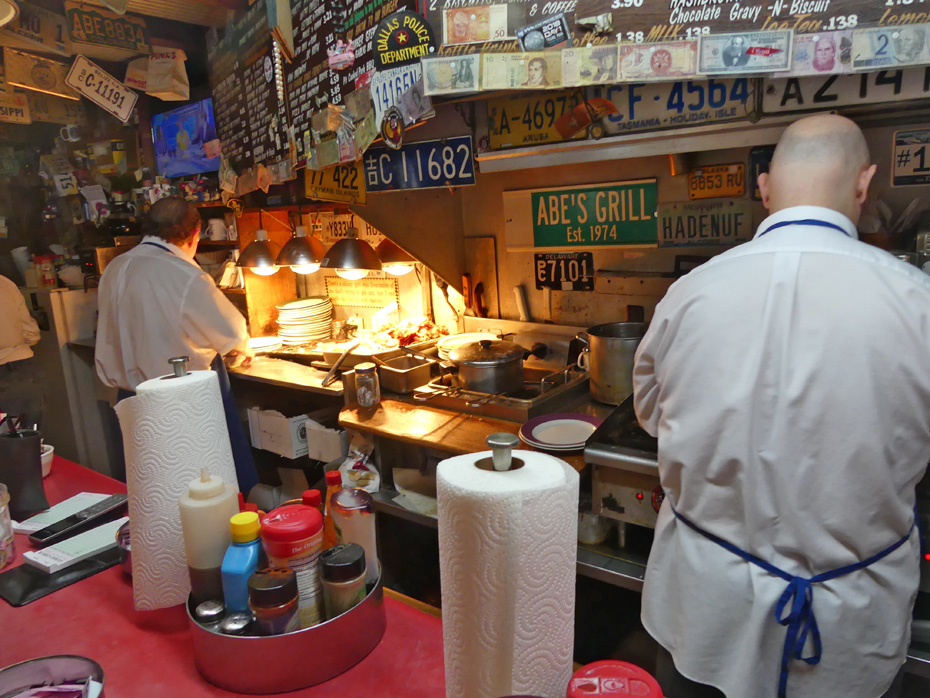 They do stay busy. In fact he turned down an invitation to be featured on "Diners Drive-ins and Dives" claiming he is too busy. I watched his son take an order for over 20 different versions of egg and bacon, sausage or whatever breakfasts and calmly begin to fry the eggs without getting a bit flustered. It's well organized chaos. Be sure to sample his famous chocolate gravy.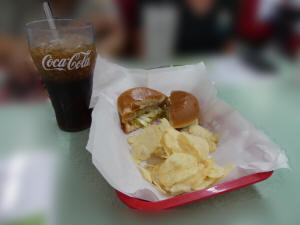 For lunch, you need to sample Corinth's most famous burger, the Slugburger. A slugburger is a type of hamburger but instead of just meat, there is some breading or soybean mixture added. Naturally it's deep fried not grilled. (This is the South after all) Usually it is served with pickles, onions and mustard. The reason for the name, is not for the slimy little snail but but because during the depression when it started, it sold for a nickel then known as a slug. I tried one at and it was tasty. The most famous repository of the slugburger is Borroum's Drugstore.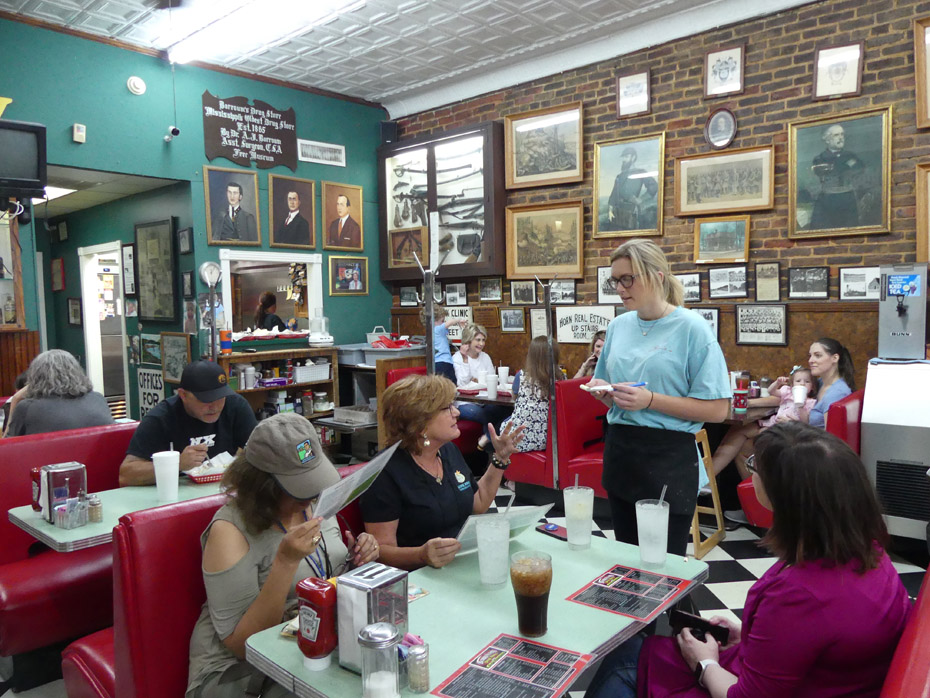 Borroum's is the oldest drug store in continuous operation in Mississippi. It began in 1865 when Dr. Barroum, a former assistant surgeon for the Confederacy, came to Corinth and decided to stay and open a pharmacy there.
Along with the food, the store has a collection of Native American artifact, Civil War relics, and an old time soda fountain. The Borroum family still ownes and operates the store.
For dinner, you want something a bit classier. There are three good choices that I sampled at the risk of adding about ten pounds.

Smith, a classic southern restaurant with a twist, is owned by Russell and Julia Smith. Russell is also its chef, is located in the former Rankin Printery. Russell aims for "fine dining done casually." Before Ranking Printery acquired the bank in 1930, it had a colorful past. It was built in 1869 as the Tishomingo Savings Bank and was robbed by the James/Younger Gang in 1874. It later became the Rankin Printery which remained in operation from 1905 until the mid-1990s.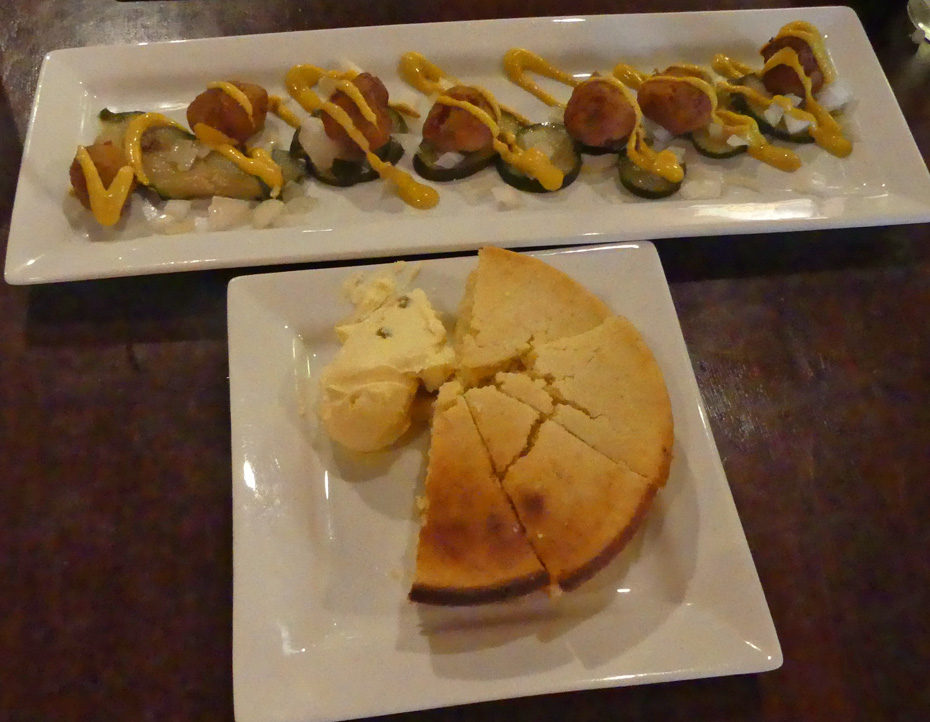 Smith retains much of its historic flavor in the architecture like the exposed brick walls and the timber framed ceiling beams but the food is fresh and delicious. Menus look like they were typed on an old-fashioned Underwood typewriter. We sampled their appetizer slug bites, a unique take on the traditional patty. There are small round balls served on a pickle slice and drizzled with mustard.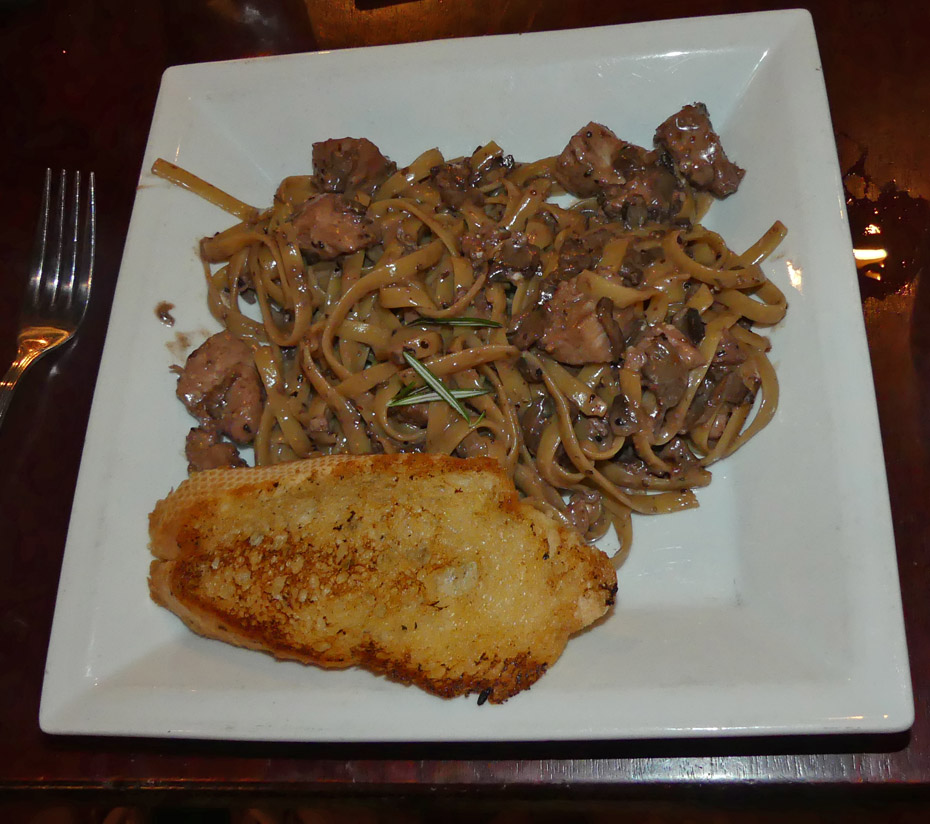 I had to try their Drunken Chicken. It's chicken with mushrooms, rosemary, and goat cheese, then drenched with a creamy red wine sauce served over fettuccine; delicious and very filling.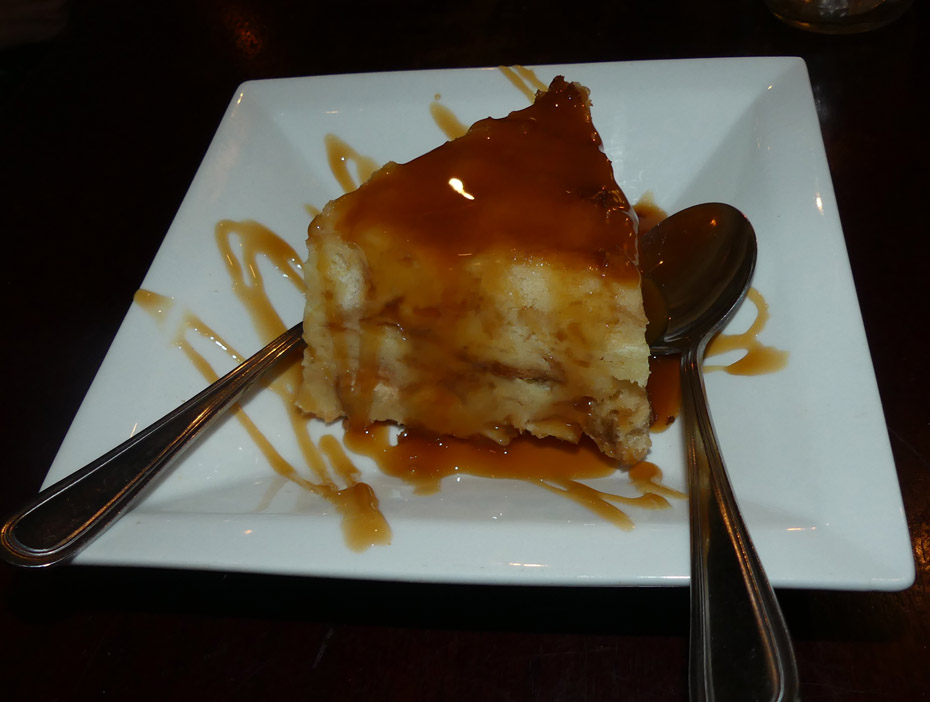 Desserts are always challenging. You are so full but they look and sound so good. I gave in, had the Bourbon Bread Pudding, and was not disappointed.

Pizza Grocery is another good choice. It's also located in a historic building dating back to 1920s. It was built as a wholesale grocery warehouse for Alcorn Wholesale and remained that until the 1980s. The Bryant family bought it in 2002 with plans to create a unique dining experience within its spacious walls.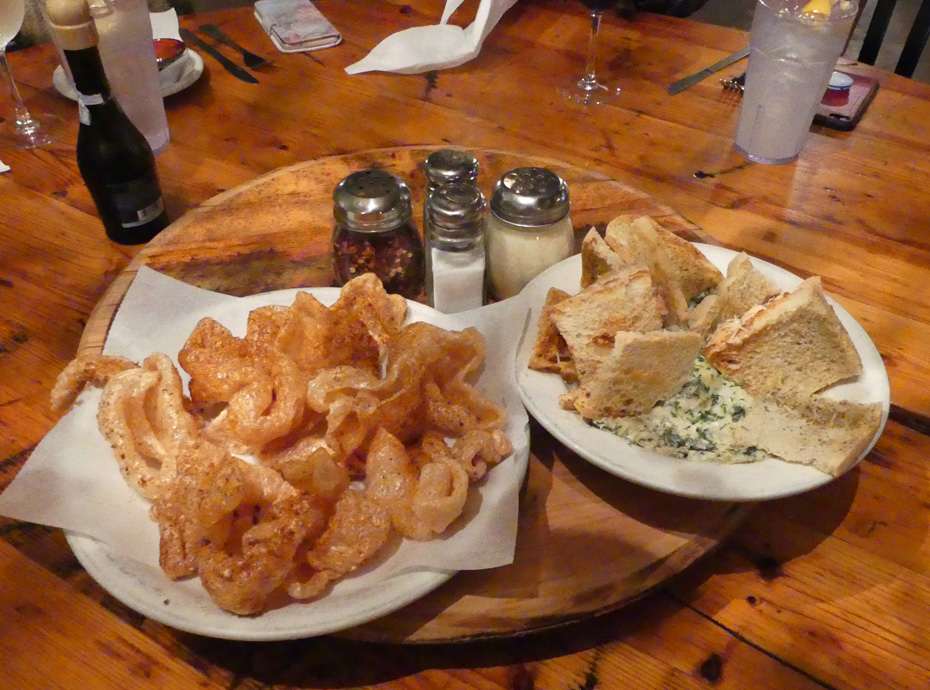 The food is first rate. For appetizers we shared some very light pork rinds and a serving of artichoke and spinach dip with homemade crostini. Pizzas, pastas, and all things Italian made my entrée choice easy. I went for the build-it-yourself calzone. Their salads and pizzas looked delicious also.

The massive building retains its rustic charm. It has three levels, each different. Murals and paintings of Italy add to the charm.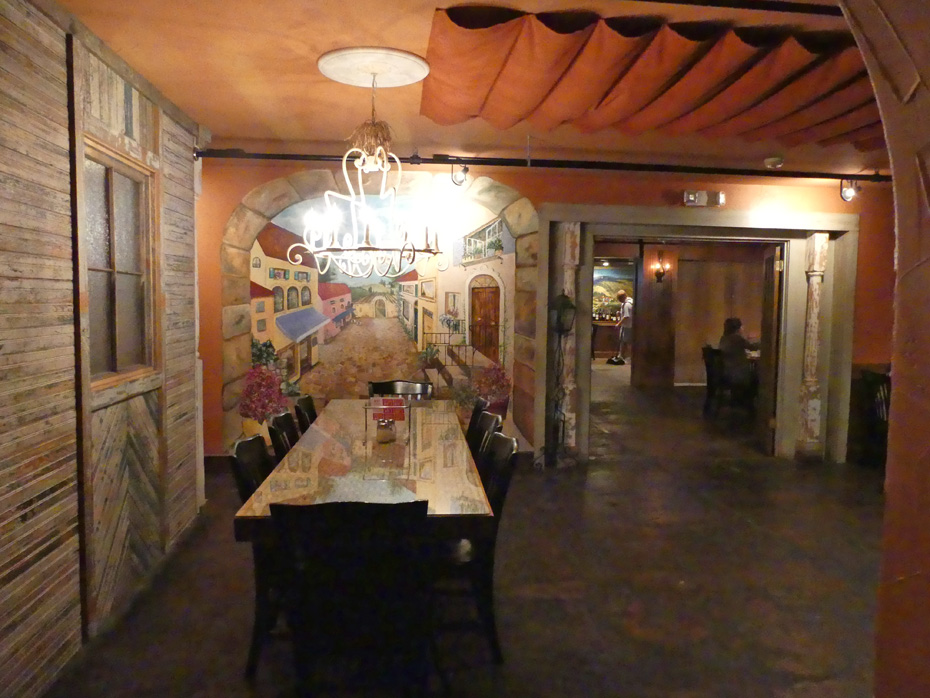 We were seated on the upper level at a table blending into a quaint Italian village mural. On the bottom floor, the building is divided into several spaces. All have a lot of shiny hardwood or parquet floors and there are many glimpses of the original building: wine barrels used as base for serving tables, exposed brick walls, wooden posts, and distressed wooden tables.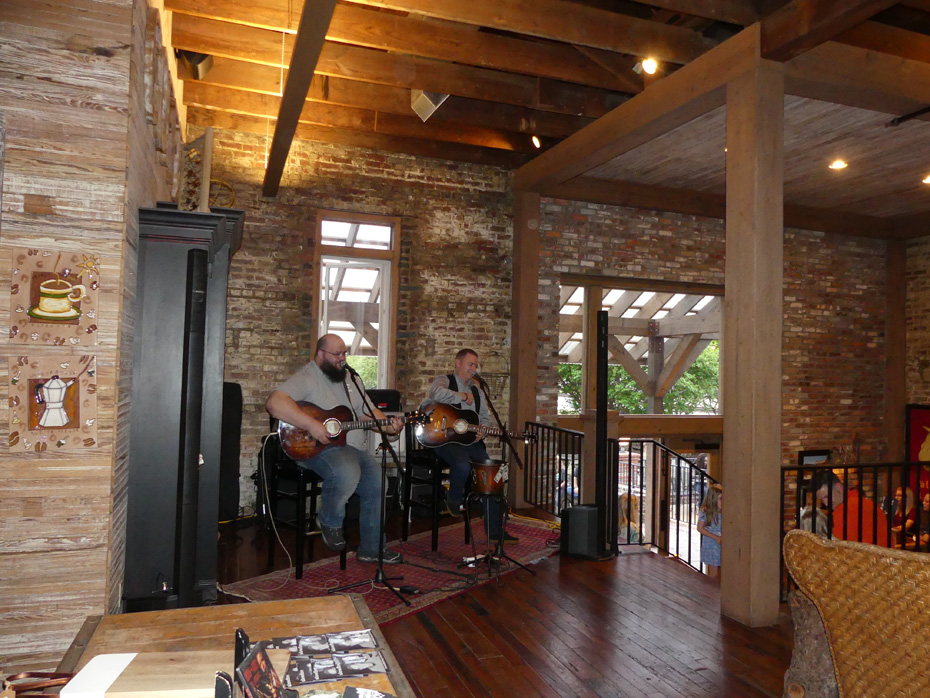 The mezzanine level is more casual. There was a band playing the night we dined there. All in all the entire building feels like a charming maze you can't wait to explore.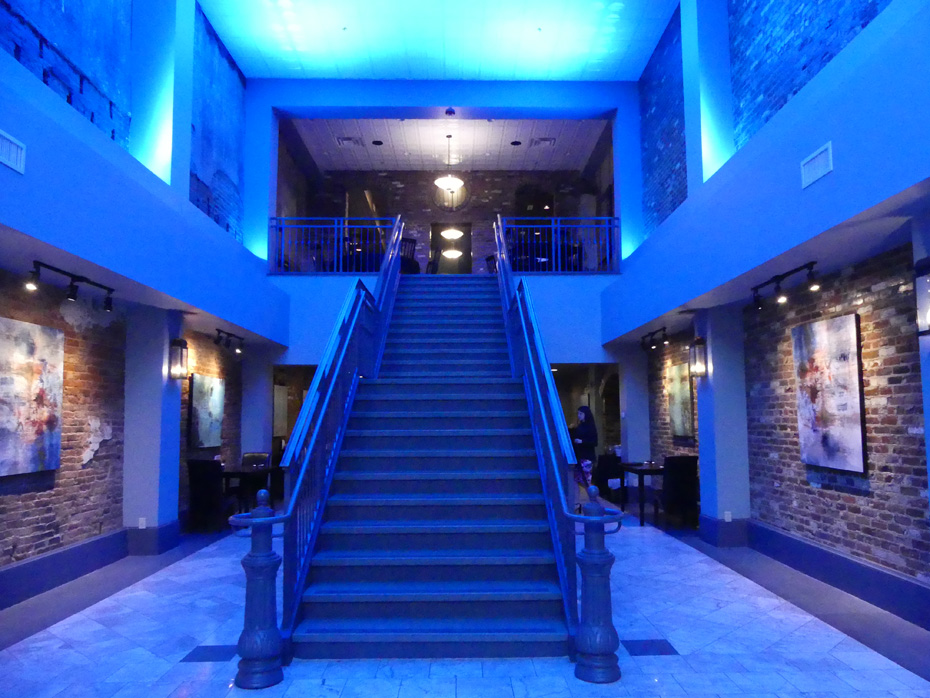 There is one more classic dining experience in Corinth. Vicari Italian Grill is the most modern and the most elegant. The food, prepared by Chef John Mabry, is all made with fresh ingredients. It is wonderful. They have a full-service bar upstairs with nightly entertainment.

For appetizers we shared some quail, lobster shooters, and bacon wrapped shrimp. For my entrée I had to try the Chicken Alfredo Fettuccini. However, my friend's manicotti filled with four cheeses, provolone and herbs, topped with their house red sauce looked pretty tasty as well.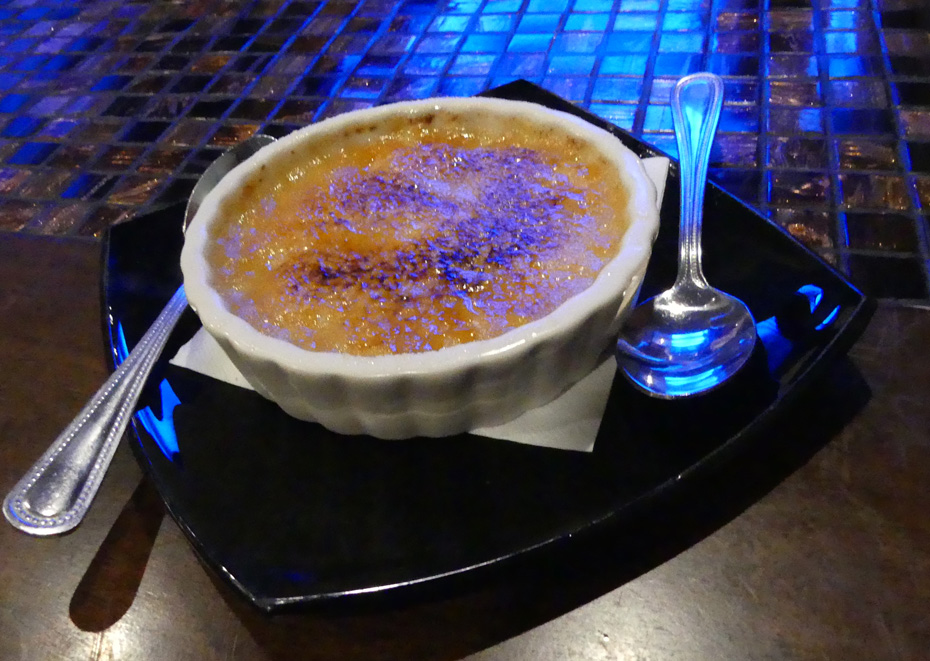 Again dessert tempts. Here the crème brulee is worth all the million calories you will have to work off later.
Entertainment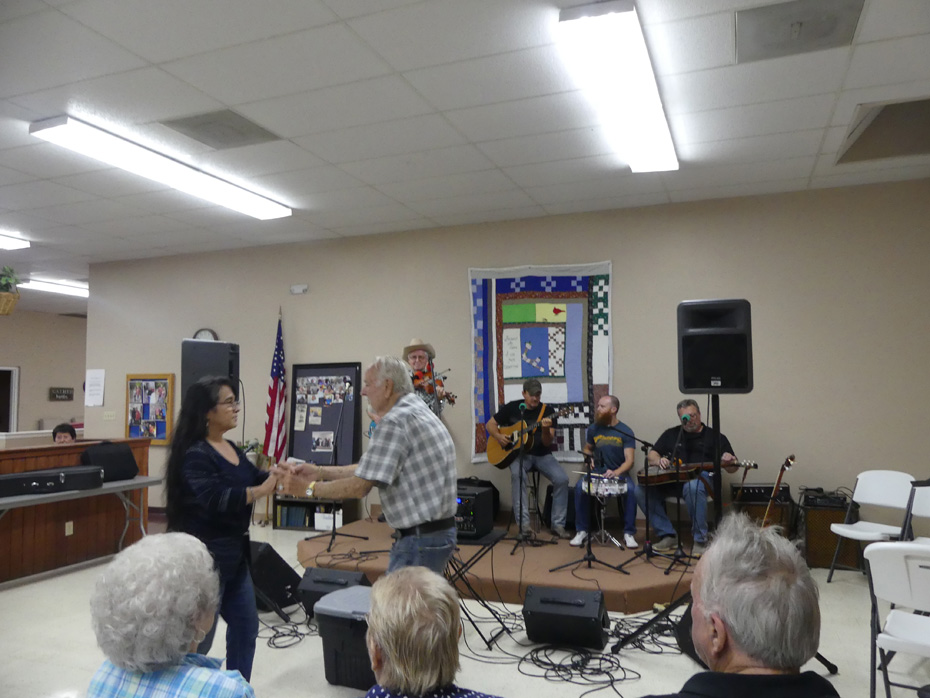 If you're visiting on a Thursday night, head to the Courthouse Square for Picking on the Square, where local musicians play an evening of bluegrass music. The night we visited, rain drove them inside so they played at Bishop Community Center. The featured band was Savannah Grass with Tom Cox on guitar, Wayne Jerrolds on Fiddle, Mike Garrett on banjo, and some very great backup players and guest singers. One who sang "Is There a Wal-Mart in Heaven" was outstanding. It's in the last half of the video below.

Of course, I love all the Civil War history but there is so much more in Corinth. You can see my story about the history part here.


We'd love your comments!trong>