Published 8-4-2019

There are many fun things to visit in Ellijay, Georgia but there is one unusual place many people might miss. If you are an animal lover this one is a must-see. It's Build an Ark Animal Rescue. When you drive up to Coosawattee River Tubing Company on Eagle Mountain Drive, you'll see a big red barn with pasture in front.

When I pulled in one of the first things I saw was a young boy racing ahead of his parents towards the pasture. There were three donkeys lining up watching his approach. Hand outstretched, he called back, "Can I pet them!"
Oh yes, that is exactly what the donkeys and the boy both wanted. The look on his face was pure joy. And I think I saw the donkeys smiling too.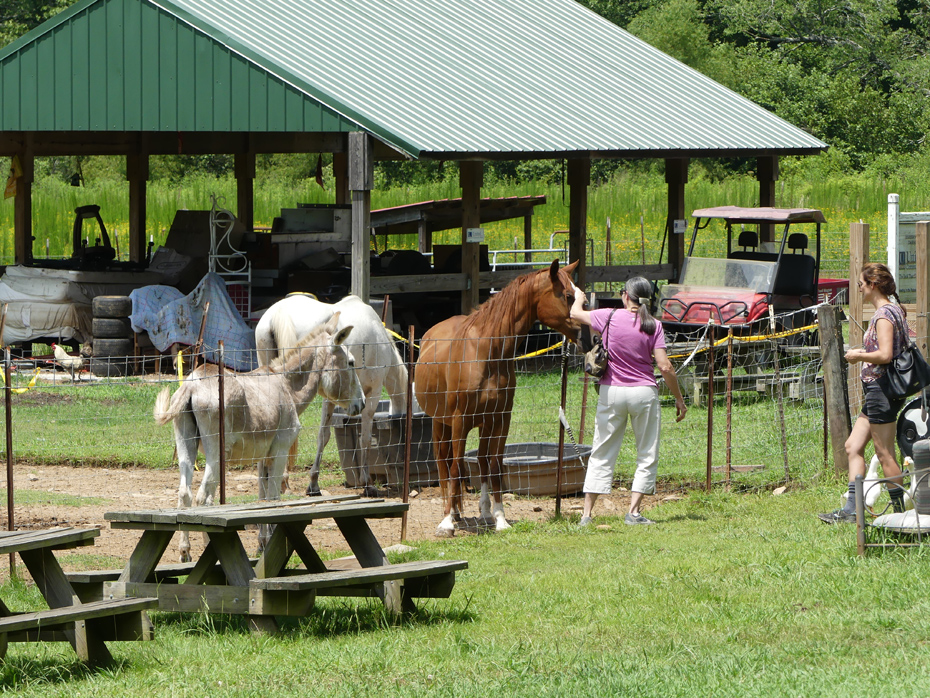 It's not just kids that feel the joy. There were two women petting one of the horses in another section of pasture. Behind them a trio of geese was watching for a possible handout. All around the pasture, other assorted farm animals, goats, cows, alpacas, pigs, and chickens roamed. Different species, different ages and coming from different places, yet they all have one thing in common. They were abandoned or unwanted. Were it not for one woman they would be dead or roaming the streets or woods.

I meet Susan Littlejohn, the founder and chief caretaker of these abandoned creatures, as she propels her wheelchair down the gravel driveway leading to the barn. She welcomes me and invites me in to meet the rest of her animal family.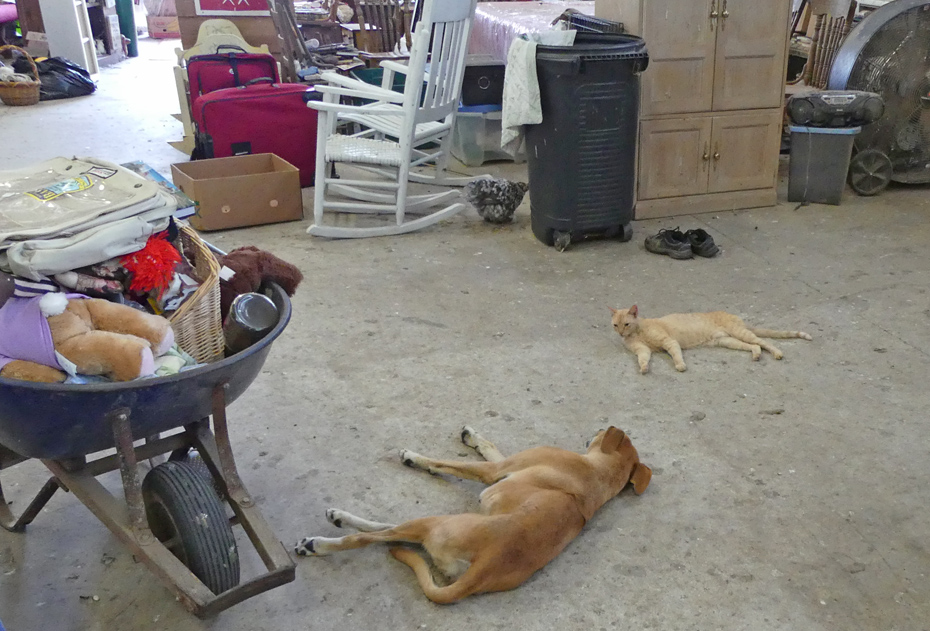 Inside the barn, things are a cheerful clutter. Picnic tables run down the middle of the barn. I later found out they are for the classes of kids who come here on field trips. A large brown dog rests close to a orange cat while a few black and white chickens wander around between them. Along the sides each stall contains a bevy of friendly animals. In front of each stall, there is a feeding bucket filled with carrots, apples, even cheese puffs in one feeder. The fact that visitors stop at the stalls and hand out these treats might have something to do with the eager way they rush to meet me as I stop by each stall.

In one stall a trio of pigs rush to the gate and wrinkle their cute little snouts at me as if to say, "Hurry up with those carrots." The rooster and hen in the back corner just ignore me and their pig companions.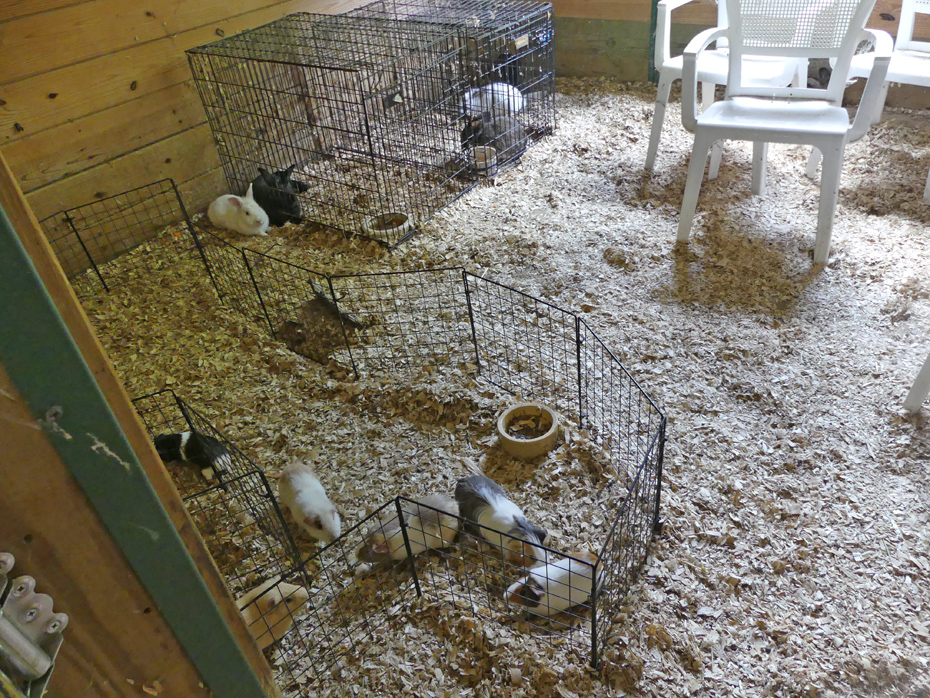 In another stall, guinea pigs and rabbits share space. They have bowls of feed in each of their separated areas. Fresh hay lines the floors of all the stall so there is no odor.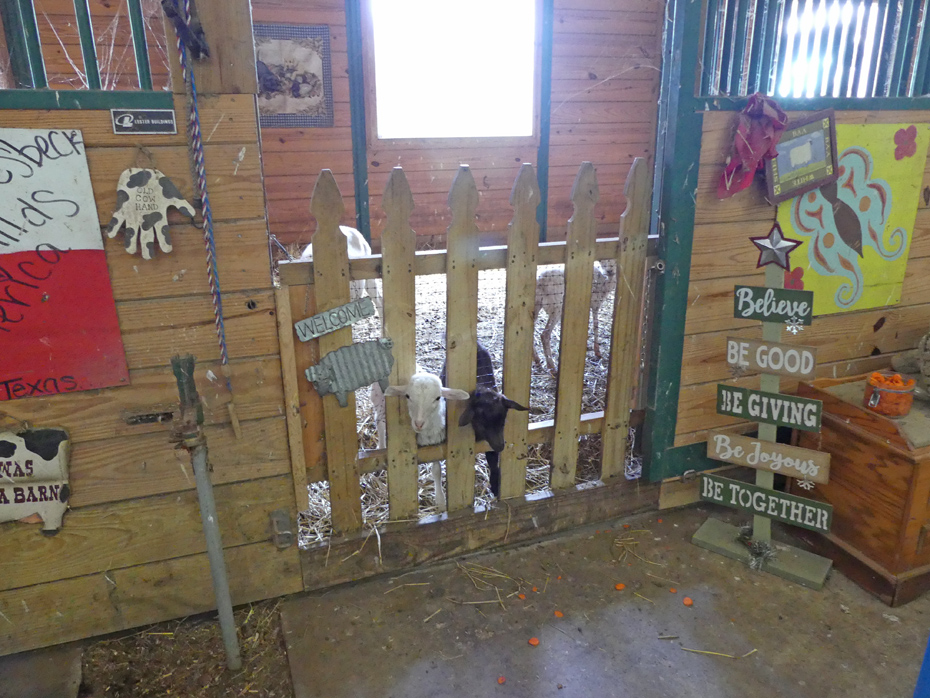 My favorite stall is occupied by four miniature goats. They rush the gate and poke their heads through as I approach and compete for the carrots I hand out. I hate to leave them but have to move on.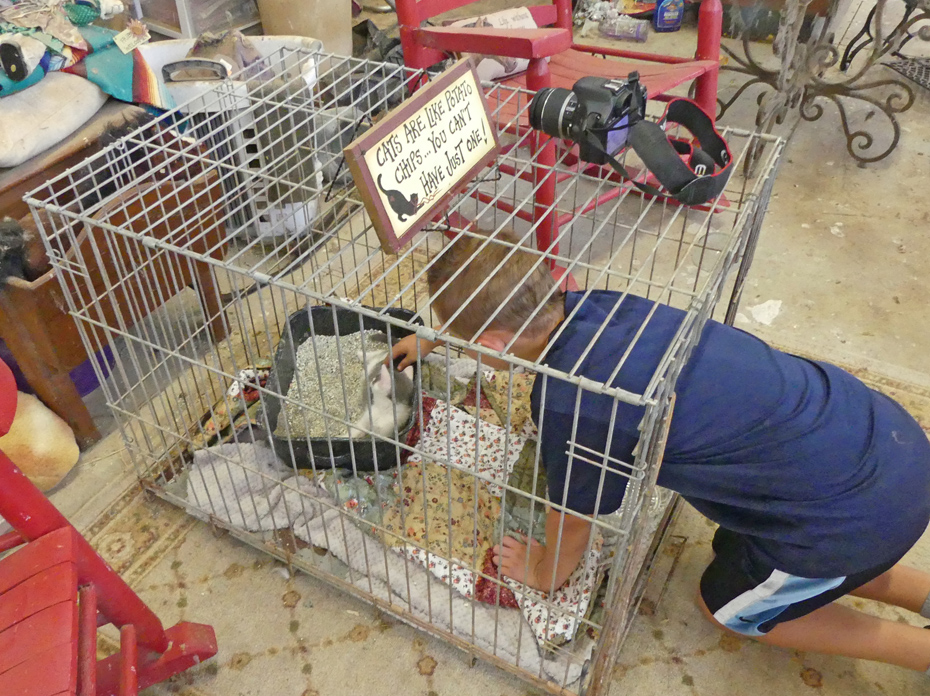 Outside the stalls there is drama happening. A open cage of appealing kittens draws in two little boys. One crawls into the cage to pet one of the kittens. The smaller child is holding one in his arms. Susan wheels over to help the youngster hold it comfortably.
Susan told me about the most trying time the rescue had had. "On April 4, 2011, we were struck by a F5 tornado took it to the ground. I was in it with two other people. One lady was 8 month pregnant. There were 68 animals in the barn. We all survived. We had four minor injuries; God protected us. Then next day in New York, this man saw us on TV. His 12 year old son was watching and said, 'Daddy Daddy, Come here!' The man said 'Son, I know we've got to go before a board but we're going to rebuild that lady's barn.'"
That man was one of the firemen involved in New York Says Thank You Foundation. Jeff Parness, whose business partner died on the top floor of the trade center in the 9/11 attack, founded the organization in 2003 as a "pay it forward" for all the help New York received after the attack from all over the country.
Parness told local news reporters, "New Yorkers will never forget what people from Georgia and small towns all across the United States did for us in the days, weeks, and months following 9/11. Helping to rebuild Susan's barn and strengthening the community of Ellijay is our way of honoring that incredible spirit of kindness and volunteerism that united our Nation on 9/12."
On one hot July day, New York Says Thank You Foundation volunteers from around the country flooded onto the property in Ellijay and began to help Susan rebuild her barn.
Susan told of the festivities after the rebuilding in July 2011. "They brought the 9/11 flag. They hung it in the barn. I got to help fold it; it was amazing. They took it to the high school in honor of Lt Noah Harris (Noah Harris was a young lieutenant from Ellijay who was killed in Iran in 2005. He had joined just after 9/11 to help his country.) They had the parade down the driveway 800 people in the parade wearing their dress blues. It was 98%."
Susan takes the animals to hospices, hospitals, and even the courts send at-risk kids to the shelter. Susan told of her work with one severely handicapped man. "This one guy had never laughed and then (when meeting one of the animals) giggle, giggle, giggle. Now, I just have to come in and don't have to have an animal and he starts laughing."
In an article in a Kroger's Magazine, Susan made a very interesting statement about her work. "It's not what we're doing for animals. It's what animals are doing for people."

When you see the happy faces of children petting the happy animals, you understand the full meaning of Build an Ark Animal Rescue.

For more info: https://www.facebook.com/Build-an-Ark-Animal-Rescue-129066320450755/
We'd love your comments!