If you're old enough to remember the popular '50s TV show, "Your Show of Shows," you probably remember a classic comedy skit in which regular cast-members Sid Caesar, Imogene Coca, Carl Reiner and Howie Morris are mechanical revolving Bavarian figures on a huge clock (Glockenspiel). Suddenly, there's a glitch, and the figures turn in wrong directions, repeatedly bump into each other and smack each other with hammers.
A trip to Munich, Germany placed me in the central square called Marienplatz, where the real Glockenspiel entertains passersby. That's why I peered up at the City Hall's clock tower.
Old City Hall at Marienplatz
I stood among spectators eager to hear the Glockenspiel's 43 bells and to cheer or jeer for 32 life-size mechanical figures, including jousting knights on horseback. Behind me, street musicians were preparing to entertain, but my attention was on the architecturally exquisite Neo-Gothic-style City Hall, with its carved figures and intricate facade.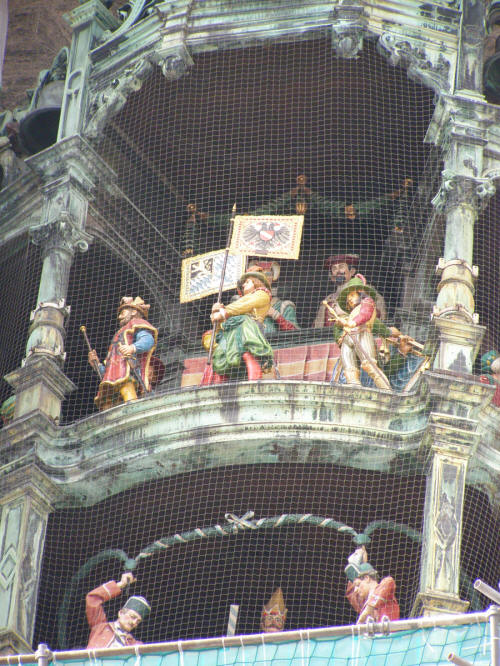 The Glockenspiel at Marienplatz
Munich is the capital of the Free State of Bavaria, which is Germany's cultural capital. It is a medley of churches, museums, cultural institutions and universities, and other buildings that are magnificent for their varied architectural styles. The city is beautiful also for its public gardens and parks. They are a tranquilizer for Munich's rapid pulse.
Munich is beer, bikes, Bratwurst, and little Bavarian outfits hanging in children's shops. There are so many inviting attractions and restaurants that Munich almost demands a week's worth of attention from tourists. I had three days, and here is what I saw: Bikes! I wonder if there are more bikes in Munich than there are cars. Residents bike to work, to food stores, to everywhere. Bikes are much cheaper than gasoline (petrol).
Greenery! Parks and park-like settings are ubiquitous, like the 910-acre Englischer Garten (English Garden), created in 1789 for Elector (ruler) Prince Charles Theodore. The garden features a Chinese Tower (5-story Pagoda) with a 7,000-seat beer garden, Japanese Tea House and Garden, lake for boating and swimming, carousel, and 50 bird species. The English Garden is bigger than Central Park. It's the go-to place for serenity.
History and the splendors of elaborate design are embedded in Munich's royal palaces, beginning with the Residenz, a former medieval castle built in 1358 as home to Bavaria's. monarchs of the House of Wittelsbach. The Residenz has 130 rooms, 10 courtyards and the tunnel-shaped, barrel-vaulted Antiquarium, built in the 1500s. The Antiquarium is a gorgeous Renaissance hall adorned with paintings, ceiling frescoes and marble sculptures.
Antiquarium in the Residenz
The Residenz also features the Ancestral Gallery, a Baroque hallway filled with dozens of paintings of the Wittelsbach family. Gilt is ornately carved on the walls and ceiling. The Residenz' Treasury is a trove of the rulers' valuables and collectibles, including heavy crowns encrusted with priceless gems that once sat on the heads of kings.
The summer residence of the Wittelsbach rulers was the palace, Schloss Nymphenburg, in Munich. For me, nothing in this sprawling palace could match the startling beauty of the Stone Hall, a grand hall covering three floors of the palace's central pavilion. Fabulous frescos decorate the walls, but the piece de resistance is the ceiling fresco representing the god Helios in his chariot.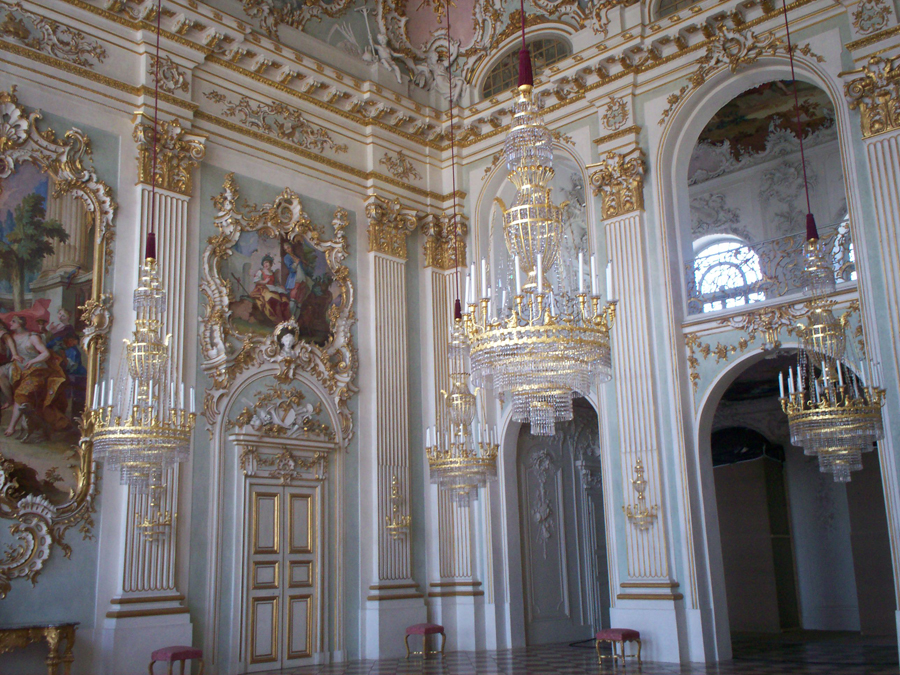 A room in Nymphenburg Palace
It was at Nymphenburg that King Ludwig I created his Gallery of Beauties. These were 36 women of all backgrounds -- from a shoemaker's daughter to a nobleman's daughter - whom Ludwig I considered beautiful. He had their portraits painted for the Gallery. One of the "beauties" was his mistress, the mysterious, seductive dancer, Lola Montez.
More culture and history echo inside Munich's Neo-Classical-style Glyptothek (a repository for sculptures), founded by Ludwig I. Touted as the world's only museum devoted to ancient sculpture, the temple-like Glyptothek exhibits Greek and Roman statues plus an astounding collection of Greek and Roman antiquities.
An offbeat attraction is the Oktoberfest Museum with a tiny restaurant that serves only one kind of meat. Sausages. Prepared in different ways, but just sausages. And potatoes. And beer (optional). The upstairs museum chronicles the history of Oktoberfest and the development of beer as Germany's favorite beverage. Assorted steins and other beer-related nick-knacks are on display.
It's not surprising then, that Munich fizzes with beer gardens, those casual gathering places offering a cold pint, a plate of potatoes or sauerkraut and bratwurst or sauerbraten or wiener schnitzel, with a side order of musical entertainment provided by a Bavarian-costumed band. I noticed that at beer gardens, the food, music and conversation make everyone look happy.
Musicians at a beer garden
Munich has been a bulwark of Catholicism since its founding in 1158. That makes the city's Jewish Center, Orthodox synagogue and Jewish Museum, all of them part of a modern cube design, seem like an anomaly, especially in light of Germany's stained past.
The synagogue, dedicated in 2006, replaces the Ohel Jakob synagogue that Hitler ordered destroyed because it blocked his view of the city. The 10,000-square-foot Jewish Museum (Judisches Museum Munchen) opened in 2007 and concentrates mostly on the contributions that Jewish people have made to Munich's industry, arts and culture.
For instance, a past exhibit was about the Folk Art of the Wallach Brothers, successful textile merchants in Munich who fled to New York in 1938 and opened a clothing store, Wallach's. (It became a chain of 50 stores before it closed in the 1990s.)
In the Jewish Museum, there are numbered information signs placed on a numbered, carpeted map. The signs correspond to a lighted wall collage of photos that add a "face" to the information. The exhibit is called "Voices, Places, Times - Jews in Munich."
An exhibit at The Jewish Museum in Munich
The museum's most precious artifact is a 17th-century, gold-embossed Sabbath Prayer Book.The museum enlightens visitors about the Jewish people's positive connection to Munich's art and culture. This has been eye-opening to non-Jewish visitors, especially in light of the fact that the German government strives to preserve the memories of the Holocaust as a reminder of what must never again happen.
More than one million people live in Munich. It's a metropolis with its own symphony, opera, ballet and annual film festival. Maximilianstrase, a luxury mile of designer brand shops, is Munich's equivalent of Rodeo Drive. What a gem of a city!
For information:
Munich Tourist Board,www.muenchen.de/int/en/tourism/ Email tourismus@muenchen.de.