Published 1-2-2020

David Friedman, author of Food Sanity, gives us one good reason to drink rum. He states, "Also, while too much drinking can damage your brain, moderate consumption of rum may actually lower that risk: Rum has properties that may help protect your brain cells and decrease your risk of dementia and Alzheimer's."
Another plus is you don't have to worry about importing your favorite cocktail ingredient. Bayou Rum produced in Lacassine, Louisiana from local cane and known as the Spirit of Louisiana. Sugar cane had been grown in Louisiana since 1751. Their distillery, the largest private label rum in the U. S., is a fun place to visit even if you don't like rum­. Lacassine is in the heart of Cajun County just a little east of Lake Charles.
First stop, the viewing room where you can watch a film that shows sugar cane's place in Louisiana's culture. Jesuit priests first brought sugar cane into south Louisiana in 1751 and it has been grown there ever since. The seating here are antique pews from an old church. There is a gallery in the viewing room depicting the history of sugar cane in Louisiana. The film tells how co-owners, brothers, Trey and Tim Litel, and their friend Skip Cortese decided to start Spirit of Louisiana while sitting in a duck blind in LaCassine Wildlife Preserve.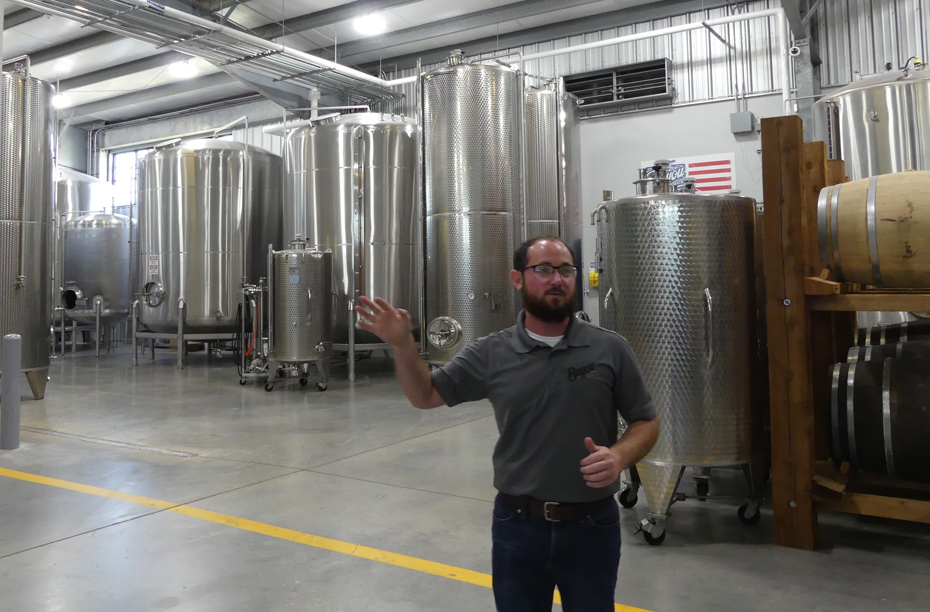 Our guide, appropriately named Kane, led us from the fermenting tanks to the heart of the operation, the distiller. The distilling tank is a thing of beauty, shining copper and commanding pride of place in the center of several stainless storage tanks. It brings to mind the old mountain stills blended with high tech. They have two copper stills working hard to produce a fine spirit. The new one is from Vendome Copper & Brass Works in Louisville, KT who make the stills for most of the big bourbon producers like Jim Beam. The difference is that theses stills are "pot stills' used to make handmade smaller batches.
Kane pointed out for an alcohol to be rum, it must be made from the sugar cane plant. It could be molasses or unrefined granulated sugar. Caribbean rum is made from molasses. Bayou Rum uses two products in Bayou Rum, molasses and unrefined granulated sugar. This makes better rum.
The still separates the alcohol from the remaining material bringing the distiller's beer from eight or nine percent by volume to 40 %. What remains is called the vinasse. They send off that to a cattle food company.
This is one of the things I really like about Bayou Rum. They are very "green." They use all Louisiana cane to make the rum and the byproducts are not thrown on some garbage heap to pollute the earth. The rum goes through nine distillations altogether bringing it up to about 90%. Then they draw off the first alcohol, called "heads," which has poor flavor. When it reaches its optimum point that is called the "heart" and what is used to make the rum. At the end of the distilling process, the alcohol again loses its flavor. This is the "tails." Heads and tails and are sold off to make fuel.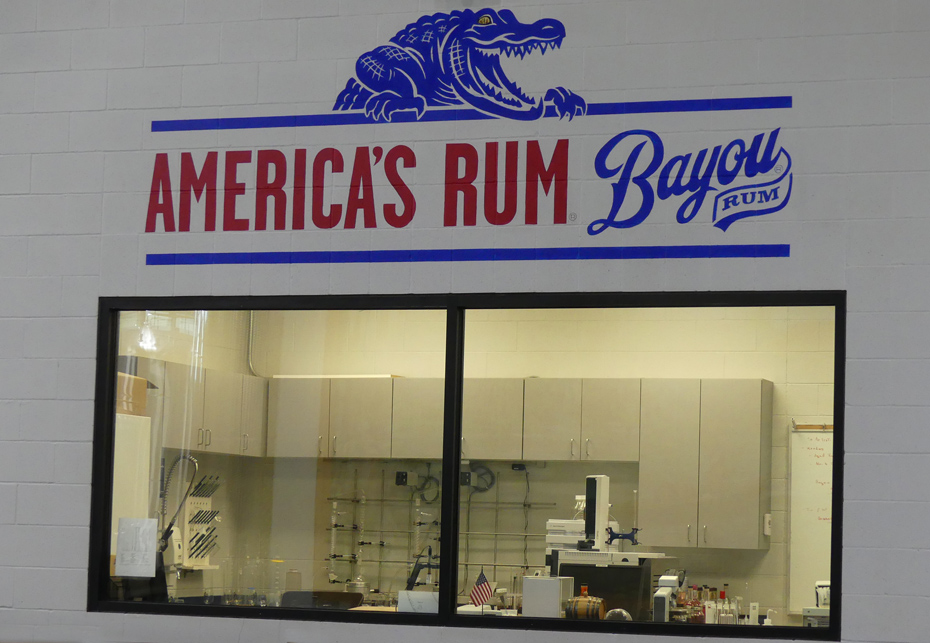 What is left, the heart, is then tested in their onsite lab to decide which type of rum it is best suited to make. Here is where the high tech pays off. They use something called a gas chromatograph that takes all the guess work out of deciding which rum each batch of distilled alcohol is best suited.
I asked if rum has an equivalent of the "Angels Share" of bourbon. Kane assured us that just like bourbon, they lose a portion of the rum as it ages, about 10% the first year and three to five every year after.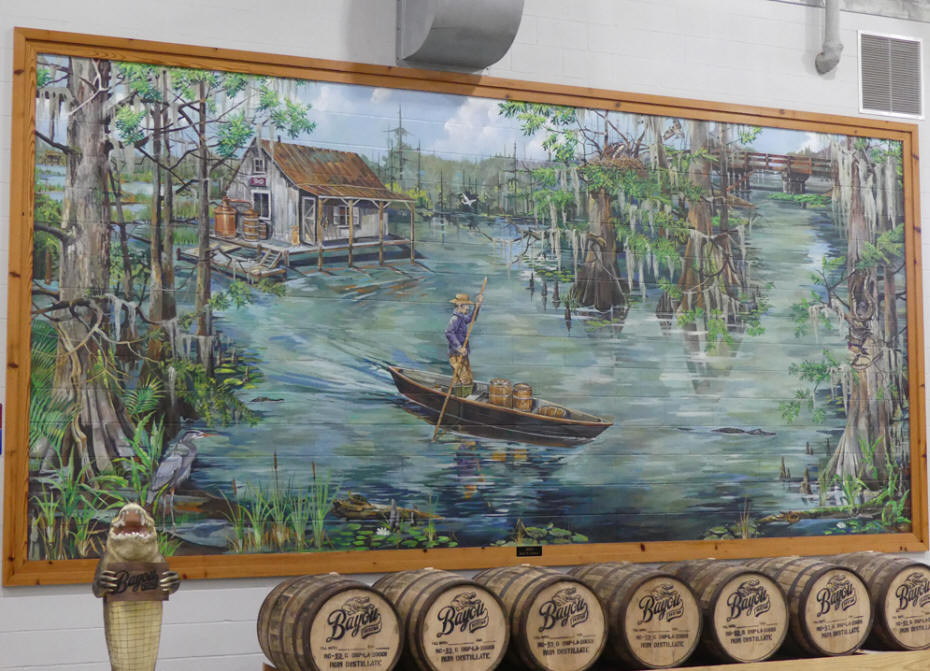 There is a unique mural there which represents the "Spirit of Louisiana." It was painted by Skip's brother, Peter Cortese. It depicts a rum running operation set on a Louisiana bayou with a Cajun house, complete with a shining copper still, set over the water on stilts and T-Boy, a colorful Cajun in a pirogue, setting out to deliver the rum. The same T-Boy in stature sits alongside the mural with a "no smoking" sign around his neck. Good point since alcohol including rum is highly flammable.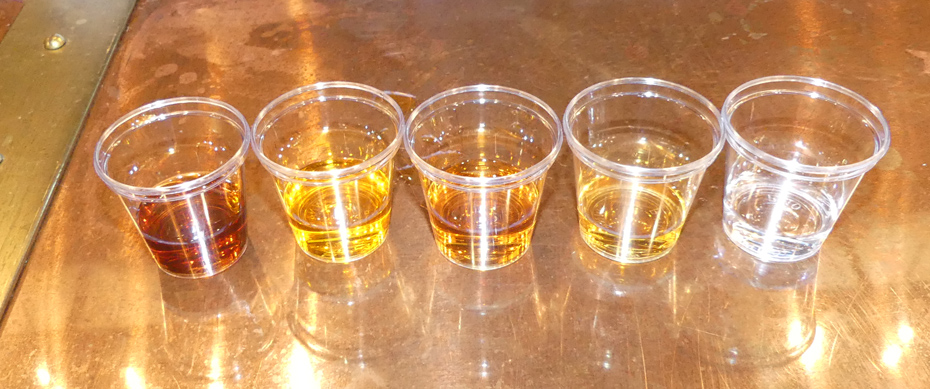 Next stop was what we were all eagerly awaiting, the tasting bar. It's separated from the gift shop by a wrought iron fence, recycled like so much of the well crafted shop with its exposed beams reclaimed from an ancient North Carolina textile mill, aged bricks and many touches of Cajun country.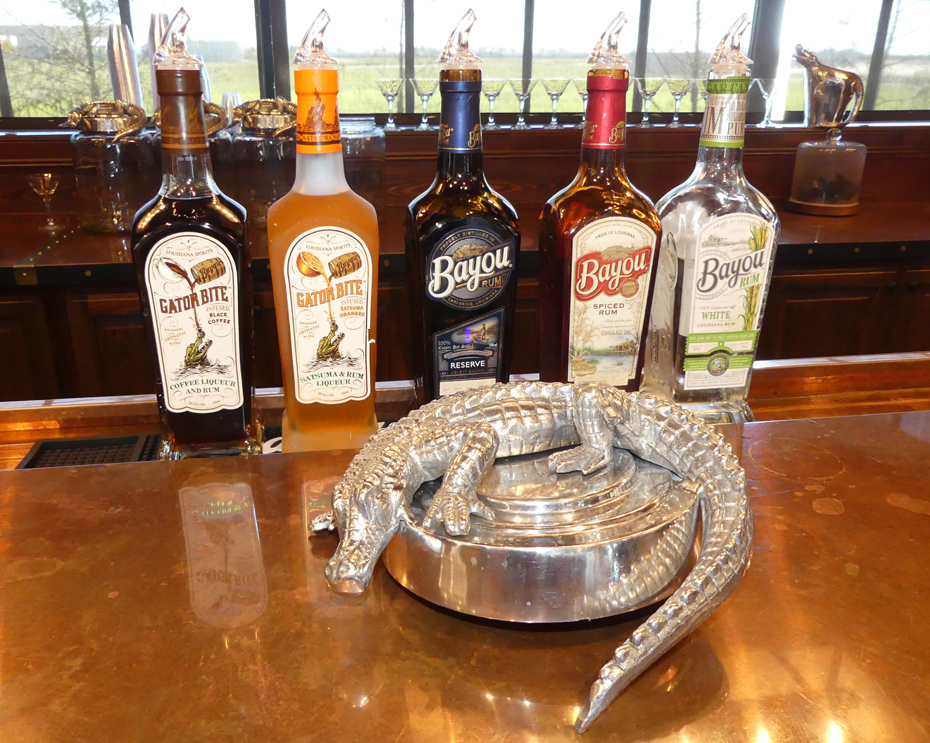 Louisiana Spirit's rums consist of White Rum, Spiced Rum, Satsuma Rum, and Bayou Select Barrel Reserve. Their newest is Bayou XO Mardi Gras. The Bayou Select is a special blend of rum, some of it dating to the earliest days of the company when they were still producing rum on a 10-gallon pot still. Bayou Select has been aged up to three years in charred oak bourbon barrels brought in from Kentucky.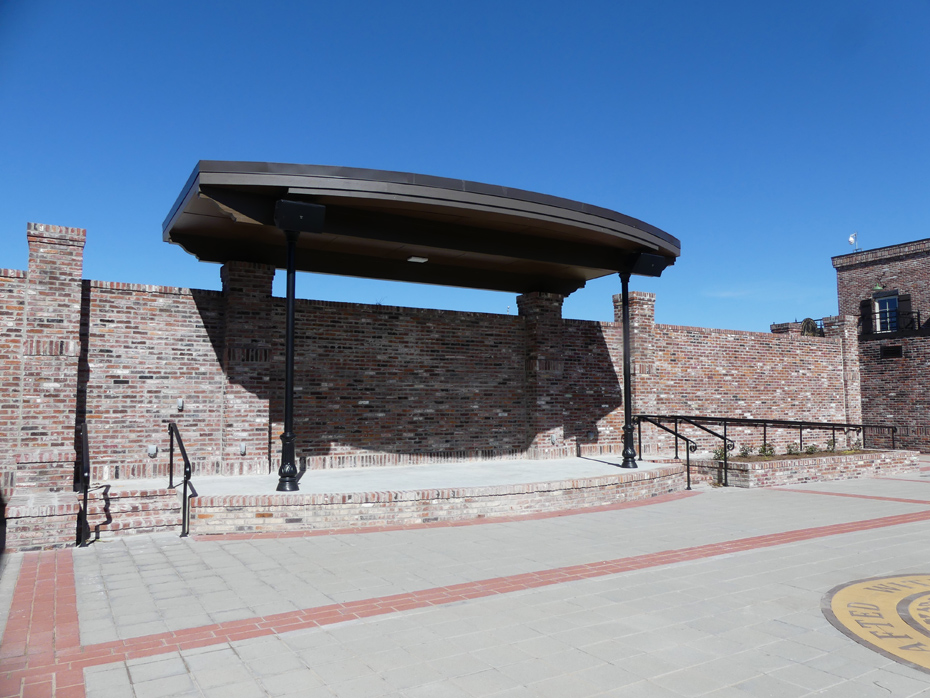 We got to sample each of the rums. The basic White Rum is a pleasant surprise. It has much more flavor than the average "big name" rum and a nice fruity taste. The Spiced Rum is much stronger tasting due to the spice which is very present but not overpowering. I'm a dark rum person but it was hard for me to choose a favorite between the next two, the Satsuma Rum which is a blend of rum and Satsuma giving it almost the feeling of a cocktail. Bayou Select had a very smooth flavor that was rum at its best. I made the hard choice and left with a bottle of the Satsuma.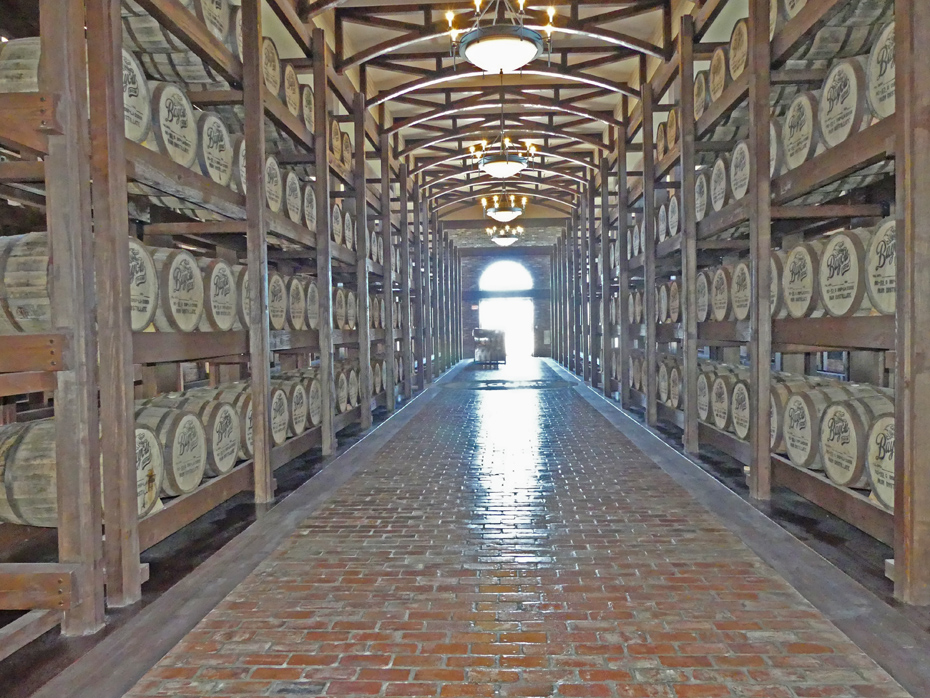 In addition to the rum production which began in 2013, they now have a event center with an ampitheater that is perfect for weddings and other special events and a barrel library which allows them a lot more space to age special rums. They also opened Café du Bayou, a coffee shop just east of the distillery in a renovated farmhouse that is the oldest house in the Lacassine/Iowa area dating to 1903.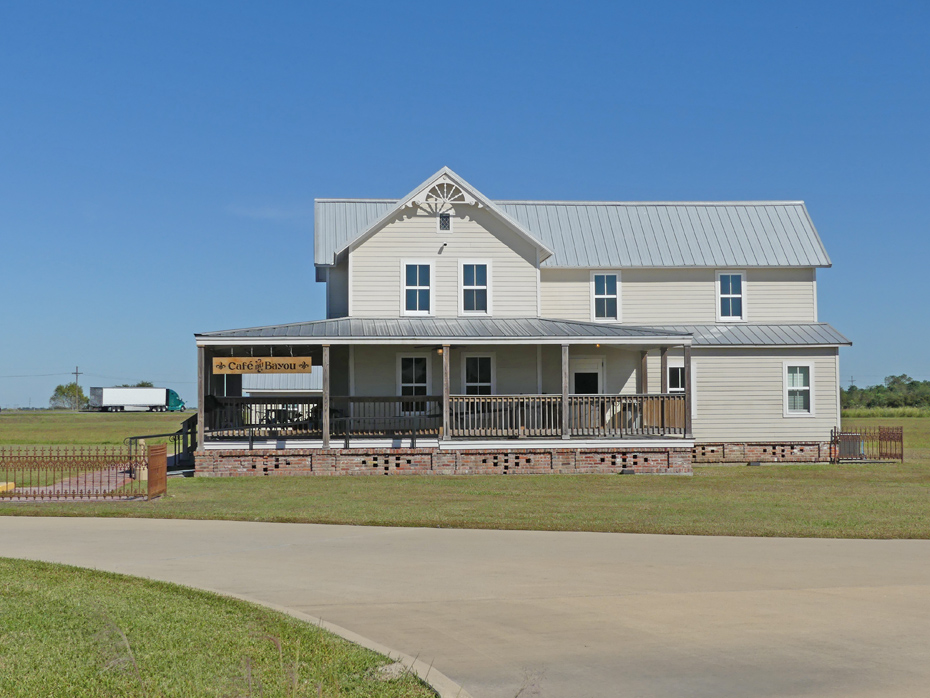 Bayou Rum makes about 25,000 cases a year and are distributed currently United States, the Caribbean, Canada, and in several countries in Europe and Asia. They've won more awards than they can count. AAnother honor for a relatively new company is they were named the #1 Attraction in Louisiana by the Louisiana Travel Promotion Association in 2017. Now they are the largest privately-owned rum distillery in the country. And their products are available across the United States, the Caribbean, and in several countries in Europe and Asia.
For more info: http://bayourum.com/
We'd love your comments!rong>