Back in the day, it was believed that a goat had a calming effect on high-strung racehorses so owners would put a goat in the stall with their horse before a race. Unscrupulous opponents would sometimes steal the completion's goat in the hopes of making that horse become upset and lose the race thus the phrase "don't let them get your goat."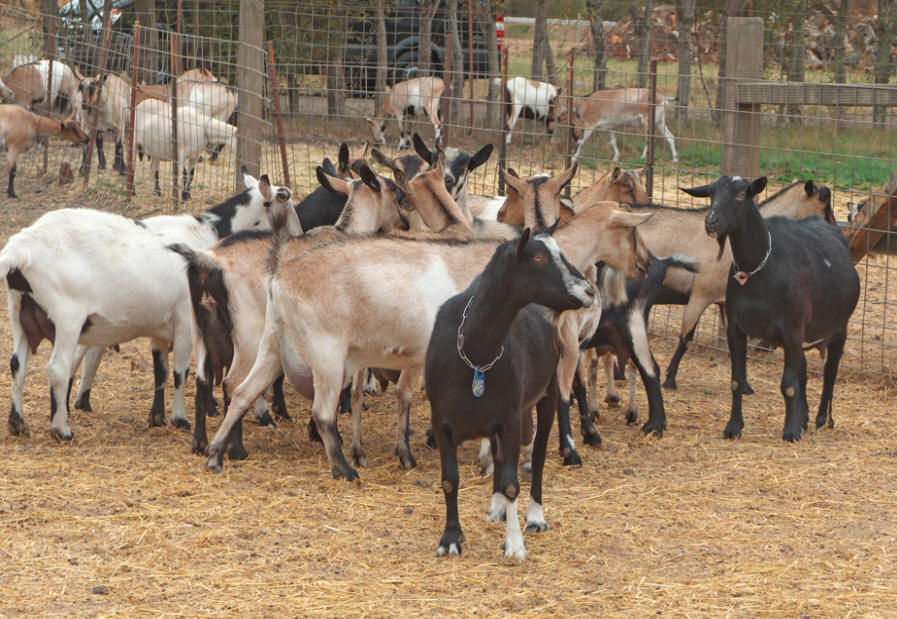 Cluster of goats at Harley Farm looking over the visitors about to decend on them
Harley Farms in Pescadero, California is one place you can test the calming effect of goats for yourself. The goats at Harley Farm are not only calming, they are downright fun as well as producing a lot milk to make Harley Farm's delicious cheeses. Their story is a testament to American's growing interest in understanding where their food comes from.
History
Following California's gold rush, family dairy farms became common in the area until industrialization came along. Small farmers were forced out. It was the day of the huge corporation. The little guys couldn't compete. Many of the farms were just shut down and buildings left to disintegrate. The farm house at what is now Harley Farm was one of these derelict farms. It was built in 1910 and was in total disrepair when Dee Harley came live there.
The barn and garden shed at Harley Farm
Stacy Lesueur, our guide, explained how Harley Farms came into existence. "Dee Harley came from England as a teenager through a youth program and landed in the San Juan Islands. She was working there and made friends with some sailors and joined them sailing on a tall ship to Pescadero where she began working on Jacobs Farm. She loved the area and soon fell in love with a local man,Timothy Duarte, and married him. They renovated the old farmhouse. Dee was processing sun-dried tomatoes for Jacobs Farm at that time. One of her customers was a goat farmer named Nancy who would pick up the tomatoes. One day Nancy was unable to do her pick up and asked Dee to bring them to her. Dee became interested in the goats and Nancy asked Dee 'What if I bring six of my goats and let them winter at your farm and eat your grass and in exchange, I'll teach you how to milk the goats and you can sell the milk back to me.' Eventually the six goats grew to over 200 that are here today."
Goats
Visitors to the farm can take a farm tour where they can interact with the goats on Saturdays at 11am or larger groups can book private tours. If you want a spot on one of the Saturday tours, book well in advance as they fill up quickly.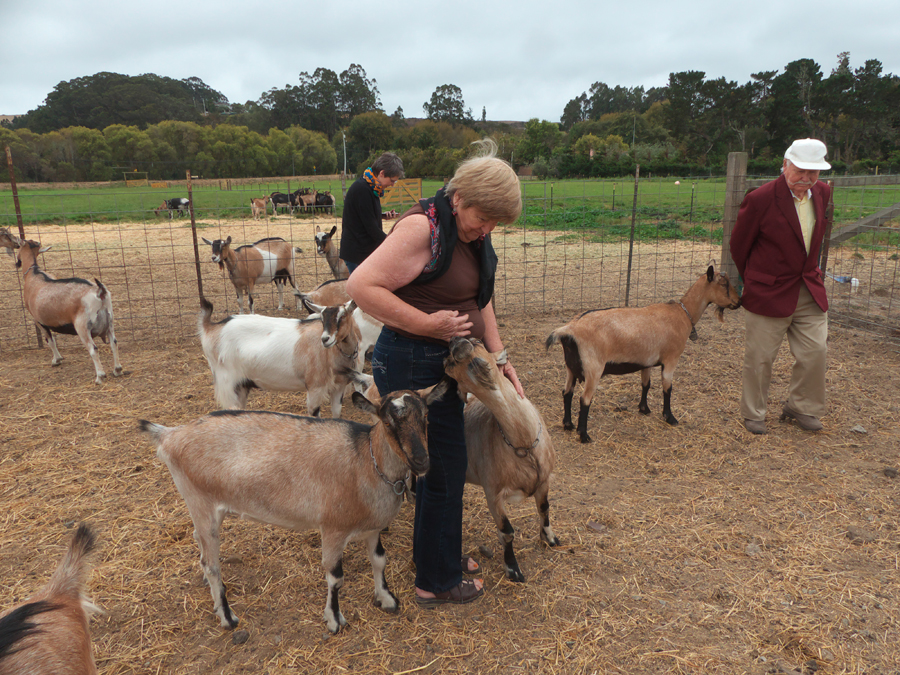 Trying to convince the goats not to nibble on my clothing
We did the tour so we were able to go in the pasture and pet and interact with the goats. Trust me the goats will interact with you if you have a scarf, hanging chain, or any piece of clothing they can nibble on. It was almost as much fun watching the fellow visitors protecting their clothing from the goat's nibbling as petting the friendly animals.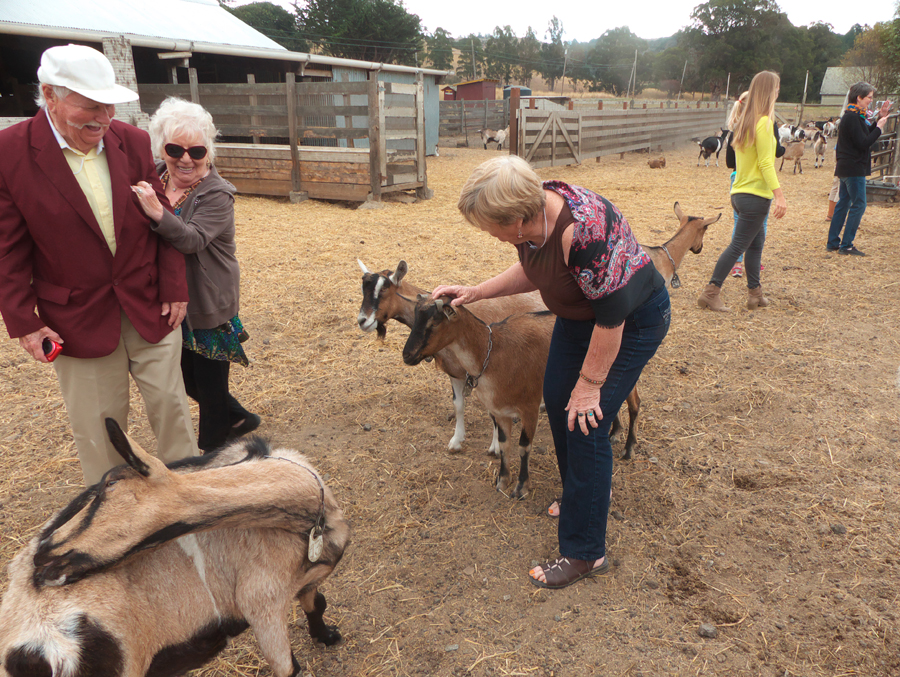 One of my fellow visitors fleeing the nibbling goats
Even if you don't book a tour, visitors can walk around the farm and see the goats and llamas in paddocks and pastures. In spring, the babies are romping in Tony's Pen, named for the friend who visited from Yorkshire, England and built the pen so visitors could get close to the baby goats. It's just inside the gate where where you have a good view. Babies are also in the picnic field corral which can be seen from the public area.
The farm has their very own guardian angels so no critters can get the goats. Four retired show llamas, Dolly, Lorenzo, Ruby, and Haley, guard the herds. No coyotes, dogs, or other evil beings will harm these goats under the llamas' protection. For unknown reasons, llamas tend to bond with their charges and have been known to kill a coyote trying to attack the flock even though llamas are usually nonviolent animals.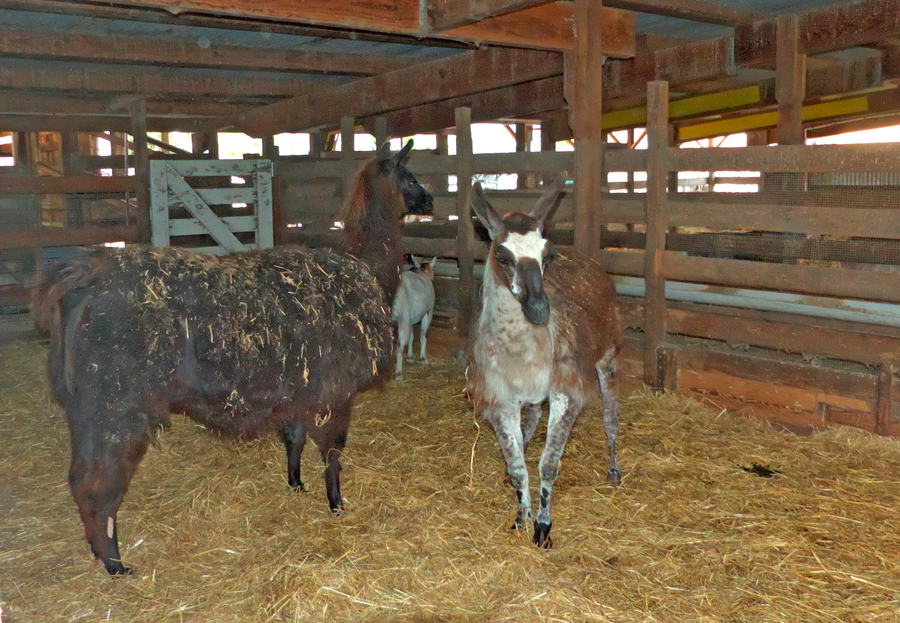 These llamas with their charges
This is a working farm so you will meet other farm animals as well as the farm dog and cats. You might spot a few chickens.
The farm cat
Even the restrooms are labeled "Nannies" and "Bucks."
Gardens
Where you don't see goats, you see gardens filled with herbs and edible flowers. Stacy explained that "the Edible Garden produces many of the plants used to season and decorate the cheese. We collect all of the rainwater and are one of the few farms that also have well water. There is zero water waste on the farm. Even gray water is used for washing off the milking equipment. This is why we were able to continue thriving when many of the farms had to close."
They have a beautiful herb garden
The Secret Garden is filled with flowers and is a perfect place to have a wedding or other special event. Harley Farm is a favorite place for couples to exchange vows.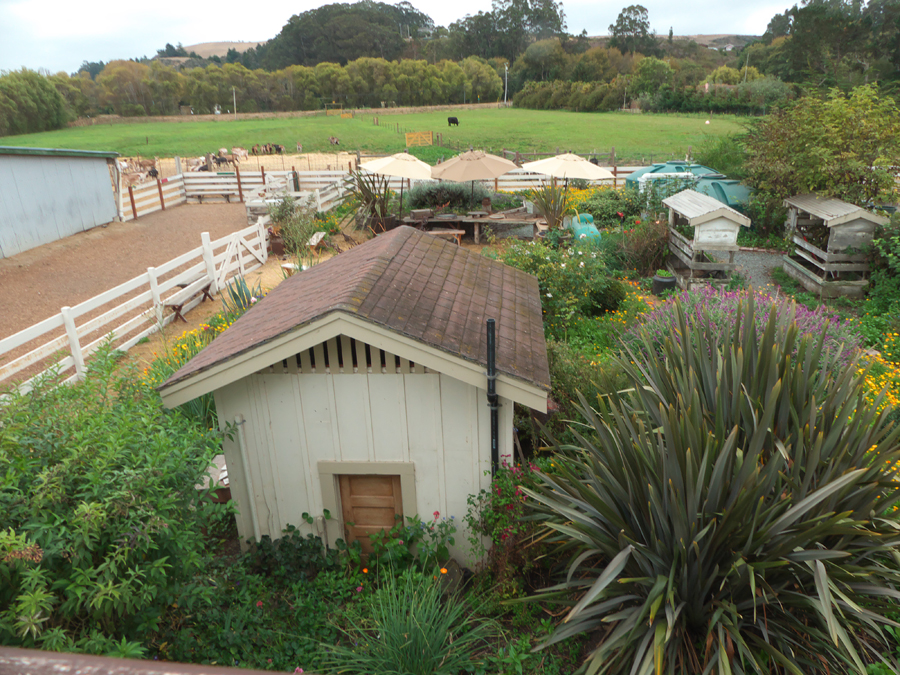 An overview of the gardens looking down from the barn
Barn
The barn loft is furnished for events. Besides the weddings, the farm hosts Farm to Table Dinners several times a year. Again, if you want to attend, they announce the dates in November and fill the slots very quickly. The table was created from a log that was jammed in nearby Pescaderto Creek. The table top is one solid plank about 36' wide, rustic and beautiful. Each of the chairs is hand-built to match the table and are joined with pegs not nails. The chair backs are decorated with a carved image of the farm's logo, a jumping goat. This theme is repeated on a barn loft window. You have never seen an old barn looking so beautiful.
Their rustic table and chairs really make the loft homey
Cheeses
Downstairs the barn houses the cheese shop and the cheese making kitchen. You can view the dedicated mother and her three daughters making the cheeses through a glass viewing pane. The shop has some other products such as barn paint (very eco-friendly) and beauty products. The cheeses are decorated with edible flowers from the garden making them beautiful as well as delicious.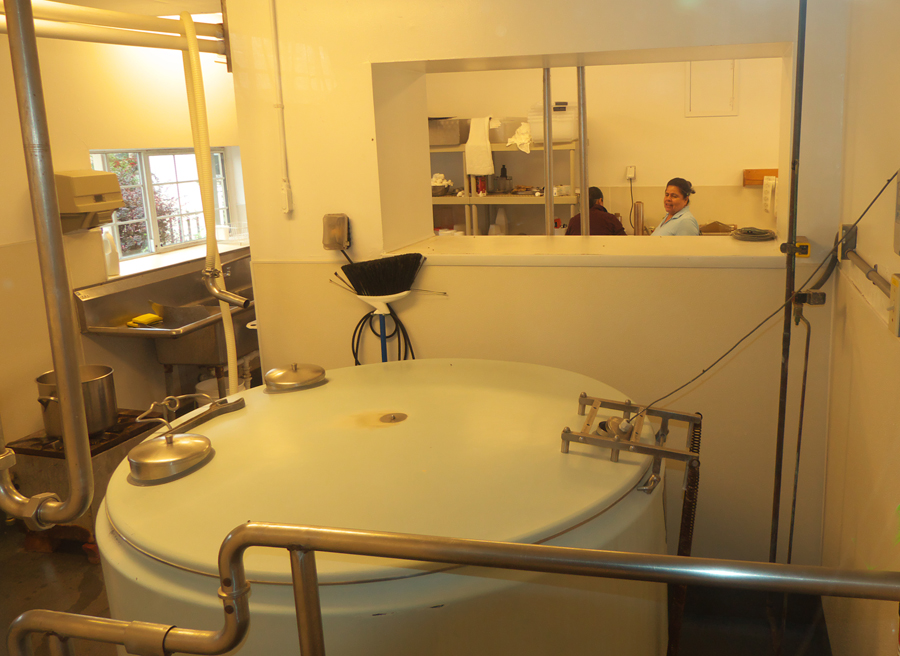 Cheesemakers at work
We sampled a few and it was hard to say which was best. I tended to favor their honey lavender chèvre but it was a close first just ahead of some of the others. Harley Farm has won over thirty national ribbons from the American Cheese Society, and two world medals which goes to prove sustainable farming is alive and well in our county.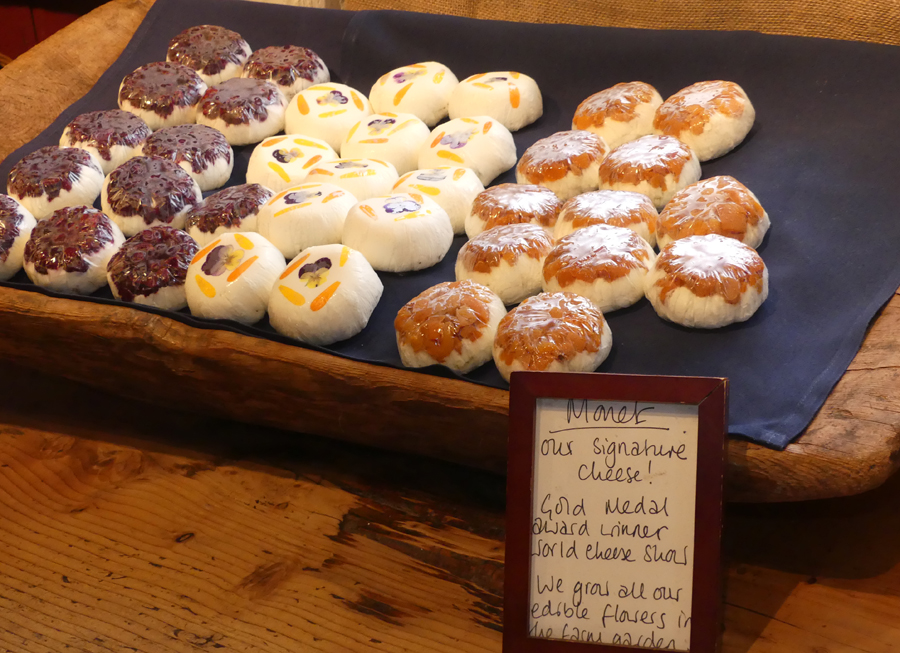 Grouping of Harley Farm's cheese
I can verify from personal experiences that romping with these goats is calming and a lot of fun. So next time you are in San Mateo County, don't let anyone get your goat. Stop in at Harley Farms and get down and dirty petting and playing tug of war with the goats and then enjoy some of the cheeses these fun animals provide.
Note the flower and herb leaves embedded in the cheese
For more info: