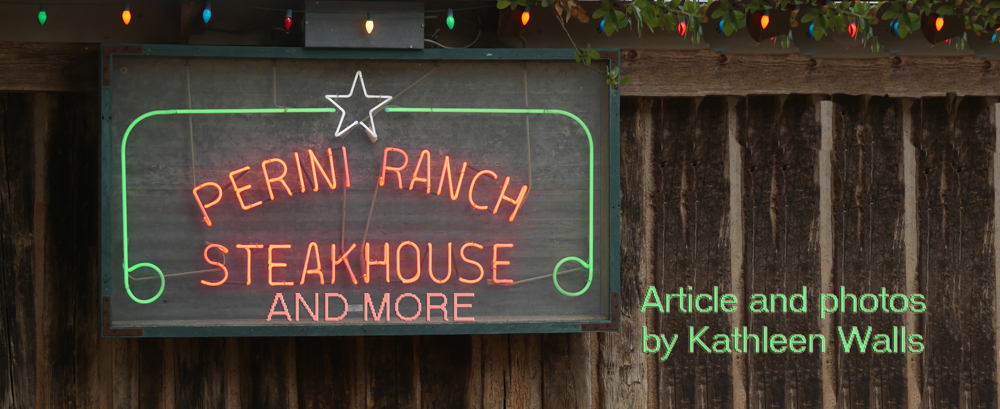 Perini Ranch Steakhouse


Many of you may have heard of Perini Ranch Steakhouse in tiny Buffalo Gap, Texas. It is well recognized even outside its native Texas, for its many awards like Best Burger on the Today Show, 3rd Best Steakhouse in Texas by Texas Monthly, and numerous other prestigious awards. It is one of only five restaurants nationwide to be awarded the James Beard Foundation 2014 America's Classics Award.
Easy to see why the Perini Ranch Steakhouse burgers won so many awards


Perini Ranch is so much more than a restaurant. Today it is a complete agri tourism destination where you can view long horn cattle, sleep in a guest house on a working ranch and dine on great steaks accompanied by vegetables grown right outside.
The story began with Tom Perini's design to indulge in this favorite pastime, cowboy cooking, as a small business. In 1973, he packed his cast iron pots into a chuck wagon and began catering cowboy events around Texas. Things took a bold step forward with Tom's decision in 1983 to turn an old hay barn on the family spread into a restaurant. Beef and cattle prices were down at that time and Tom saw it as a way to add something to the family coffers. Today, Tom has catered for presidents and celebrities, toured the world introducing Texas style food, and hobnobs with the elite of the TV celebrity chefs.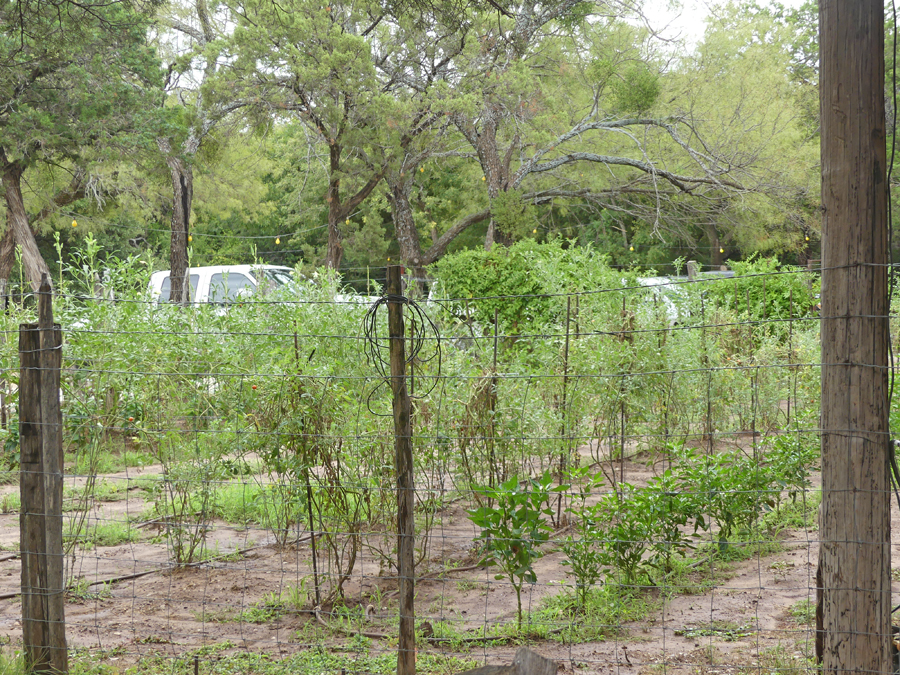 One of Perini Ranch Steakhouse gardens

On a recent press trip to Texas, I got to visit this fun place. First stop, Perini Steakhouse for lunch where we were greeted by Nan, one of the loyal employees who worked there since 1998. Perini Ranch has been in the Perini family since the 60s and all of the people who worked the restaurant seemed to consider them family.
Perini Ranch is 642 acres and now raises longhorn cattle. The beef you eat is certified 21 day aged Angus beef. The longhorns raised here are pets and have names. Like Mocha. Nan point out when I asked about the long horns. "No you don't understand. When you are a Perini pet then you have the best of the best. No one eats them ever."
Later as we were debating the merits of the Sunday Brunch compared to ordering from the menu, Nan returned to tell us the longhorns were now grazing out behind the restaurant. We all rushed out to see them. They did indeed look like happy pets not food. The big fellow who looked like the cattle patriarch was lying in the middle of the pasture overseeing his kingdom. A tiny calf trotted over to its mother and received a warm lick in greeting.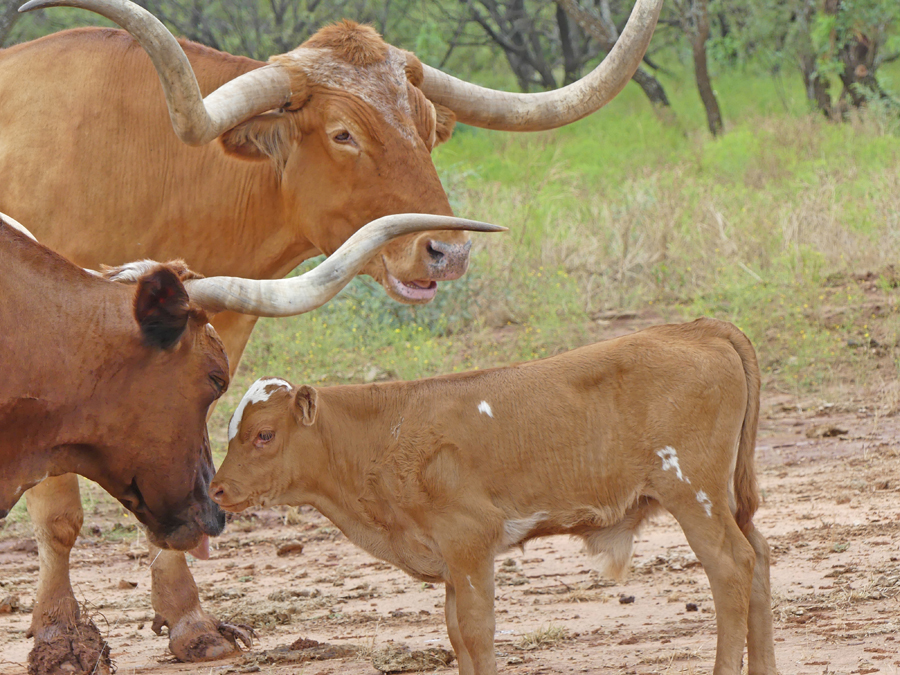 Longhorn calf and mother at Perini ranch

Returning to the ranch, past the open area where children played fun outdoor games instead of gazing intently at their cell phones, Nan pointed out the small garden where some of the restaurant's vegetables and herbs are grown.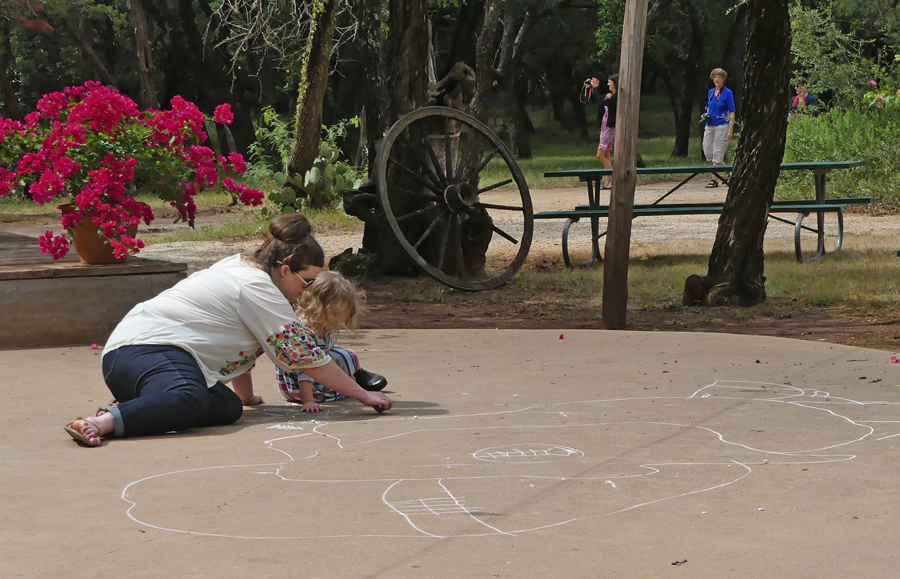 Mother and child enjoying the backyard area at Perini Ranch Steakhouse

Perini Ranch Steakhouse for all its awards is not a stuffy Sunday-go-to-meeting kind of place. It's a jeans and tee shirt atmosphere. Boots and Stetsons are optional but not uncommon. The decor is pure Texas barn. It has a charm that has to be felt to be appreciated. The food is down to earth dishes whether you choose a steak or burger from the menu or opt for the buffet. I choose the buffet and stepped out back to choose my veggies from a lineup of cast iron pots manned by cowboy types. This is no namby-pamby buffet line. These guys all looked like they could have stared n a cattle drive western. The food is hot and plentiful and cooked out back.
Most of their food is cooked on site but there is one interesting item produced by a local handicapped association. Disability Resources Incorporated (DRI) take pride in making the Jalapeño Bites served at the restaurant. DRI is a residential program for intellectually challenged adults that provide opportunities for growth through their Activity Center, Vocational Programs and other activities. I had to try the Jalapeño Bites and found them excellent. Just spicy enough but still the bacon and cream cheese gave them a delicious smoothness. The other appetizers, Mesquite Ribs and Quail Legs were also yummy.

Jalapeno Bites and Quail legs served in small cast iron pan

After the appetizers which were really enough to fill one up, I shamelessly joined the line out back and started out with the chicken, pork, mashed potatoes and lots of veggies. You could smell the mesquite smoke which is a trademark of the cooking here. There is just something about comfort food. It is… well, comforting. By the time we reached the dessert stage I was very comforted. The fact that I could button my jeans (barely) and still breathe (shallowly) was comforting. Thankfully there was no scale in sight.

Buffet line at Perini Ranch Steakhouse

Nan returned to help make us more comfortable with the dessert choices. All sounded scrumptious so we decided to get one of each and have just a taste. These were hard choices no one who had eaten all the food we did should have to make. Their house specialty is Perini Ranch Bread Pudding made with Jack Daniels Whiskey Sauce, sourdough bread and pecans. Yup, it tastes as good as it sounds.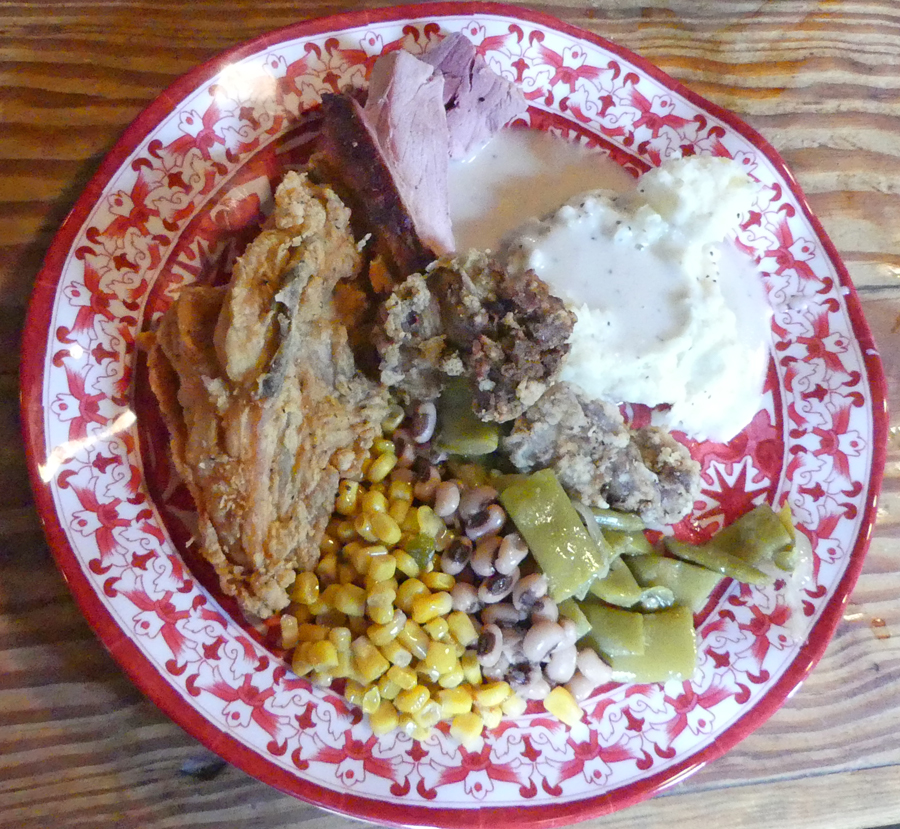 Buffet food at Perini Ranch Steakhouse

Then the Texas Chocolate Cake which sounds simple but dressed up with a touch of cinnamon and covered in chocolate pecan frosting it raises the bar a lot.
Their Strawberry Shortcake is based on a recipe Tom's great-grandmother made. Homemade sugar biscuits are covered with warm strawberries. There is a cup of heavy cream served on the side in case it isn't rich enough already.
I wondered about the Jalapeño Cheesecake. Sounds like a strange combination but somehow that cheesecake drizzled with savory jalapeño jelly works. I did pass on my share of the whole jalapeño perched saucily atop the cheesecake. Got to draw the line somewhere when it comes to dieting.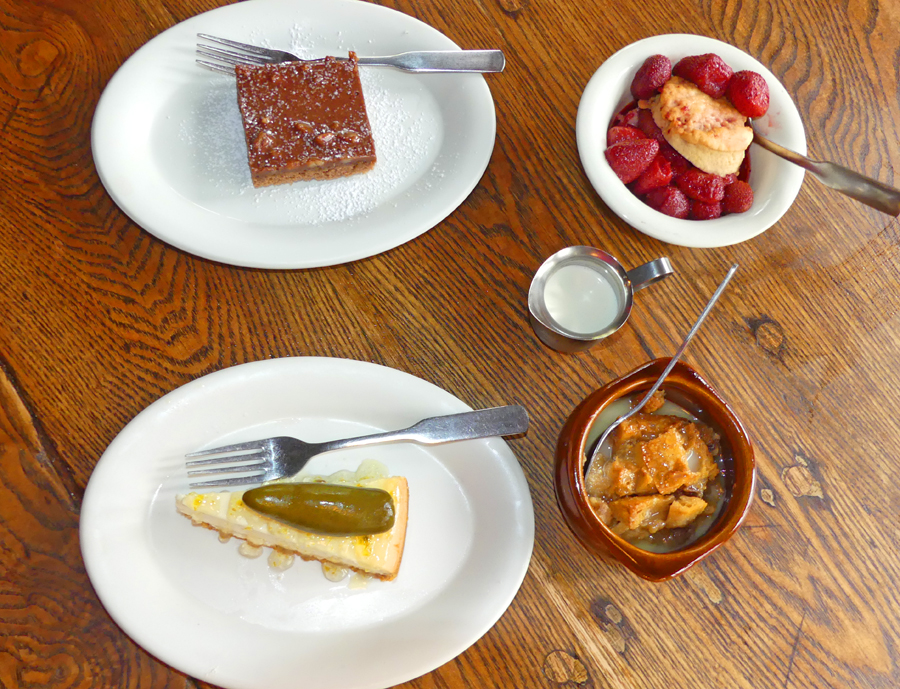 Dessert choices at Perini Ranch Steakhouse

Perini Country Store

After we waddled out to the bus, we stopped to visit the brand new Perini Country Store just up the road a piece. It was filled with goodies and a cute kitty named Domino.

Domino, the Perini Country Store cat, reclines on the cowhide rug like he owns the place

Perini Ranch Lodging
When we drove up to the lodgings we met Sharon who was just checking out the two recently vacated cottages. Sharon told us this restored and renovated 1885 farm house was the house Tom grew up in. She pointed out her favorite spot when it is snowing. The deer feeder was visible. The place was filled with country chic. There are so many homey little touches. I love the red and white decor in the kitchen and the four poster bed in the first bedroom. The fireplace is no longer used as a working fireplace but it still gives the feeling of a cozy focal point.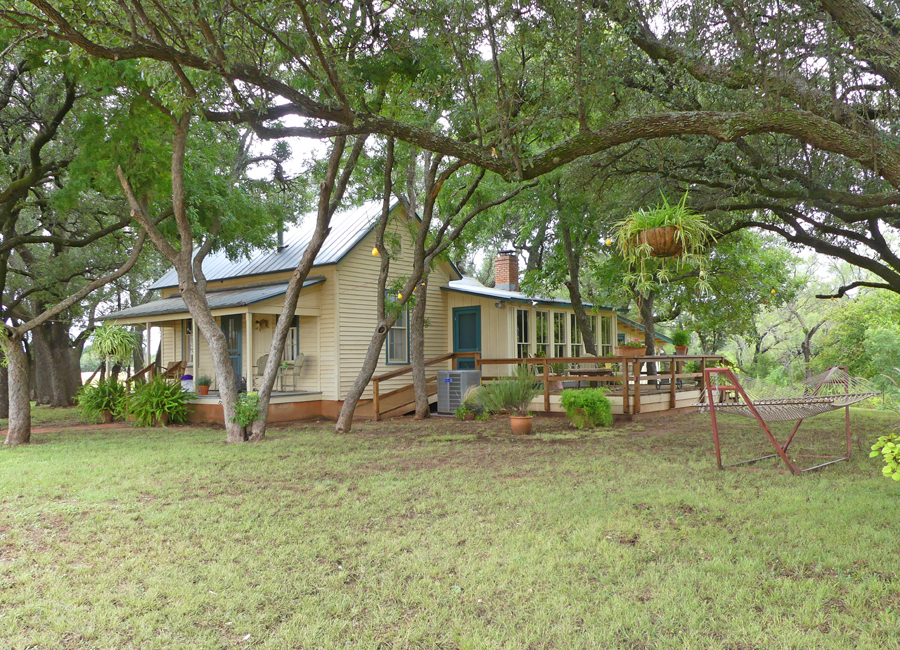 Ranch house at Parini Ranch Lodging

This home sleeps five in the two bedrooms each with its own bath. It may be a 19th century home but it is equipped with all the modern conveniences such as wifi and hi def satellite TV. Both lodgings come with a continental breakfast.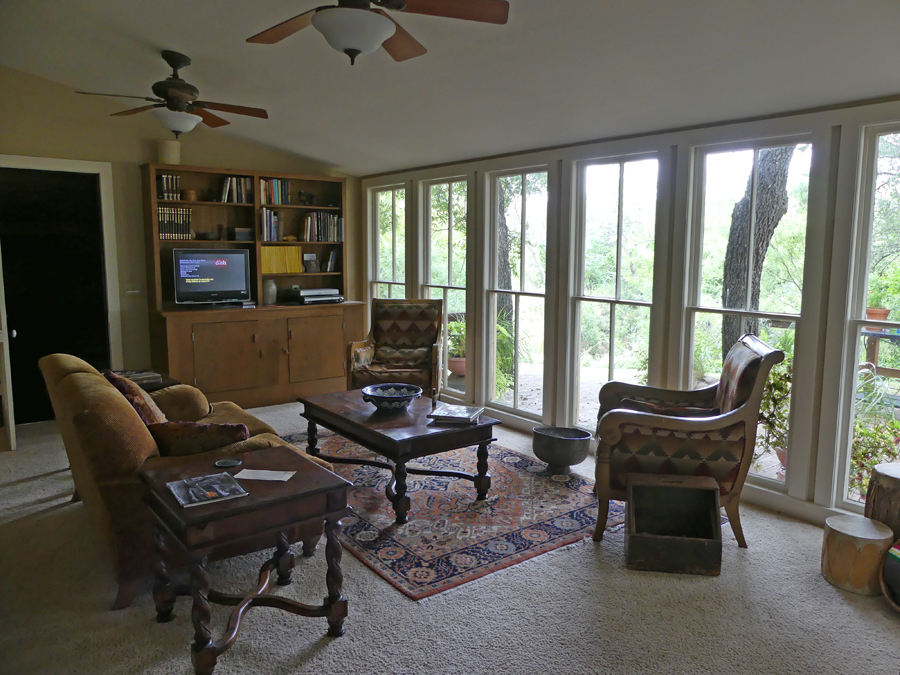 Area of ranch house offering best view

The camp house is equally cute, just smaller. It has one bedroom and a day bed on the sleeping porch. There is a small kitchenette with fridge and microwave. It lacks the history of the larger ranch house but makes a wonderful weekend getaway for a couple or small family wanting to experience life on a ranch.
Guests are free to wander around the ranch but need to remember it is a working ranch. There are cows and chickens around and you need to be conscious of where you step. What a great place to visit to remind your kids (and yourself) that eggs come from chickens not stores and family ranches still exist.
The Judge's Fried Chicken
(Recipe courtesy Tom Perini)
This recipe has an interesting history related to a controversial vote on the location of the county seat.
Click to read about Buffalo Gap's reaction to moving it to Abilene.

vegetable oil (such as peanut), enough to cover chicken and allow it to float
3/4 cup milk
1 egg, beaten
2 teaspoons seasoning salt
1/2 teaspoon ground white pepper
1 whole frying chicken cut into pieces, or about 8 individual pieces of chicken
2 cups flour
In a deep, heavy skillet, large pot, or Dutch oven, heat the oil to 325 degrees. In a bowl, mix milk, egg, salt, and pepper. Dip chicken pieces in the egg mixture, then dredge in flour, shaking off excess. Put chicken pieces in skillet a few at a time. Be careful not to crowd them and adjust heat to keep temperature even. Fry until done; pieces will float to the top. (Remember, thighs and legs take a little longer to cook.) Serves 4 to 6.
For more info:
https://store.periniranch.com/steakhouse/