This 1,100 acres of wildlife filled wetlands just minutes from downtown Augusta provides trails to hike or bike, waters to kayak or canoe, picnic areas and even a nature campus for students. It offers something for every age and interest. It is a habitat for wildlife. You will find birds, mammals, reptiles and fish. Even the insects offer interesting photo ops.
Ducks swim at Phinizy Swamp Nature Park

Some of the wildlife you may find there are blue heron, red-shouldered hawk, egrets, sora, bald eagles, several varieties of ducks and otters, alligators, beavers, muskrats, turtles and many others. You may even spot an elusive bobcat. Naturally there are many species of snakes and a few coyotes.

Southeastern Natural Sciences Academy uses the park as an outdoor campus to educate young people about the value of nature and wildlife. There is a 3,200 square foot K-12 education building with classroom, laboratory, restrooms, and office space; a 2,000 square foot research facility, with ongoing studies of aquatic and ecology-based research projects; a 2,240 square foot administration facility that allows the Academy to accommodate local and visiting students.
Aaliyah Ross with her enviroscape model

Aaliyah Ross, the park's Education Specialist, explained "Wetlands can be really great tools for filtering and protecting our water from pollution." She demonstrated the enviroscape model she uses to help students learn the importance of wetlands and how to protect them. "This model can be used to teach from lower grade school through high school."

Adults will also find lots to do and see at Phinizy Swamp Nature Park. Swamp Saturdays are held the first Saturday of each month. They are free and take you on a 2.5-mile hike through the park's trail system. There are also moonlight nature hikes and special meteor viewings throughout the year. There is an annual Earth Day Augusta Celebration with lots of festivities and 5k and 10k Swamp Stomp marathons. For families there are group bike rides and summer dusk walks on one of their many trails.

Beaver Dam Trail is a .5 mile dirt trail for hiking and mountain biking. The first half of this forested trail overlooks an active beaver pond, a small meadow, a lake, and a swamp. After crossing the Bridge Through the Woods, it follows Butler Creek, taking you through a mixed leafy pine forest. Wild turkeys and deer frequent the area, and you might spot beaver or river otter. A bench gives you a resting point at the spot where man-made Phinizy Ditch joins Butler Creek. Just past a bench, the trail splits into a blue trail and a green trail, both ending at the same place. The blue trail tends to be drier than the green trail. This trail is wheelchair and mountain bike accessible.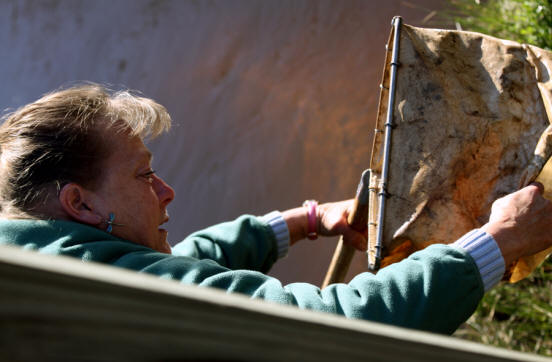 Ruth Mead studies speciments from Phinizy Swamp waters

Butler Creek Trail is a .25-mile dirt hiking trail with a stunning view over the floodplain of Butler Creek from a high ridge, and it meanders through a deciduous upland forest as well as a small pine forest.

Cattail Trail is the shortest trail. It's a .1-mile dirt hiking loop that is the entry point to the Floodplain Boardwalk and Observation Deck. You travel through a stand of native cane, cypress knees, and numerous vines and wildflowers. This trail is wheelchair accessible.

Constructed Wetlands Trail is a 1-mile hiking and mountain biking gravel trail. When you leave the canopy of the forest and enter the openness of man-made marshes used by the city of Augusta to provide a third step in wastewater treatment you will see how handling a city's waste water does not need to be detrimental to the environment. These artificial wetlands were began in 1997, and they have since become a favorite area for migrating waterfowl, shorebirds, marsh and wading birds, and birds of prey. Wheelchair accessible and mountain bike accessible
Imature white ibises rest atop a dead tree at Phinizy Swamp

Pond Trail is a 0.8 miles dirt trail. It's a sunny

loop that takes you around the Equalization Pond that holds treated wastewater before it enters the constructed wetlands. The trail is on a raised berm around the pond, allowing a higher view of the surrounding swamp and pine and deciduous forest. An occasional grebe or cormorant may be seen in the pond.

River Scar Trail is a 1.1 mile graveled trail that wanders past constructed wetland cells that borders a stunning river scar featuring a cypress-tupelo swamp. It brings you to a deck overlooking the ancient scar where you can stop and contemplate the beauty of this special place.

All trails are wheelchair accessible and mountain bike accessible except Butler. Cattail is wheelchair accessible but not good for bikes.

There are several wonderful observation points and boardwalks located throughout Phinizy Swamp Nature Park.
One of the boardwalks at Phinizy Swamp Nature Park

Beaver Pond Boardwalk and Observation Deck, a 50 foot wooden boardwalk with a covered observation deck overlooking an oxbow lake.

Bridge Through the Woods is a steel and wooden bridge is 25 feet in length that spans Butler Creek

Floodplain Boardwalk and Observation Deck is a .1 mile wooden boardwalk with a covered observation deck at the end.

Pfizer Pavilion is a covered picnic area with electricity and nine, eight-foot tables with seating for 60 to 70 people.

Rain Garden Deck is a wooden boardwalk overlooking the Phinizy Swamp Rain Garden.

School Bus Bridge is a 100 feet concrete bridge that offers a wonderful view where you may spot wildlife.

If you need answers to any questions or just want to check it out, Phinizy Swamp Nature Park Visitor's Center is open Saturdays and Sundays from 10 am to 4 pm. There are a few interesting exhibits inside about the wildlife in the park and you can buy some neat Nature Park merchandise inside.

It's easy to see why it is not more well known. If you had a hidden gem like Phinizy Swamp Nature Park right in your back yard would you tell the world?

For more info: