Heaven on Earth via Kayak:
Kayaking Shell Creek in Charlotte County, Florida
Article and photos by Kathleen Walls
A view of the bridge across Shell Creek
A kayak trip down a undeveloped creek is like getting a glimpse of what Heaven must be like. Shell Creek which flows off the southernmost section of Peace River in Charlotte County, Florida is one such sacred place. It's a local "secret spot" that deserves more recognition.
Notice the alligator on the bank behind the turtles

The creek is narrow and meanders through

piney flatwoods and riverine cypress swamps. Your kayak glides along with little or no encounters with submerged limbs or bottom scraping. It's flow is controlled by a dam so you will always have deep enough water for a great trip.

There are trees and shrubs inhabited by lots of Florida wildlife on the banks. Sometimes you can spot a deer, raccoon or even river otter when they come down to the water to drink. In scrubland clearings along the bank you might get lucky and spot a Florida scrub jay as that rare bird inhabits parts of this area.
I approach close to the alligator on the bank
Photo Credit Warren Resen

Many more wild creatures who make their home in the creek are usually visible as you glide silently past. Turtles by the dozens with bright red or yellow markings on their backs and their heads and necks stretched towards the sky soak up the sun on logs that protrude from the banks into the creek. Alligators lie sunning in clear spots on the bank. Overhead, wading birds, like egrets, herons or ibises glide watching for signs of a tidbit beneath the waters. A few anhingas bask in sunlight high above on overhanging limbs drying their wings for their next foray into the creek's depths. Even higher in the sky you may spot an eagle in flight. The creek twists and turns so you are always wondering what is beyond the next bend? A few strokes and you find out; yet one more bend.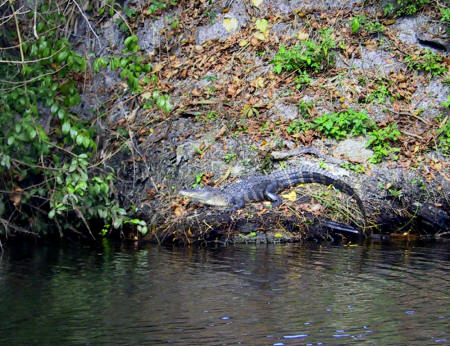 Getting close to wildlife in a kayak is easy

Occasionally signs of human habitation encroach on the wildlife but they are usually intriguing instead of irritating. As you paddle your kayak under a small bridge, you wonder where the road it supports leads to and from. A house peeping out from the woods with a dock and solitary human perched there adsorbed in a newspaper. Yet, he raises a hand in greeting as our kayaks sweep by. Another home stands near with a large dock filled with water fun toys like paddleboards and canoes. Even another kayak pulled up on the banks beneath it. A huge slide dominates the dock. Steps to the rear and the slide pointed towards the water. You know at once the creek is deep beneath you at this point. You can't help but wonder if you would have enough courage to swoop down that big slide and hurl into the creek's depths.

The Peace River and its watershed are important to the environment. The river originates in Polk County and flows south turning southwest into Charlotte Harbor. It provides an estuary that supports numerous sea life including 68 of Florida's endangered or threatened species of wildlife such as manatees, roseate spoonbills and brown pelicans.
Christine, one of our group, launches into the creek

The nice thing about a trip like this is that there are outfitters like It's Time Canoe and Kayak, that can outfit you with all you need for a great wildlife viewing trip. All you need to bring is yourself. Mike and Audrey, the owners,

provide everything else you need to explore. We took the guided tour with Mike along to help us sight the wildlife. He found us lots of wading birds, aligators and more turtles than you could point a kayak at. They launched us from Hathaway Park but they offer many other tours in Peace River and its tributaries as well as harbor trips in Charlotte County. All the tours include a naturalist guide, like Mike, and they even provide you will a fresh fruit snack and a bottle of water. They also offer rentals and fishing trips.

For more info:

http://itstimekayakandcanoe.com/




Ads fund American Roads so please consider them for your needed purchases.
If you enjoy the articles we offer, donations are always welcome.