AMERICA'S MOST REMOTE NATIONAL PARK
Article by Warren Resen
Photos by Jeanne O'Connor
If you found yourself on an island in the Gulf of Mexico 70 miles west of Key West, where do you think you might be...in another country, or perhaps another state? You would still be in the USA and in Florida and on Garden Key in the Dry Tortugas visiting Ft. Jefferson.
The Dry Tortugas and Ft. Jefferson are places not familiar to most Americans. Key West is a five hour drive south and west of Miami and the Dry Tortugas are another 70 miles due west by boat. This is not a location for the casual visitor . When I asked people about the location, one person thought it was part of Cuba. Another thought it was a territory of the United States, and on it goes.
Entrance to Fort Jefferson
The islands were discovered by that ubiquitous Florida explorer Ponce de Leon in 1513 and named for the abundant turtle life (Las Tortugas).Later, because of the lack of fresh water, mariners added the label "dry" to their charts. In 1832 naturalist John James Audubon visited there when traveling from Key West to study the abundant bird and marine life.
The next happening of note was construction of Ft. Jefferson, named for President Thomas Jefferson, by the U.S. Army Corps of Engineers beginning in 1846.
The Dry Tortugas are located along one of the world's busiest shipping lanes. Its strategic location was deemed as key to protecting shipping through the Gulf of Mexico. The building of a fort in this remote location was seen as a necessity in the mid 1800's. Ft. Jefferson, designed to support 450 cannons, is the largest masonry structure in the Western Hemisphere.
Construction went on for over 30 years, ending in 1875. During that time, never a shot was fired in anger. Although the fort was never finished, estimates are that more than 16 million bricks were used during its construction.
Fort Jefferson Parade Grounds
Unless you have your own boat, getting to the most isolated national park in the Continental United States usually means a cruise on a catamaran leaving Key West at 8 AM. Arrival at the Ft. Jefferson dock takes 2 - 2 1/2 hours.
Now, why go there in the first place? The Dry Tortugas, with Ft Jefferson as its centerpiece, comprise seven undeveloped coral and sand islands. Far removed from civilization, this is a pristine paradise.
Fort Jefferson, Moat, Walkway, Gulf of Mexico
Dedicated as the Dry Tortugas National Park in 1992, it covers 64,700 acres of mostly open water. Tales of the pirates who roamed this area are legend. The ocean bottom surrounding the islands is littered with shipwrecks. Many are Spanish galleons still laden with gold and other treasures, which are still to be found. Mel Fisher's group is still recovering treasures from the famous Atocha.
View from gun port
Civil War buffs have a historic fort to explore. During the Civil War, Ft.
Jefferson was used as a military prison for captured deserters

. Dr. Samuel
Mudd
was imprisoned here. He was accused as being an accomplice for setting the broken leg of

John Wilkes Booth

after

President Lincoln's

assassination. This was the last port of call for the

USS

Maine

before it left for Havana where it blew up in the harbor precipitating the Spanish-American War.
After docking at Garden Key, guides are available for free 45 minute narrated walking tours of the fort. But there is much more available during your visit to this historic site.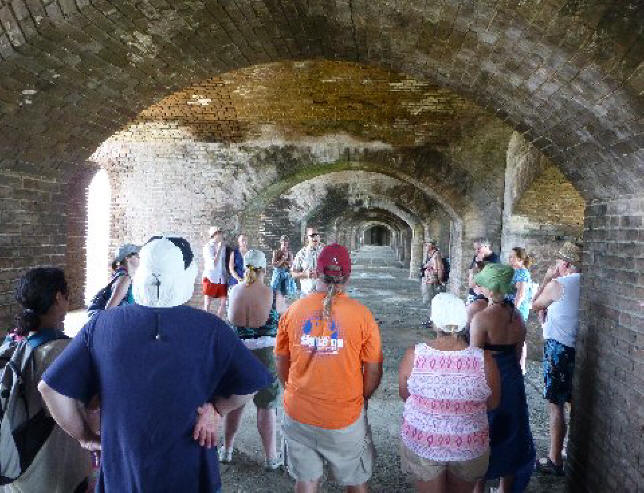 Guided tour of Fort Jefferson
Snorkelers are given gear before leaving the ship and are free to explore the shallow waters surrounding the island. Fishermen wander the beaches hoping to hook the big one. There is even free limited overnight primitive camping if you make advance arrangements and bring your own equipment.
For birders, this is paradise. The islands of the Dry Tortugas are on the main flyway from the United States to South America. Hundreds of thousands of sooty terns nest there as do thousands of brown boobies. You have to be a birder to appreciate these names. Countless other species can be seen on their seasonal migrations. The National Park Service bird list for the Dry Tortugas includes 299 species.
Now back to Key West from where your journey to the Dry Tortugas begins and ends. Key West is, well Key West. It too is a different world and the unofficial capitol of the Conch Republic as residents of the Keys refer to themselves. A day trip to the Dry Tortugas would normally mean a stay of several days in this famous location.
Key West has an amazing amount of history for so small an island (cay) and you have probably heard of the doings on Duvall St. All of this information can easily be culled from the Internet and brochures.
One of the Key West Train Tours
Sightseeing in Key West is a joy. Photographing old New England-style houses can fill up most small capacity digital cards and extra batteries are a must. A real camera is preferable to a smart phone there because of the extent of the available subject matter.
Museums and sites of local interest are mostly located in the Old Town section. But parking there can be difficult. Some accommodations, like smaller B&Bs, might not have any available parking.
If you are in the Old Town area, much of the on-street parking is by resident permit only although metered parking is provided. Commercial parking lots can run from $13 to $30 per day. Alternatives would include bicycles (rental or bring your own), electric rental vehicles or the touring trolleys which allow unlimited daily use throughout the day.
Now for a bit of trivia. Key West is famous, or infamous for the
roosters that roam the streets of the island. When residents decided they had enough of these pesky though picturesque fowl, a trapper was called in and as the street smart birds are captured they are humanely relocated to a remote upstate (northern Florida) location. The famous six-toed cats from the Ernest Hemingway House can now roam freely without fear of being attacked..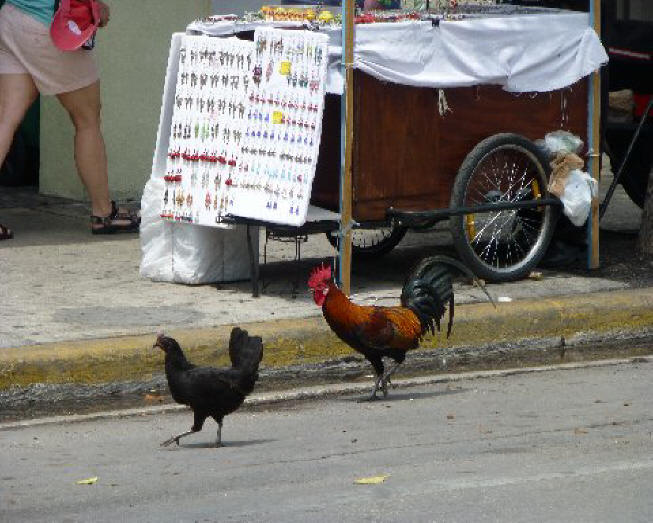 Key West residents
When you are ready to travel to a place that is almost foreign the dollar is the official currency and English is the first language, usually, a stay in Key West with a day trip to the Dry Tortugas is waiting.
To make the best use of your time when visiting go to websites for the Florida Keys & Key West and also the Dry Tortugas to check the many offerings.