Chilly sunset on Pinnacle Peak - Blue Ridge Parkway

Summertime in Florida and the living is hot. We decided to head to the mountains of Western North Carolina for a month of cooler temperatures and sightseeing, something retired Floridians have been doing for years.

It turned out to be a good choice this year. We heard from many of our Florida friends that the summer down south was particularly hot and humid. On the other hand, the summer was unusually cool and wet in North Carolina's mountains.

Once the decision was made to go north, the question was how to keep busy in the Asheville, NC area for an entire month. Queries went out to the Asheville and Hendersonville tourist people (VCB) asking for information and then the brochures started arriving. After reading them, I realized we could ONLY skim the surface in a month.




This article will highlight the area surrounding Asheville. The City of Asheville is too large and diverse to be included here. It requires a separate article and we are already planning our trip for next year to be able to concentrate solely on this amazing city.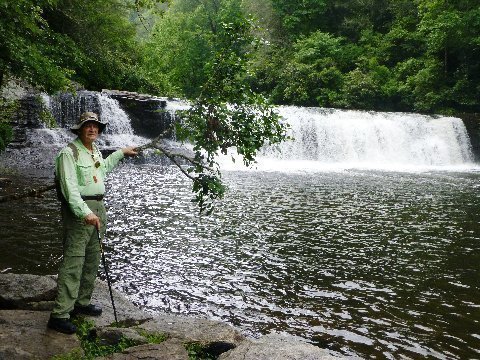 Hooker Falls - Dupont State Park, NC

Western North Carolina is famous for its mountains, cooler summertime temperatures and a myriad of cultural and outdoor activities. The Asheville VCB claims that Greater Asheville encompasses more than 2,000 miles of wilderness trails for hikers, bikers and equestrian use. When the western areas outside of metro Asheville are included, the opportunities for adventure increase exponentially.

South of Asheville is Hendersonville, everyone's favorite little city. This historic city is meant to be walked which is easily done once your car is parked. Everything is centered on Main Street's seven blocks. Starting with the Court House and Visitor's Center on the south end, these jam packed blocks are the vibrant heart of the city.

Visitors can check for activities and places of interest at the Visitor Center on Main Street. Parking is free and if Main Street's parking spaces are full, a spot can generally be found a short block or two away. A plethora of restaurants, many with outside dining areas, specialty retail shops, art galleries, and a historic court house enliven both sides of the street.

A major highlight on Hendersonville's Main Street, of which we were previously unaware, is the Flat Rock Playhouse Downtown. The Flat Rock Mainstage Theatre is a few miles south of Hendersonville in the Village of Flat Rock. This theater has the honor of being the official State Theatre of North Carolina. Both are first rate equity venues and the live performances at both locations are every bit as good as anything you will see on Broadway.
Flat Rock, NC
Flat Rock is a tiny crossroad village with just a hand full of local restaurants. This is not a commercial tourist hub. The theater is the main attraction. Across the street is the home of Carl Sandburg the famous American writer and poet and winner of three Pulitzer Prizes. Open to the public, his house is a collection of the memorabilia of his life and works.
The Flat Rock Playhouse began in the 1950's as a summer stock theatre. I was told that in the early days of the theatre, Mr. Sandburg could be seen playing his guitar on its stage.
Southwest of Asheville is the City of Brevard in Transylvania County. Their Main Street is not as extensive as Hendersonville's but it does have many restaurants, unique local craft shops and historic sites. A wonderful Visitor Center is located on Main Street and the city boasts a world-class music venue in the guise of the Brevard Philharmonic.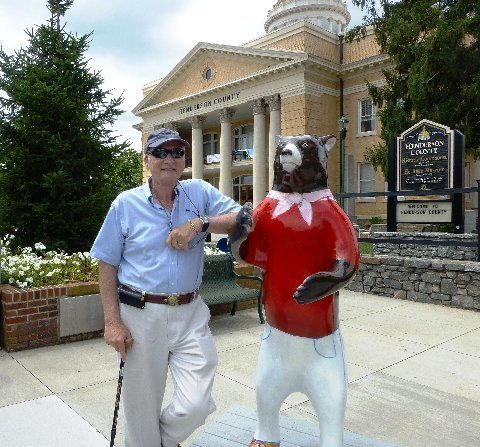 Author, Historic Hendersonville Courthouse, and
Street Bear. A different one on every corner.
We visited Brevard on a Sunday and discovered most of the city shuts down for this day. Time your visit accordingly. Before departing the city, I did buy a Transylvania County Bat Decal for my car.
Brevard is one of the gateways to the Pisgah National Forest and the many public outdoor activities available. Nearby are the famous Sliding Rock Recreation Area, waterfalls and almost endless hiking and nature trails.
The Blue Ridge Parkway, truly a national treasure, runs all through the area. The journey begins up in Virginia at Front Royal and meanders south for almost 500 miles ending near Cherokee, NC. The views are spectacular along its entire length. In Fall the colors are absolutely breathtaking. In Winter the views can be enjoyed without those pesky leaves blocking it.
Slide Rock Recreation Area - Pisgah National Forest

We set out to walk the famous suspension bridge atop Grandfather Mountain's 5,939 foot peak, but were unsuccessful. With wind gusts, in excess of 70 MPH, the bridge was off-limits to visitors. Perhaps we will make it on our next trip.

A couple of days later we did make Pinnacle Mountain on the Blue Ridge Parkway. Scampering up to the visitor overlook on its peak, we took in the 360 degree mountain views. While our friends back home were locked up in their air conditioned homes, we were on a mountain top simultaneously looking at a sunset and moon rise while bundled up to ward off the chilly temperature.

A delightful day's outing for all is the Great Smoky Mountains Railroad. Located in Bryson, about an hour and one-half drive west of downtown Asheville, this day long adventure is an exceptional experience. A round trip in its comfortable historic cars takes 4 ½ hours.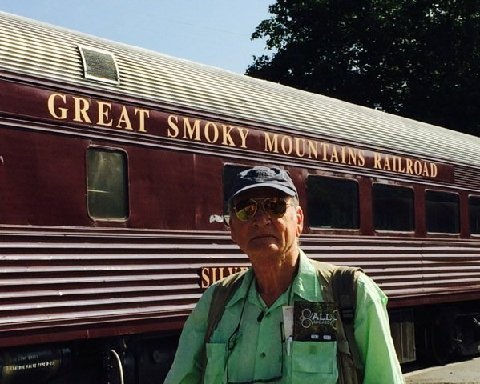 Bryson, NC - All aboard!
Passengers have multiple choices of accommodations and adventures. There are open and closed coaches and the Carolina Shine Coach with a moonshine bar is definitely unique. Strolling musicians play toe tapping bluegrass music and a story teller entertains passengers with stories of Appalachian history.
Opting for a one way ride through the Nantahala Gorge, we left the train after two hours and took a jeep ride on winding back country dirt roads, used by moonshiners in the old days, back to Bryson. Most of the jeep ride was done in low gear while our driver/guide offered a running narration of the countryside's history.
Optional combination trips on the GSMRR allow passengers to hop off at the half- way point to enjoy white-water kayaking, rafting, zip lining, the previously mentioned jeep ride and other activities. After enjoying any of these adventures, participants are transported back to their vehicles in Bryson. The less adventurous can stay with the train and see the scenery on the way back from the opposite direction.
The GSMRR programs change with the season. Check their offerings for the time of the year you will be in the area for their special events. This is a unique local experience and highly recommended.
For model train enthusiasts, a visit to the Smokey Mountain Train Museum in Hendersonville's historic train depot is a must. This is one the largest private collections of Lionel trains in the United States. The museum has rolling stock from over 100 different railroads.
Owned by the same people who own the GSMRR, the highlight of the museum is an impressive layout of life in the Appalachian Mountains. It features six active tracks on three levels with operating steam engines, diesel engines, passenger and freight cars.
One piece of advice I will leave you with is that if you don't want to stand out as a tourist, which is hard to do, try to pronounce the name of the region not as you've been taught but as spoken by locals. Local pronunciation of Appalachia is "app-a-latch-ah" and Appalachian is "app-a-latch-an."
Too soon our month was up and we headed back to Florida. Arriving home was like stepping into a combination blast furnace and sauna. Our thoughts were of where we would visit in Western North Carolina next year.