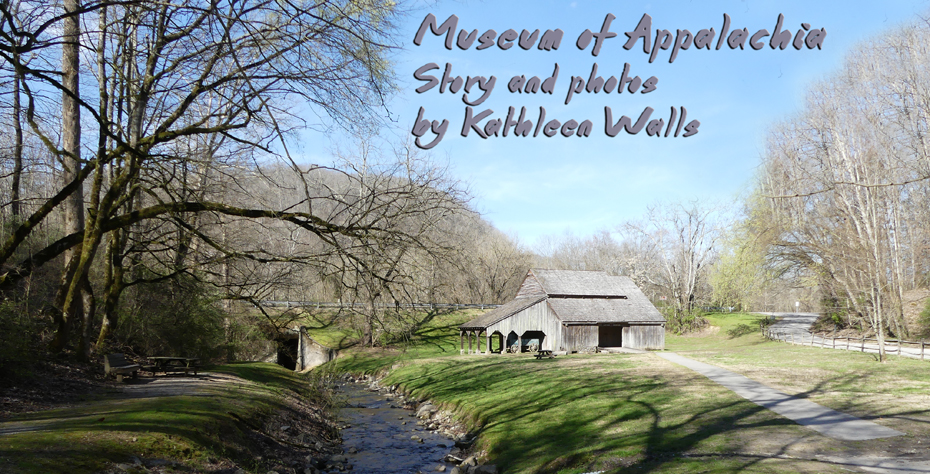 Want to see all of Appalachia but don't have the time to travel that far? Instead visit Museum of Appalachia in Norris, Tennessee. This Smithsonian affiliate is filled with artifacts, a recreated Appalachian village, and a wonderful home-cooking style restaurant and gift shop where you can purchase a piece of Appalachia to take home with you.
I recently visited and was charmed from the moment I entered the restaurant/craft/gift shop and found a trio playing The Tennessee Waltz. That beautiful song could have been the theme for the entire tour. It is so representative of the mountain people. Their culture of music, friendliness, and their ability to take whatever fate hands them.
Will Meyer, grandson of the founder, John Rice Irwin, met us and filled us in on the history of the museum while we dined on a hearty home-cooked style meal; naturally there was chicken and pork chops, combined with many other vegetables and fruit. Although I was filled to the brim, I couldn't turn down the delicious looking chocolate cake for dessert and requested just a "small piece." "Small" has a whole different meaning in Appalachia.
ly
Will's grandfather began the museum as a hobby. Will explained, "He started back in the late 1960s. He was a school superintendent and always had an affinity for the history and stories of the people of the region. He used to sit at his grandfather's knee and listen to the stories. By the time he could drive, he would go out and collect things and stories. He didn't intend for it to turn into a museum. He had a garage full of things. Much to my grandmother's chagrin, he eventually had a cabin relocated to his back yard. People started coming by so he began charging and in late 70's or early 80s, he got a McCarthy Fellowship and it grew from there. It grew to mimic a working farm village. It is really unique. We have 36 structures."
As I wandered around the "village" I saw just how unique it is. There are buildings on site reproducing every facet of Appalachian life. There's a moonshine still, blacksmith's shop, smokehouse, corn mill, school house, chapel, broom and rope house, and oh so many cabins as well as two large buildings that house thousands of exhibits that John Rice Irwin collected over his lifetime. What makes them all so special is that these are not replicas. They are actual structures moved from somewhere in Appalachia. In almost all cases, Mr. Irwin has included the story of how these buildings were used and the people who used them or created them. It brings them to life in a way no static exhibit could.
One of my favorites is the Mark Twain Family Cabin. It came from Possum Trot, Tennessee where Mark Twain's father, John Clemens, had settled in the early 1820s. A detailed placard tells how Mr. Irwin discovered and acquired the cabin. He was visiting Andrew York, son of the famous Sergeant Alvin York, ––yes, there are many artifacts of the famous WWI hero in the museum also—around 1990. Mr. Irvin asked Andrew about the cabin and they walked about two miles through the woods to see it. It was not until 1995 that Mr. Irwin bought the cabin from its present owner, Ernest Buck, and moved it to the museum.
According to Ernest Buck, who moved to the area as a child in 1921, and relayed the information to Mr. Irwin, "John Clemens came from Celina (the home of Cordell Hull) in 1826 or 1827. He stayed there for four years, and then he came down here. They called this Possum Trot in 1832. He had a wife and four children at the time, but they said she wouldn't come with him. She didn't want to come out here in the wilderness, and she's supposedly said that she was tired of having a child every year.
"They also said that John Clemens was working on a perpetual motion machine, and that he wanted to be in a place where he could concentrate. He founded the Pall Mall Post Office and served as the first postmaster there.
"His wife and children joined him here at Possum Trot and moved into the little log house with him. Three of his children went to school here—at a school called Mt. Vernon."
Mark Twain (Samuel Clemmens) was born just a few months after the family left for Missouri in 1835. The interior looks much like it might have looked when the Clemmons inhabited it.
Another colorful story involves the Popcorn Sutton Moonshine Still on display at the Museum of Appalachia. Marvin "Popcorn" Sutton was a well-known and colorful folk hero around Appalachia. Stories of his whiskey making skill abound. He was the modern day equal of Thunder Road's hard-living moonshiner. Instead of driving a whiskey hauling vehicle, he drove a Ford Fairlane he called his "3-jug car" because he bought it for three jugs of moonshine. But like the words of Hank Williams, Jr. song, Popcorn "fought the law and the law won." Sort of. After several arrests for which he was fined and given a "slap on the wrist" punishment, in 2009, he was caught making his illegal whiskey one time too many. This time he had violated probation and was going to be sentenced to 18 months in federal prison. Instead, on the morning he was due in court for sentencing he climbed into his old Ford Fairlane and took his own life. He was 62 years old. I guess he felt he got the last laugh on the authorities once more. Here at the Museum of Appalachia, truth is stranger than fiction.
Each of the two large buildings, Appalachian Hall of Fame and Display Barn are filled to overflowing with exhibits ranging from just about everything you ever wanted to know about Bluegrass music and its instruments to the everyday like anvils and other tools used in daily Appalachian life to the more macabre like coffins.
Here's where you find the Sergeant Alvin York memorabilia like a rifle of his and many of his personal possessions. Another unusual person whose items enjoy a proud place at the museum is Alex Stewart, pioneer, craftsman, philosopher and so many other skills. Alex Stewart was awarded the first National Fellowship award from the Fellowship of the Arts in 1983. Alex Stewart is the subject of a book written by John Rice Irwin, Museum of Appalachia's founder.
Someone besides Mark Twain's father, James Clemens, was working on a perpetual motion machine in Appalachia in 1860. Asa Jackson created such a devise. It's on display here in the Museum. Asa Jackson must have believed he had really had discovered the secret of perpetual motion. He guarded it well and during the Civil War even dissembled some parts and hid it in a cave to ensure that it didn't fall into the hands of the Yankees. The detailed construction of the large geared wheel is made of wood. While it shows wear marks on the gear teeth indicating that it had run at some time, Will freely admitted they had not been able to get to work. Who knows, perhaps Asa Jackson really had discovered this secret and only one missing part is stopping it from working today. Go see it and maybe you could be the one to figure out its secret.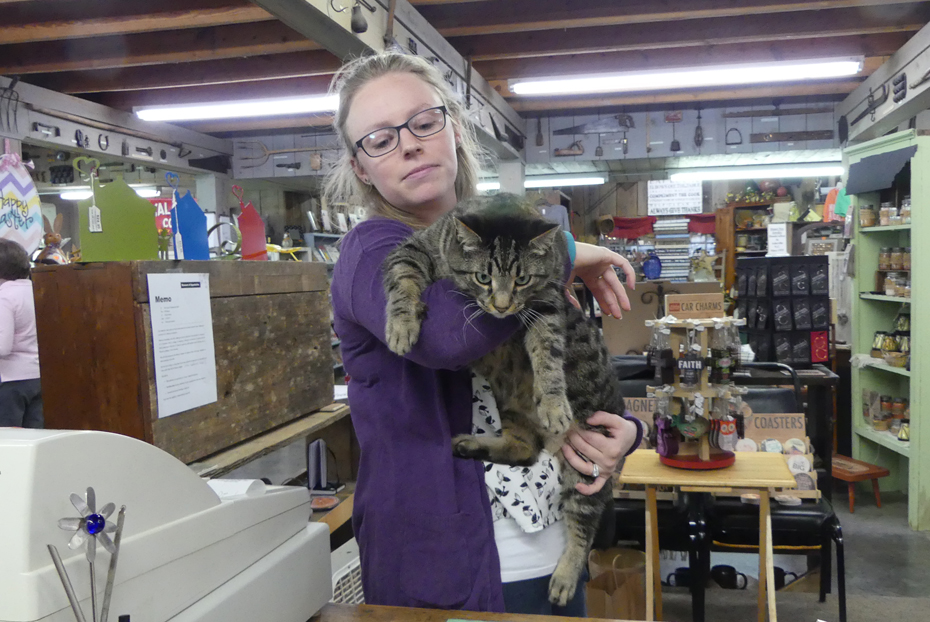 You will be greeted by all the usual farm animals in their natural setting, sheep, chickens, goats, cows, horses, and even a few peacocks. As in real Appalachian villages there are several resident cats. Some tame; some feral. I met a few including Stevens, a friendly gray tabby that considers the shop his domain.
Among the many celebrities who visited Museum of Appalachia are Bill Monroe, Hank Williams, Jr., Opera Winfrey, Jane Fonda, Merle Kilgore who wrote Johnny Cash's hit song, Ring of Fire, and so many more. All were drawn to glimpse a lifestyle that no longer exists but was too precious to be forgotten.
For more info:
http://www.museumofappalachia.org/