While Coca Cola and Dr Pepper have a lot of things in common; both were created by pharmacists, both were developed in the South just about a year apart and both were developed as a soda fountain drink, they each have a unique history.
Coca Cola, universally known as Coke, began in 1886 when the curiosity of an Columbus, GA pharmacist, Dr. John S. Pemberton, led him to create a formula for a carbonated drink he claimed would cure almost anything. Almost from the beginning, Pemberton entered into a partnership with Asa Chandler of Atlanta, GA.
Thus the World of Coke where you can learn the history of "The Real Thing." It's well worth a visit and I did that in this article.
It was only after these two drinks were bottled, that they became famous outside their own small areas.
The most important thing is they both have great museums related to the bottlingyou can visit.
Biedenharn Museum and Gardens In Monroe, Louisiana was the home of Joseph Biedenharn, first bottler of Coke. Joe Biedenharn lived here but had a candy company in Vicksburg, MS. He decided it would be a profitable to take this great drink and bottle it so people all over could taste it.
My favorite bit of nostalgia sits on the porch just before you enter the museum. It is the first Coca-Cola delivery truck that delivered Coke in the 1890s. When you enter the museum, you join the animated young soda jerk at the counter listen to the story of Coca-Cola's bottling beginnings. The museum is filled with interesting memorabilia.

The first Coca-Cola delivery truck
Then refresh with a 5-cent Coke and the nostalgia of early Coca-Cola memorabilia displayed in an indoor setting of the Coke Museum. Tour the elegant home of Joseph Biedenharn, first bottler of Coca-Cola.
The Biedenharn Home
A bonus is the tour of the home itself. It was Mr. Joe's home but it is his daughter, Emy Lou, that made it the showplace it is. Much of the furniture are family heirlooms brought from Vicksburg. One of my favorites is the Steinway piano. Our guide offered to let anyone of us play but there was no one with enough talent to touch that gorgeous instrument. She was an opera singer for the London Opera Company but gave up her career after her mother, Ann, died and her farther needed her to return home. You even get to hear Emy Lou sing during the tour.
Emy Lou's piano
Emy Lou founded a Bible Museum on the premises. She was inspired to do so because of a gift her father gave her when she gave up her career and returned to help him. He bought her 1848 copy of the John Wycliffe Bible, a reproduction of the first Bible printed in English. It is on display in the museum.
Bible Museum exhibits
You really get a four for one tour when you consider the ELsong Gardens. The EL stands for Emy Lou. The Gardens are well worth considering. When we visited, they were blooming and lush. The fountains really set it off perfectly.
ELsong Gardens.
You get a special treat in the garden too. There is a antique Coke machine with an antique price. Joe Biedenharn said that at his house, Cokes would always be a nickel.
Dr Pepper was created by Charles Alderton, a young pharmacist at Morrison's Old Corner Drug Store. It was first manufactured and sold beginning in 1885 in the Central Texas town of Waco. Charles liked the smells of the pharmacy and tried to recreate the fruity smell in a drink. He first called it a "Waco." He would try out his new concoction on patrons of the drug store's soda fountain. People would come in and say "Shoot me a Waco."
Reproduction of the Old Corner Drug Store.
He offered a taste to the store owner, Dr. Morrison. Morrison liked it and began serving it at his soda fountain. Morrison is credited with naming the drink but no one knows the reason for the name. There are many different stories. Dr Pepper became so popular, other soda fountains in Waco began to buy the syrup from Morrison until they could no longer keep up with the demand. were impressed with the growth of Dr Pepper. In 1891, Morrison in partnership with a chemist, Robert Lazenby, started the, which became Dr Pepper Company.
Bottling Exhibit at the musuem
The three story museum is located in what was once the bottling plant of the Artesian Mfg. & Bottling Company and is listed in the National Register of Historic Places as the "Home of Dr Pepper." When you enter the museum you can hear the account sort of first hand. That is from an animated and rather eerie Charles Alderton behind the counter of the old drug store. There is a old time soda fountain with advertisements for "Crazy Water" which was one of the early names for Dr Pepper. The drug store has been recreated so authentically you really feel you are in a drug store of the 1880s.
One of the most interesting exhibits in the museum is the original artesian well. You can look down it or if that makes you feel sick you can view the depth of the well with a mirror mounted strategically. It is filled with fun memorabilia; antique bottling equipment, lots of old bottles.
That well is really something to look down
On the second floor there is a recreation of a 1930s grocery store/ service station called Wilton's Landing with its Dr Pepper signs, a cooler and some store stock. Complete with a 1924 Model T truck that may have been used to deliver Dr Pepper. There is a entire section devoted to movies that featured Dr Pepper ( part of the header is a photo of some of those movie props) and a stature of a horse made from Dr Pepper bottle caps and old cans. Got to see it to believe it.
Old Ford truck at Wilton's Landing Exhibit
Be sure to stop at the old time soda fountain on your way out and have a Dr Pepper float.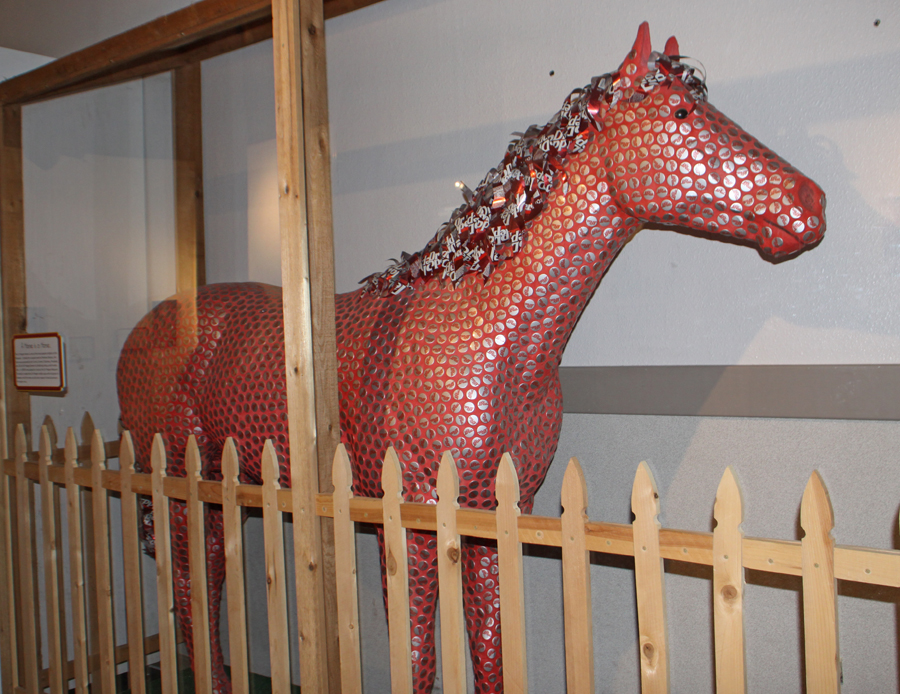 Dr Pepper horse
For more info:
http://www.drpeppermuseum.com/
https://www.worldofcoca-cola.com/