Expect one vibe but discover another. Ever happen to you as you travel?
That's my Birmingham, Alabama experience: remarkable discoveries beyond my expectations.
Immersing in civil rights history throughout this southern city is reason enough to go. Experiencing the food and can-do spirit are reasons to linger.
Birmingham is a multi-dimensional vacation. This fresh, clean, tree-laden city overflows with eating opportunities and American history told with sincerity and authenticity by people who lived it.
Parks will welcome you as sidewalk cafes offer ways to meet the local folks. Public art invites awe and storytelling.
And the Civil Rights Trail wraps tough history in empathy, pointing a way forward to fuller understanding.
Change your mind if you think the pain of civil rights struggles dominate Birmingham. Instead, historic churches, museums and monuments and the people who tell their stories enrich the ways to think about what happened.
Find more about those details in Kathleen Wall's reporting in American Roads & Global Highways. As a National Monument, Birmingham's Civil Rights District matters.
Where To Stay
Sleeping downtown in an historic property is a very good idea. Many restaurants are in walking distance from The Tutwiler high-rise hotel and a lush park is right across the street.
That means access to city vibe.
Since Birmingham named itself the Magic City -- first when creating a vibrant industry in the blink of an eye and then with a remarkable ability to bounce back from the demise of iron and steel -- positioning yourself downtown connects with heritage.
The city's renaissance as a culinary, educational and medical center is evident, but at The Tutwiler you can give a nod to Major Edward Tutwiler who earned his fortune with the Birmingham Coal and Iron Company.
The Tutwiler is a National Historic Landmark hotel, and also a Hampton Inn & Suites.
1914 was the opening year of the original Tutwiler Hotel. Surprised me to find the features of a three-star national brand blending comfortably with crown molding, valet parking and an intimate lobby.
This high-rise Tutwiler is not the original, demolished in 1972, rather a 1986 repurposing of Ridgely Apartments, built in 1913. Major Tutwiler owned them too.
Beyond the Civil Rights Trail
Vulcan is the Roman god of fire and forge, and in Birmingham he towers 56 feet tall, second in the U.S. in height only to the Statue of Liberty. On a pedestal 124 feet tall, he became an icon well worth visiting in a pleasant park and museum on Red Mountain.
His muscular derriere is readily visible from the ground but do climb the stairs or ride the elevator for a closer view of the rest of Vulcan, and to expansive views of Birmingham.
Crafted by Italian immigrant Moretti Giuseppie for the 1904 World's Fair in St. Louis, Vulcan is the person who tied together my grasp of Birmingham history.
Three natural ingredients were available here to make iron so up popped the steel industry, like magic it was so quick. Hence the moniker for Birmingham: Magical City.
Interesting exhibits in the small museum are permanent and changing, plus the graphic wall paying homage to all things steel is a fascinating piece of art. Plan to linger for the details.
Reed Books Museum of Fond Memories crowds thousands of volumes into the building, each hand selected by Jim Reed during the last 37 years. He's a writer too.
Stacked every which way they become art forms, and they're for sale.
"Every book is hand selected," says Jim Reed who's been amassing 300,000 titles for 37 years.
"This is my calling: writing, reading, selling books," Reed says, and topping his list of fun is being invited to choose books from readers who are downsizing. "Hoarders," he declares, "are the historians of the universe."
Chances are very good just the book you want will catch your eye—happened to me with "Miss Tibbett's Typewriter."
Gip's Place Juke Joint is a Saturday night place -- blues parties in the yard of Henry Gip Gibson, retired gravedigger, active bluesman. Get clear directions; this is 10 miles out of town, and so much fun.
Since you have to drive away from the city center for this incredible dancing evening overflowing with cultural heritage, plan dinner at The Bright Star Restaurant in Bessemer. The James Beard Foundation thinks so too.
Birmingham Pedal Tours is a laugh-producer. Drink as you pedal if you like but you'll be giggling with or without a brew.
This open-air trolley lines each side with five seats plus pedals and a bench for two non-pedalers. The driver also has a small engine and participants have deep drink cup holders.
Crawl the pubs, paddle furiously crossing intersections and lazily in between. The whole time laughing and singing, sometimes hands clapping and arm raising, delivers a satisfying, outdoor experience.
Culinary Birmingham Presents Diverse Choices
Fine dining with meticulous service. Elbow-to-elbow eating joining the conversation of strangers. International cuisine. Deep south classics. Al fresco or inside.
My three-night stay presented robust culinary experiences with a wide range of personalities and flavors. Add these to your planning list.
Highlands Bar & Grill sets high standards for exquisite food and gracious service. Chef Frank Stitt is a nine-time James Beard Foundation finalist who learned to cook as a kid at home in Cullman, Alabama.
Then he added culinary studies in Beaujolais in the south of France, now presenting Southern staples nuanced with classic French techniques.
How would you choose among starters including root vegetable soup or prime beef tartine? Sound Southern and French? I selected Frisee a la Lardons: poached egg atop chicken livers with ham hock au jus.
The Highlands menu clearly identifies local farms and farmers. Perhaps that's why I wasn't surprised meeting Chef Stitt again at the Pepper Place Farmer's Market!
The Market at Pepper Place With 120 tents plus food trucks and carts at this vibrant Saturday market, consider Pepper Place for dining as well as loading up on ingredients. Art and food vendors join at least 55 farmer tents where local chefs are always seen shopping.
I'm an amateur edible landscaper on the lookout for pretty veggies and I found them here. Return plan: figure out which chefs connect with which farmers and go to those restaurants. Pepper Place was brimming with chefs and people of all ages, clearly shopping to cook.
"Pepper Place is where we come together as a community," says market manager Lisa Beasley. I say go to mingle with the local folks.
Bogue's Restaurant
"Your taste buds may be in for an awakening" I was told before breakfast at Bogue's, a Birmingham eatery since 1938.
That's because a tour bus driver overheard my exclamation about an egg sandwich served with lettuce and tomato. New to me; tradition to him.
Bogue's is a bustling place, nothing pretentious, staffed with people believing in the quality and heaping portions of their foods.
Johnny's Restaurant serves Greek food with a Southern flair – and immigration history.
The original Johnny Hontzopolous arrived in America in the 1920s, not through Ellis Island but a southern route. Think Mobile and New Orleans as entry points.
Today 25 percent of Birmingham's population have Greek ties, says chef and owner Timothy Hontzas. He links the solid culinary Greek presence now to the hot dog stands and small businesses of his grandparents and their neighbors.
"The Ku Klux Klan targeted Greeks so those early food sellers could not shout "Greek food here' Hontzas says. Strikes me as a kind of civil rights trail too.
I devoured Greek meatballs, Parmesan gritcake, turnip greens and squash casserole. The featured pot roast cooks for 15 hours.
Pizitz Food Hall
This cavernous space with food purveyors of many types offered me no direction, no visual beckoning to select something, anything. Maybe that's why the bar is in the middle with seating on every side.
After a creative cocktail at The Louis, I started sorting out my other eating and drinking choices. Would have been a mistake of epic proportion had I wandered around and left. Expertise became evident with each mini-restaurant, seemingly run by people passionate about their food specialty.
I recommend Waffle Works with a remarkable array of unusual toppings and sides and carefully brewed coffee from Revelator for starters. Then wander and talk to the purveyors.
SAW's Soul Kitchen Cozy is an understatement. Expect to chow down, elbow-to-elbow. Choices are printed on the chalkboard but most folks knew they wanted pork and greens before arriving. Portions are gigantic so consider sharing.
Tratorria Centrale Breakfast is fun here, especially with sidewalk seating. Lattes are a local favorite, eggs locally sourced and omelets unusual. Mine was butternut squash, arugula and ricotta. Do eat a scone.
Yard Art Tells Cultural Stories
"God released yard artists," says folk artist Joe Minter.
His theory as to the reason?
"African art was not accepted in museums because the stories told were too hard."
A construction worker who notes Jesus was a worker too, Minter shares his world view using found objects to represent historic and cultural moments. 1963 Birmingham is part of them.
"Each piece tells a story—that's the African tradition of storytelling," Minter says.
With so very many creations to be seen through his chain link fences, Minter's passion is astounding. I recommend beholding this folk art garden of memories on Nassau Avenue with an abundance of respect.
This is Civil Rights sincerity, and seeing history from Minter's perspective is a privilege. Easy to gawk; far better to absorb. If you're lucky, he might just join you on the street with his walking stick and more stories.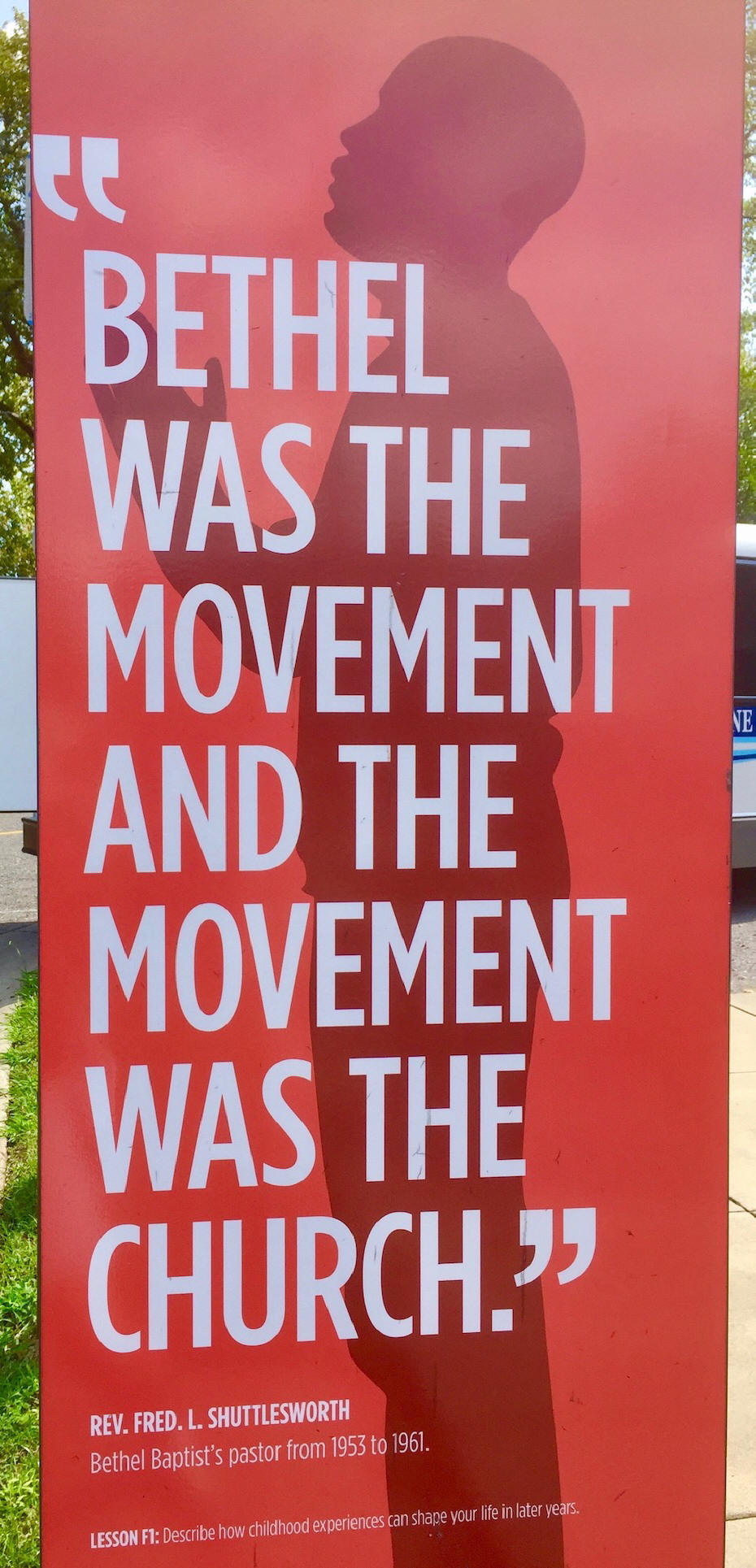 Highlights Along the Birmingham Civil Rights Trail
Empathy permeates the Birmingham Civil Rights Trail and paying attention in small spurts helped me soak up the significance. High points I experienced:
<![if !supportLists]>· <![endif]>Birmingham Civil Rights Institute
<![if !supportLists]>· <![endif]>16th Street Baptist Church
<![if !supportLists]>· <![endif]>Kelly Ingram Park
<![if !supportLists]>· <![endif]>Bethel Baptist Church Collegeville
<![if !supportLists]>· <![endif]>Negro Southern League Museum
FOR MORE INFORMATION
800-458-8085