Campers and RVers, do you hate dealing with big city traffic and congestion but love to visit culinary destinations, art heavy communities or historical places? If so you will love Kinston, North Carolina. It's a small town that has a lot to offer. There is a peaceful 55 acre campground on the Neuse River that is about a mile from where many of the local attractions are located.
Campground at Neuseway Photo Credit Brandon Potter Neuseway Nature Park
The campground is part of Neuseway Nature Park run by The Kinston-Lenoir County Tourism Development Authority and offers spacious sites with lots of trees. There are 23 sites, some with full hook-ups (including water, sewer, and 20, 30, and 50-amp electric); some with 30-amp hook-ups; and tent sites without hookups. Some are pull-thru but the waterfront ones are back-in sites. Most are large enough to accommodate a full sized motorhome. Full hook-up are $15 per night. Pets are welcome. The restrooms/showers are located on the back side of the "Exchange Meeting Room" and are open 24 hours a day. The park doesn't take reservations and maximum stay is 30 days.
The Nature Center located just in front of the camping area is filled with fun. Outside, there is a playground where the kids can work off excess energy. Big Daddy's Express, a replica of a coal mining train, is a fun ride for kids or adults. There is also a full size locomotive and seating area overlooking the river providing a flowered bower to rest or picnic. If you feel adventurous, you can rent a canoe or kayak or launch your own here.
Inside the Science Center, the exhibits range from preschool to adult. What kid wouldn't jump at a chance to walk into a supersized human mouth and stroll through the digestive system? The display about addiction with its model showing what each drug or pill looks like can be a great learning tool to talk to older children about the dangers of addiction. The Planetarium is a treat for all ages.
Once Kinston was a thriving town with an economy driven by tobacco and cotton. As these products became less of an economic driver, the town declined. Today that has changed. Kinston is fast becoming a culinary pilgrimage site for fans of A Chef's Life. Chef Vivian Howard's Chef and The Farmer draws food lovers from all over. Chef and the Farmer has been so successful Chef Vivian and her husband Dan Knight, have opened a different type of restaurant called the Boiler Room Oyster Bar. This is not your run-of-the mill oyster bar. You will find burgers, brews, wings, salads and even a "Kids Menu."
Other unique restaurants have opened in Kinston also. Ginger 108, an upscale Japanese lounge crossed with a Southern restaurant serves some unique dishes like BBQ Shrimp and Grits and Curried Coconut Crabcakes. Chef Khymi is pretty innovative. The atmosphere with its colorful furnishing and plentiful art is a much fun as the food.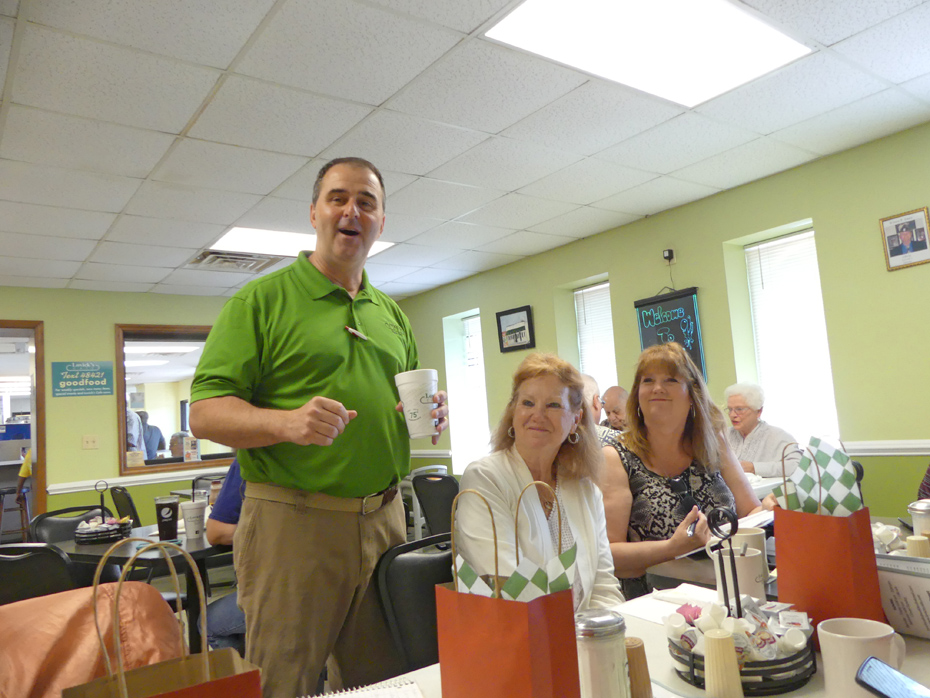 Lovick's is a breakfast tradition downtown. Those are just a few of the many new restaurants in Kinston which range from Sugar Hill Pizzeria, North Street Pub Deli for lunch or dinner or Hawks Nest or King's Restaurant for Barbeque.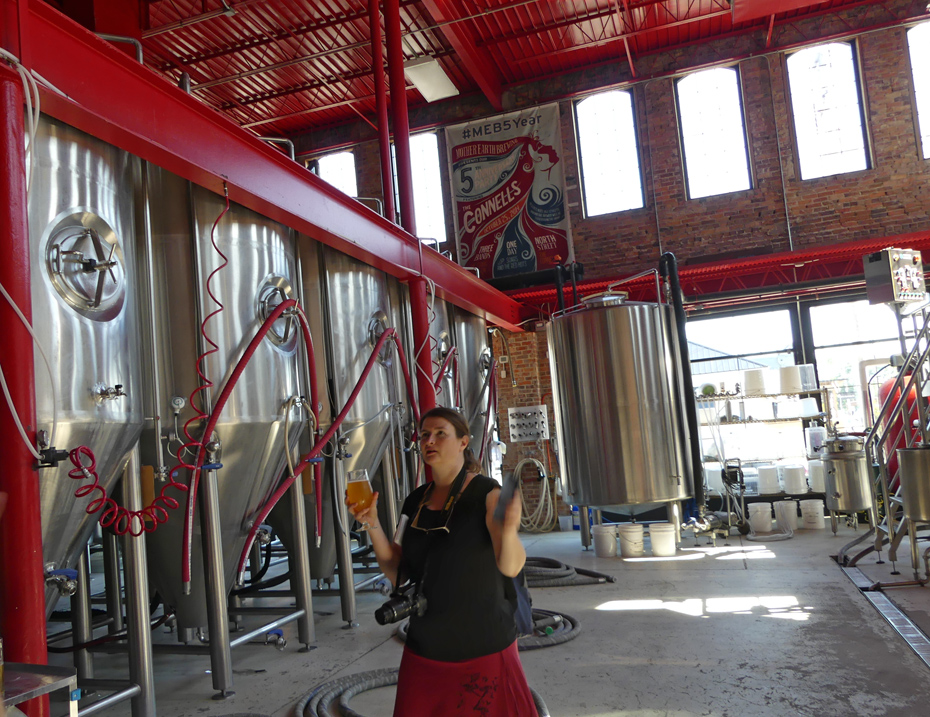 On the beverage side of things, you can visit Mother Earth Brewery and Distillery, the first brewery to attain LEED gold certification.
Kinston's history goes way back. The oldest historic structure in Kinston is Harmony Hall, dated to 1772. Harmony Hall was built by Captain Jesse Cobb and his wife Elizabeth Herritage Cobb. Cobb fought in the Revolutionary War and was the state's first federal governor.
It passed through several hands and during the Civil War was the home of John Henry Peebles and his wife, Harriet Cobb, Jesse and Elizabeth Cobb's granddaughter. The Peebles left fearing Union invasion in 1862 and Harmony Hall was used as a hospital for wounded soldiers. In 1864, John killed himself in the home's upstairs bedroom after murdering a passing stranger in front of his home. For those interested in parapsychology, ghost hunters investigated and found evidence of paranormal activity in Harmony Hall.
A member of the local Chamber of Commerce, Jan Parsons, told me they call Harriet "Their Steel Magnolia." During Union occupation, Union soldiers buried one of their dead soldiers in her husband's grave. Harriet sent word to remove the Union soldier twice with no result. For the third try, Jan said, "Harriet marched down and confronted the Union commander. She told him 'Either you remove that soldier or you will find him in the river.'"
Downtown, you'll see a big ship standing near the Farmers Market. This is the only full-scale replica of a Confederate ironclad. It is called the CSS Neuse II. She was built entirely by volunteers, no contractor or engineers. It is open to the public at no charge. It's a wonderful living history example of life on a war ship during the Civil War.
David Morring, the guide aboard the replica explained how the Neuse II came to be here. A group of businessmen used to meet every day for breakfast and decided they needed something built on this corner. One, Ted Sampley, decided building a replica of the CSS Neuse would be a good idea. Others laughed at the idea but he persisted and found a retired shipbuilder, Alton 'Doc' Stapleford who volunteered for the job. How he enlisted help, was interesting. David told us, " If you had come by here about nine years ago and asked Doc about what he was building, after about the third question he would say, 'You gonna stand there and jaw or you gonna help me nail this board?' Most people picked up a hammer and drove a nail."
The actual Neuse was a Confederate ironclad built about 14 miles upriver from Kinston. After launch in 1863, she soon grounded on a sandbar near Kinston where she remained for about a month. After being put back afloat, she operated as a fortification on the Neuse River until the final siege of Kinston in 1865 when she was exploded and sunk to avoid capture by Union forces.
Almost a century after her launch the remains of her lower hull were raised. The hull and many of her artifacts are on exhibit at the CSS Neuse Interpretive Center State Historic Site downtown. Here you will find an extensive history of the Civil War in Kinston. There is also a battlefield and a replica of Harriet's Chapel, which was in the thickest part of the battle.
From history to art is just a small step since both are intertwined here. Sandy Landis, Executive Director of Kinston Community Council for the Arts, led us through the Arts Center. It has five galleries on three levels and is at least 100 years old. Sandy told us" We can't be sure because records were lost in a courthouse fire but our lawyer told us it probably dates around 1885. It was originally the Sumrell-McCoy Wholesale Produce Market and still has almost all of the original structure."
Downstairs in the basement is "their little town." It's one of the largest model railroad setups I have ever seen. Another impressive thing about the center is the studio space they rent at very cheap rates to artists. It's about promoting the arts in all its forms.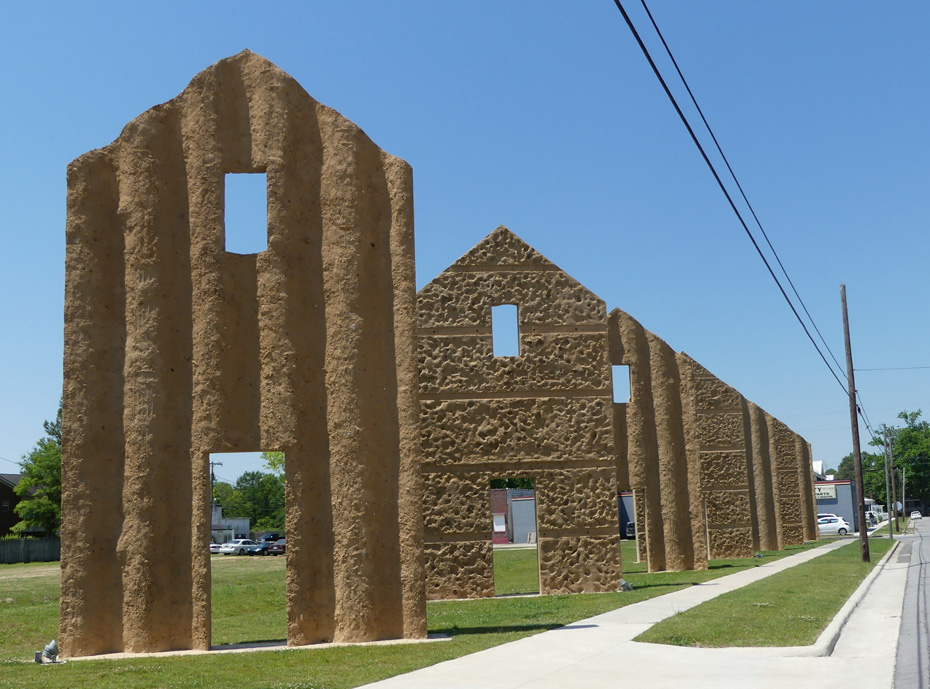 The love of art is echoed throughout the town. Flue by Thomas Sayre, a huge art work depicting seven tobacco barns, is just part of their Public Art. What were once run-down mill workers' homes are now part of Kinston's SmART Program where artists have their homes, studios and galleries in brightly colored renovated homes with cute white picket fences.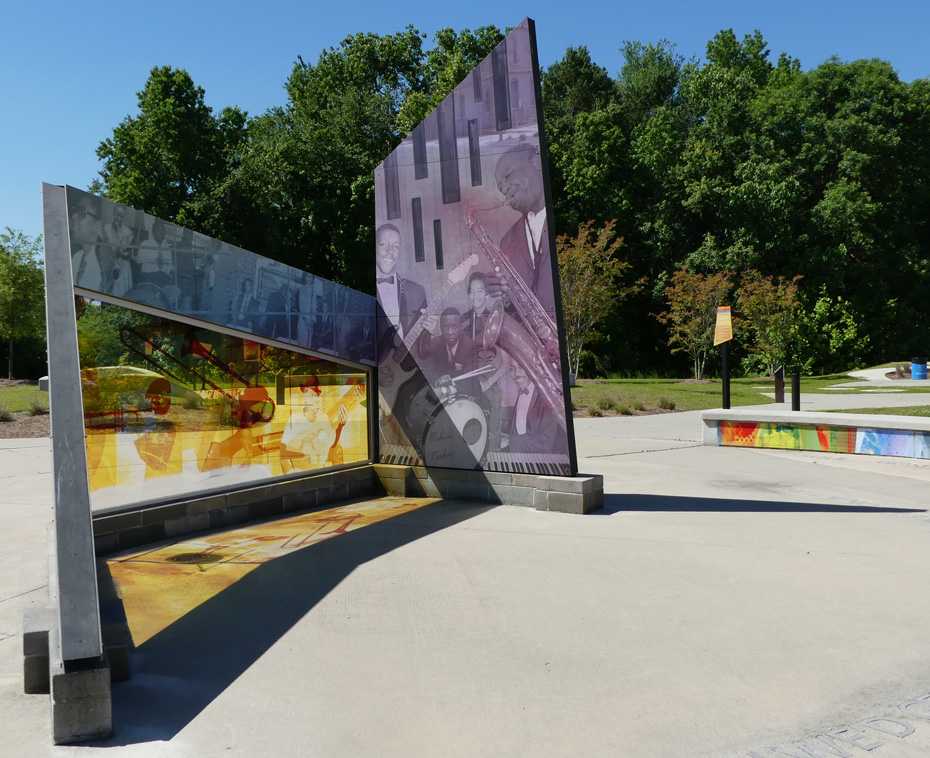 African American Music Park is another expression of Kinston's love affair with art. The park has a large glass sculpture called Intersectionsi> with images of famous jazz, rhythm and blues, soul and gospel musicians from Kinston and surrounding communities. Colorful mosaic representing Kinston's music heritage are near the park entrance. As you stroll thru the park, audio speakers will relay the town's musical heritage at the press of a button.
If If you are a baseball fan, you are in luck. Kinston acquired the Down East Wood Ducks franchise just this year. The Wood Ducks are a Minor League Baseball team of the Carolina League, and the High-A affiliate of the Texas Rangers They play at Historic Grainger Stadium.
There is something for everyone in Kinston including lots of festivals. The two most popular are the BBQ Festival in May and the Music Festival in February.
For more info:
https://www.kinstonchamber.com/visit-kinston