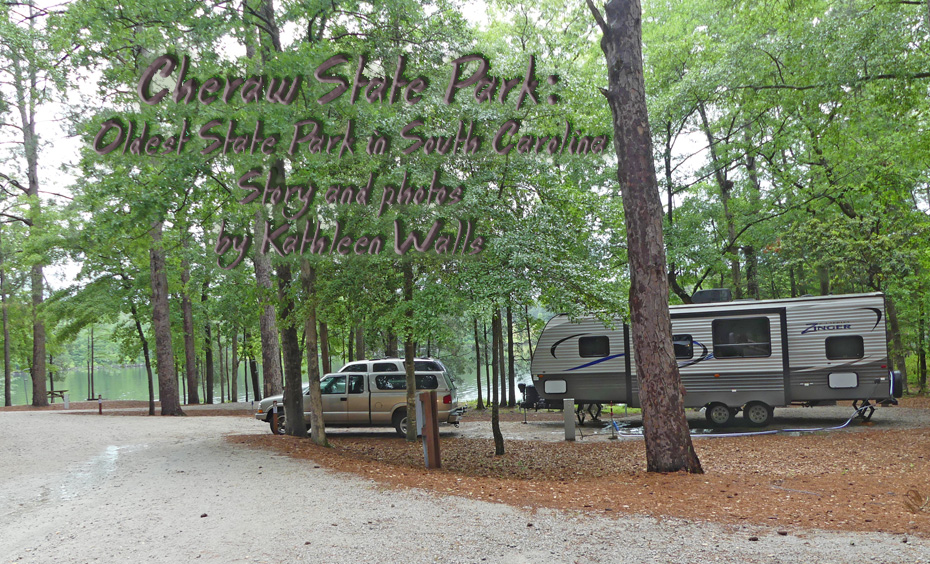 Published 9-1-2018
Sometimes a state park is just a place to park your camper. At Cheraw State Park, it's a whole family adventure. Golfers will be ecstatic about the 18 hole championship course set in pine forest adjourning Lake Juniper. They will appreciate its practice green, driving range and pro shop.
Even the non-golfers will love the clubhouse. With its billiard table, TV, fireplace, and quiet seating; it's a perfect place to study, work (if you must) or just relax. The park has a very good WiFi system throughout. The snack grill is handy for those days no one wants to cook or drive in to a restaurant in Cheraw.
The 17 space campground offers electric and water hookups with a dump station. Six of the spaces are on 360 acre Lake Juniper. Lake Juniper is a story in itself. The park, including the lake, was built in the 1930s by the Civilian Conservation Corps (CCC) and many of the original buildings are still in use although renovated and modernized.
The good news is even if you have no tent or RV, you can still "camp" there. Cheraw offers cozy cabins built by the CCC but updated to fit modern needs. My cabin was set just far enough from its nearest neighbors for privacy but I never felt isolated.
I had one of the eight one bedroom cabins. The cabins boast a sturdy frame exterior and all pine wood interior. The bedroom would have slept two others if needed. The living room, with its large screen TV and comfortable sofa, had a Murphy bed I could have pulled out for extra accommodations. The full kitchen was small but efficient with everything I needed. A full bath gave me all the comforts of home. It was truly the "little cabin in the woods" we all need to retreat to sometimes.
For those traveling in a larger group, one cabin is a four-bedroom, two-bath cabin that accommodates s six to eight people. It is also ADA accessible. If you have a really big group, there are two group camps available seasonally. Camp Juniper can accommodate up to 96 people and Camp Forest up to 120 people.
From any of the camp sites or cabins, it's just a short hike to the lake where you can go swimming, kayaking, canoeing and pedal boating. There is fishing for bass, bream and catfish also. You can rent a fishing boat and borrow tackle.
The park offers hiking on three different trails. Cheraw Nature Trail, an easy 1.9-mile trail for a short hike through the pines. Turkey Oak Trail is a bit longer at 2.6-mile and is a continuation of the Cheraw Nature Trail. It will take you through the cypress swamps which are habitat for a variety of waterfowl. Boardwalk Trail is just a short half mile to the Juniper Lake Dam where the spillway forms a waterfall While hiking any trails look for painted turtles, deer, possibly a fox squirrel or an endangered red cockaded woodpecker as well as plenty of other local birds.
Cheraw is just 15 minutes from the park and offers a glimpse of pre-Revolutionary South Carolina. Old St. David's Church was the last Anglican Church built in South Carolina before American independence. It has witnessed leaders of both sides in the Revolution and the Civil War.
Other historic places in town you want to visit begin with the Town Green with its iconic stature of Dizzy Gillespie. There's the Inglis-McIver Law Office, one of the few building to survive a devastating explosion during the Civil War that destroyed much of Cheraw's downtown. The office was originally built prior to 1838 and moved to the Green in 1947.
Just across the street is The Lyceum, built around 1820. The building has an interesting history. It was built as a chancery court and later became a meeting room and private library for town intellectuals. It served as Cheraw's first telegraph office in the 19th century. During the Civil War it served as quartermasters' headquarters for both sides. Today it is a museum filled with artifacts from Cheraw's history. You can pick up the key at Cheraw Town Hall and the Greater Cheraw Chamber of Commerce, located just down the street from the Theater on the Green to visit.
Market Hall is on the corner of Town Green and once served as the towns open air market downstairs and court house above. In the 1940s it was the city's police department. Today it is the welcoming center for the South Carolina Jazz Festival held the third week of October.
Town Hall is a columned, two-story, white building built in 1858 located across the street from Market Hall. Today, it serves as the seat of city government but used to be an opera house and Masonic ballroom.
Jazz fans will want to visit Dizzy Gillespie's Park and other sites. NASCAR fans are less than a half hour from Darlington Raceway.
For those who love antiquing, there is a quaint shop across from the Town Green called Flippin' Vintage Marketplace.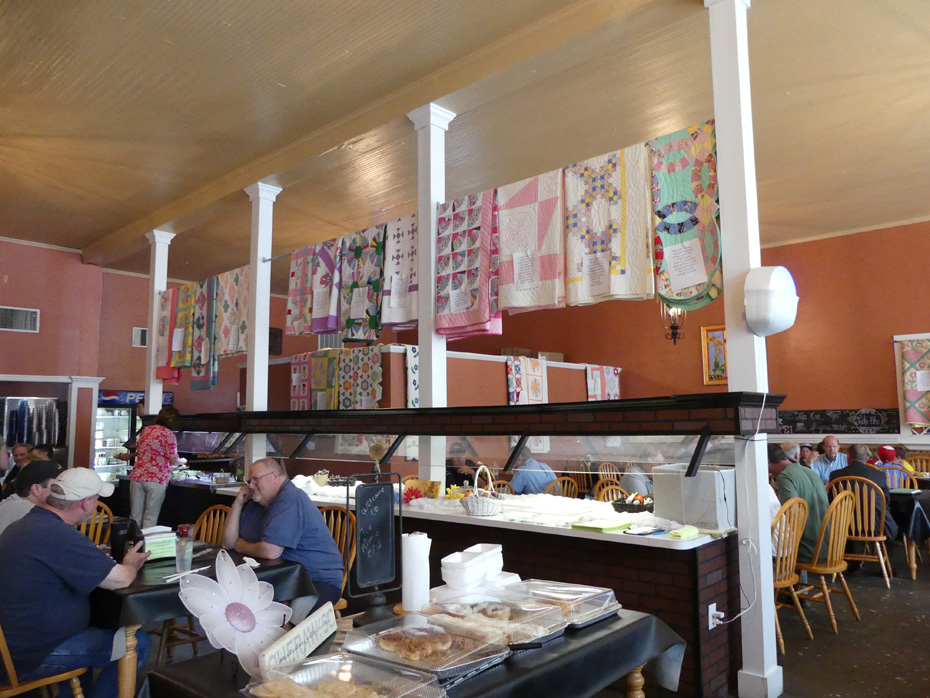 My favorite dining place in Cheraw combines a bit of unique shopping. The River's Edge Restaurant and Bakery combines homecooked Mennonite food with beautiful hand-made quilts for sale at fair prices.
For more info:
https://southcarolinaparks.com/cheraw
We'd love your comments!