GLEANING RECIPES FROM RELATIVES IN YOUR TRAVEL

S
By Mary Emma Allen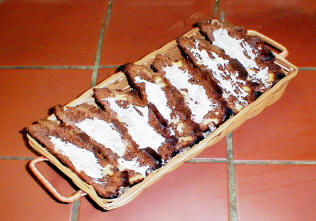 In our travels, my family and I have always enjoyed discovering new recipes. Some of these have come from relatives we've visited, whether on short or longer trips. I've been organizing some of these recipes for our family heritage. You'll also recall family memories accompanying many of these recipes.
Why don't you try this, too?
These might simply be written on recipe cards, possibly duplicating them and fastening them by punching a hole in one corner and then holding together with a ring.
You can put together an album with the recipes written or typed and a photo of the relatives. Jot down some memories of your visits with them.
Find a specially made recipe album in a scrapbooking store. My daughter put together one of these for her daughter.
Aunt Freda's Recipes
Aunt Freda and Uncle Charles, my dad's brother, lived in New Hampshire, 275 miles from our New York State home. My family, when I was growing up, visited them each summer. Aunt Freda loved to cook and I recall helping her. She had a French Quebec background and told stories about her childhood there.
When she learned of my interest in cooking and recipes, she wrote some of them down for me. I still have them, and my memories, many years later.
Aunt Pat's Fried Chicken
Aunt Pat was a friend of Mother's who lived in Virginia. It was a great adventure to travel that far to visit her and her family one summer. We also stopped to tour Washington, DC on the way.
Before we left, Aunt Pat decided to make Southern Fried Chicken for supper. Time was of little importance to her, as she and Mother reminisced about their days teaching school together. So supper time kept getting put further and further into the evening. Father became hungrier and hungrier.
Finally Aunt Pat suggested her sister take us to the movies while she plucked the chickens and got them ready to fry. We children thought that great fun and snacked on popcorn.
The chicken was delicious. However, Father never forgot waiting until 10 pm for his supper. I don't think he appreciated the movie as much as we children did either.
Auntie's Recipes
My mom's sister lived closer to us and was a good cook, too. I often spent several days with her on the Trails End Farm, in Milan, NY, where she lived with my grandmother, her brother and his wife.
When you entered the kitchen, you always knew Auntie had been cooking something delicious. From her I learned to bake bread, churn butter, and fry donuts, among other dishes. Traveling to her home, although it was only about an hour away, took us over winding country roads.
Aunt Margaret's Recipes
My husband's aunt lived in Ohio. We stopped to visit her enroute to Texas, where my husband was stationed in the Air Force. Aunt Margaret was of German background on her mother's side, so many of the dishes she prepared reflected this.
I remember sitting at her kitchen counter, eating crackers and cheese, while Aunt Margaret chatted. We learned stories about growing up in Ohio and the dishes her mother made for them.
Niece Kelly's Recipes
My niece lives near Portland, Oregon, where my husband and I visited her and family. She has shared recipes with me for our family cookbook. While in that part of the country, Jim and I also enjoyed explorations around the Columbia River and Mt. Hood area.
Aunt Freda's Nut Bread
Mix and sift together 2 1/2 cups flour, 3 teaspoons baking powder, 1/2 teaspoon salt, 1/2 cup sugar. Mix together 1 beaten egg and 1/3 cup softened shortening. Stir, with 1 cup milk into dry ingredients. Add 3/4 cup chopped walnut meats.
Bake in greased and floured bread pan at 350 degrees F. for one hour or until inserted pick comes out clean.
(You can add for variation, 1/2 cup raisins, 1/2 teaspoon cinnamon, 1/4 teaspoon nutmeg.)
(c)2014 Mary Emma Allen
(Mary Emma Allen writes from her woodland home in NH. She teaches workshops on writing family stories. Currently she's compiling the stories about the generations of teachers in her family. E-mail:
me.allen@juno.com
.)