McAllen and all of Hidalgo County is a different kind of Texas. It's filled with subtropical beauty and natural attractions but in recent years it has developed into a vibrant sophisticated city.
In fact, the city is one of the fastest growing in the United States. McAllen and the Rio Grande Valley area is the number one destination for birders from all over the world. It draws over a hundred thousand retired Winter Texan to the balmy climate when the first snowstorms begin to blanket the Midwest. It is also one of the top shopping destinations for well-to-do Mexican visitors. It has a strong cosmopolitan flair. Almost everywhere you go things are posted in both English and Spanish.
How do these seemingly so different activities blend to make McAllen a very special place? (When I speak of McAllen, it's the metropolitan area not the strict city limits.) I visited it for the second time on a recent press trip and found four reasons McAllen should be on everyone's bucket list, It scores tops in history, nature, art and culture and wonderful food.
1. History
McAllen is rather new as cities go. It traces its beginnings to an immigrant from Londonderry, Ireland, John McAllen. McAllen had first settled in Matamoras, Mexico then he met John Young, who employed him as a clerk in his store in Brownsville. When Young died, McAllen married his widow, Salome Ballí Young, the heir to half of the vast Santa Anita Ranch which was part of an old Spanish land grant.
McAllen and Young's son, John J. Young, joined forces and ran the ranch together. By 1904, it had attracted a few settlers and became known as West McAllen. The railroad arrived a year later. By 1907, another group had started a town called West McAllen. By 1911, the two settlements had joined together as the town of "McAllen." At its founding, the town had a population of 150 but by 1920 it had jumped to 5,300 residents.
The need for a hotel was apparent. The city had a parcel of land that they were using as a city park. The hotel builder purchased that land and built a fifty-seven room red tilled Spanish style building with twenty-four inch thick walls and an outer patio enclosing a twin towered building.
The hotel was named Casa de Palmas and a row of stately palms graced the front entrance. Today McAllen is known as the City of Palms and the hotel has grown to three floors, 141 rooms, twenty-four suites with eight meeting rooms, 6,500 sq ft of total meeting space. It's Spanish Room offers a fine dining experience for breakfast, lunch and dinner and the Cantina Lomax, a bar located in the lobby, is the perfect spot to unwind after a long trip. It still retains the original charm that made it a focal point in the early days of the city.
The best place to get a feel for McAllen's history and heritage is the McAllen Heritage Center. It's a young museum, founded in 2006 to preserve the town's heritage. Spud Brown, one of the McAllen Heritage Center organizers, showed us around. The Center, located in the old Spanish Colonial Revival post office, is filled with far more artifacts than you would expect for its age. From the railroad's beginnings to the music style of the city, it brings McAllen's past to life for you. There is so much to see and learn here. It is more than bare bones history it showcases the heritage of the people of McAllen.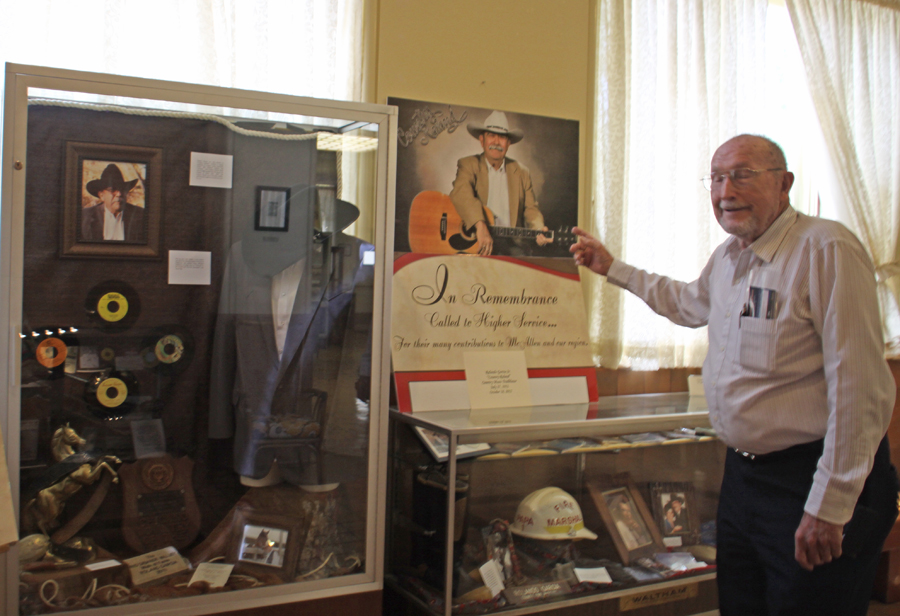 Spud relates some of McAllen's history
Spud showed us photos the first Black school in McAllen, the Booker T. Washington School and told us about and old murals depicting it which got my attention. When we left, we decided to track down that mural and a few others.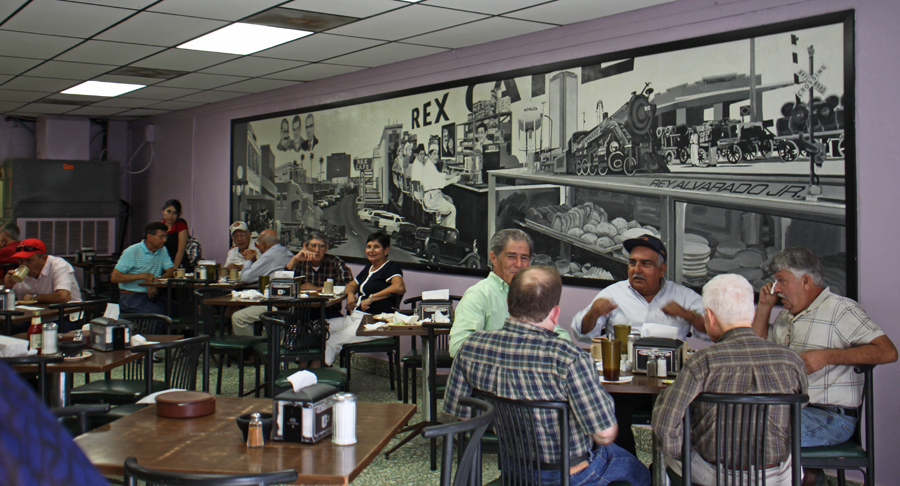 Mural at Rex Cafe depicting life in McAllen
We drove to the Entertainment District. It's comprised of around 36 restaurants, lounges, bars and a fantastic 1940s theater, El Rey, that has been restored and offers films, comedy, and live theater. The district is mainly on 17th Street, but extends to some of the cross streets. We found a great old mural there at Rex Cafe on its inside wall depicting life in McAllen in past times. While at the Rex, we met Carlos Cantu who told us about a mural honoring Narciso Delgado. Narciso, who lived in a small house just across the street from the mural, was a pioneer in Tejano and Frontera Music.

Mural of

Narciso Delgado
The old Bethel Missionary Baptist Church on the corner of N. McColl and W. Pecan has in interesting old depicting the old Booker T. Washington School and the contributions of African Americans to McAllen history. There is one on musical history just across the street from the International Museum of Arts and Sciences. Guess I just blended a bit of art into the history section but that's McAllen, a beautiful mixture.
Bethel Missionary Baptist Church mural of Booker T. Washington School
2. Nature
One of the few remaining hacienda adobe homes in Texas, Quinta Mazatlan combines history, culture and nature. It is part of the World Birding Center network but visitors will experience so much in the history, culture and art category as well. Built in 1835 by Jason Chilton Matthews and his wife, Marcia, the home has had only two owners before coming into the hands of the city of McAllen. This is why so much natural acreage still exist in the heart of the city.
Interior of Quinta Mazatlan
Jason Mathews led a pretty colorful life. He traveled the globe collecting artifacts and stories during World War I. He visited at least 11 countries and fought alongside Lawrence of Arabia. When he picked a spot to settle for the rest of his life, you know it would not be ordinary. Oh no! Mathews and his wife decided to live at the "Crossroads of the Western Hemisphere." They settled in McAllen in 1935 and built Quinta Mazatlan. Literally, Matthews personally built much of his new home. He perched it on the highest knoll in McAllen and began working with adobe blocks using an ancient recipe from the Bible. For a temporary dwelling , he built the cottage and hootch. The hootch was his personal hide-away. One of his more interesting experiments was an adobe block bathing pool. Using no drainage, he simply drained and refilled whenever the water became dirty by means of a freshwater well with a six-inch diameter pipe attached to an airplane engine. He was able to fill the pool less than thirty minutes.
Brides often use the fantastic Quinta Mazatlan doors in their wedding photos
He spared no expense when building his home. For the front doors, he hired famed Swiss woodcarver, Peter Mansbendel, to recreate the front doors of the Spanish Governors Palace in San Antonio, Texas. Along the back of the hacienda is a stately hall known as the Cedar Hall. The exposed ceiling beams of this impressive room are made of rough-cut Lebanese cedar trees presented to Mathews by the King of Lebanon in appreciation of his fight alongside Lawrence of Arabia in Lebanon's War of Independence from the Turks. Another interesting item is the rosewood piano, which belonged to Jefferson Davis. In his spare time, Mathews published a magazine, American Mercury Magazine.
Art is all over Quinta Mazatlan but one of the most interesting exhibits is Folk Art through the eyes of Ann Maddox Moore. Carol Goolsby, Environmental Education Supervisor, confessed, "When I first looked at it I had a negative reaction to it but one of her staff. Sandy, who is a art history major took me in for twenty minutes . She pointed out, 'What does it tell you about the people of Mexico. There are four themes running through this room. First is color. This color is an international recognized symbol of happiness. Second thing is the death theme. The Mexican's number one celebration is Día de Muertos, Day of the Dead. It's meant to remember that the loved one was here, They mattered and they are still here. Third is the religious theme, It is a Christian and Catholic country. Fourth is nature and animals.' Now, every time I walk into this room that has been here for over a year and I see something I missed before."
Quinta Mazatlan exhibitsof Folk Art through the eyes of Ann Maddox Moore
Art and nature cross in their Forest Sculpture Trail, 25 amazingly lifelike bronze sculptures aranged around the grounds.
Horned Lizard on

Forest Sculpture Trail
In 1985, the Texas Historical Commission had recognized Quinta Mazatlan as a Historical Marker now it combines that history with a nature sanctuary to become part of the World Birding Center.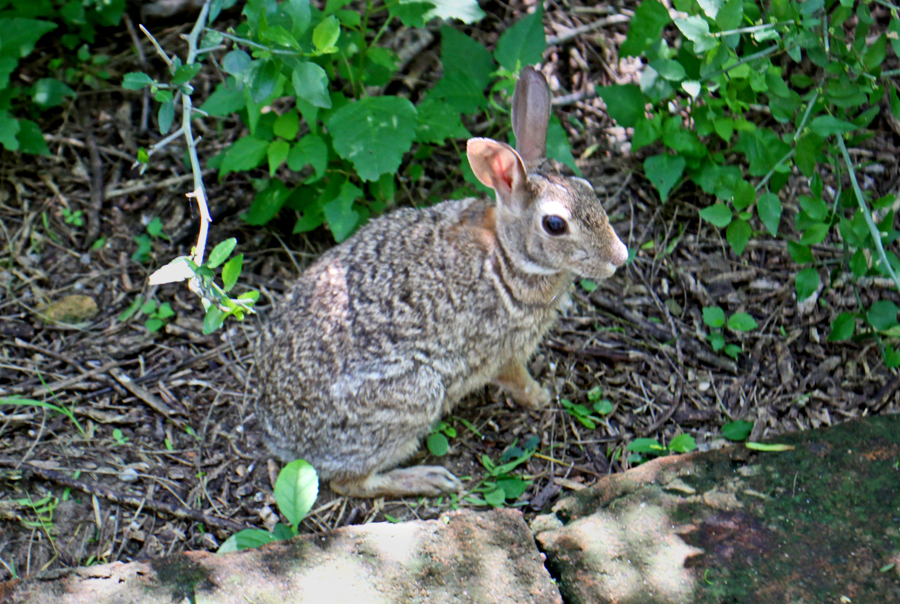 Bunny poses at Quinta Mazatlan
I was amazed by the quantity and variety of birds I saw in just the short time I was there. Almost everywhere I looked there was a bird, butterfly or other wildlife. Right in front of the hacienda, there were a family of baby doves just sitting on a post as if mama had said "Now you birdies wait here and don't dare move until I come back."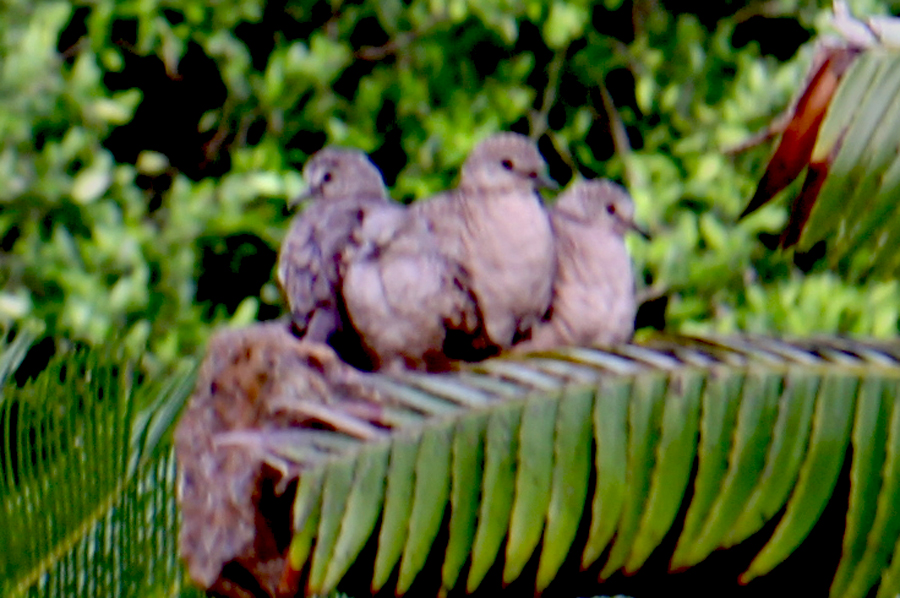 Baby doves at Quinta Mazatlan
Another spot where you will see not only birds but butterflies is National Butterfly Center in Mission, which abuts McAllen. This 100-acre preserve is the largest native plant botanical garden in the United States. It's a modern day Garden of Eden. Besides the butterflies, there are great bird watching spots and trails. The Rio Grande Valley boasts 525 documented species of birds based on World Birding Center figures. You will find a good portion here. Gaze up into any tree and you will most likely spot a unusual bird. Look in the groves of wildflowers and there will be a fluttering butterfly. You may find around 150 species of North American butterflies here. That's about 40% of the species found throughout the entire United States. Inside there is a museum and gift shop of all things related to butterflies.
Butterfly at National Butterfly Center
You'll find one rather unusual species of wild life here. Spike. a giant African Spurred Tortoise, came to the center after his owner left for college and abandoned him. He helps teach the need for caring for local creatures like the endangered Texas Tortoise as well as the butterflies. He has come to be such a part of the center, Marianna Trevino Wright, executive director of the National Butterfly Center, told us, "Spike thinks he is a butterfly."
Butterfly at National Butterfly Center
Bentsen-Rio Grande Valley State Park is another place you may catch a glimpse of a plain chachalaca, green jay, great kiskadee or least grebe. These rare birds are called "valley specialties" because they are found nowhere else in the United States but deepest South Texas. Here, spotting a "Mexican vagrant" is not reason to call INS. These are birds from across the Rio Grande that often flies over to the American side
A great kiskadee in McAllen
The park also has a tram and four nature trails ranging from 1/4 mile to 2 miles. It has a two-story high Hawk Observation Tower with a 210-foot-long handicapped access ramp, two observation decks and two handicapped accessible bird blinds.
Nearby Lower Rio Grande Valley Wildlife Refuge is one more spot where you will find great birding.
This owl is real but blends perfectly with the tree he is in
It all proves McAllen rocks when it comes to nature.
3. Art and culture
Opened in 1969' the International Museum of Arts and Science is a Smithsonian-affiliated museum that covers both art and science. It begins before you even enter with a exhibit of Artist in Resident. The current exhibit created by Marcel Pinas from Suriname is several totem pole like art raised in front of the museum and covered with symbols representing his Maroon culture.
Totem pole exhibit created by Marcel Pinas from Suriname
Inside you come face to face with their other artist in residence 's work. Intricately woven strands of insulation pinned to a wall create art by Ran Hwang. Sadly part of the art is the destruction of the works when she returns later in the year.
The science ranges from a interactive sphere that takes data from NASA and other satellite feed and can show live events as well as world weather and conditions as well as geological conditions. Gaby Jones, Director of Visitor Experience, is quite proud of the exhibit and noted, "in June we are going to update even more."
Exhibit in the children's section of the International Arts and Science Musuem
The museum varies from live animals like a snake and a bearded dragon lizard named Magellan to a rock climbing wall. The art ranges from actual demonstrations to a beautiful Tiffany stained glass room. There are five galleries and one just for the kids' Discovery Pavilion' filled with hands-on exhibits. Their outside area' RioScape is a playground themed to the journey of the Rio Grande River from the mountains to McAllen.
"It's a fun time to be in McAllen," says Nancy Millar, vice president and director of the McAllen Convention and Visitors Bureau."There is so much going on in the arts these days."
Much of what "is going on" is happening in McAllen's Art District. It's located right along Main Street and is home to more than two dozen galleries and the First Friday Art Walk from September through May.

Mural across from the International Arts and Science Musuem
I got to visit one gallery, Nuevo Santander Gallery. This gallery has the feel of an old Spanish Mission. The entrance to the gallery makes you feel as if you stepped back in time to the days of the Spanish Grandees. It's no accident, the doors and ironwork around them is over 150 years and imported from Mexico. The gallery is filled with more than artwork. There are jewelry pieces, old Western collectables, guns, furniture, even an ornamental confessional that must have graced an old mission once.
Nuevo Santander Gallery
McAllen took a big step to foster art with a project called Creative Incubator began in 2013 to support local artists. They took the old library and turned it into a brand new set of galleries, studios, classrooms, and office spaces that rent to local artists at a extremely low rate. Writers and computer programmers are included as well as the more traditional artists and sculptors. If you are creative, this is for you. The Incubator holds classes, gives exhibits, hosts festivals and all around promotes the city's creative side.
Sample of some of the art at Creative Incubator
Across the street from the Incubator, Art Village is filled with galleries, retail stores, creative businesses and event spaces. We stopped in form an afternoon snack at one new cafe, The Village Cafe offers breakfast and lunch specials, lots of creative soups and salads, and some delicious and nutritious desserts. Rather than sodas, they offer a fruit bar and healthy frozen concoctions made with fruit and veggies. I had the Reese's Chocolate Cake and can attest to it being one of the best ever.
The Village Cafe for a nutritious snack
Normally, you wouldn't think of the public library as being an integral part of the art district but in McAllen it really is. McAllen's Library is the largest single floored library in the U.S. As the winner of 2012 Library Interior Design Awards for best interior design from International Interior Design Association, it's a work of art in itself. Even as you drive into the parking lot it's hard to believe this was once an abandoned Wal-Mart. There is a graceful arch over a circular pond.
(It's the title image)
Mural in McAllen Library Courtyard
Pricilla Suarez and Sara Montoya, Marketing events coordinators, met us inside to give a tour. As you walk about there are gallery quality art displayed. IMAS and McAllen arts council take turns putting up displays. Pricilla said, "Here, you see families that usually wouldn't go into an art gallery they will stop by and try to learn more about the art work."
When they opened about three years ago, there were 3,000 people on opening day. There is a meeting center, and auditorium, conference rooms, and a prep kitchen. They are able to host weddings and other events. There is even a cafe that gives the library a big box bookstore feeling. They have even hosted a Bollywood premier. Where other libraries have a shelf of books for sale, they have a bookstore. I found two books I had to have.
One thing that stand our is the spaciousness of the place. There is a children's section, a teen section and an adult section. There is art throughout the library and in each section it is designed for the age that will occupy that section. The courtyard has three murals. With WIFI out there it is a perfect place to just relax and check your email.
Veterans War Memorial is an ongoing outdoor memorial dedicated to the wars this country had experienced. It's a combination of sculptures wall plaques and garden area.
Sculpture at Veterans Memorial
4. Food
There are so many great dining establishments in McAllen you will have a lot of choices. Two of my favorites are owned by one award winning chef, Larry Delgado and his wife, Jessica. Salt -New American Table and House Wine & Bistro are both unique but equally enjoyable.
Salt -New American Table is located in the Art District. The kitchen is flanked by a Chef's Table offering front row seats to the cooking excitement. Naturally we sat there. The young sous-chef directly in front of us was a show worth watching. Her hands were never still. She was either preparing one of the many salads or an interesting dessert.
Salad at Salt
I asked our waiter about the name and he explained that since salt was such an important factor in food preparation, and at one time had been worth more than gold, Chef Larry chose that name. The restaurant is very innovative with various infused salts in its menu. Himalayan salt, lava rock salt, hibiscus salt, smoked salts, and porcini salts are all used and several are set out for you to use as seasoning in your dishes. There are several house drinks called Salt Sips you can order either by the pitcher or glass. I sampled the Texas Peach composed of Texas whiskey, raspberry peach Grand Marnier, Absolut wild tea, Meyer lemon, peach, agave nectar and peach salt. The glass was rimmed with salt and it tasted delicious.
I ordered the Chicken and Shrimp Ravioli with a farmhouse salad of fresh spinach, Granny Smith apples slices, Gorgonzola, walnut, and crisp rabbit belly dressed with a pomegranate bacon vinaigrette.
Chefs at work at Salt's open kitchen
Well stuffed, I chose truffles for dessert as I knew I would have to bring some to my room to nibble on later. They were the best truffles I ever tasted. The chocolate was rich and dark. One of my favorites was a chili flavored treat where the heat of the chili mingles with the sweetness of the chocolate made you feel like you were tasting Heaven.
The second night in McAllen, we dined at House Wine & Bistro, Chef Larry's original restaurant opened in 2008. It was every bit as enjoyable as Salt but had a whole different personality. Here there are wine racks all around and the atmosphere is more bistro style. There is a full bar which mixed an excellent coconut rum and pineapple.
Chef Larry Delgado
For an appetizer, my companion and I shared a Artisan Meat and Cheese Platter. For my entree, I ordered the Bee Sting Flatbread, a type of artisan pizza with marinara sauce, capicola, and local habanera honey topped with chicken along with a Yahweh Salad, local greens tossed with caprino, dried cranberries, fresh strawberries, walnuts and drizzled with a strawberry vinaigrette dressing.
I didn't really have room for dessert but I made the sacrifice so I could tell you about their Earl Grey Brûlee with a lavender sugar crust. What a way to finish off a meal!
Chef Larry won second place in the Great American Seafood Cook-Off in New Orleans with his Texas Two Step Shrimp Tacos. The ingredients are all Texas ingredients, wild Texas Gulf shrimp, pecans, ruby red grapefruit, and nopalitos, a type of prickly pear cactus. The masa used to make the tortillas was huitlacoche, an unique corn fungus common in Mexico. He even used the shrimp shells to make stock for Bloody Marys which he served with the tacos.
Bee Sting Flatbread
I spoke with Chef Larry and his wife Jessica about their commitment to local grown produce .Jessica used the greens for my salad as an example. They come from Yahweh's, a nearby Texas non-certified but completely organic farm, "They're all natural, no pesticides. The only pesticides they use are ladybugs. It's handpicked by Saul, (the farmer) and washed here on the premise. One minute it's on the land next it's here on the table."
Since McAllen is closer to Mexico than much of Texas, I asked Chef Larry about getting Mexican produce. He told me, "That was the topic of discussion at the Texas International Association Expo in Austin. There are quite a few agricultural producers in South Texas that do have land and grow in Mexico but they are Texas companies. So yes, we do have access to quite a bit."
I asked about framers not owned by Americans and he said "The things we cannot get are seeds, larva of any kind. There's quite a bit of produce that comes in from Mexico."
He is very committed to local produce but explained "At one time I was challenged to find valley grown citrus. When it became tedious to get it, I ordered from San Antonio. When the produce arrived, the box said 'Mission .Texas.' ( right next to McAllen.) Now there are more accessible farmers market. Lots of good food… That's one thing about the Valley, I don't want anybody to come in here and go home hungry"
That's not going to happen at either Salt or House Wine & Bistro. It's great to dine where you know the chef is so committed to providing fresh healthy food.
For lunches I sampled two other great restaurants.
Republic of the Rio Grande has great atmosphere as well as great lunches and dinners. When you enter through a courtyard with a fountain, you feel you have stepped into an old Mexico mission. The walls are white with dark wooden arches and tall stone columns stretching to the ceiling way overhead,
I decided on a light lunch of House Salad and Stuffed Chili Fritos that were hand-breaded Anaheim peppers stuffed with goat cheese, cream cheese, chorizo, and fried to a golden brown. Served with red and green salsa. Very different and very good. My companion had one of their specialty Hawaiian Pizzas. I sampled a bite and it was equally delicious.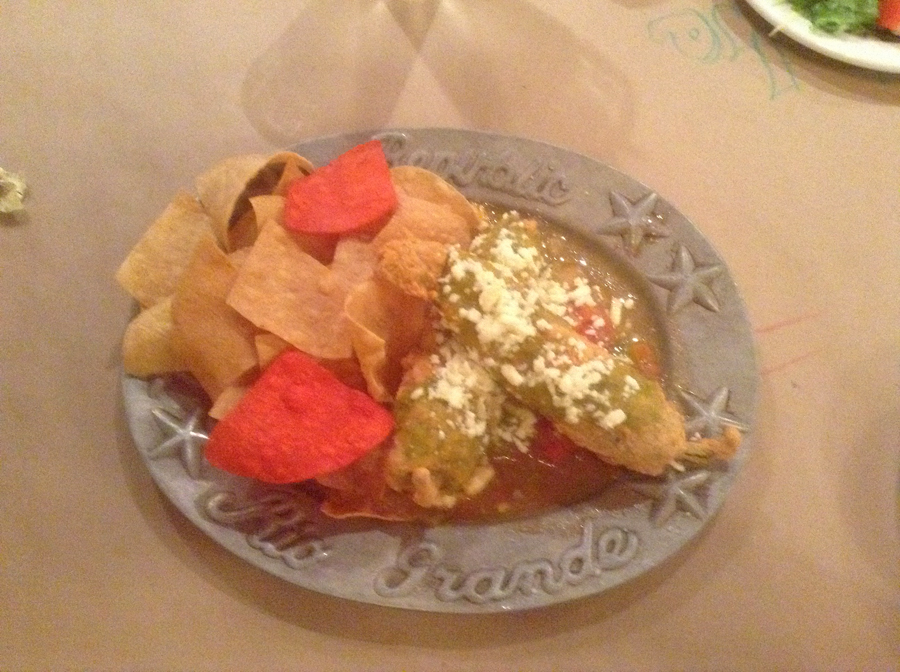 Chili Fritos at Republic of the Rio Grande
They have a huge variety of freshly made desserts. They have a full bar as well as wine and beer.
Costa Messa also has the feeling of old Mexico. They serve classic Mexican cuisine or Tex-Mex style. You choose. We shared an interesting platter for two delicious platter called a botana with lots of yummies on it.
The

botana had a little of everything needed for a delicious meal
The atmosphere is very family friendly and open.
There you have four great reasons to visit McAllen so head south until you are almost over the border. You'll have a great time.
For more info:
http://www.mcallenheritagecenter.com
http://www.quintamazatlan.com/
http://nationalbutterflycenter.org/
http://renaissance-hotels.marriott.com/casa-de-palmas-renaissance-mcallen-hotel
http://www.therepublicoftheriogrande.com/