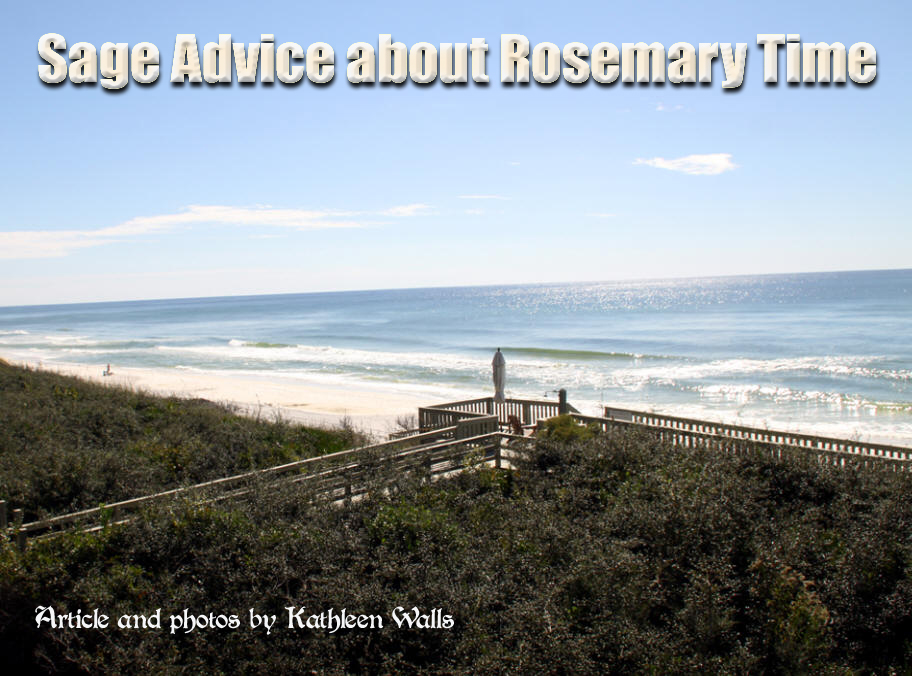 The view from a Rosemary Beach home

Most of Florida is on Eastern Standard time. Some is on Central Standard Time. Then there are places that have a timing all their own. Rosemary Beach is just a tiny blip on the Florida map in Walton County but it is one of these special places. Here you forget about the usual timed things, Appointments, schedules, routine, none of these apply here. In fact you won't need a watch or clock since the town bells toll on the hour during the day. If you send the kids to play on the green and want them home by 6 pm remind them that when they hear the six dongs ""

Ask not for whom the bell tolls

. It tolls for thee." Head home.
Rosemary Beach is a bike town
Imagine not having the hassle of dealing with freeways, traffic lights, gridlock and that nasty smell of gasoline-fumes-clogged highways. Instead Rosemary Beach offers the latest in the "New Urbanism" development. This is no "cookie cutter: subdivision where every home is alike and sprinklers waste water keeping grass unnaturally green and exotic plants alive in an environment far from their natural habitat. Rosemary Beach is only 107 acres with 2,500 of that Gulf beach front but it offers residents and guests a totally "green" way of life. Founded in 1995, it incorporates the best of old-fashioned neighborhoods with the convenience of modern concepts. Here, people walk, bike, sit on front or back porches and balconies, know their neighbors and shop within walking distance of their residence.
Residences here are all unique. No aluminum siding , composition board or fake material is allowed here. Natural and proven materials like wood, brick, stone or stucco are painted in muted earth tones or left in a natural state to blend with the environment. Beyond that homes are al a reflection of what their owners envisions for their dream home. You'll find homes that are reminiscent of the West Indies, Saint Augustine, Charleston, New Orleans and some that remind you of pure old Florida. Walking along the boardwalk beside the Western Green to the Gulf at night invokes memories of New Orleans' French Quarter with its soft lighting, homes fronting right along the boardwalk with courtyards and walled gardens.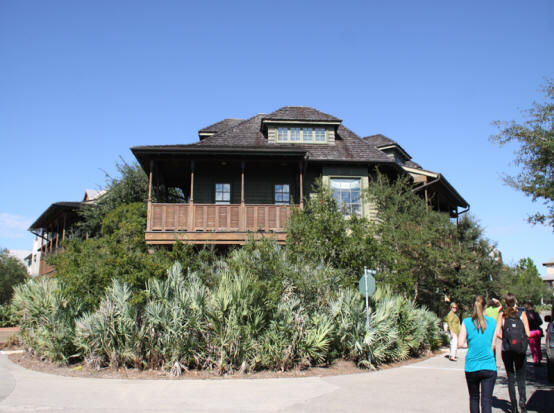 One of the homes in Rosemary Beach

Streets are narrow and tree lined with native growth. Boardwalks and paths intertwine through the town so that you can reach any part of the town with a five minute walk or less. As is true of most things that are solid and real, home ownership here is not cheap. Prices range from close to one million on up to eight or nine million on up. The least expensive way to own a portion of this paradise is through the Private Residence Club where for around a hundred thousand (dependent upon an owner's need to sell), you purchase one-sixth interest in a 16 unit luxury building complete with more than a top drawer hotel's amenities and services including complete concierge, a fantastic rooftop pool, community areas and a two bedroom two bath unit.
Main Street at Rosemary Beach

Of course, there is a great rental program here so you can still enjoy Rosemary Beach without a huge financial outlay.

Pensione Inn at Rosemary Beach is a small European style luxury inn with 11 luxurious rooms and two suites. In mid-winter, you can book a room there for around $200 per night or you could opt for the ultimate in luxury and book a five bedroom, five and a half bath cottage (read mansion) with carriage house that sleeps 14 very comfortably and has all the amenities Donald Trump might expect for about $1,900 per night or 12,500 weekly in winter. It goes up a

bit higher for

peak seasons. Naturally it has its own pool.
James Dillon, owner of Summer Kitchen,
tells of being the first restaurant in
Rosemary Beach

Once ensconced in your own personal bit of Heaven, you don't have to –and probably won't want to– leave Rosemary Beach for anything. Park your car in its own private parking spot and leave it there. Head over to Bamboo Bike Rentals and you are set for transportation Rosemary Beach style. Be sure to ask for one with a basket to put all the goodies you buy at Wild Olive or at CK's Feed and Supply

to snack on around your pool or on lounging on the deck or that imported bottle of wine to go with dinner at home should you want to make use of your well-equipped kitchen.
Kevin Neel, owner of La Crema, proves you
can enjoy fine dining wearing beach casual.

You can dine very well without ever touching a pot or pan here. There is an eatery for every taste and pocketbook in Rosemary Beach.

You can opt for less expensive such as Amavida Coffee and Tea, with either eat in or take out simple breakfasts and great choices in coffee and tea, The Summer Kitchen which is open for all three meals, there's even Dog Man Do with a hot dog cart. You can choose to visit modest to more upscale restaurants like, Aqua Coastal Sushi, La Crema and Tapas, Cowgirl Kitchen, Edward's Fine Foods, Wild Olive or Restaurant Paradis. For late night fun, there is Havanna Beach Bar located in The Pearl, Rosemary Beach's newest luxury hotel..

Shakespeare's statement , "There's rosemary, that's for remembrance," is sage advice. When you visit Rosemary Beach, you will never forget it.
Sunset on Rosemary Beach-A picture is worth a thousand words.
For more info:
http://lacrematapas.com/ https://www.facebook.com/summerkitchencafe
http://www.cowgirlkitchen.com/
http://www.restaurantparadis.com/
http://www.bamboobicyclecompany.com/
http://www.gigisfabkids.com/
http://www.moonpize.com/
Ads fund American Roads so please consider them for your needed purchases.
If you enjoy the articles we offer, donations are always welcome.