There is more to West Virginia than just coal mining. It has its own voice. A voice that go deep into the soul, tell stories from a hard life, beginning with the music the Appalachian people brought with them into the heart of the mountains. The music grew from folk music, bluegrass, that lead to rockabilly, country music and even the classics. Witness opera singers from West Virginia like Eleanor Steber from Wheeling and Elisabeth Baer from Charleston. Connie Smith, Brad Paisley, Hawkshaw Hawkins, Wilma Lee and Stoney Cooper, and dozens of other musicians who call the Mountain State home are honored in West Virginia's Music Hall of Fame. For some singers the road has led from rags to riches. For many the music grew out of the coal mining tradition.
Cultural Center where Hazel Dickins would have performed.
The band prerforming is Taylor Made

Hasil Adkins, the youngest of 10 children of a coal miner, was born April 29, 1937 in Boone County, West Virginia in a rented tarpaper shack owned by a local coal company. He didn't receive his first pair of shoes until he was four or five years old. He attended school for a very brief time, as few as two days of first grade. Food was scarce and plain. Perhaps that accounts for the fact that so many of his songs relate to food particularly meat. While Hasil sang about food and sex, other West Virginia singers used their talent to help the miners and other workers.

Hazel Jane Dickens sang many of her songs to help the non-unionized mineworkers. Born June 1, 1935 in Mercer County, West Virginia, came from a large mining family. She was the eighth of eleven children and understood the hard life of the mine workers. Dickens was one of the first women to record a bluegrass album and was the first woman to receive the Merit Award from the International Bluegrass Music Association in 1994. In 2001 she was presented with a National Heritage Fellowship by the National Endowment for the Arts. Her Working Girl Blues shows a typical theme.

Dickens spent her life and used her music to support the people and environment of West Virginia. She made an appearance in the movie Matewan, about the Coal Wars. She passed away in April, 2011 just weeks before she. was scheduled to perform at Charleston, West Virginia Cultural Center on June 5, 2011 at a fundraiser in support of fighting mountain top removal. The event went on as scheduled but instead as a special tribute to Hazel.

The Cultrual Center is located just across from the State Capital Building and also houses a great museum of West Virginia's history from prehistoric to present day. Be sure to visit both when you go.

Some families are just born to sing. Witness Taylor Made, a band composed of three siblings from Taylor County, West Virginia, Wendy Williams, Greg Duckworth and Brian Duckworth. The group sings their own brand of harmonic country that they perfected singing on their back porch since they were kids. They entered and won the Colgate Country Showdown in 2005. It's been uphill ever since. They have been nominated by New Music Weekly (NMW) for Country Group of the Year. The group was nominated for and won Best New Country Group of the Year by NMW last year,

Their music is real West Virginia music. Greg explained, "We're not singing songs that someone else lived. We've lived the stuff we're singing; they're heartfelt and personal experiences to us. When we sing about being a country boy or being from Appalachia, we mean it."
Landau Eugene Murphy Jr. does things "My Way" for
Travel South tour operators and journalists in Charleston, WV

One of the most famous West Virginia musicians is James Cecil Dickens better known as Little Jimmy Dickens. Although he stands only 4'11" in his glamorous rhinestone-studded outfits, he became a giant in the music industry. He was born in Bolt, West Virginia on December 19, 1920 and by the late 1930s began his music career. It carried him to the height of Country Music fame when In 1948 Roy Acuff helped him to a Columbia Recording contract and a place on the Grand Ole Opry. He was the first country music entertainer to go around the world on a world tour in 1964 His highest honor was being elected to the County Music Hall of Fame. At the age of 90, Dickens became the oldest living member of the Grand Ole Opry. He is still performing.

Kathy Mattea is another famous West Virginia music voice. She was born in South Charleston, West Virginia. She has gone to the top of the charts with songs like "Eighteen Wheels and a Dozen Roses" and "Where've You Been." She was awarded Top Female vocalist of the Year twice.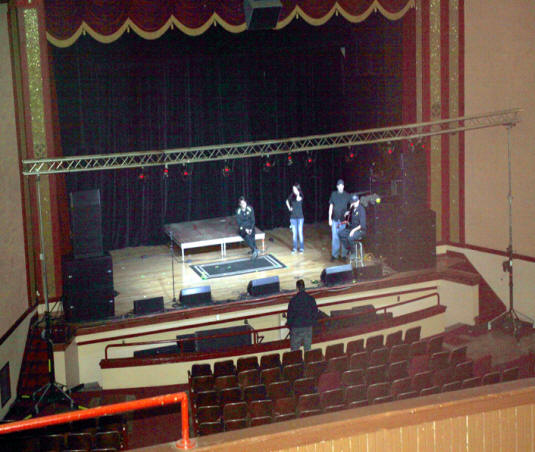 Chase Likens and Kayla Sloan on stage for
rehearsal at the Coalfield Jamboree

It's not just Country Music, West Virginia produces many variety of talent. For example, Landau Eugene Murphy Jr. whose style is jazz. Frank Sinatra was a singer Landau has always admired so he now covers many of Ol' blue Eyes' songs.. He was born August 11, 1974, in Logan, West Virginia, the son of a coal miner. By the age of 19 he was homeless and sleeping in his car, He finally got a job working as a car washer and took a chance to audition for America's Got Talent. Murphy was the winner of the show on September 14, 2011. Since that day he has came a long way from a West Virginia car washer. He now performs all over the world but still returns to his home town of Logan for performances.

Another example of the power of TV talent shows is Chase Likens, Chase is from Point Pleasant, West Virginia and started singing at 5 years old at an elementary school talent show. Chase was on American Idol season 10 and 11 and made it to the semi-finals. His smoldering good looks and rich voice could not be overlooked. Jennifer Lopez said. "You've got the movie star good looks for sure, but you sounded great tonight, as well. Tonight is about showing America who you are, and you definitely did that with that song. I look forward to seeing where you go."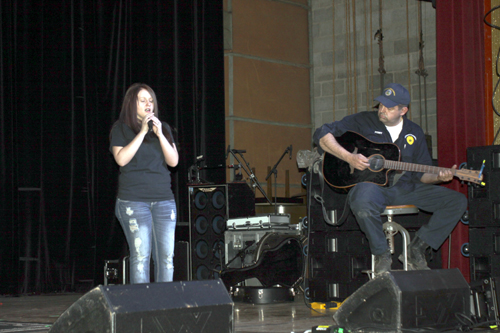 Kayla Sloan sings during a rehearsal at the Coalfield Jamboree

Chase is definitely going places. He performed with Eric Paislay at the Coalfield Jamboree and recently completed The Young Country Tour with Kyla Slone. On Nov. 4, 2013, he announced, "I'm happy to announce my latest signing today with SAG-AFTRA affiliated talent agency DS Entertainment out of Nashville!"

Kayla Slone, the wife of a Logan coal miner, is yet one more example of how fast things happen in this highly technical world of TV reality shows and the power of the social media. Just a short time ago Kyla was a Logan County, West Virginia Wal-Mart cashier, and her husband is a coal miner. She really enjoyed singing for her customers while they stood in the checkout line. One customer asked if he could record her singing. The video was placed on YouTube and within less than a week she became famous.

Kayla was at that time just 21 years old and has been invited to sing Loretta Lynn's famous song Coal Miners Daughterr"on the Grand Ole Opry stage. She appeared on Anderson Cooper. She was invited by Dirks Bentley to appear with him in Las Vegas. All this happened within a week and a half. Talk about whirlwind success!!Kayla recently opened for Eric Paislay at the Coalfield Jamboree. Kayla recently opened for Eric Paislay at the Coalfield Jamboree.

The Coalfield Jamboee is a great place to visit when you go to Logan. If you're lucky enough to catch a preformance by Kayla and Chase, and they sing a duet of "If I Were A Carpenter" close your eyes for a monent and let the magic transport you. When you open them you might expect to see a young Johnny Cash and June Carter Cash before you on stage performing the haunting ballad. Yes, Kyla and Chase are that good.

Logan, WV is also home to 22-year-old country music singer Kaitlin Boytek. Kaitlin is also married to a coal miner.(There are lots of coal miners and apparantly lots of singers in Logan) Kaitlin entered the Magnolia Festival in Matewan at the age of four. She sang Sea of Cowboy Hats and won first place and the quest was on. Her present aim is a recording contract but she is not just sitting around waiting. She is busy singing her heart out while she waits. She has opened at Coalfield Jamboree in Logan for Eric Paislay at the Coalfield Jamboree in Logan, West Virginia.. Her EP Album Wishing is available on ITunes. Kaitlin is currently ranked the #1 up-and-coming country artist in the state of WV by reverbnation.com.

All four of the newbie singers, Kyla Slone, Kaitlin Boytek, Landau Eugene Murphy Jr. and Chase Likens, have performed at Logan's Newest old theater, The Coalfield Jamboree.

The theater was the Logan 'Theater that originally opened 1938. In the heyday of the movie era it was the place to go. Like many movie houses, it fell into disrepair. Just recently it was renovated by a non-profit organization and now operates as a live theater, music venue and community event venue. It seats 1,300 and has wonderful acoustics.

Since reopening the Coalfield Jamboree had hosted Billy Ray Cyrus, George Jones, Merle Haggard, J. D. Summers, The Platters, The Drifters, Ricky Skaggs, the Glen Miller Orchestra and others. This was the first place other than his church that Landau Eugene Murphy Jr. sang.

Other small towns around the state are revamping historic theaters to bring back live performances, of both music and plays. One example is the historic Fayette Theater. President and Artistic Director Gene Worthington explained that the old building was in terrible need of repairs and in danger of being torn down when the Fayette County Historical Society started the theater project in 1992.

Gene and his wife, Karen Vuranch, who performs one-woman plays about life in the coal fields and historic Vest Virginia women, are passionate about the theater and have worked hard to bring it back again as a performing venue.

Since those days the theater had made a magnificent comeback. Built in 1937, the Fayette Theater is one of the few Depression era movie houses still in use in southern WV. The theater remained in use until the 1960's. The original movie projectors are still on display inside along with many paintings and pieces of art that depict life and entertainment from the 1930's era. The theater stages ten performances per year along with special nights by request. They offer performances as varied as Wild Rumpus, a local Bluegrass band, and The Rockin' Tale of Snow White, a hip musical version of the old fairy tale.

Gene and Karen do a perfomance with local musicians called "Appalachian Stories and Music" that can be booked for groups at a variety of venues. In 1994, they had the honor to perform at the Ellipse Theater at the White House.


Entertainment for Travel South at the Walker Theater.
Performers are Bob Thompson and Shala L (AKA Bricktop)

As you see by the list of singers-and that list just scratches the surface-all types of music is part of West Virginia culture.

Charleston opened the Clay Center for the Arts and Sciences in July 2003 as the new home of the West Virginia Symphony Orchestra well as Avampato Discovery Museum which combines an art museum and a hands on science museum including the Electricsky Theater which functions as a planetarium and a giant screen theater.

For the performing arts, Clay Center houses The Maier Foundation Performance Hall, an 1,883-seat theater and The Walker Theater, an intimate black-box small theater which can accommodate between 150 - 200 people.

Of course when you visit the Clay Center you will want to visit the art and science sections as well as catch a performance at one or both of the theaters.

So we'll just have to say when it comes to music, West Virginia rocks.

For more info:

http://www.historicfayettetheatre.com/

http://www.wventerprises.com
Ads fund American Roads so please consider them for your needed purchases.
If you enjoy the articles we offer, donations are always welcome.
----------