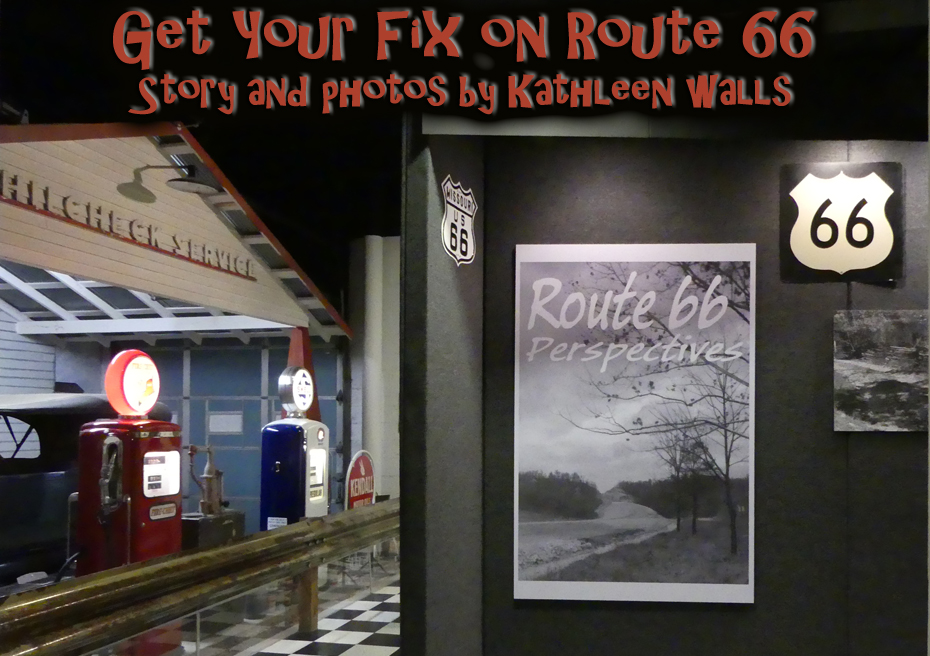 Route 66 Museum has a modest home in the county library in Lebanon, Missouri but it tells a big story. It took me back to the earliest days of Route 66.
The first exhibit is Philcheck Service Station. (Love the name. It says it all.) The station sports Fire Chief and Skelly gas pumps. A uniformed attendant is coming out to service the Ford Roadster sitting under the frame portico. Remember the days when an attendant came out and said "Fill 'er up?" then wiped your windshield, checked the pressure in your tires and checked your oil?
The museum is the beloved protegee of Mark Spangler. He talks of what a trip on Route 66 in the old days. "In the Model T period, if you went on a long trip you better be ready to camp on the side of the road and have tourist tents with a built-in cot in it. You better take plenty of food. And you absolutely need to be prepared to fix a lot of flats, break down the rim, put a patch on the tube, and pump it up with a hand pump."
Of course, as the route became more traveled, tourist courts and diners sprang up along Route 66. The exhibit of a typical tourist cabin from the 1940s is nostalgic. I love the chenille bedspread. Once you saw them all over now they are antiques and more expensive than when new. Mark explained how much of their exhibits are dependent on donations. The Knotty Pine paneling came from the Best Western Wyota Inn, the desk is from Nelson's Dream Village.
Communication with the desk was so easy then. An operator was usually on duty at a switchboard to handle you calls. This one came from the Munger Moss Motel which is still in business. In the background is a portion of a Route 66 salt and pepper collection. That harkens back to the day when restaurants still put salt and pepper shakers on the table and you didn't have to beg for one. Chef's and cooks didn't get insulted by that. They knew people weren't robots all liking and doing the same thing. Everyone had individual tastes those days.
Diners have remained to this day but still are reminiscent of the time when travelers fell in love with the open road. The diner was a welcome sight for travelers. There were no chains and fast food joints. Nicely tiled floor and a counter with vinyl covered stools and plenty of Formica and chrome greeted you. Your friendly waitress was usually wearing a pastel cotton dress with a white apron. The food was always plentiful and freshly cooked. Naturally there was a jukebox where you could listen to Elvis, Frankie or Hank while you waited for your meal. Or perhaps you spent the time whacking a pinball machine on its sides trying to make that little ball go where you wanted.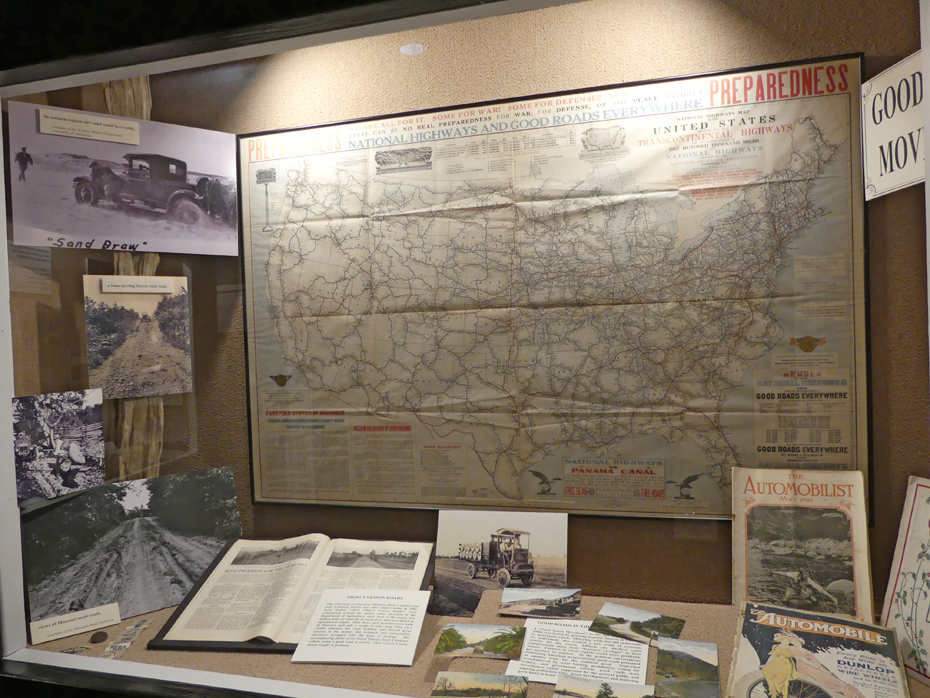 One exhibit displays a Goodroads Map as signage wasn't as good those days and there was no GPS if you got lost. The map urged "preparedness." There are lots of postcards, photos, books, and magazines of the era. Mark explains, "We have a lot of local flavor but we try to have an overall view of what the route was."
There is so much more in this little museum and Mark told us he is working a similar museum interpreting the Trail of Tears which also passed through this area. Mark recalls life in the heyday of Route 66, the 1950's, "It was a different world. The frugality and inventiveness of our family businesses, I'm finding a lot of recycling. You find Victorian furnishing. They used what they had. They didn't spend a half a million dollars on buying a franchise to a cookie cutter brand. It was totally unique but they cared about service and while you were there you were taken care of. The concept of uniqueness is almost gone."
Thankfully museums like this help preserve that memory.
For more info:
http://www.lebanon-laclede.lib.mo.us/MuseumPage.html