Tallahassee Museum
With most museums, you expect to find all the exhibits tucked away neatly in a building. Tallahassee Musuem is so different. It's like a time capsule of Tallahassee's (and Florida's) cultural and natural history all set in a natural outdoor environment on the shores of Lake Bradford.
Florida's unique wildlife, like Florida panthers and alligators are part of what make Florida, Florida, right? But you could never shut up live panthers alligators, and other Florida wildlife up in a building. So here they are roaming in as close to natural habitat as possible.
Russell Daws, President and CEO of the museum took me for a tour. Wow, I was impressed; Tallahassee Museum's 52 acres combines the best of a zoo, living history museum and park with a touch of art gallery thrown in for fun. He explained the museum's goal,"What we do is talk about this region's history and environment and how history and environment work together to establish our identity and lifestyle here in North Florida. I think we provide a great sense of place for the Tallahassee region."
Zip Lines
He is so right. The museum is composed of 14 historic buildings and eight contemporary buildings. There is a fantastic red caboose. Lots of places to play or just relax as you learn about North Florida. Like the zip lines. I wouldn't count them as relaxing but they do fall under the play heading if you like your fun with a touch of excitement. There are three lines; Tremendous Adventure for kids, Canopy Crossing for the intermediates and Soaring Cypress for the really adventurous.
Section of kids zip line.
The zip lines weave in and out of the different sections of the museum. There is a Turpentine Commissary and camp. Turpentine was an important part of Florida's early economic development. This one is realistic with an authentic building for the commissary. It was moved from an old camp in Pavo GA. The fun thing is that it is interactive. I pressed a button and watched the Camp boss hiring a worker and the work explained to him. It was a hard life for the workers; little more than economic slavery. Workers were usually paid with script only good at the company commissary.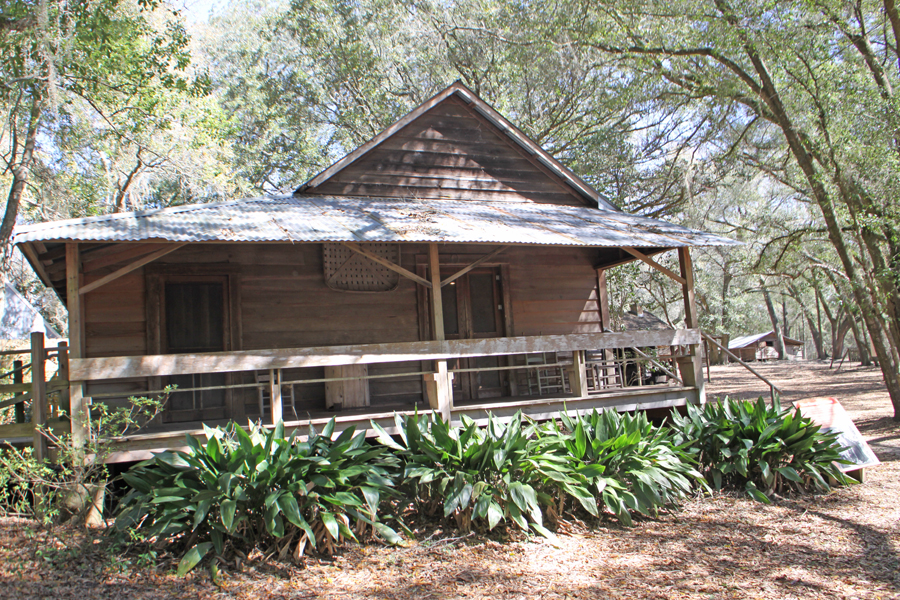 Turpentine Commissary
Big Bend Farm
Then we visited Big Bend Farm set to look like the 1880s Building were all moved from farms around the region. On weekends there are living history demonstrations with docents in period dress. The blacksmith is one of the most popular. One of the demonstrator cook on the wood stove. Don't miss the old Studebaker buggy. And you can't miss the horse, cows, pigs, sheep and geese.
Some of the Big Bend Farm buildings
Big Bend Farm has an active garden where they grow sugar cane, cotton, greens and seasonal veggies among other items. Russell explained, "We have a partnership with a master garden program and they come out and raise heirloom vegetables. We use some in our Cafe. We do a lot of farm to table event with local farms."
Garden at Big Bend Farm
Old Florida
When I walked into the Old Florida section of the Tallahassee Museum, the first thing that caught my eye was the Seaboard Railroad Caboose. Railways were the lifeline of rural north Florida back in the early 1920s. Seaboard Railroad moved the farmer's cash crops into the cities and towns.
Bellevue
The majority of those crops were grown on places like the other highlight of the museum, Bellevue Plantation. The Bellevue plantations home was moved to the Florida Museum from its original location on nearby Jackson Bluff Road and several of the out buildings reconstructed. Bellevue portrays life in a upper-middle-class southern plantation pre-Civil War. There were many more Bellevues than Taras in reality so historically Bellevue is a cultural treasure. It has a unique history as well. Bellevue belonged to Catherine Murat. Catherine was the grand niece of George Washington. She married Prince Achille Murat, son of the deposed king of Naples and nephew of Napoleon Bonaparte. Catherine Murat bought Bellevue after Prince Murat's death around 1854 and lived there until 1867.
There is a strong element of African American history here. Naturally, the period was one of turmoil. Many of the former slaves remained on at the Bellevue as employees after the war. A slave cabin has been reconstructed to show the lifestyles of the African Americans as well as the landed gentry.
Another important building is the Concord Schoolhouse that was moved here from near the town of Miccosukee in Leon County. The one-room schoolhouse was used to teach former slave children and was used until the 70s.
Bethlehem Missionary Baptist is another part of African American History at the Tallahassee Museum. It was the first regularly organized black church in the State of Florida built in 1851and rebuilt in 1937 by the congregation using many of the original's hand hewn timbers. Its first minister was Rev James Paige. The congregation still exists in downtown Tallahassee.
Bethlehem Missionary Baptist
Old Florida is also used for living history demonstrations. The church is used for gospel groups and weddings. Costumed docents cook over an open fire in the reconstructed kitchen. Russell told of one occasion when one of the interpreters handed him a plate with what he thought was "the best roast beef I ever tasted. It was actually raccoon. She didn't tell me until afterwards."
Wildlife Florida
One of my favorite sections of Tallahassee Museum is the Wildlife Florida section. You arrive vie a Natural Florida walk though oak, longleaf pine and cypress filled area surrounding Lake Hiawatha. Yopu are sure to see a few birds and some turtles sunning in the lake. McGowan Butterfly Garden is a haven for the fluttering jewels through their lifecycle.
When you reach the wildlife, there are all the animals that live or once lived in Florida. There are about half a dozen deer. The two bears, one male and one female, each came to the museum for different reasons. One was a nuisance bear just a cub and couldn't be relocated. The other has a sadder history. He was a cub whose mother had been killed. The man that killed the mother took him prisoner and had the cub chained behind his trailer. In capturing the cub, the man had cut off part of his ear. Today, the bear lives a happy life in a natural habitat. As close to the wild freedom these magnificent creatures knew before Florida's human population took over so much of their habitat.
Deer at the Tallahassee Museum
There are lots of other animal residents such as river otters, bald eagles, wild turkeys. hawks, vultures, screech owls, great horned owls, wolves skunks and foxes, both red and gray. I learned something I never knew, Gray foxes climb trees. My favorite animals are the panthers. When I visited the two new cougars were about half-grown and just losing their baby spots. Both are female and adorable. The sad thing is that they had to be brought in from Texas. Florida's native population, according to best estimates, numbers only about 100 to 180 in the wild. These magnificent cats once roamed all of Florida and the Eastern states. The massive influx of people into what was traditional panther habitat has made them highly endangered.
There are some cattlemen and hunters who are not satisfied with moving into the panther's doman but are now trying to do away with them altogether. Led by Florida Wildlife Commissioner, Liesa Priddy, they are trying to pass bills to take the big cats off the endangered species list and allow hunting of these magnificent beasts. They are claiming the cats are endangering their cattle. Well, the cats were there first and the ranchers knew that when they moved into the habitat. If they are really concerned, they could pack up their cattle and move to other parts of the state or other states. The panthers don't have that option. So enjoy seeing these beautiful big cats in places where they are safe like Tallahassee Museum. There is another adult male panther. He's a beauty but he just took second place to the romping babies. Did you know, panthers and cougars are the only big cats that purr?
Young panther at the Tallahassee Museum
It's obvious that the museum loves their living inhabitants. The habitats are all natural and large. There is a hospital facility for animals on site. Russell told me they often have live animal presentations to teach appreciation for Florida's wildlife. There is even a full preschool program based on history and nature.
Art
Remember I said there is a bit of art gallery here? I met that face to snout when a bright blue dinosaur peered at me from the cypress swamp. The largest collection of metal artist, Jim Gary's Twentieth Century Dinosaurs reside at Tallahassee Museum. His Dinosaur collection has showcased films, auto shows, museums and botanical gardens around the world. The neatest thing about his dinosaurs is that they are all crafted from recycled car parts. What a way to combine conservation and art!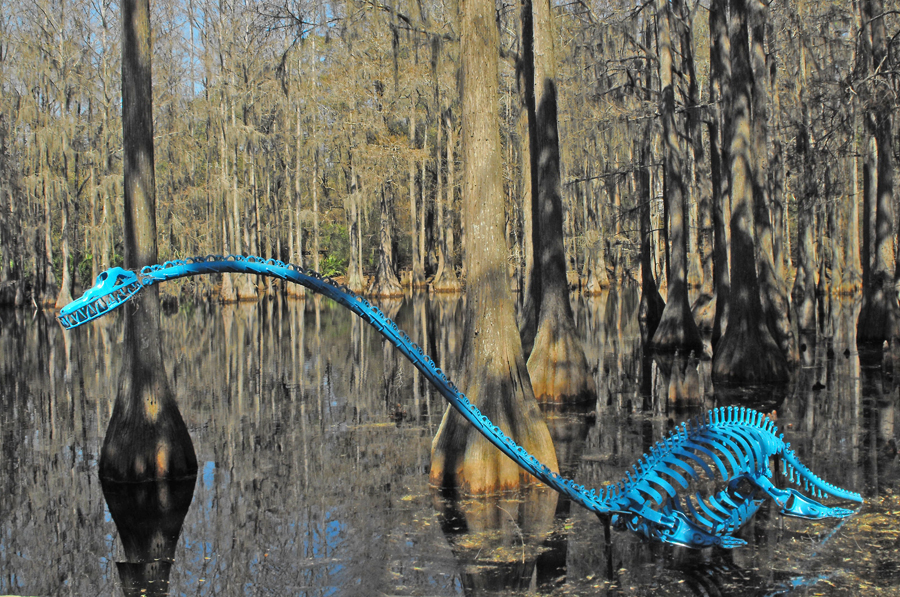 Jim Gary Dinosaur
The museum is big on art of all types. They have a amphitheater and stage that features events as different as the Tallahassee Jazz and Blues Festival, Swamp Stomp (a singer songwriter fest ) youth choruses and even ballet dancers. And art exhibits range from folk art to local artists doing things like Sketch Crawl where 20 local artists spent the day sketching a variety of scenes around the museum grounds and the city.
Of course, there are modern buildings to explore: the Museum's Discovery Center, Visitor Center, and Natural Science Building and you can get a great meal at the Trail Break Cafe. But for all around fun spend a day at this museum and explore all it has to offer.
For more info:
American Roads and Global Highways has so many great articles you may
want to search it for you favorite places or new exciting destinations.