Ava Gardner was a star of the first magnitude. A visit to her museum in Smithfield, North Carolina tells a more complete story. It follows Ava from when she was born a country girl in the community of Grabtown just east of Smithfield through the years of stardom and beyond. As a child, the depression hit her family hard and as the youngest child in a family of seven she lived a life bordering on poverty.
That life changed when she visited her older sister, Beatrice "Bappie" Gardner, in New York. Bappie's husband was a photographer. He took pictures of Ava and posted one in the window of his studio. That resulted in her being noticed by MGM. She was given a screen test but her southern accent was so strong the director couldn't understand her and suggested she just do a silent test. She was given a seven year contract for $50 a week. There is a great film about her life at the museum.
One unique collection at the museum is a collection of artist Bert Pfeiffer's paintings of Ava. Pfeiffer, a young Dutch artist, never met Ava but became obsessed with her after seeing one of her films. Three of the paintings she had purchased for her home in London are in the theater at the museum. Others hang in the reading room and throughout the museum. They are unusual for quirky little details like a mouse running up her sleeve in one, one hand larger than the other in another and other details views love to search for.
In Hollywood she turned male heads wherever she went. Mickey Rooney was captivated and they were married soon after. The marriage only lasted about a year. She next fell under the spell of Artie Shaw, world renowned band leader. This marriage also was short lived. The museum has exhibits about her career as well as her private life.
Meantime her career blossomed and she was paired with the top male stars of the day. When she was cast opposite Clark Gable in The Hucksters, he paid an unexpected visit to meet Ava. When she saw her longtime idol on her doorstep, she rushed around tiding up and putting on makeup before letting him in.
Her fame continued to grow. In 1950, she landed the coveted role of Julie Laverne in Show Boat, one of the most revered musicals of all time. She was nominated for a Golden Globe Award for her part in Night of the Iguana, the film version of the Tennessee Williams' play where she co-starred with Richard Burton.
Newly married to Burton, Elizabeth Taylor took no chances leaving her husband surrounded by three glamorous female stars, Ave, Deborah Kerr, and Sue Lyon. Taylor accompanied them for the filming in Puerto Vallarta, Mexico. Director John Huston as a joke bought all of the cast members and Liz Taylor a small derringer and bullets with the other cast members' names on them. Huston left off his own name and made sure the bullets had no gunpowder. Ava's gun and bullets are on display at the museum.
Ava teamed again with Gable in Mogambo and received an Oscar nomination for best actress for the role. She appeared in the apocalyptical film, On the Beach. She appeared in the highly watched Knotts Landing TV serial.
But when it came to love life, she could not pick a winner. She married Frank Sinatra against the advice of her good friend and his ex-wife, Lana Turner. Although she considered him "the love of her life," that marriage also was doomed by their joint stardom, mutual jealousy, and newspaper interest.
Ava moved first to Spain and then to England where she died at the age of 67 of pneumonia on January 25, 1990. In London, she became enraptured with Corgies and the little dogs became her favorite companions in the last years of her life.The museum has exhibits dedicated to her lifestyle in both places.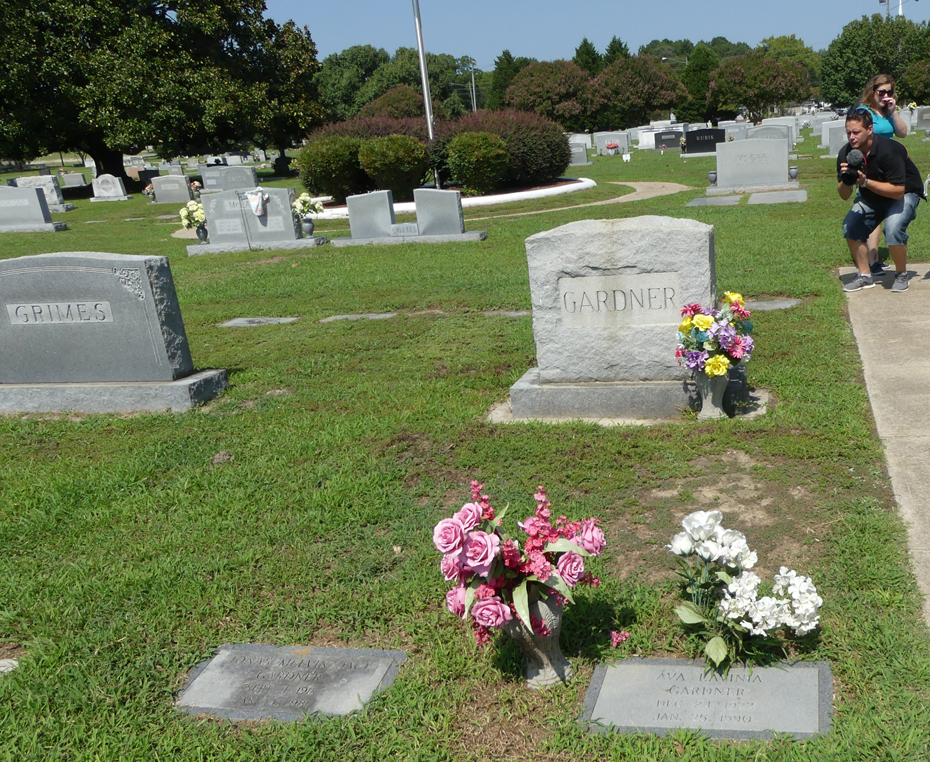 She is buried in her family plot at Sunset Memorial Park, US Highway 70, in Smithfield just a short distance from the museum.
For more info: