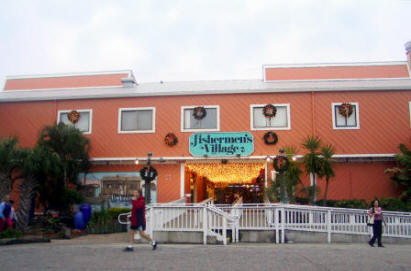 Colorful entrance to Fishermen's Village

When you plan a vacation, what do you look for?

Fun entertainment? Shopping nearby? Delicious and varied dining? Maybe a cruise or fishing trip?

Museums and art galleries? Fun and games? Of course, comfortable and reasonable priced accommodations are at the top of the list. Would you consider it a dream vacation if all this could all be found at one resort? Well, look no further. The Villas at Fishermen's Village in Punta Gorda, Florida is your dream vacation. Everything you want all together in one resort.

When you first enter Fishermen's Village you are viewing a mall, unlike any others. It's indoors but has an outdoor feeling to it. There are no entrance doors just a covered archway lined on both sides with unique shops on the ground floor. Above the brightly lit shops the balcony of the villas invites you to take a closer look at this special lodging.
Family room and kitchen of a Villas apartment

Upstairs you step into a cozily furnished two bedroom apartment, complete with a real kitchen and a loft for the kids. It's more like a residence than a hotel or motel suite. Naturally there are cable/DVD and free internet connections available. The balcony overlooking the mall is an ever-passing study in humanity for people watchers (and dog-watchers as the downstairs mall is pet friendly) but it is the view from the back balcony that

will blow you away. Pelicans, ships of all types and sizes, maybe even a leaping dolphin await your gaze. You are looking out on the sparkling waters of Charlotte Harbor.

Downstairs, next to the marina, you find the heated pool, tennis courts, shuffleboard, BBQ and picnic area. You have laundry facilities on site. Free bicycles are available through what is known as the "Yellow Bike Loaner Program" and can be returned either at Fishermen's Village or at Charlotte Regional Medical Center – Wellness Center, Laishley Municipal Marina, Isles Yacht Club Marina or the Wyvern Hotel. Interconnecting bike paths ring the area so you can ride from any place in Punta Gorda to any other safely. The city is filled with gorgeous murals telling its history. All of them are located on or near the bike paths.

----------
| | |
| --- | --- |
| | |
| The mall's interior | The Military Museum located near the front of the mall |
However, the mall has so much going on you may never want to leave. All of the shops are individually owned. No chains here. Merchandise ranges from high-end designer specials to tees and souvenirs. But there is so much more than just shops. The Military Heritage Museum retells tales of the valor of our brave fighting men and women through all our wars and conflicts.
| | |
| --- | --- |
| | |
| Creations at the Village Art Gallery | Tables at Fish Market Restaurant overlook Center Court |
Culture is not neglected either. Creations at the Village, one of the newest businesses in the mall, is a gallery filled with colorful art. It has watercolors, glass, fabric art and more. Its owner, Nina Sedule-Ross says, "If I think it's beautiful, it belongs in here."

You won't lack for entertainment. Center Court is a venue for the area's top bands and musicians every Friday and Saturday. Every holiday from Mardi Gras to New Years offers an excuse for bands and festivities. Muttini Mingle, Pawtastic Yappy Hour, sponsored by Salty Paws, one of the Village's boutiques offering pet related items both for and about your pet is a regular event. Kid's fishing events sponsored by Kingfisher Fleets are another. There is no end to the variety of entertainment you will find.
| | |
| --- | --- |
| | |
| Amy and one of her helpers at Simply Sweet | Choices at Simply Sweet are simply staggereing |
No matter what food you are in the mood for, you will find it here. For that first sip of coffee in the morning, The Good Ole Days Coffee Shop is a perfect stop. Simply Sweet A Confectionary Cafe is a New Orleans themed Cafe serving breakfast and lunch. It's specialty is homemade pralines, cupcakes and top drawer chocolates including Norman Love Chocolates. This is the perfect spot for dessert no matter where you dine. Owner, Amy Hicks, explained she and her husband, Brian, have been in retail business since she was in her thirties. When they moved to Punta Gorda they first opened a shop selling retail tourist items called Beach Bum's Gifts here in Fishermen's Village. Seeing visitors here, she said, "We found there was a nice market for gourmet sweets. We wanted to showcase upper end chocolate but not cut out the children so we have some things for them too. "
| | |
| --- | --- |
| | |
| Seafood Platter at Fish Market. No one leaves hungry | ii |
Harpoon Harry's and Captains Table anchor the end of the mall and offer either fine dining upstairs at the Captains Table or casual dining with full bar and live music downstairs.
Village Oyster Bar provides fun evening dining with a full bar. Another great restaurant to sample while there is Village Fish Market. The unusual twist for a Florida restaurant is that the food is cooked with a New England styling. When we asked restaurant supervisor, Lynn Tucker about that, she told us, "Because the owners are from New England and they are doing what they know."
It works for them. They have been there for 32 years and have won "Business of the Year" several times. One reason for the success is the freshness of the seafood. Lynn explained "From the time it's caught to our door is less than 36 hours. Only way to get fresher is to catch it yourself." She added "If you do go out on one of the fishing cruises and catch a fish, bring it in here and we will cook it for you."
Can't beat service like that. For anyone with special dietary needs, they offer a special gluten-free menu and will do special order meals as well. They have a full service bar so you can enjoy a cocktail while dining.
Thinking of all that fish, brings to mind the extensive marina that is a part of Fishermen's Village. You can step out your door and board a Kingfisher Fleet boat. Try a sunset cruise, a trip to Cabbage Key or Cayo Costa, Boca Grande or Burnt Store, another marina on the harbor's eastern shore, or a fishing trip. You can even charter your own boat here.
Let me tell you, when the Kingfisher boats return to the dock, the pelicans are waiting. They put on quite a show cleaning up any scraps they can scrounge for the boat's deck. One little white egret tried to muscle in and a big pelican gave him short shrift. Those pelicans may look awkward on land but they are so graceful in the water and air. One of the fishing crew places the catch on a dockside cleaning table and expertly cleans them for the fishermen while the pelicans try their best to swipe one. None succeeded when I was watching, thanks to the diligence of the fish cleaner.
Another company located at the Village Marina will rent you anything from a stand up paddleboard to a fully-equipped pontoon boat. Of if you plan to stay land bound, you can rent a covered surrey bike complete with a fringed top that will take your whole family around the town, at least until your pedaling feet give out.
When you stay at Fishermen's Village you are seeing a unique part of Charlotte County's history. The Village stands on the site of what was Maude Street City Docks built in 1928 and 29 to replace an even older part of Charlotte County's history, the King Street Pier. In the 1920's there were as many as seven plants supporting the harbor and deep sea fishing industry. Each of these companies operated small "run boats" that made periodic trips to the stilt houses used as fishing camps that dotted the harbor and into what is now the intracoastal waterway. A few of these old camps still remain and are now on the National Historic Registry. The companies collected the fish, iced them down and shipped them off to northern markets. By 1930, the numbers had dwindled to just two. Then in 1939, a fire destroyed both plants. West Coast Fish Company threw in the towel. Punta Gorda Fish Company continued on in a much smaller fashion. A crab packing and later a shrimp packing plant opened but by 1977 the remaining buildings were in disrepair. In 1980, a new chapter began and Fishermen's Village was born.
Is this not the most unique lodging experience you could ever wish for?
For more info:
Ads fund American Roads so please consider them for your needed purchases.
If you enjoy the articles we offer, donations are always welcome.