No other hotel in Augusta can match the gracious Partridge Inn for history and ambiance. A stay at the historic inn offers the feel of visiting an Antebellum home. That might be because originally the Partridge Inn was just that. Despite the fact that the Partridge Inn didn't turn into a hotel until the 1900s, it does had an intriguing Civil War legend surrounding the gracious old hotel. Partridge Inn began life in 1816 as the two-story home of Daniel and Elizabeth Meigs. It was prior to before the home passed into public use that the event creating the legend is believed to have occurred.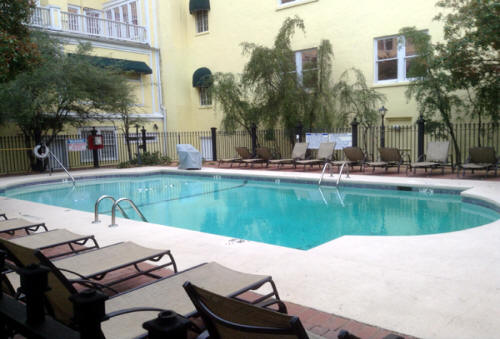 Pool at Partridge Inn


Emily, reputedly the prettiest girl in Augusta, was in what's now bridal suite preparing for her wedding. The lavish wedding reception was prepared, and the guests were in place. All that was missing was the bridegroom. He had recently returned from the war and was scheduled to arrive at the Partridge Inn at any moment. However, as the young soldier rode into town, some locals mistook him for a man wanted for treason. They informed the sheriff who shot him. He fell from his horse and died in the street. Emily was devastated. She refused to remove off her bridal gown for weeks. She never married and died at the age of 86, but people who knew her say she never recovered from the loss of her groom. Many guests and employees at the Partridge Inn claim to have seen a beautiful girl with long chestnut hair in white wedding gown roaming the hall. Kelly Johnson, Marketing Manager for the hotel, confirmed the legend but said she hadn't seen anything unusual herself. Perhaps it's only a legend but a hotel as gracious as the Partridge Inn deserves its own special spirit.






Veranda at Partridge Inn

It would have been soon after Emily's terminated wedding celebration that Northerners once again began vacationing in the South seeking a warmer climate during harsh winters. By 1908 Augusta had become a hot resort city, and New York hotelier Morris Partridge bought the home, that he then called Three Oaks, for his personal residence and a small hotel. From then on it was unstoppable.

After Partridge's death in 1947, the inn started to decay until another entrepreneur, Sam Waller, purchased the historic landmark and began restoration, but by the 1980s the property was so bad it was awaiting the wrecking ball. Again fate intervened. The community rose up in its defense and found investors to salvage the historic treasure.

By 1983 it was renovated and reopened in 1987. The next owners, Atlanta investment company Walton Way LLC, poured even more into a multimillion-dollar renovation that was completed a year later. This redo provided the modern touches necessary to make a hotel stay comfortable with the historic ambience that cannot be duplicated in stark modern buildings. Each room is different here. The architecture is unique. This hotel is not something that could be duplicated to turn out cookie cutter rooms in chain hotels. This place cries out "If only my walls could talk, what stories they could tell."



Part of Suite at Partridge Inn

The rooms range from single rooms to the lavish penthouse, popular for weddings. It can accommodate up to 80 guests and has four bedrooms, four and a half baths, commercial kitchen, living room and an amazing rooftop deck that offers a view of downtown Augusta.

Partrige Inn recently celebrated its 100th anniversary. That alone tells it truly is doing something right. It plans to be around for a long time to come. Whoever comes into possession of it next is only the caretaker of a fine jewel in Augusta's crown. Inside the lobby, there is a time capsule so future guests will marvel at the artifacts from the present and past. Pictures scattered around the lobby tell the history of the building. It played host to notables ranging from President Harding to modern day names like Charlton Heston, Dennis Quaid, Bob Dylan, Crystal Gayle, Reba McIntyre and others. There are pictures and menu from an event attended by President Harding at the hotel.



Relaxing in the bar at Partridge Inn

Partridge Inn is so much more that a hotel. Consider the food for instance. The Sunday brunch is unbeatable. There are more choices than any one person could sample in one visit. Dining there is as close as you will come to visiting a southern plantation. The difference being no one plantation could offer these choices. Naturally there are all the foods you expect to see at a southern buffet: eggs of all kinds, grits, oatmeal, bacon, sausage and the like but there are the more exotic choices. A serving bowl is overflowing with boiled shrimp; cold cuts of every type await your pleasure; the cheese bar is a work of art almost too pretty to disturb. Almost, but I couldn't resist the lure. The dessert bar is another place that sent out a siren song to me. There are so many other goodies but I was too busy gorging on all the special treats, I couldn't remember all of the largess. You will just have to go sample it for yourself. GO THERE HUNGRY! This is not the time to diet.

It is not just out-of-towners that enjoy the Partridge Inn's charms. The veranda is a perfect place to sip a cup of coffee or tea and enjoy the view while you visit with a friend.

The Partridge Inn is like a fine wine that only improves with time.

For more info:





Ads fund American Roads so please consider them for your needed purchases.
If you enjoy the articles we offer, donations are always welcome.
----------