The museum is divided into sections, the Plantation Area (the working plantation buildings), the Upland South Area or Folk Architecture section and the Gulf Coast Region showcasing more of the Creole heritage. All are filled with treasures from Louisiana's rural past. There are plans to add an Acadian section representing Louisiana's Cajun heritage. There are already two Acadian dwellings on the property.

A good place to start your tour is the Visitors Center. It has a film to help you understand the museum as well as many artifacts representative of life in that era.
A typical settler's cabin with outbuildings


The Plantation area revolves around all the outbuildings that comprised the original Windrush Plantation. The home is adjourning the gardens and was built by John Charles Burden in 1850. It has been restored to its original state. You can tour the home for a small additional fee.


Slave cabins were very simple: brick front but small and just the one room with no porch and a simple fireplace with chimney You can tell the Overseer's House easily. It was brick and much nicer. It had a columned porch and several rooms. After slavery ended the workers cabins became somewhat more elaborate but still very simple. Often just a larger version of the slave cabin with two rooms and two entrances. Perhaps two families shared one house.
Slave cabin

Of course each plantation was like a small village, completely self contained. Anything not found on the plantation itself was located in the village nearby. You will find a blacksmith shop, schoolhouse, general store called a commissary, a chicken house, a pigeon coop, a community well, naturally a outhouse, grist mill, corn crib, a church and there is even a tiny jail in case people didn't pay enough attention to what was taught in church.
Village jail

The kitchen was always located outside the house to avoid the danger of fire. Here the kitchen abuts the garden so cooks would just step out the back door and pick the vegetables or herbs needed.

A barn was a necessity in that time. The Exhibit Barn at Rural Life Museum was built to shelter many of the artifacts that were part of life in the area.
Church

The settlers with their own small holdings had cabins such as the dog trot cabin or one very interesting building with a Bousillage chimney made of mud and Spanish moss. Wander through these cabins and see the furnishings people lived with then.
A settler's cabin


The Jean Charles Germain Berheron House is unique in that it had a staircase outside leading to the attic where the boys might sleep. It was built prior to 1805 and is believed to be the oldest Acadian style house in Louisiana. There is another newer Acadian house and it too has a similar stairs leading to the attic.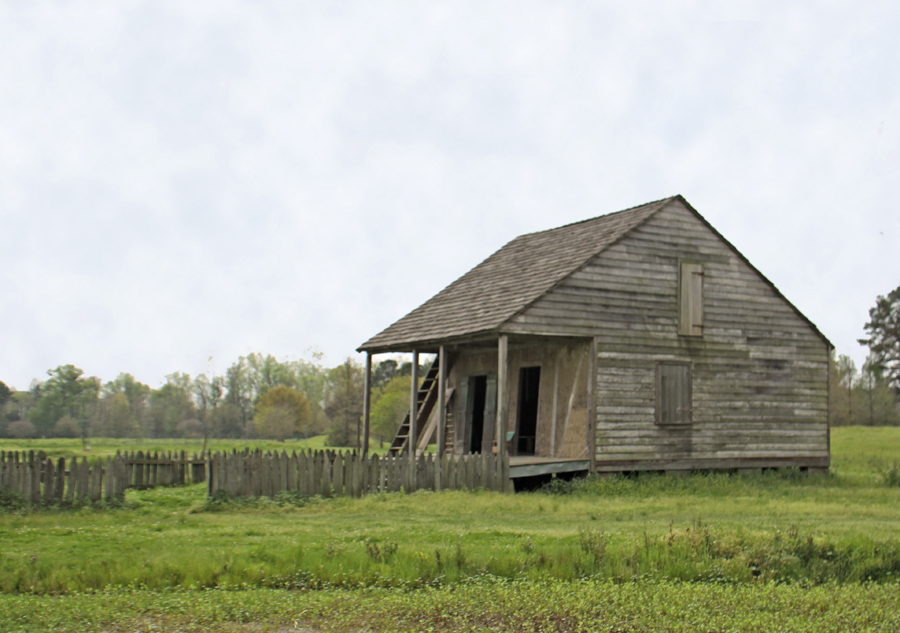 The Jean Charles Germain Berheron House

The shotgun house was often used as a sharecropper home. It got its name because you could open the front and back doors and fire a shotgun through it without hitting any walls. It was also very common in places like New Orleans. I lived in several as a child.
Shotgun house, found in cities as well as on plantations

A bonus treat is "Uncle Jack," a bronze sculpture of an elderly African American that traveled a twisted route to the museum grounds. "Uncle Jack" was the brainchild of Jack Bryan, a successful banker, cotton planter and mill owner in Natchitoches, Louisiana. He had grown up with African American children and worked with African Americans all his life and had high and had high regard for the contributions they had made to Louisiana life. In 1926 he commissioned Hans Schuler, a award winning sculptor, to create a memorial "dedicated to the faithful service of Black people who had played an instrumental role in the building of Louisiana."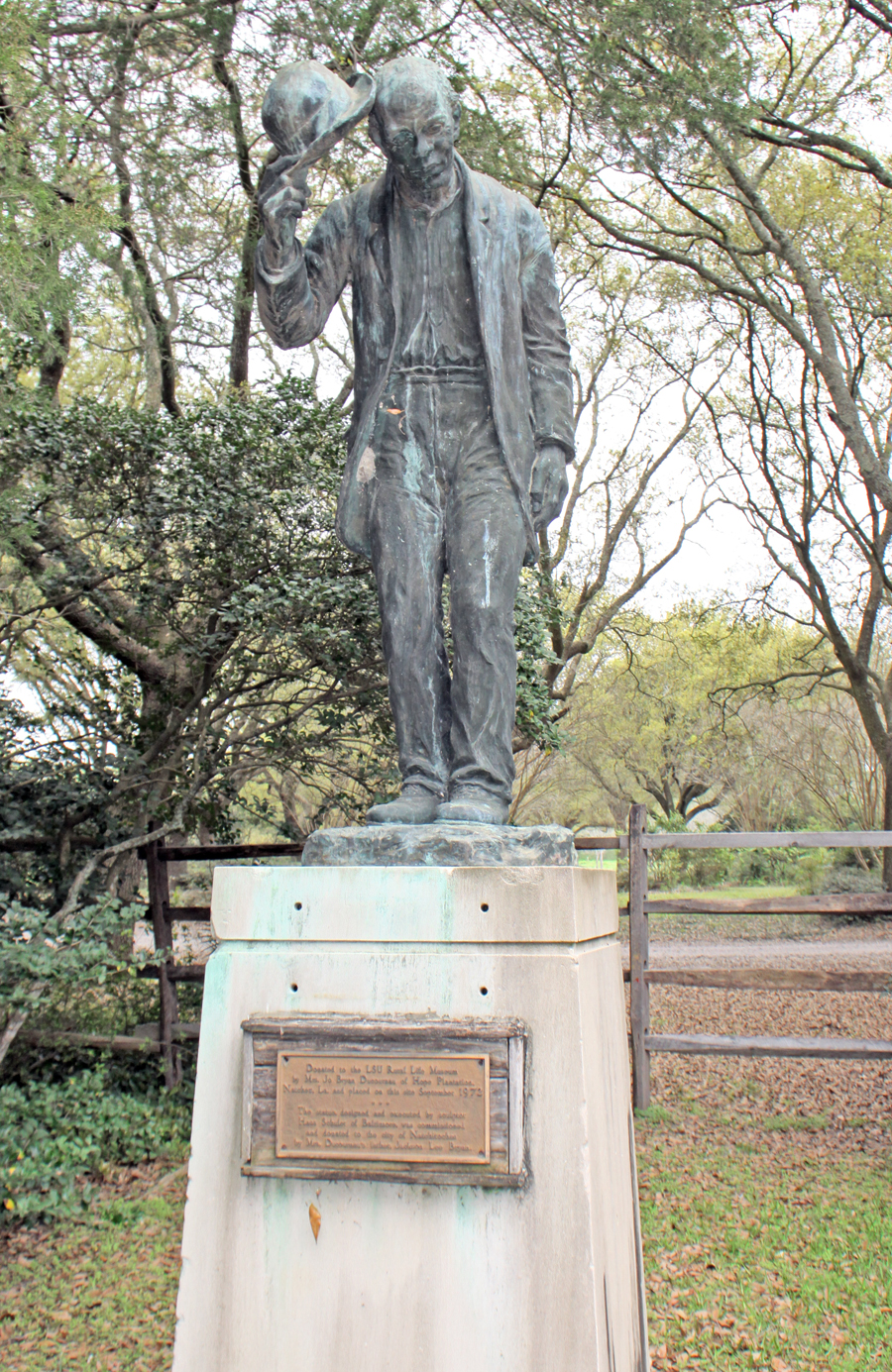 Uncle Jack


His brother, warned him that the stature might cause problems. He felt that many white citizens would not tolerate the only stature in town being dedicated to a Negro. Jack ignored the advice and in 1927, the stature was erected in a small park in Natchitoches. It came to be accepted by the white citizens and drew praise around the United States. It even became a tourist attraction in the town.


Then in 1968, protest came from a different source. Some of the Black citizens found fault with the stature and felt it was demeaning to their race and succeeded in getting city officials to remove the stature. Jack's daughter, Jo Bryan Ducournau, found out about the removal and instead had the stature taken to her family farm.


In 1972, LSU officials found out about the sculpture and petitioned Mrs. Ducournau to allow them to place it at the Museum. Meantime, eight other institutions wanted to acquire "Uncle Jack" but she decided the LSU Museum was where it belonged. In 1974, "Uncle Jack" came to rest at his permanent home. He has a place of honor right in front of the Chapel.
Farquhar Steam Tractor


The grounds are filled with these and other treasures like a unique Farquhar Steam Tractor and an actual 19th century hearse so I suggest you go do your own treasure hunting soon. Words and pictures are no substitute for the real thing.

For more info:
http://sites01.lsu.edu/wp/rurallife/