The lead photograph is a vertical mine shaft that leads to the famous gold vein in Dahlonega, Georgia. What famous gold vein? Dahlonega is an unusual tourist town that will introduce you to some unusual southern history which includes some of the nation's earliest gold mining history. As an example of what I mean by unusual, that mine shaft is in a family-style restaurant, The Smith House, located a block off the town's main square. During renovations workers found the shaft in the restaurant's basement. Not all the attractions in town are free, but viewing the mine shaft will cost you nothing.
The mine tour includes an opportunity to pan for gold and gems.
"There's gold in them thar hills" conjures up images of the American West and probably the 1849 California gold rush. But the phrase likely originated in Georgia. In the late 1840s the assayer of the United States Mint in Dahlonega attempted to persuade local gold miners not to leave for California by intoning, "Why go to California? In that ridge lies more gold than man ever dreamt of. There's millions in it." Many of the Georgia prospectors could not resist the California bonanza and remembered the assayer's plea as they scoured the California hills for gold. That plea developed into the incantation, "There's gold in them thar hills." And, yes, there was a U.S. mint in Georgia and America's first gold rush was in the South, not the West!
A common misconception is that the first American gold rush occurred on the American River in California in 1849. Prior to that, there was a "Southern Gold Rush" centered on the Piedmont of the Appalachian South that lasted from roughly 1828-1836. "Gold excitement" began in North Carolina in the early nineteenth century (see the "Gold Trails: The Reed Mine" in the Summer 2012 issue), with most gold seeking being a part-time activity of local farmers. By 1828 the region had a large population of full-time prospectors, fully aware that other gold strikes were likely in the Appalachian foothills.
A model of a complete stamp mill.
Prospectors out of the Charlotte district explored the Appalachian foothills looking for more gold. It is unknown who first unearthed gold in North Georgia (there are several versions of the story), but it was discovered near present-day Dahlonega in 1828. The first documented report of a gold strike occurred in a Milledgeville (then the state capital) newspaper from 1829:
GOLD.—A gentleman of the first respectability in Habersham county, writes us thus under date of 22nd July: "Two gold mines have just been discovered in this county, and preparations are making to bring these hidden treasures of the earth to use." So it appears that what we long anticipated has come to pass at last, namely, that the gold region of North and South Carolina would be found to extend to Georgia.
The original gold rush town was Nuckollsville, located about five miles southwest of Dahlonega, and later named Auraria (Latin for gold). Auraria was a gold stampede town and had a population of about 3,000; within a few years the area had a population of 10,000. Later, in 1832, the county seat of Lumpkin County was located at Dahlonega, as well as a federal mint in 1838, and Auraria began a decline to a ghost town. Benjamin Parks, one of the men who claimed to make the first gold strike, later described the area as:
The news got abroad, and such excitement you never saw. It seemed within a few days as if the whole world must have heard of it, for men came from every state I had ever heard of. They came afoot, on horseback and in wagons, acting more like crazy men than anything else. All the way from where Dahlonega now stands to Nuckollsville there were men panning out of the branches and making holes in the hillsides.
Cherokee Country
The name "Dahlonega" comes from the Cherokee Indian word "ta-lo-ne-ga," meaning "yellow" or "gold." The gold rush took place on Cherokee Indian reservation lands. At first the federal government attempted to preserve treaty rights and troops arrested gold miners and destroyed their equipment. Soon the state saw the potential revenue from the gold and used politics to gain control of the land. President Andrew Jackson bolstered Georgia's land grab and in1830 supported passage of the Indian Removal Act that led to the "Trail of Tears" in 1838. Georgia gold has direct connections to the forced migration of the Cherokee Nation to Native Territory west of the Mississippi River. (For more about Trail of Tears, click here.)
Cherokee heritage is recognized in Dahlonega at the Yahoole United Cherokee Museum and Education Center. The center is fashioned in the traditional seven-sided council house and shares Cherokee culture that is oriented towards children. It features interactive and living history displays, demonstrating things like Cherokee language, the Trail of Tears, tools and weapons, local artifacts, a full-scale Cherokee house, music, and a diorama.
Auraria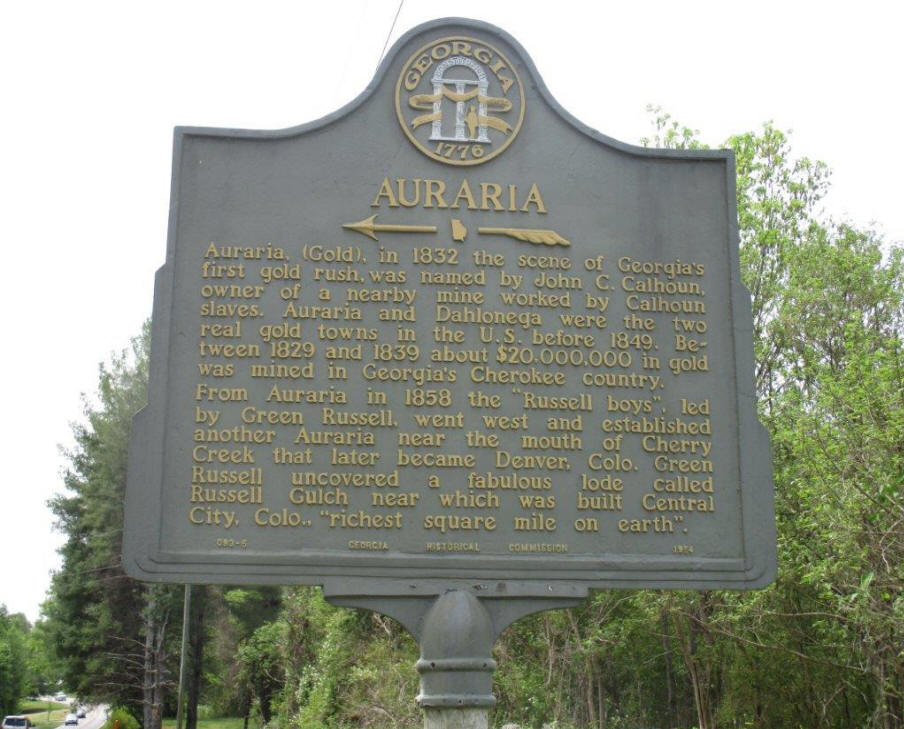 Auraria is now a ghost town. It is on Google Map and easy to find.
A historical marker shows the location.
Auraria is a ghost town with a couple of buildings still existing, plus a state historical marker that reads:
Auraria, (Gold), in 1832 the scene of Georgia's first gold rush, was named by John C. Calhoun, owner of a nearby mine worked by Calhoun slaves. Auraria and Dahlonega were the two real gold towns in the U.S. before 1849. Between 1829 and 1839 about $20,000,000 in gold was mined in Georgia's Cherokee country. From Auraria in 1858 the "Russell boys," led by Green Russell, went west and established another Auraria near the mouth of Cherry Creek that later became Denver, Colo. Green Russell uncovered a famous lode called Russell Gulch near which was built Central City, Colo., "richest square mile on earth."
This was originally a tavern during the gold rush, later a general store, and now a relic.
Most people wouldn't consider Auraria worth the short trip. The buildings are scattered among modern structures and ghost town is an exaggeration. Still, it was kind of cool to see a "ghost town" in the South. A merchant class was responsible for Auraria; men who knew it was easier to mine gold from the miner's pockets than from the ground. The town had 100 homes and dozens of stores, law offices, and taverns.
Originally this was the bank in Auraria.
Downtown Dahlonega
Downtown centers on the Dahlonega Gold Museum State Historical Site. It is housed in the Lumpkin County Courthouse built in 1836 (oldest surviving courthouse in Georgia). It was built from clay bricks, hand-made from clay dug from the nearby Cane Creek (notice small trace amounts of gold in the bricks). The second story served as the courthouse and the downstairs served various public uses (like a farmers' market) over the years. Today the first floor is a Gold Museum with displays that describe the gold rush history.
Some of the tools that would have been used in gold mining.
There are several gold panning and related gold mining adventures. The Consolidated Gold Mines offers an underground tour of the largest hard rock gold mine east of the Mississippi River. The tour follows a massive tunnel network built over 100 years ago, complete with the original track system.
1
This is Drifter or pneumatic rock drill. The mine is still full of interesting equipment.
Mining equipment and techniques (like a demonstration of how miners blasted quartz veins to uncover gold deposits). Part of the ticket price includes a gold panning opportunity, but there are plenty of other places to pan for gold.
The mine is dark in places.
Today, Dahlonega is a tourist attraction and Auraria is a ghost town. Both Charlotte and Dahlonega produced enough gold to warrant establishment of branch mints. The Dahlonega Branch Mint building burned in 1878 and Prince Memorial Hall on the University of North Georgia campus was built on its foundation. It is easy to identify; it is the building with the steeple covered in Dahlonega gold leaf (just like the state capitol dome). The town takes at least a day to properly explore and is a delightful mixture of gold, mining, and Native American history.
The Consolidated Gold Mine Tour is the highlight of Dahlonega. It is the largest hard rock gold mine east of the Mississippi River. The tour is 200 feet underground and over 100 years back in time.
The guide demonstrates how miners blasted quartz veins to uncover gold deposits.
The mine is not-so-dark in other places.
Author: Thomas J. Straka is a forestry professor at Clemson University in South Carolina.
For more information:
Digital Library of Georgia: "Thar's Gold in Them Thar Hills" - Georgia Gold History:
http://dlg.galileo.usg.edu/dahlonega/history.php
Dahlonega Gold - A Brief History of the U.S. Branch Mint at Dahlonega, Georgia:
http://www.dahlonegagold.com/dghist.htm
An Illustrated History of the Georgia Gold Rush and the U.S. Branch Mint at Dahlonega, Georgia:
http://www.goldrushgallery.com/dahlmint/c_history_outline.html
New Georgia Encyclopedia: Gold Rush:
http://www.georgiaencyclopedia.org/articles/history-archaeology/gold-rush
Digital copy of Auraria: The Story of a Georgia Gold-Mining Town by E. Merton Coulter:
http://dlg.galileo.usg.edu/ugapressbks/pdfs/ugp9780820334974.pdf
Dahlonega Gold Rush Video:
http://www.todayingeorgiahistory.org/content/dahlonega-gold-rush
American Roads and Global Highways has so many great articles you may
want to search it for you favorite places or new exciting destinations.