When it comes to vacations, nothing excites my grandchildren as much as getting on the road and heading for a cruise port for a vacation at sea.
Enjoying lodging, dining, entertainment and activities plus visiting tropical islands or several cities without having to repeatedly change "hotel rooms" -- it's all-inclusive on a cruise ship -- is certainly appealing to me and to the other adults in our travel-loving extended family.
A cruise vacation grants us lots of fun time together as well as time to engage in our own interests. For our multi-generational vacation, we all decided to book Norwegian Cruise Line's newest ship, Norwegian Escape.
The ship sails on 7-day round trip cruises from Miami to three islands ripe with beauty, history, pirate lore and gorgeous beaches: St. Thomas, Tortola (BVI), and Nassau in the Bahamas. My grandchildren like going to the beach. The Caribbean itinerary was an easy choice.
Weighing almost 165,000 gross tons, totaling 19 decks and accommodating 4,200 guests, Norwegian Escape is a huge ship filled with activities, diversions and amenities. The decor is stylish and casual, the color tones are soothing and there's a relaxed atmosphere -- ingredients that make for a comfortable, laid back, enjoyable getaway.
The rule on this ship is that you do what you want, when you want; eat what you want; wear what you want. There are no formal nights so jeans are okay. There are early and late sittings in the dining rooms, but you can also choose whatever time you prefer. You do have to make reservations if you're eating at one of the alternative restaurants where there is a charge for your meal.
There are too many things to do and places to explore for any passenger to feel trapped or bored on this ship. On the contrary, the attentiveness of staff and crew makes guests feel pampered and special. Who doesn't enjoy that?
Norwegian Escape was designed for families. Any child will go crazy over some of the features and, let's face it, if the kids are happy, the adults will be happy. The ship has an Aqua Park that includes multi-story water slides. A three-story Ropes Course features two planks and five sky rails. A basketball court at the Sports Complex as well as Entourage, a teens-only lounge, are additional fun places for older kids to hang out.
| | |
| --- | --- |
| | |
| The slide in the Aqua Park | The atrium chandelier on Norwegian Escape |
Although my grandchildren are beyond the "day camp" age, it's nice to know that Norwegian Escape has a Splash Academy offering young children creative play and a Circus School where they can learn to juggle. There is also a Guppies Nursery for toddlers and for babies as young as six months. Parents and their babies can engage in sensory-based games in the open play area.
The ship's Ropes Course
I have seven grandchildren, two of whom couldn't join us on the cruise, but how convenient the teen lounge was for my four teenage grandchildren who spent time chilling out there with other onboard teens. My grandson Hunter, who is 12, was happy to devote every spare moment to the slides, the ropes course and the games Arcade.
I expected my grandkids to venture off in search of fun. After all, it was their vacation as well as mine, but I found ways for us to share time. The Escape made that very easy.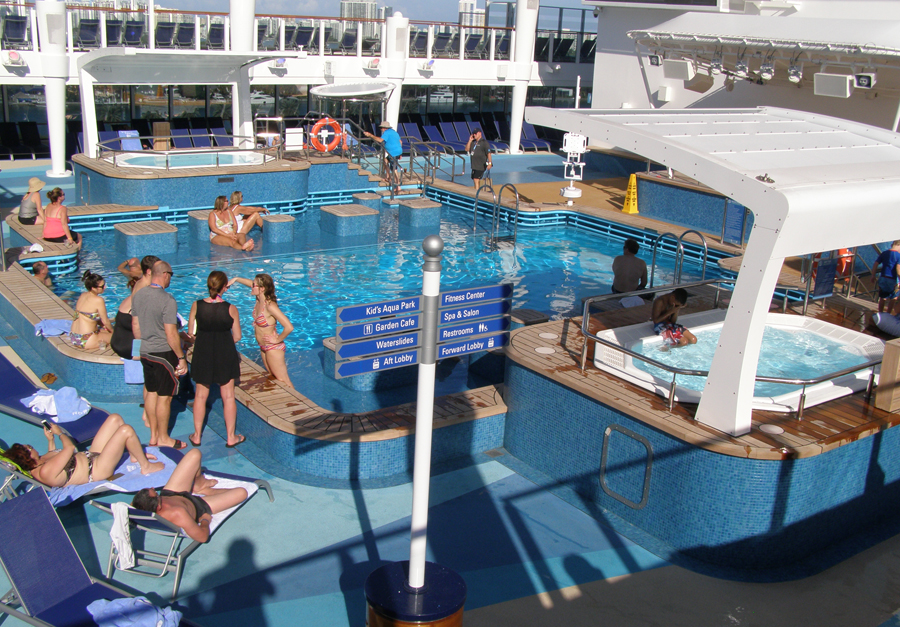 One of the swimming pools on Norwegian Escape
We ate just about all of our meals together, attended the onboard theater's live shows, played games, relaxed by one of the onboard pools, and challenged each other at the ship's miniature golf course and the bowling alley. Yes, Norwegian Escape has a modest bowling alley! We also treated ourselves to "sweet" moments at the Bake Shop and Dolce Gelato.
On the second day, I and my grandchildren explored the ship. This led us to Deck 8, the "promenade" deck, the location of an oceanfront boardwalk where bars and restaurants offer al fresco dining and drinking. Deck 8 is part of "678 Ocean Place," composed of three decks loaded with restaurants, shops and entertainment venues, including the expansive casino and upscale boutiques like Chanel, Carolina Herrera and LaCoste.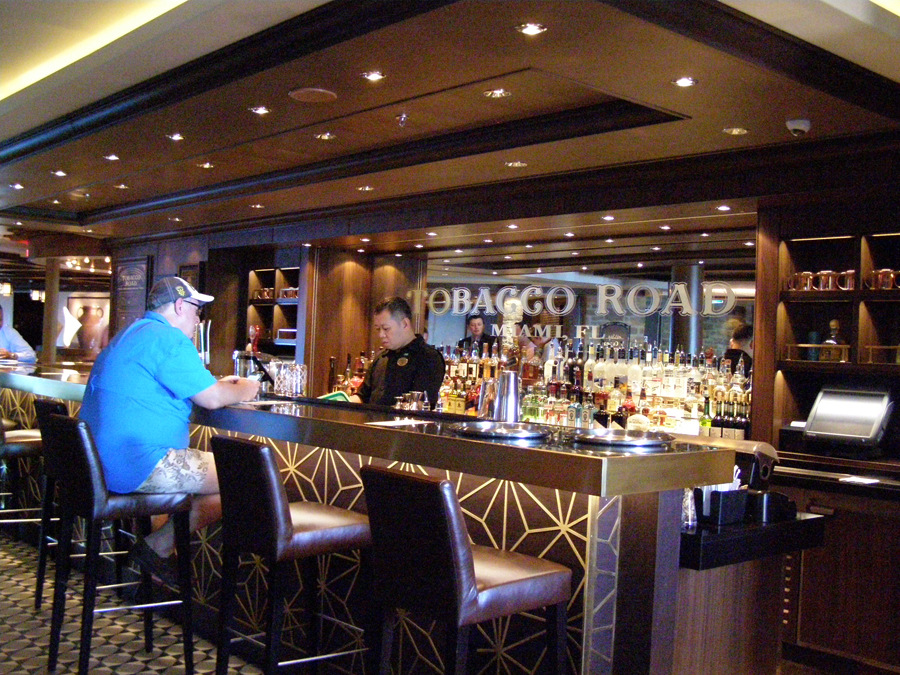 The Tobacco Road Bar on Norwegian E

scape
In the ship's atrium, we discovered an unexpected "light show" that so enchanted us, we kept returning to the atrium during our cruise in order to "watch" the chandelier, a 3-story-high stainless steel structure composed of crystals and LED lighting that slowly changes from pink to aqua, lavender and other colors, as does the adjacent staircase. Pretty!
We had a multitude of choices when it came to mealtime and snack time. One night, we ate dinner in the stunning Manhattan Room, one of three complimentary dining rooms. Reminiscent of a private New York City supper club, the Manhattan Room features a dance floor and two-story high, floor-to-ceiling panoramic windows.
Margaritaville at Sea on Norwegian Escape
"Grandma, will you dance with me?" my 15-year-old grandson Andrew asked. How flattering! Andrew led me across the dance floor as the live band played. Seldom have I had such an adorable dance partner. It became a family affair as Hunter and Spencer (age 14), and then Andrew, took turns gliding around the floor with my two daughters (their mothers).
Most of our family opted for the prime rib as an entree. For my first course, I ordered a bowl of Manhattan clam chowder. They may be the two best food choices I made during the cruise. The prime rib was so big, pink and juicy that I took a picture of it. The clam chowder brought back memories of my childhood visits to Manhattan's Horn and Hardart Automat, where I loved the wonderful tomato-based clam chowder.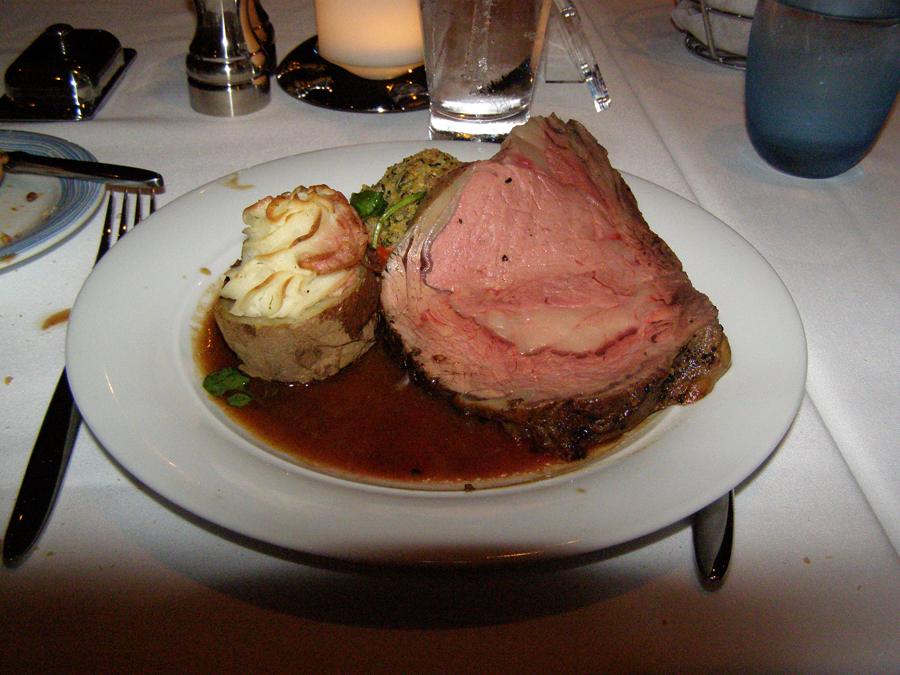 The perfect prime rib served on Norwegian Escape
Norwegian Escape's dining options include a Brazilian steak house, Cagney's (steak-chops-seafood), Italian, French and Japanese restaurants, Jimmy Buffet's Margaritaville at SeaŽ, Food Republic (guests order small plates of food via iPad menus), and Latin dishes at Bayamo, Iron Chef Jose Garces' first restaurant at sea. O'Sheehan's Bar & Grill, a round-the-clock Irish pub, serves comfort food like burgers, soup, sandwiches.
iPad Menus at Food Republic on Norwegian Escape
For adults, the many bars and lounges on Norwegian Escape include the District Brewhouse (dozens of beers on tap or bottled); the 5 O'Clock Somewhere bar (cushioned seating along the boardwalk); The Cellars (a Michael Mondavi Family wine bar); and Tobacco Road, a cozy, intimate bar dotted with leather chairs. The bar's signage tells the story of the original Tobacco Road, a landmark watering hole prominent in Miami's past.
The 5 O' Clock Somewhere bar
on Norwegian Escape
Michael Mondavi Family Wine Cellar bar
On the pool deck, there's a buffet-style Garden Cafe serving breakfast, lunch and dinner at food stations. We ate waffles and made-to-order omelets here for breakfast and for lunch there were carving stations, a pasta station, salad bar, ethnic foods and a dessert station.
My grandchildren and I developed a daily ritual of meeting each other at the self-serve ice cream machine to swirl soft ice cream into a cone. We made time to enjoy the swimming pool, play Chinese checkers (Hunter and Andrew were impossible to beat), or wander around public areas.
Playing Chinese Checkers in the ship's cafe. Photo credit

Martin E. Sandler
I had adequate time on my own. When my grandkids ventured somewhere by themselves or with new-found friends, I'd visit the fitness center, sit by the pool, hit the slot machines or take a nap. I chose not to visit the ship's spa in spite of the indulgent massages and treatments there. Ah, the joy of a cruise. Do something. Go somewhere. Do nothing. Go nowhere. Freestyle cruising is what the cruise line calls it. It's liberating.
After dinner, there usually was a show for guests to see. The comedy club is called Headliners. In the Supper Club dinner theater, the three-course meal was less impressive than "The Brat Pack," a musical tribute to the 1980s films of John Hughes ("The Breakfast Club," "Ferris Bueller's Day Off," "Pretty in Pink,"etc.)
The talented, hard-working cast deserved the applause they garnered, but I couldn't identify with the 1980s era that defined this show, and there should have been a warning that the risque language it contained was unsuitable for children.
What I related to and loved --- our entire family enjoyed it – was the Escape Theater's live production of the Tony Award-winning musical "Million Dollar Quartet," based on a 1956 event – a one-time jam session among Elvis Presley, Carl Perkins, Jerry Lee Lewis and Johnny Cash. "Blue Suede Shoes," (Perkins); "Great Balls of Fire," (Lewis); "I Walk the Line" (Cash) and "That's All Right, Mama" (Presley) get the vocal spotlight, here.
Norwegian Escape's other big production, the Tony Award-winning musical, "After Midnight," vibrantly captures the songs, dances and rhythms that permeated Harlem's Cotton Club during the Duke Ellington era. Among the show's songs are chestnuts like "Stormy Weather" and "On the Sunny Side of the Street."
My daughters' and grandchildren's staterooms were located on a deck different from mine, but my balcony stateroom was spacious enough to include a couch that accommodated Hunter when he asked me if one night he could sleep in my room – his ploy to get away from his two older brothers!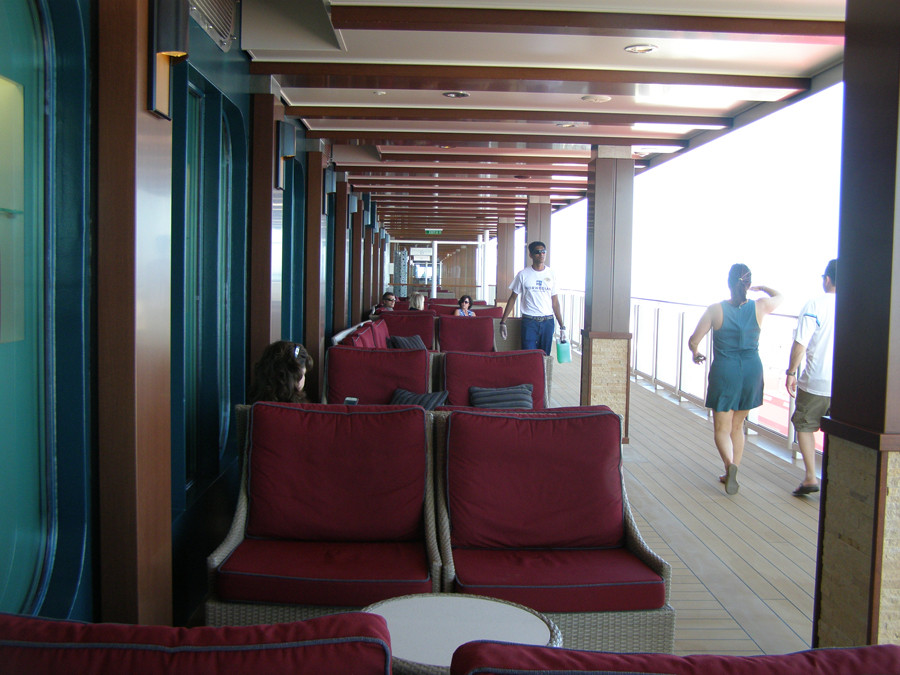 The Boardwalk on Norwegian Escape
The Norwegian Escape has a plethora of inside, outside and balcony staterooms, but it also offers convenient Studio rooms that are compact rooms just for the solo traveler. The Haven, a sort of ship within a ship, is a separate private section filled with suites and a restaurant and pool area exclusively for Haven guests.
In St. Thomas, Tortola and Nassau, sightseeing and shopping are popular activities, but on this family getaway, sun-sand-beach was what my grandchildren craved. If the kids are happy, the adults are happy, so…..
When the ship pulled out of port, we were back onboard, ready to continue our vacation "escape" on a ship that lives up to its idyllic name.
For information, contact Norwegian Cruise Line, (1-866) 234-7350; https://www.ncl.com.