In Tucson, Arizona, the Wild West of the past is still present. In the 1870s-1880s, this capital of the Arizona Territory had its share of lawlessness. To prove it, we headed for Tucson's old train depot to see the verdigris statues of Wyatt Earp and Doc Holliday poised with guns in their hands.
Engine 1673 at the depot
My grandkids were wide-eyed when I told them that in 1882, outlaw Frank Stilwell killed Earp's brother Morgan and hid in wait at the train depot, where he planned to kill soon-arriving Wyatt. Forewarned, Wyatt Earp shot Stilwell dead on the train tracks.
Statues of Wyatt Earp and Doc Holliday
Now, instead of a dead body, historic Locomotive #1673 rests on the tracks. Built by the Southern Pacific Railroad in 1901, this coal burner-turned oil burner was the first train to come to Tucson, and it hauled people and freight in and out, bringing civilization and growth to the city.
The Wild West is best captured at Old Tucson, a mini-theme park that's a mammoth outdoor stage set. A tram transports visitors around the Town Square, cantina, saloon with live Can-Can girls, etc. TV and movie Westerns have been filmed here since the 1940s. That includes "Little House on the Prairie," "Bonanza," "Maverick," "Gunsmoke" and movies starring John Wayne, Burt Lancaster, Clint Eastwood, etc.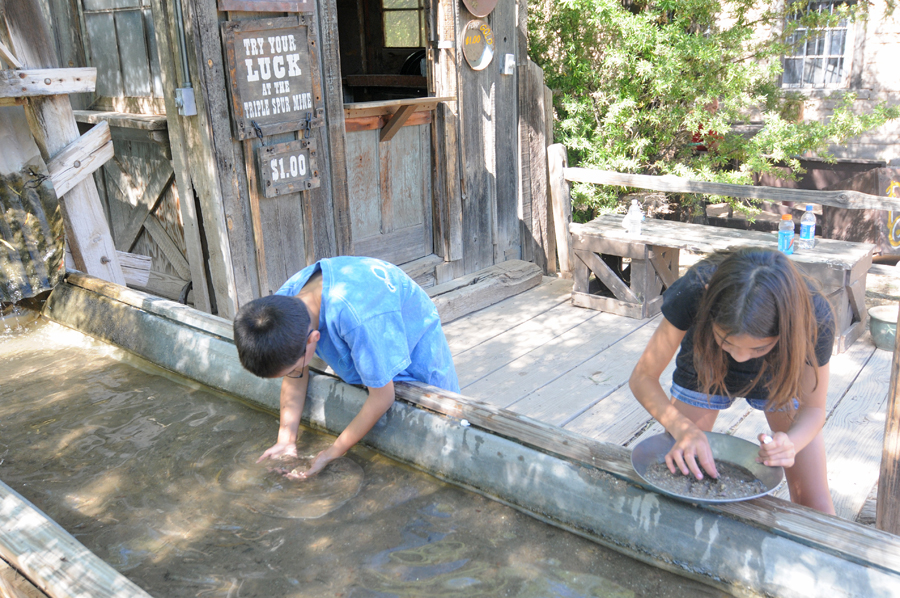 Andrew and Samantha panning for gold at Old Tucson
My grandkids and I laughed during the humorous cowboy stunt show; we locked ourselves inside the old jail and posed for pictures, and we panned for gold. Seeing the costumes and old posters reminded me of all the Westerns I had watched at Saturday movie matinees during my childhood. Pure nostalgia!
Andrew and grandma in Old Tucson Jail
Every Old West town had a church, but as an offbeat tourist attraction, Mission San Xavier del Bac, a Moorish-inspired, Baroque Spanish Catholic church dating to 1783, is spectacular, thanks to intricate interior carvings, frescoes, paintings and statuary. The still-active mission is on the Tohono O'odham San Xavier Indian Reservation.
(It is the image in the header.)
Interior of Mission San Xavier del Bac
Tucson's Museum of the Horse Soldier is a compact niche museum commemorating the United States horse cavalry and dragoon units from the Civil War onward. A display of uniforms, a rare McClellan saddle, and other items tell the story of the trusted relationship between horse and soldier.
The museum is part of an outdoor shopping center called Trail Dust Town, which is actually the remnants of an abandoned set from a Glenn Ford western that never completed filming. The "town" features a Ferris wheel, mini-train ride for kids, shooting gallery, nightly slapstick Western stunt show and a 1920s carousel.
Museum of the Horse Soldier exhibit
Alyssa and I learned an interesting fact about Wyatt Earp when we made a brief stop at an offbeat but insightful little museum, the Jewish History Museum, which preserves and exhibits the Jewish heritage of the American Southwest. The museum was formerly Temple Emanu-El Synagogue (1910-1949), the first Jewish house of worship in the Arizona Territory.
What we learned is that Wyatt Earp's ashes are buried in a Jewish cemetery next to his third wife, Josephine ("Sadie") Marcus. The Brooklyn-born daughter of Jewish immigrants, Josephine sought adventure out west and met Wyatt while she toured with a stage troupe. Together for forty years, they lived a whirlwind life in Colorado, Alaska and California.
Through its artifacts, photos and displays, the Jewish History Museum unfolds the stories of Arizona's early Jewish settlers, including Senator Barry Goldwater's grandfather, "Big Mike" Goldwasser, who opened mercantile shops throughout the state, and singer Linda Ronstadt's great-grandfather, Alexander Levin, who owned a local brewery and who married a well-educated Spanish senorita.
There is history of a different kind in Tucson. At on the third Wednesday of every month, a bell rings in memoriam inside the brick clock tower of the Student Union on University of Arizona's campus. stands for December 7, 1941, the "date which will live in infamy," the date that the U.S.S Arizona was attacked and sank in Pearl Harbor. The bell was salvaged from the ship.
The salvaged USS Arizona bell in the Student Union clocktower at University of Arizona in Tucson.
I refused to leave Tucson without seeing this hallowed bell. I used my camera to zoom in on the visible part of the bell, but I wished I could have heard it ring. And I thought about all the brave men for whom the bell tolls.
History aside, Tucson's most beguiling museum deserves mention because it is enchanting for visitors of all ages. It is the Mini Time Machine Museum of Miniatures, displaying 275 miniature houses and room boxes divided into three areas: the Enchanted Realm, the History Gallery and Exploring the World.
The snow village beneath the glass floor at the Mini Time Machine Museum of Miniatures
I fell into conversation with a Tucson resident, Jane Kaskel, who was making her first visit to the museum. Her expression, like mine, was one of awe.
Visitor Jane Kaskel enchanted by the Irish Fairy Castle.
"This is enchanting. Look at all the exquisite details," she exclaimed. "I have to bring my grandchildren here."
The museum collection includes a recreation of a French chateau; a "Charlie's Angels" room with three tiny dolls representing Sabrina, Jill and Kelly; a castle; and a central "tree" with a Tinkerbell-like sprite that flits through the branches. A glass-enclosed mouse family's bedroom is embedded in the tree trunk. But the most wondrous sight was the expansive glass-covered snow village visible through the museum's glass floor.
For multi-generational travelers, Tucson is a wonderful way to "see" the Wild, Wild West.
Want more information?
Contact Metropolitan Tucson Convention and Visitors Bureau, (800) 638-8350; visitTucson.org.
© 2015 Roberta Sandler