Want to experience Germany but can't afford the airfare? There's a solution. Visit Hollerbach's Willow Tree Cafe in Sanford, Florida. I visited recently on a press trip and what a treat!
We had a typical German family stryle meal. We started with the biggest pretzel you ever saw with cheese and mustard dips. Then we moved on to the serious stuff; Esbein, a slow cooked pork shank; Jager Schnitzel, a pounded sliced chicken breast topped with a rich brown mushroom and onion gravy; Spätzle with Rahm Gravy,
homemade egg noodles with brown gravy enriched with sour cream; German Potato Salad, made with red potatoes, Applewood smoked bacon, onions, pickles and vinegar; Weinkraut, a sauerkraut dish with smoked bacon, onions, tart apples and wine; and Sweet Red Cabbage, cooked with tart Granny Smith apples and sugar. If that isn't enough to sink a few German battleships, we had dessert, German Chocolate Cake.
If you want more Florida-style meals they have a large selection of seafood and other dishes but my feeling is when in Germany do as the Germans do. It goes without saying they have a huge selection of craft beers but there are wine and imaginative soft drinks as well. Their Ginger Peach Iced Tea is super.
The menu had German words interspersed but is still easily understandable to an English speaker. The feeling is Gemütlichkeit, best translated as a feeling of welcoming and acceptance. The decor has a continental feel, flags, German sayings, and German murals adorn the walls. The bar sports a nice collection of steins. The two man band, Jimmy Horzen and Eckhard Wachsmuth, completes the feeling of being somewhere in Bavaria.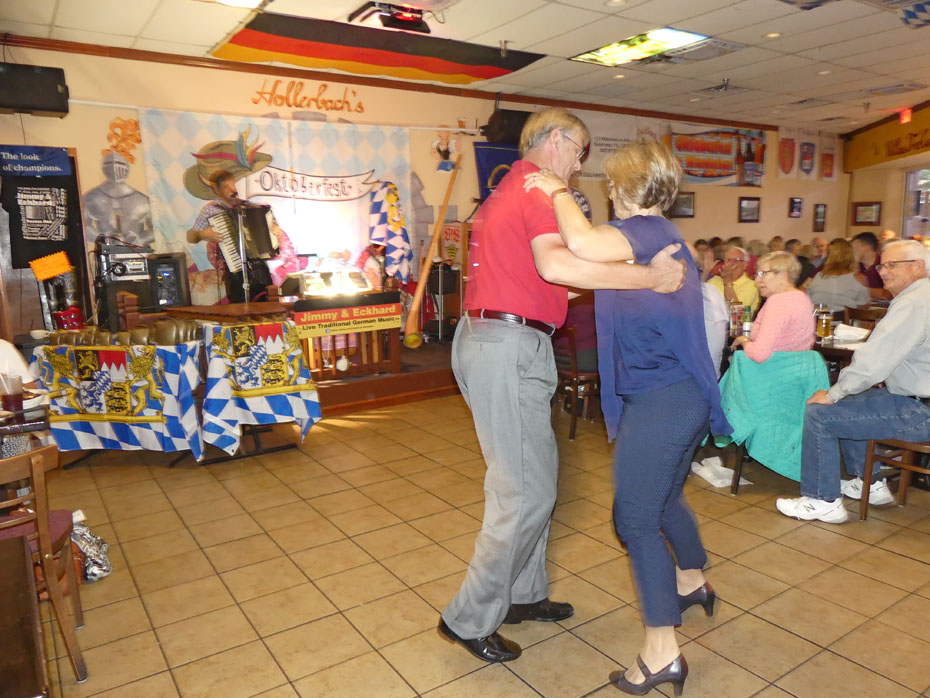 Jimmy and Eckhart perform Thursday thru Sunday evenings and are the equal to the best Vegas act. There is so much more thant he traditional German songs. They do several versions of the German toasting song, Ein Prosit. The English Translation is "A toast, a toast. To cheer and good times. A toast, a toast. To cheer and good times. ONE! TWO! THREE! DRINK UP!"
Traditionally everyone sings along and raises their glass in a toast. As Jimmy and Eckhart do it the last three words sounding like OY, OY, OY! are shouted loudly. They are very interactive. As Jimmy creates his music on the accordion, Eckhart vocalizes and often goes out into the audience and brings in a helper to do his "woodcutting" number and a unique version of something resembling "The Twelve Days of Christmas" involving 11 items hanging from a rack including a sausage, a stein, and other pieces, and a female volunteer who shows off her legs. There's also their spirited version of the Chicken Dance and Eckhart's playing of traditional instruments like the Alpine Horn, bells, and his musical saw and bow. Jimmy told us, 'Eckhart is very attached to his saw and bow. He named them. The saw is Stanislaus and the bow is David." He gave us a minute to consider and continued, "You know why the bow is David?" Then answered his own question, "David Bow-ie"
If all this isn't enough to make you want to rush over there, The Willow Tree cafe has its resident ghosts. According to Gary Holmes, who used to work there and now operates the Haunted Sanford Ghost Tours, there are spirits of a young girl and an older man present. One of the bartenders told us of an interesting experience where something moved a stein around several times. Another employee told of seeing "shadows" in an upstairs storage area where it was impossible for anything to have cast a shadow in that particular place. Gary also told us of a mannequin in that same storage area that seems to move around when no one is present to move it.
Hollerbach's Willow Tree Cafe began about 15 years ago as the dream of a talent German immigrant, Theo Hollerbach, and his wife, Linda. Much of the food served is based on Theo's old family recipes. People love the food so much many want to buy some of the sauces and baked goods. Now they can at the Hollerbach's Magnolia Square Market located just around the corner. You can even buy an authentic German dirndl or set of lederhosen like the Willow Cafe staff wear at Hollenbach's Outfitters. The restaurant can serve around 300 guests and has inside and outside seating. There's a well stocked bar as well as all the German brews.
Connect with us on:
American Roads and
Global Highways has so many great articles you
may want to search it for your favorite places
or new exciting destinations.