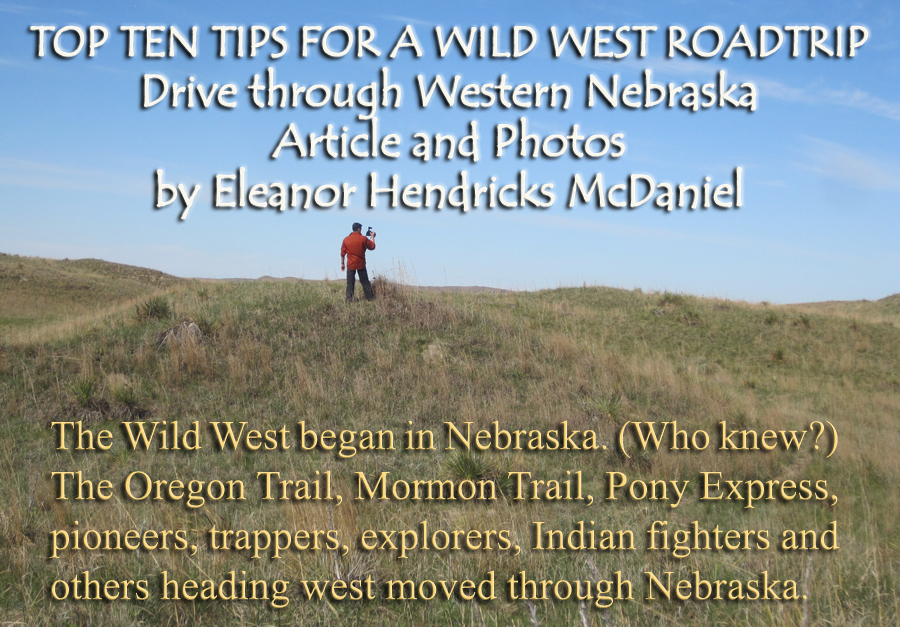 Charles Kuralt, the late host of CBS' Sunday Morning program, called Nebraska Highway 2, that runs east and west, "…one of America's most beautiful highways."

With an endorsement like that, it's time for you to rev up your engine and head to the Cornhusker State.
10. Sandhills Journey Scenic Byway (http://www.sandhillsjourney.com
Driving along Nebraska Highway 2 takes you through the Sandhills, a unique land mass of undulating sand dunes created around 8,000 years ago. Mixed prairie grass maintains the 19.000-square miles, and provides bountiful grazing for cattle herds.
Stop by the Sandhills Journey Scenic Byway Visitors Center for information and advice to enhance your trip.
9. Young's Western Ware (http://www.discountwesternwear.com)
The place to shed your "dude" clothing and start blending in is at Young's Western Wear in Valentine. Pick up Stetson-style hats, cowboy boots and shirts for men, women and children. The large store also sells Western-related merchandise, such as toys, games, jewelry, household items and more. Sorry, but the buffalo heads and other display items are not for sale.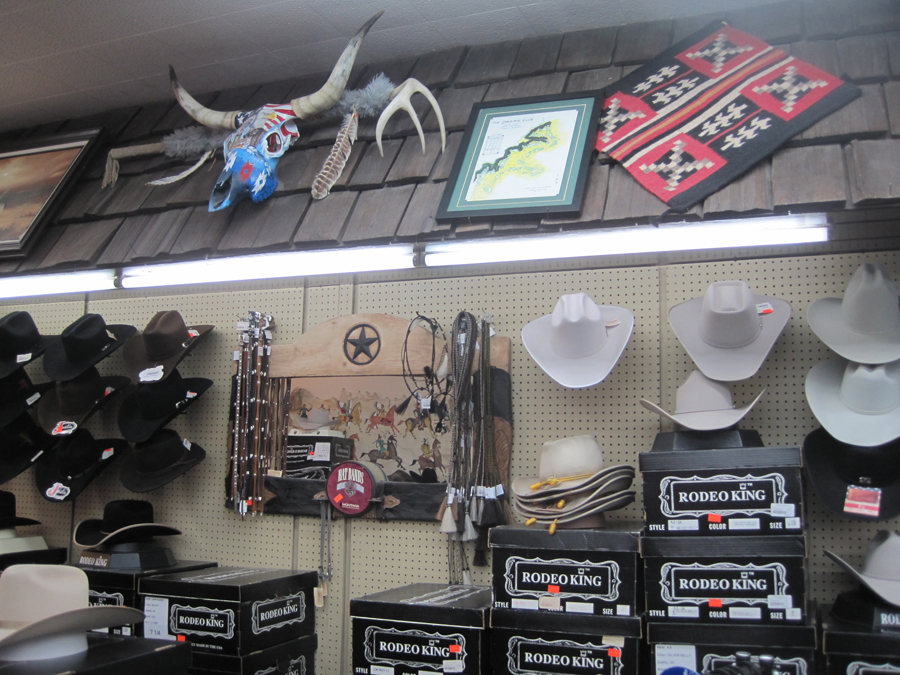 Merchandise at Young's Western Wear.
8. Pony Express Station (http://www.gothenburgdelivers.com)
The Pony Express had a short tenure (only 19 months during 1860 and 1861), but is long on legend. Young men, who were orphans and 18 years or younger, rode on horseback from St. Joseph, MO to Sacramento, CA. Their mission was to deliver mail from coast to coast in ten days. At every 10 to 12 miles, they would reach a relay station to change mounts.
In Gothenburg, a log cabin that's been relocated, once served as a station. A docent there will reveal interesting facts, such as Buffalo Bill Cody having been a Pony Express rider.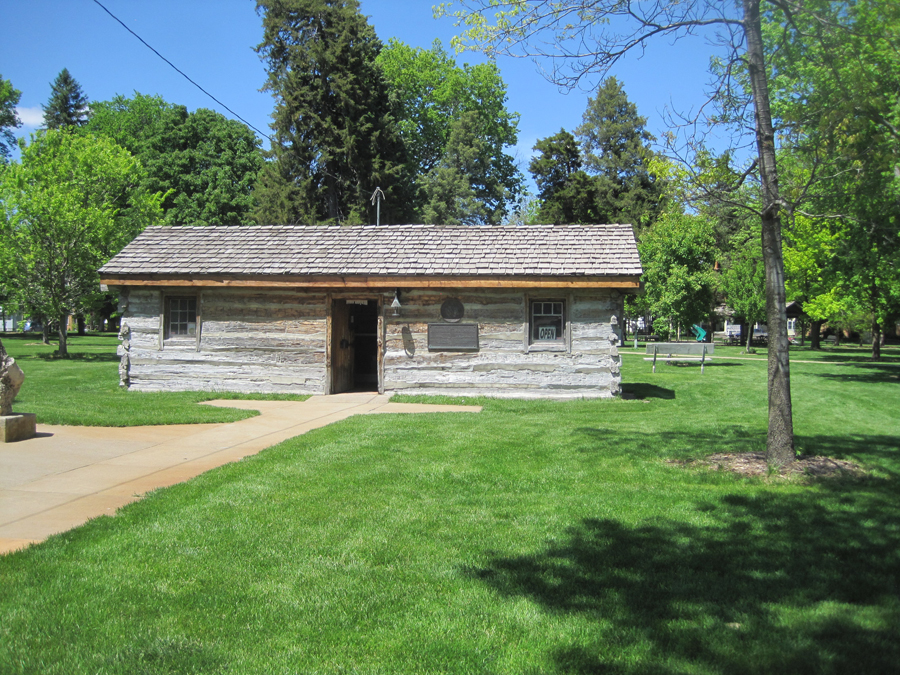 An original Pony Express Station in Gothenburg
7. North Platte Canteen at Lincoln County Historical Museum (http://www.lincolncountymuseum.org)
The highlight of a visit to this museum is the North Platte Canteen (http://www.visitnorthplatte.com) exhibition. Starting on December 17, 1941 (10 days after the attack on Pearl Harbor), whenever a US troop train stopped in North Platte for servicing, the men and women onboard could enter the station for a free meal of fried chicken, sandwiches, deviled eggs, fresh fruit, angel food cake, pie, coffee, ice tea, milk and more – all in 10 minutes! The food came for the farms of 125 nearby communities, except for the coffee, sugar and fruit which couldn't be produced locally. Twenty thousand volunteers fed over six million soldiers – black and white.
Displays include military uniforms, old photographs, a 1040's kitchen, newspaper clippings, interactive models and personal stories.
Step outside to tour the Western Heritage Village. More than a dozen structures illustrate life in the 19th century. Enter homes furnished with period furniture, businesses, a schoolhouse, a church and others. An audio tour is available for telephones.
6. Fresh air fun
Trek miles of nature trails or ride 60 miles of ATV trails through the Nebraska National Forest (http://www.crossroadsofthesandhills.com), the largest hand-planted woods in the Northern Hemisphere. Climb the 70-foot high Scott Tower for a stunning vista of the surrounding area.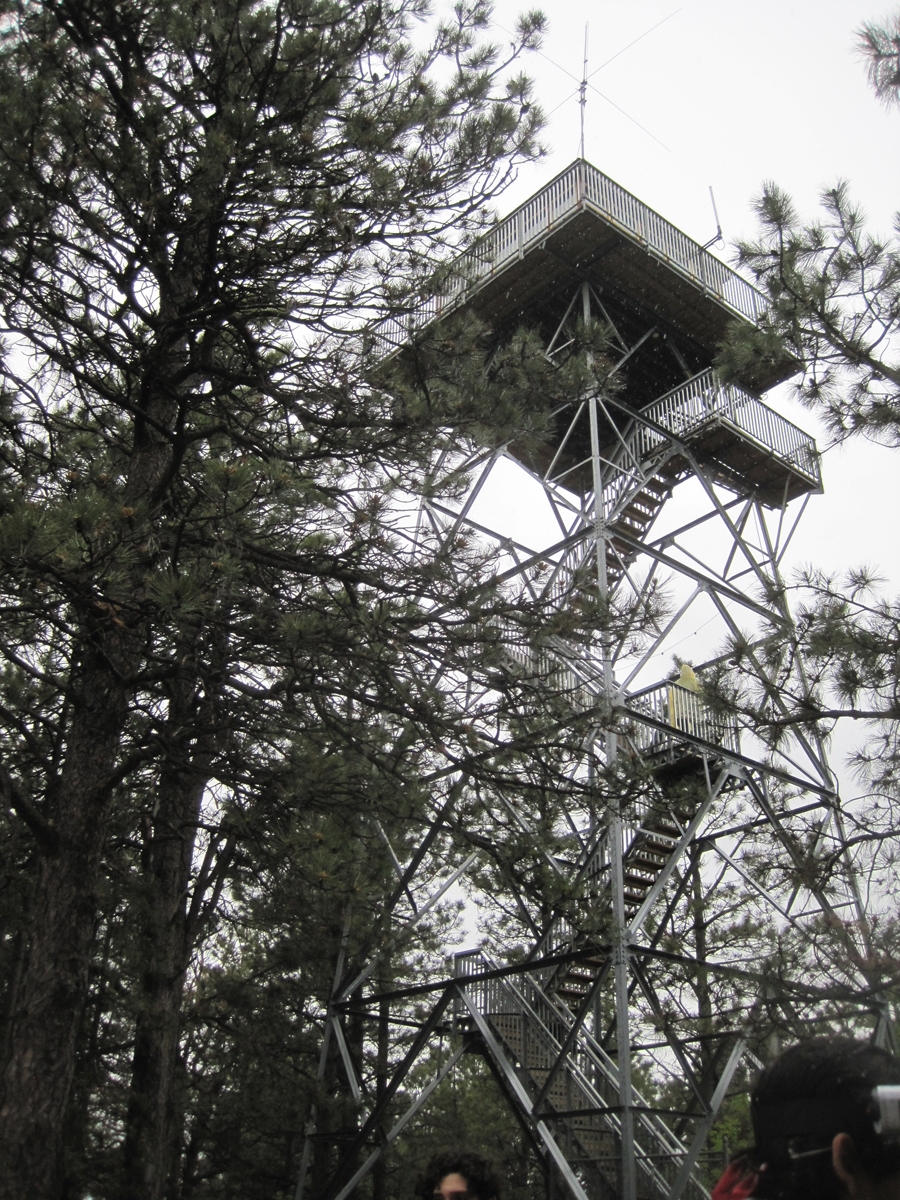 The tower at Nebraska National Forest offers spectacular views.
Tee off at the posh Prairie Club (http://www.thePrairieClub.com). Two 18-hole courses and one 10-hole course are designed by renowned golf architects, and are ranked as one of the "Top 50 Most Fun Courses in America" by Golf Digest magazine. Reserve an elegant guestroom or stay in a private cabin. Dine on fine cuisine in one of three distinctive restaurants, all with beautiful views of the courses.
Glidden Canoe Rentals (http://www.sandhillsmotel.com) supplies canoes, kayaks and stock tanks for drifting down the peaceful Middle Loup River. The trip takes about two hours, and is a great family activity.
Another river excursion is on the Niobrara River. Brewer's Canoers and Tubers (http://www.brewerscanoers.com) will rent canoes, kayaks and rafts to paddle down the upper section of the river. The lazy river will float you pass little waterfalls, cliffs and quacking geese as you search for other birds and wildlife on the shore. When you disembark at Smith Falls State Park, stroll across the river on a footbridge that leads to lovely Smith Falls. The easy walk is also handicapped-assessable.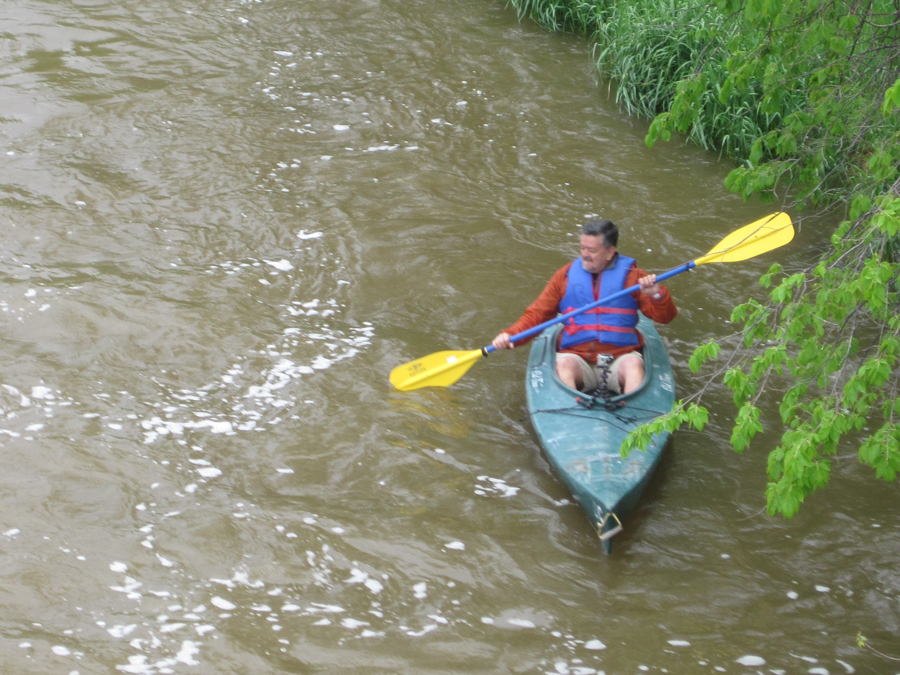 Paddling down the Niobrara River.
5. Fort Cody Trading Post (http://www.fortcody.com)
Don't be fooled by the replica of a frontier fort -- it's only a fašade. Inside is where the action is. It's Nebraska's largest western gift shop, or, according to them, a "tourist trap." Travel and Leisure magazine dubbed it the "Kitschiest Roadside Attraction in America." Even if you're not in the market for souvenirs, the stop is worth it if only to enjoy a miniature version of the former Buffalo Bill's Wild West Show. The 20,000 pieces, all carved by Ernie and Virginia Palmquist, reproduce the excitement of the world-famous spectacle. You'll see the tiny figures perform feats of bronco-busting, Indian battles, animal acts and much more – many with moving action.
The exterior of Fort Cody.
4. Hand-crafted beverages
Nate Bell, Cody Schmick and brew master Dan Hodges banded together to form a micro-brewery that they named Kinkaider Brewing Company (http://www.kinkaiderbrewing.com). The name refers to the settlers who homesteaded the Sandhills in the mid-1860s. The owners constructed a tavern and brewing area in Broken Bow. On weekends, locals flock in to sample their custom beers. They imbibe the Belgian Triple Ale, amber ale, India pale ale, Oatmeal Stout, to name just a few.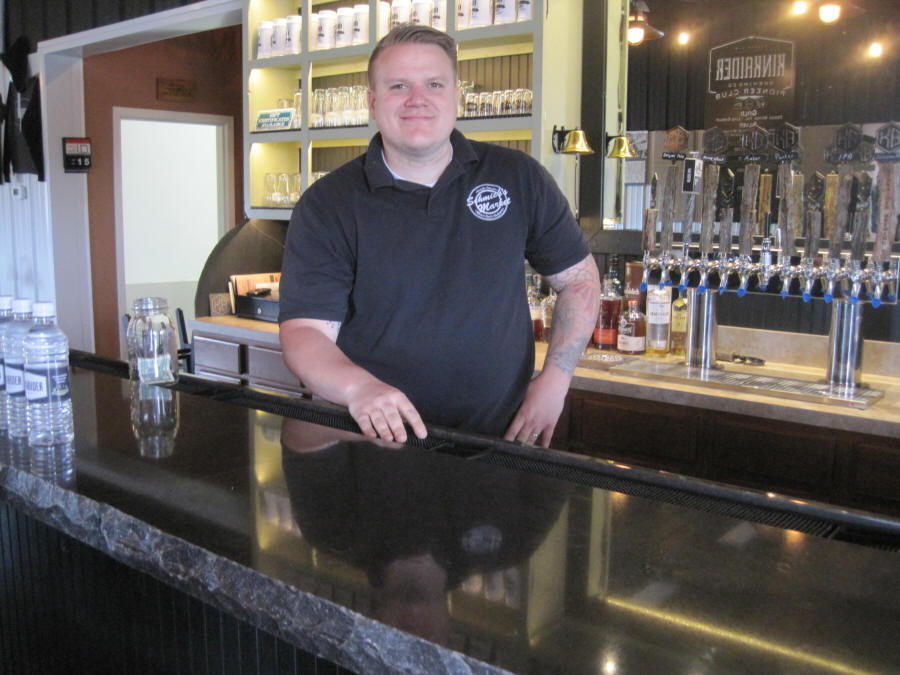 Co-owner Cody Schmick at Kinkaider Brewery.
Feather River Vineyards (http://www.feather-river.com) were planted in 2001. The first production of wine appeared in 2007. Owners Jeff and Connie Brittan and Kurt and Jeanne Pieper grow a variety of grapes over 37 acres with 18,000 plants, making it the largest vineyard in Nebraska. While in their tasting room, ask for Sara Bonde which is processed in the European style and uses Frontenac grapes. Other grape varieties include Edelweiss, St. Croix, Riesling and Marguette. Jeff says, "We're proud that our wines are unique."
3. Solomon Butcher Gallery
The Custer County Historical Society (http://www.rootsweb.ancestry.com/~necuster) in Broken Bow owns a collection of Solomon Butcher's exceptional photographs of Nebraska's pioneer families. Many of the pictures portray the sod houses where the people lived. They give a hint of the hardships that the settlers endured. Within the gallery are artifacts that were found on the land, including portions of actual sod homes.
Solomon Butcher photographed pioneer families.

2. Buffalo Bill Ranch State Historical Park (http://www.visitnorthplatte.com)
One of America's best-known Wild West icons, Buffalo Bill Cody, had tried numerous jobs, like Pony Express rider, US Army scout, buffalo hunter, actor, hotelier and stagecoach driver before finally settling on a career of showmanship. In 1883, he began touring nationally and internationally with a troupe of cowboys and Indians who performed different glorified aspects of western adventures.
Buffalo Bill poses with his performers.
Needing a place to house his family and entertain friends and business associates, he build a magnificent home, called Scout's Rest, on his ranch in North Platte in 1886. Visitors can roam throughout the furnished mansion, viewing Cody memorabilia and possessions. A video about his life and career is shown in a room on the second floor. Then visit the barn for photos, posters, items from the Wild West show and 19th-century vehicles. The 233 acres of the property are also open to the public.
Scout's Rest is the former home of Buffalo Bill Cody.
And the number one tip for a Nebraska road trip:
Nebraskaland Days
For two weeks in June, North Platte hosts Nebraskaland Days