The Rotunda of the state capitol.
A capitol idea
If you have never toured the majestic state capitol building (pacapitol.com), it should be your first stop. It opened in 1906 at a cost of 13 million dollars. During the dedication, President Theodore Roosevelt called it "the handsomest building" he had ever seen.
(Header photo is of the Capital.)
Its design was influenced by the great architecture of Europe. Entering through the bronze doors, you're reminded of the celebrated doors of Florence's Baptistery. In the Rotunda, the impressive 272-foot high, 52-million pound dome echoes that of St. Peter's Basilica in Rome, and the Italian Carrera marble staircase was inspired by the Paris Opera House. The Senate Chamber reflects the French Renaissance style; the House Chamber takes its design from the Italian Renaissance; and the Courtroom mimics classic Greek.
America is represented by the work of extraordinary Pennsylvania artists and artisans. While in the Rotunda, look down at the 377 tiles on the floor which were produced by Henry Mercer's tile work factory in Doylestown. They illustrate the history and aspects of the state. Early 20th- century Philadelphia artist Violet Oakley painted 43 murals throughout the building, including those in the State Supreme Courtroom. They, like most of the capitol's artwork, have allegorical meanings. Earlier in her career, she was the first woman to break into the "all-boys' club" of mural painting.
On weekends, free guided tours are offered at 9:00 a.m., 11:00 a.m., 1:00 p.m. and 3:00 p.m. or choose a self-guided tour.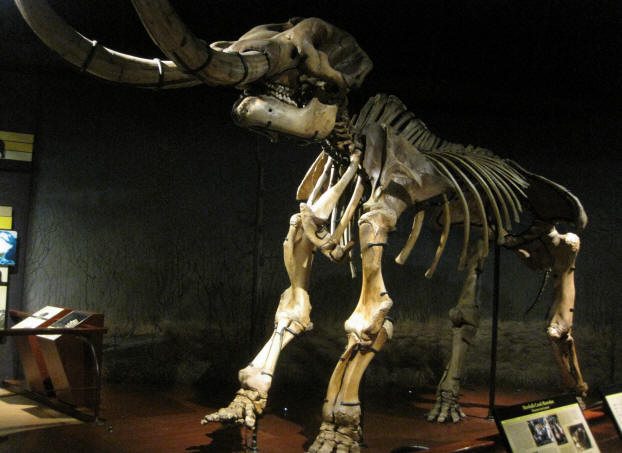 This replica of a mastodon is in the State Museum of Pennsylvania.
Must-see museums
The capitol is the centerpiece of the Capital City Complex that encompasses government buildings, gardens, sculptures, groves, memorials, fountains, walkways and seating. One of the structures is the State Museum of Pennsylvania (statemuseumpa.org). It houses over four million exhibits that include artifacts, displays and dioramas that recount the Commonwealth's story, all the way back to its geological beginnings. One of the most memorable displays is a replica of a mastodon which was found at Marshalls' Creek in 1968. Other popular areas of interest are the Delaware Indian village, the Civil War Gallery and the room with vintage vehicles that features a western-style stagecoach that was made in Harrisburg. Kids will especially enjoy the hands-on play area, the interactive Dino-Lab and the multi-media planetarium.
One of the realistic dioramas at the National Civil War Museum.
Speaking of the Civil War, the National Civil War Museum (nationalcivilwarmuseum.org) gives a complete and objective account of the conflict. It's the largest Civil War museum that covers the perspective of both camps. Displays, artifacts, memorabilia, photos, interactive stations, videos, gift shop and dioramas fill the 24,000 feet of exhibition space. Visitors should focus on a cast of video characters from the North and the South whose individual stories continue from one gallery to the next.
Among the 24,000 items is a collection of moving personal letters, journals and belongings, like General Robert E. Lee's Bible and a ticket from Ford Theater, dated the night of President Abraham Lincoln's slaying. Dioramas with sound, light and lifelike mannequins recreate the drama of battle. The museum also showcases temporary exhibitions during the year.
Modern Day Must-Sees
Book lovers will be awed by the Midtown Scholar Bookstore (MidtownScholar.com). With more than 200,000 used, out-of-print, rare and discounted books of every genre, it takes readers to another level. In fact, with six levels and a million books online, it's said to contain the greatest collection of pre-read books between New York and Chicago. But Midtown Scholar Bookstore also serves the community by offering free concerts, public lectures, children's story times, poetry readings, book signings, art shows and more. If all this overwhelms you, take a breath and a seat to sip a beverage in their inviting coffee bar – with or without a book.
Diagonally across from the bookstore sits a historic venue, called Broad Street Market (broadstreetmarket.org), which fed Yankee troops stationed at nearby Camp Curtin during the Civil War. Open since 1860, it is America's oldest continuously operating market -- although today, it's open only on Thursday to Saturday. Forty vendors sell fresh produce and meats, baked goods, hot and cold meals in a food court setting.
A family enjoys a picnic area at City Island.
Green space
City Island (visitpa.com) floats in the middle of the Susquehanna River, like an oasis in the desert. Its 63 acres are dedicated to the pleasure of Harrisburg's residents and visitors. A quick drive or walk over the Market Street Bridge will deliver you to a day of unexpected outdoor recreation. The choices are numerous: miniature golf, volleyball courts, picnic grounds, a fitness area, an arcade, a beach, batting cages, a kids' playground and more. For more serene activities, you can sit back and relax on a steam train ride, a horse-drawn carriage or a riverboat cruise. For a bit of history, visit the 18th-century replica of a trading post owned by Harrisburg's founder, John Harris. (Attention baseball fans: City Island's Metro Bank Park stadium is where the Harrisburg Senators team plays from April to September.)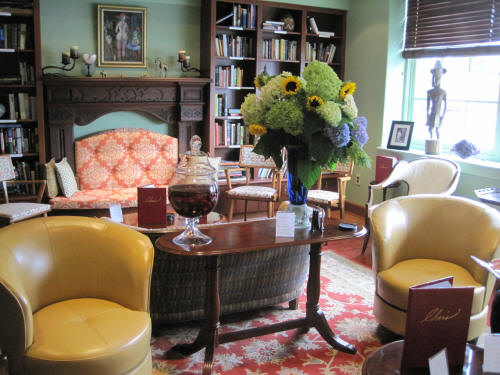 The library in Char's at Tracy Mansion.
If you go
Restaurants:
Char's at Tracy Mansion (charsrestaurant.com) has restyled a magnificent 1913 riverside house into an elegant restaurant. Paintings, sculptures, murals and blown glass fill tastefully decorated rooms. The eclectic French menu pairs well with the posh setting. But Char's outstanding and friendly service puts diners at ease during lunch and dinner.
Polenta with ragu and vegetables
at Bricco's Restaurant.
Bricco (briccopa.com) partners with the Olewine School of Culinary Arts to prepare delectable dishes, using locally-sourced produce. The cuisine that they adapt from the Mediterranean and Tuscany are transformed into their own creations, such as Polenta with Ragu and Mushroom Pizza. The Art Deco establishment has earned accolades from Wine Spectator Magazine, Opentable.com Diner's Choice and others.
Hotel:
Located in the heart of Harrisburg, the four-star Crown Plaza Hotel is close to many of the city's attractions. It's a full-service facility with an excellent restaurant and a fitness center. An overnight package is available that offers a $50 hotel restaurant voucher and free valet parking.
Getting there:
By air: Harrisburg International Airport.
By train: Harrisburg Amtrak Station.
By car: Pennsylvania Turnpike.
Ads fund American Roads so please consider them for your needed purchases.
If you enjoy the articles we offer, donations are always welcome.
----------