Jacksonville, Florida has many great eating places so for a new restaurant to raise the standard, it has to be really special. The Kitchen on San Marco does just that. It opened in April 2015 and has been thrilling gourmets and casual diners alike since. A friend and I attended a pre-opening dinner there and were impressed with the quality of food and service.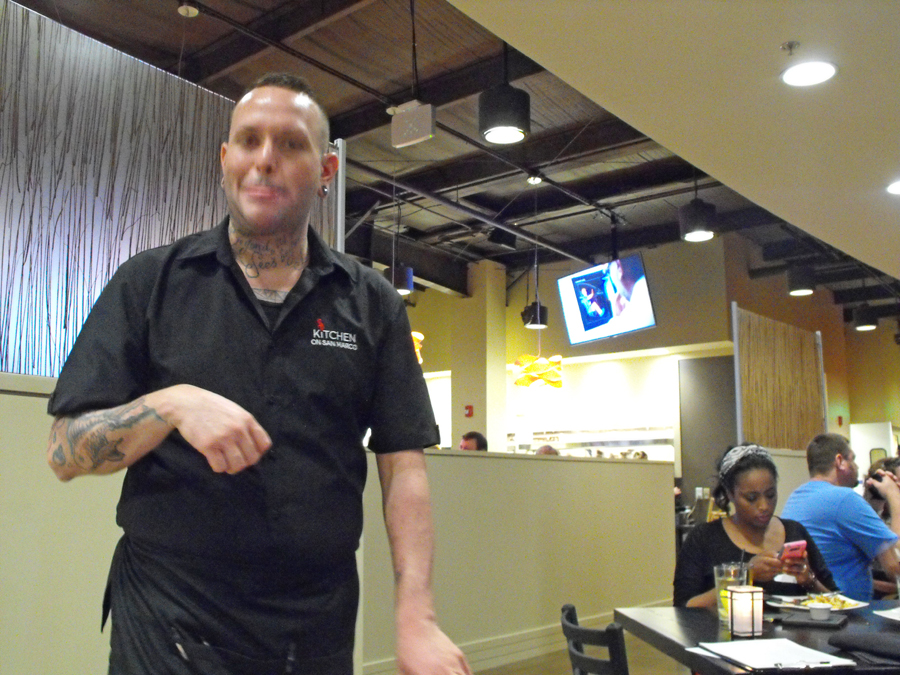 Antonio making sure we are taken care of well
Our server, Antonio, immediately made us feel at home and promptly brought our wine, a nicely chilled Riesling, and a cheese plate to get us started. The fine cheeses were a precursor of the rest of the meal. Well thought out and tasty. The Aged White Cheddar was from Beecher's Dairy and the Asher Blue came from Sweet Grass Dairy, a family farm in Thomasville, GA. Both places specialize in artisan cheeses.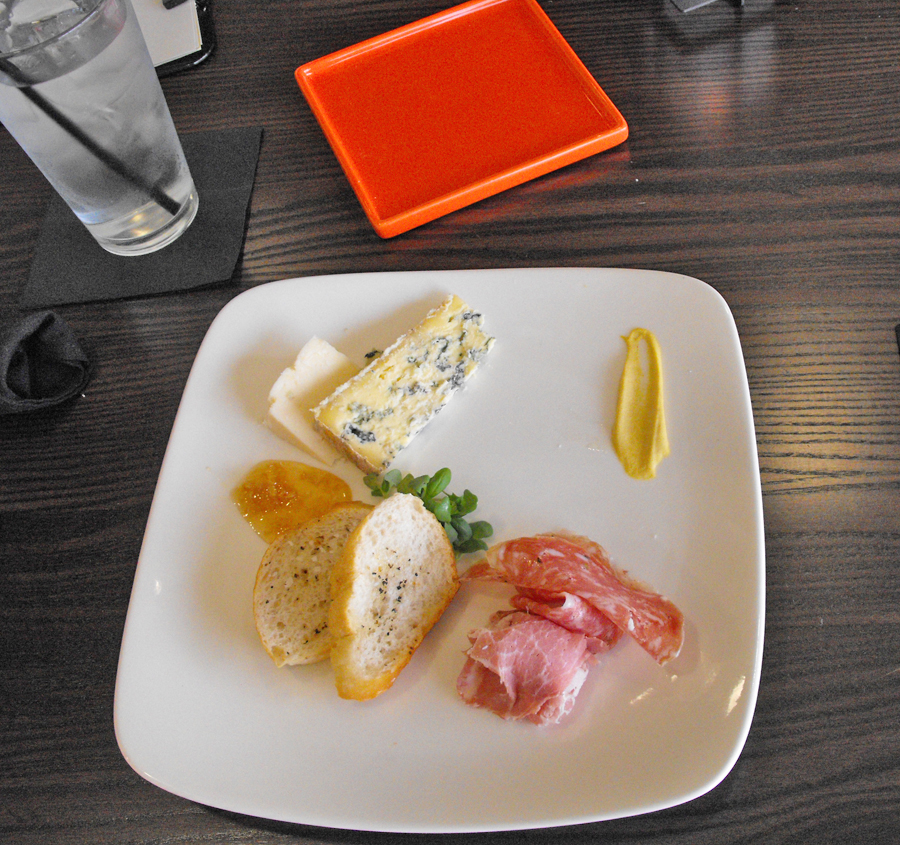 Cheese plate
Executive Chef Ryan Randolph grew up understanding farm-to-table long before it was the new dining catch word. He was born and raised in Sweetwater, Tennessee to a farming family. His early education working on a farm drew him to a career in cooking. Chef Randolph honed his culinary skills in Chattanooga where he worked as a sous chef at Hennen's, Alleia and St. John's Meeting Place. He had great tutorage here from James Beard award-nominee Chef Daniel Lindley. Chef Randolph says he plans to use "as much local products as possible."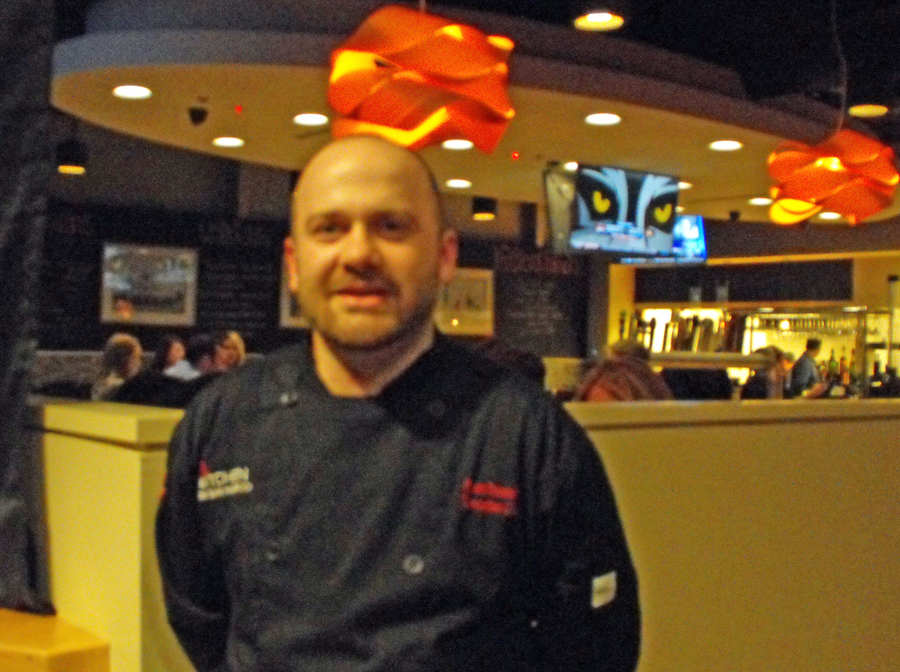 Chef Ryan Randolph
Our appetizers proved Chef Randolph's point. What could be more local in Florida than seafood.
Oysters Rockefeller, pretty and tasty
We sampled the Oysters Rockefeller with charred spring greens and a unique creation chef Randolph devised, Pickled Florida Shrimp served with a Comeback Sauce and micro greens. For our salads we tried his Salted Roasted Beet Salad served with whipped goat cheese and pine nuts and drizzled wiiht a vinigerette dressing and Florida Baby Greens with soft boiled eggs, shaved radishes and croutons and topped with a buttermilk herb dressing.
By now we were wondering if Chef Randolph could keep up his perfect batting average with the main course. My friend had the Steak Frites, a perfectly done hanger steak with their house fries and some bacon mayo. I had the Bouillabaisse San Marco which is actually shrimp and grits. It was dressed up way beyond the run of the mill shrimp and grits. The shrimp were accompanied by a healthy mixture of clams mixed together in a heady sauce and the grits was stone ground Anson Mill Grits. Yup. Chef Randolph had hit a home run for both of us.
Chrimp and Grits Chef Ryan's way.
Did we dare sample dessert after all that. Sure. Why not? Once again we decided to share our culinary treasures. We opted for the Crème Brûlee with caramelized local honey and an unusual treat called Ricotta Fritters served with some Florida citrus jam.
Ricotta Fritters
Food doesn't get any better than this. What doesn't come from Florida comes from nearby states. Like the Anson Stone Ground grits for Ansen's mill in Colombia, South Carolina where owner Glenn Roberts prides himself on "fresh native stone-ground organic ingredients milled from new crop heirloom grains."
Another supplier is Benton's Smokey Mountain Country Hams in Madisonville, Tennessee. Celebrity Chef John Malik had this to say about Benton's, "Benton's is perhaps the most famous, most sought after bacon and country ham producer in the United States."
The caliber of the Kitchen on San Marco's suppliers partially accounts for the quality of the food Chef Randolph produces. You won't find "grown in China" on his ingredients.
There is another reason behind this restaurant's phenomenal dishes. Kitchen on San Marco is owned by Culinard, the Culinary Institute of Virginia College. It will provide valuable real life experience for Culinard students and grads. Talk about a Win Win situation!
Eve Markowicz, general manager says, "We plan to offer the residents of Jacksonville a new casual lunch and dinner spot, post-work drink location and an exciting menu of inventive gastropub fare."
That is just what you will find at Kitchen on San Marco so check it out soon.
For more info: