The Old Mill Room in Charlottesville, Virginia is the perfect dining spot after a visit to Monticello. It transports you to an earlier time. In fact, The Old Mill Room, part of the Boars Head Inn Resort, has links back to Jefferson. The entire lodge is owned and operated by the University of Virginia Foundation. The ties to Jefferson are deeply embedded. The resort's 3,000-acre tract was part of Virginia's first land grant and was originally the site of Terrell's Ordinary that housed many westbound travelers. In 1800, Thomas Jefferson convinced his friend, Eliza Trist, to move to Albemarle County. When Eliza's son, Hore Browse Trist, decided to purchase to purchase land, this was the parcel Jefferson helped him buy.
The resort is built from the timbers of an old gristmill dating back to 1834 that also has close ties to Jefferson. The mill was built by Martin Dawson, another friend of Jefferson, on his nearby land. When Dawson died, he left a large part of his and to the University. They sold it to build the Rotunda annex and student dormitories. The gristmill narrowly survived burning during the Civil War. In 1959, John Rogan, the original developer of Boars Head Resort, purchased the gristmill, had it dismantling and numbered to identify each piece, then had it reconstructed at the resort.
Jefferson would have felt very at home among the dark wood exposed timber beams and paneling, cozy fireplace, white linen table cloths, and nice china and glasses. The Old Mill Room's pine flooring still show traces of the many barrels rolled across it in Jefferson's day. It's open for breakfast, lunch, and dinner. If you're dining there for dinner, the dress code would meet Mr. Jefferson's approval.
President Jefferson would have enjoyed meeting Executive Chef Dale Ford and hearing about the connection between sustainable farming and food practiced at the restaurant. Of course, Jefferson would have no idea how anyone could source food from anything but a family farm. Factory farms producing chemically treated and genetically altered food and animals treated with massive doses of antibiotics that would in turn create immunity for germs in humans who ate such things didn't exist in Jefferson's time.
The menu would have been at home in any era. Starting off with Virginia Ham And Jam Board offered a nice group of Shaved Local Kite's Ham, Mountain View Farms Marmac Cheese , Taste Like Grandma's Pepper Jam, local honeycomb, stone ground mustard, inn-made biscuits.
For an entree, I enjoyed Southern Peach Glazed Pork Chop accompanied by Wade's Mill Cheddar Grits, and local collard greens, topped by some candied bacon. For dessert, their pecan pie topped with ice cream and fresh strawberries was heavenly.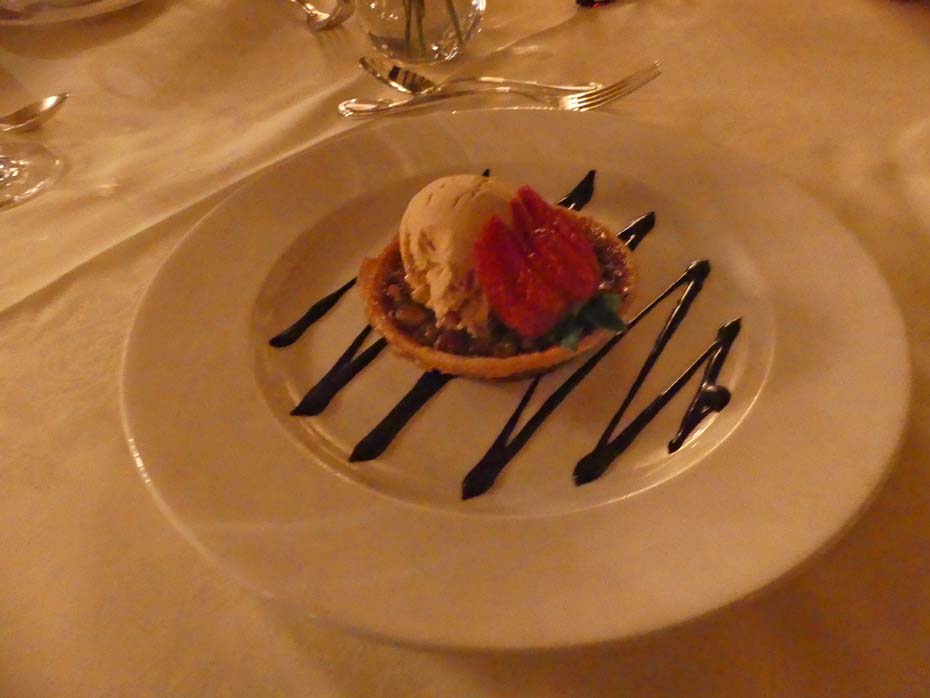 Not surprising that The Old Mill Room has received AAA's Four-Diamond designation for 29 years so you know they are close to achieving perfection.
For more info:
https://www.boarsheadresort.com/dining/old-mill-room
Connect with us on:
American Roads and
Global Highways has so many great articles you
may want to search it for your favorite places
or new exciting destinations.