I've been busy traveling on many press trips and conferences in the South lately. In my travels, I have visited a lot of award winning restaurants. Some are upscale but others family-style places. Here are a few you should visit if you are in their area.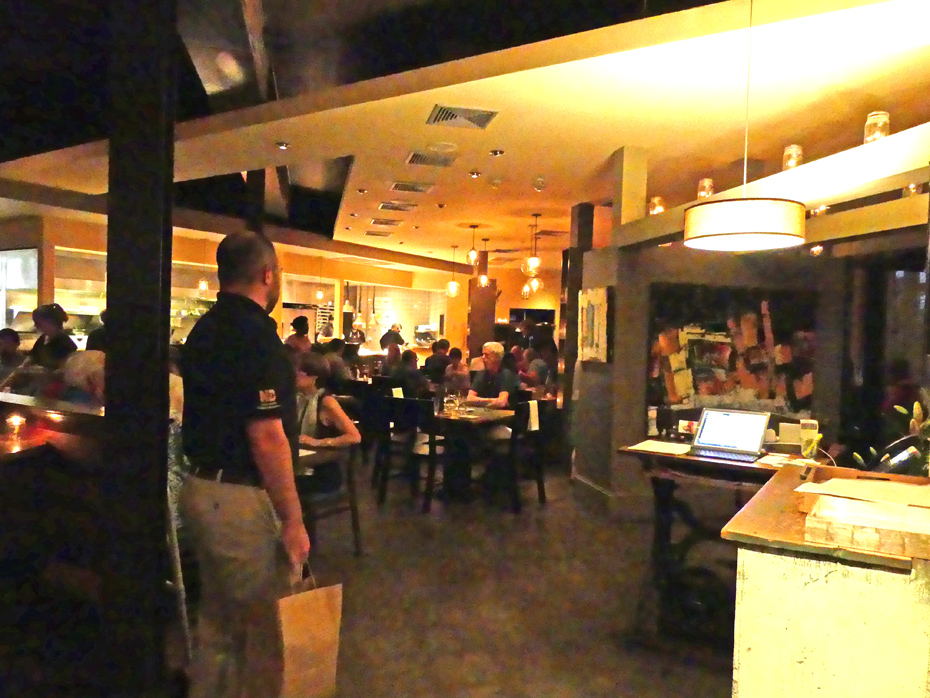 One of the most well-known is Chef and the Farmer. Chef Vivian Howard had made Southern cuisine one of the country's most popular. Her unique twists such as her Flash Fried Collards and pickled vegetables have created a produce industry for displaced tobacco farmers of her home town of Kinston and the Eastern North Carolina region. She has won the James Beard Award for Outstanding Food Personality or Host; James Beard's Best Chef Southeast Finalist 2011, 2012, 2013, 2015, 2017; number 5 in Travelers Choice Best Restaurants in the US and others.
My favorites there include the delicious homemade bread with a carrot spread to start. Then on to even better stuff, a fresh Strawberry Salad with arugla, fresh cheese, almonds and strawberry vinegar. Then for an entree have Painted Hills Ribeye Steak, roasted potatoes, sun gold tomatoes, garlic-lime fresh cheese and coriander butter. Finish that off with a Strawberry Cobbler that is out of this world.
Crook's Corner in Chapel Hill, North Carolina is the archetypal Southern restaurant. It has the classic southern food. My Shrimp and Grits was fabulous. Like all the dishes at Crooks Corner, Chef Bill puts a slightly different spin on local ingredients and classic Southern food. The twist to his Shrimp and Grits involves bacon, mushrooms, scallions, garlic and Tabasco and topping a very special cheesy grits.
Here, the traditional hushpuppies are spiced up with jalapeno and cheddar, His Mac and Cheese is flavored with Farmer's Daughter (a local company) Hot Sauce and topped with a Sriracha drizzle. Even his famous Hoppin' John is more flavorful and has a touch of cheddar cheese.
For my dessert I had to try his Honeysuckle Sorbet. Wow! I was born and raised in the South and have eaten some deee-licious food but this honey child made me shut my mouth. As in stop talking and eat every mouth-watering bite before it melts.
Nothing here is ordinary. The James Beard Foundation recognized this when they placed Bill Smith as a final-five finalist for Best Chef in the Southeast twice. Bill has also been voted Southeastern finalist for an award given to chefs who specialize in incorporating local foods into their menus by Chefs Collaborative.
He has appeared on several episodes of Chef and the Farmer where he gave his friend and fellow chef, Vivian Howard, lessons in making dishes like corned ham and persimmon pudding. Like Vivian Bill also has authored two cookbooks, Seasoned in the South and Crabs & Oysters.
Like all traditional southern establishments, Crook's Corner has a mysterious story behind the name. It is the site of the oldest unsolved murder in Chapel Hill. The building was owned and operated as a fish market, cafe and self service laundry by a lady named Rachel Crook in the late 1940's. Rachael Cook was believed to be the daughter of a Confederate general who came to Chapel Hill to attend UNC. The 71 year old Rachel was murdered here in 1951. The case was never solved but a construction worker was brought to trial because he had scratches that would have accounted for the blood and hair found under Rachael's fingernails and his truck tires prints matched ones found in front of her store. He was acquitted for lack of evidence. The original owners of Crook's Corner named the restaurant in her honor.
King's Barbecue is another Kinston restaurant that is an award winner. They made it into the 10 Best category when Sandwich America and USA TODAY readers voted for their favorites. They came in the category Best BBQ Pork Sandwich in North Carolina. I'll definitely agree.
King's Restaurant dates back to the 1930s when Wilbur King, Sr. began serving his barbeque from a pot-bellied stove in his country store. King's passed on to his son Wilbur, Jr. until 2004 when Joe Haggitt, who had begun at 17 as a busboy and worked his way up, took the reins.
Pulled Pork is their special and it is all hand pulled. Nothing here comes out of a can. It's all homemade and tasty. There is a huge buffet but after the pork and sides, I barely had room for dessert. It's a must; save room for their Bourbon Pecan Pie: it's the best in the universe.
Rebel Pie Wood-Fired Pizza is a local favorite in Florence, South Carolina. Rebel Pie is recognized by Zagat as "favorite local slice in South Carolina" with good reason. Owner and Chef Alan Cooke makes his special handmade dough daily using all-natural ingredients, tops it with your choice of toppings, and pops it in the 800-degree wood-burning oven for 90 seconds. Out comes one fantastic pizza. See more about Rebel Pie here
Owners Tracy and Mike O'Dowd and chef Ian Milks have a winner with SoDoSoPa in Smithfield, North Carolina. The name may be a take on a weird TV show but the food is top notch. They can prove it by Johnston County Arts Council who named their Smithfield Hogcakes, Best Appetizer in 2017.
Mike told us how they came to develop the Smithfield Hogcake. He went to a food show about gluten free cooking and wanted to add some gluten free items. He returned with a bag of Panko Bread Crumbs and took them to Chef Ian and told him to see what he could come up with. "He came back in just about 15 minutes with these and I said 'I know everything in this restaurant. Where'd you get crab meat from?' I tasted it and it was really good and he told me he tried to think what he had that had the same texture as crab and came up with pulled pork. We tried blackening and that didn't work so we tried frying it. With that tangy gold mustard sauce and sweet relish on top, if I didn't tell you, you'd think it was crab."
It was so good I almost didn't have room for any other items but since I wanted to tell you all about the food I somehow found room to sample the tons of other food they bought out like
their special barbequed chicken, ribs, Mac and Cheese and lots of other goodies.
Bill Travis turned his hobby into a business when he opened Wholly Smokin' in 2012in Florence, South Carolina. He had already been barbequing for fun for about three years. Bill's ribs won 3rd place in 2010 and 2nd place in 2011 at the Black Creek Blue Jeans BBQ Festival in Hartsville, SC. At the same festival, his pulled pork placed 2nd in the People's Choice Awards. Bill placed 3rd for his BBQ in the Big Brothers/Big Sisters Cook-Off in 2012. Shortly after opening Wholly Smokin', The News Journal voted it Best Ribs in Florence. Next he won Best BBQ in the 2013 Best of The Pee Dee Competition.
Dining there proves these awards were deserved. For an appetizer we shared, BBQ Nachos with pulled pork. Very tasty. You can also get them with pulled chicken. Main course for me had to be their Rack Ribs Basket with three St. Louis style ribs and crispy fries.
Florence is a good choice for choosey diners. Another restaurant there is an award winner. Victors is the only restaurant in Florence to be awarded AAA's 3-Diamond Award. See more about Victor's here
Birmingham's Highlands Bar and Grill is one of the best restaurants in the Southeast. Highlands' Chef Frank Stitt is a native Alabamian who learned to cook growing up in Cullman, Alabama. He spent time in Beaujolais in the south of France where his Southern style combined with classic French techniques to create his own unique cuisine. Frank is a nine-time James Beard Foundation finalist and winner for best chef in the Southeast in 2001.Frank has also been recognized with the Craig Claiborne Lifetime Achievement Award from the Southern Foodways Alliance in 2006. The James Beard Foundation placed him in "Who's Who of Food and Beverage in America. He is an inductee in the Alabama Academy of Honor (2009) and Esquire magazine inducted him into their Restaurant Hall of Fame. For the past seven years, Highlands has been a finalist for Beard's "Outstanding Restaurant" award. Pretty impressive credentials I would say.
Frank's wife, Paradis, makes sure the front end of the business flows smoothly. You will find Frank or Paradis at Pepper Place Farmers Market regularly. Pepper Place Farmers Market is one of the best in the South and one reason Highlands offers so much locally sourced fresh produce. When I visited the restaurant, both food and service was impeccable.
From the assorted warm breads through the imaginatively served desserts, everything lived up to the restaurant's reputation. We even had the pleasure of meeting Frank and complementing him on the feast we were enjoying.
The Bright Star in Bessemer, Alabama has been going strong since 1907. Its Greek style food had already brought it through three expansions into its present location when two recent Greek immigrants, Bill and Pete Koikos, purchased it from founder, Tom Bonduris, in 1925. Bill and Pete and later Bill's two sons, Jim and Nick Koikos, continued to provide top-notch food and service and the customers flocked to The Bright Star.
The customers still come in droves not only from nearby Birmingham but all over the Southeast. For the past ten years, The Bright Star is voted among the top three restaurants by Birmingham News readers. In 1996, it received another honor. The Bright Star was recognized in the United States Congressional Record by Senator Howell Heflin for its status as an Alabama landmark and its service to the community. Those services earned it the James Beard America's Classic award in 2010.
My delectable entree was Baked Jumbo Stuffed Shrimp filled with a crabmeat stuffing. We sampled so many of the appetizers. One of my favorites was the tiny fried crab claws but there was nothing I didn't enjoy.
The atmosphere is equally enchanting. The lighting is soft but not so dark you can't see the beauty of the food. The murals painted on the restaurant walls long ago by an itinerant European artist lend a timeless quality to the atmosphere.
What do you get when you mix Southern food with Greek food? How about Johnny's Restaurant in Homewood, Alabama. Tim Hontzas, the chef and owner of Johnny's Restaurant, comes from three generations of Greek restaurateurs. The original Johnny, Tim's grandfather came over from Greece in 1921 with just $17 to his name. He worked and saved and opened three restaurants, the last being the original Johnny's, in Mississippi.
When we visited Johnny's his "meat and three" choices ranged from Fried Catfish to Keftdes, a Greek meatball. As I said, it's Southern and Greek to the bone. For my meat, I had to try the Chicken Potpie. Believe me if all you have eaten are those supermarket ones, this is no relation. It was big, filled with chicken and vegetables and so delicious.
Tim made it to the semifinals for the 2017 James Beard Foundation Award for Best Chef in the South. Pretty impressive for me. His motto may have a lot to do with the quality of food at Johnny's, "We prepare food for the body, but Good Food to feed the Soul."