Diners were the American fast food joints of the early 20th century. They began in the 1870s and were the most popular eatery of the middle class until the 1970s with the coming of the fast food chains that are so popular with younger people who think a McBurger is high cuisine.
The classic American diners were often characterized by a stainless steel exterior and a counter with stools inside. They usually served hamburger and the standard fast food items along with their own specialties but the big difference was there was an owner behind it all. An owner who had a huge stake in the popularity of his diner not a twenty something manager who could move on the next opportunity if his current restaurant went belly up.
The first diner was built in 1872 by Walter Scott, who used a horse drawn wagon with side service windows to serve food. Wagons were later replaced by narrow and elongated prefabs that could easily be transported by road and set in their destination location. The original diners were found mainly in the Northeast often owned by Greek Americans but they soon became popular all over the country especially in cities. Their Art Deco style and flashing neon signs drew hungry folks like flowers draw bees. Many of them stayed open 24 hours and became popular breakfast spots for working class people. Later restaurants began calling themselves diners but had never been on the road and were more conventional buildings. Today few of those original cultural icons still exist but those that do are worth a visit. Here are a few I enjoyed recently. All are different but all share two common threads: they were once mobile and transported over the highway and the food is delicious and unique.
Country's Diner in Columbus, Georgia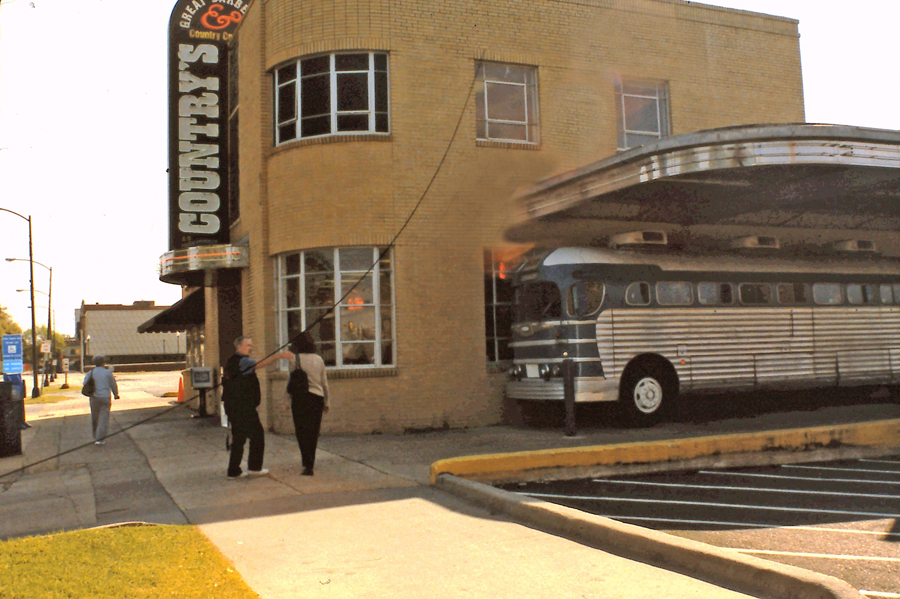 Jim Morpeth opened his first Country's Resturant on Mercury Drive in 1975. It was thriving so in 1988, when he had a chance to get his hands on a piece of Columbus's history, the 1930s Greyhound Bus station on Broadway, he jumped on it. He converted the station to a beautiful stainless steel barbeque diner.
A 1930s Greyhound bus is the centerpiece of the diner. The driver's seat and wheel are still there but the interior of the bus is fitted out with tables as seating like a traditional diner. Kids love to pretend they are driving the old bus. For adults, it's like stepping back in time.
It really measures a foot tall.

The food is as much fun as the bus. Naturally the specialty is barbeque. It's cooked slowly over hickory and oak right at each location.

I sampled the ribs and loved them. Some of my friends tried the chicken and other dishes and were happy as pigs at a trough (couldn't resist that). There are daily "Bus Driver Specials" that will make your mouth water.

One of Country's chief bragging points is their famous Lemon Meringue Pie. It stands a full foot tall. You are welcome to bring a ruler. It tastes as good as it looks.

Oasis Diner in Plainfield, Indiana
For over 50 years, The Oasis Diner sat on Highway 40 and served a loyal band of customers. Built in 1954 by Mountain View Diner Manufactures in Singac, NJ, the Oasis is one of about 400 diners they manufactured. Their motto was "A Mountain View Diner will last a lifetime."
The Oasis Diner was once four miles east and operated until 2008. After it closed, Indiana Landmarks, Inc., listed it as the one of the most endangered buildings in Indiana in 2010. The city of Plainfield and new co-owners Dough Huff and Don Rector teamed up to rescue this rare landmark. Part of the agreement was to restore it back to its original look and name and insure it can never be destroyed. They have done a wonderful job of restoring it right down to a new sign that replicates the original one.
Since it is on a national road, many of the names of items on the menu are named for cities along the national road. Many of the old specials are still on the menu such as their Pork Tenderloin Sandwich. It is the original item just tweaked a bit. Dough said, &"We sell about 250 a week. Nothing on the menu comes close to that. It's a seven ounce Indiana pork loin never frozen. We pound them here and bread them here. We serve it on a homemade Brioche Bun."
Chef Caperon and owner, Doug Huff at Oasis
Chef Pedro Caperon, head chef at The Oasis, brought us out a sample tray and told us a bit about the food. "Everything we make is as fresh as possible. we don't want anything to come in frozen and come to your table as it came in. Everything that comes out of our kitchen is touched and made by our cooks and chefs." He pointed to our sample tray, "We have fresh baked cinnamon rolls, apple dumplings, lemon cookies, cherry pie and fresh made granola. We are inspired by our day and by the Oasis Diner history and we make what we want to make that day. Guests come in and want something special that their parents or grandparents remembered having at the Oasis, we want to please them. Food here is very personal to me"
After sampling a bit of the tray and a taste of their trademark Kansas City Biscuits and Gravy, I was already stuffed but thrilled by the wonderful tastes. I then received my breakfast order of Atlantic City Stuffed French Toast. Wow! A layer of brioche toast filled with cinnamon cream cheese and topped with fresh strawberries and strawberry sauce was more than I could finish but I gave it a good try. It was one of the best things I ever ate.
Let's hope this new incarnation of Plainfield's historic Oasis Diner is with us for another half century and beyond. No fast food chain can hope to compete.
Georgie's Diner in St. Augustine, Florida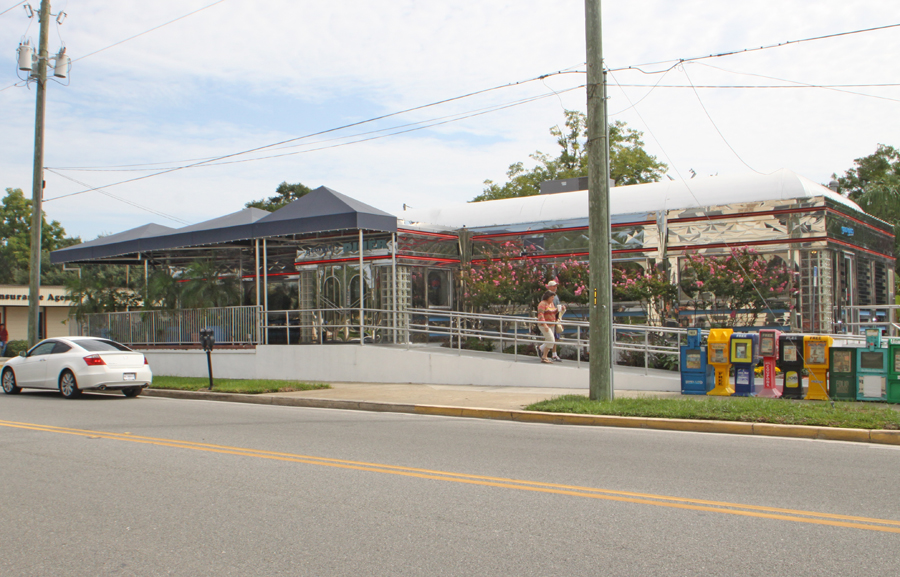 In 2003 St. Augustine's Greyhound Station closed down. The land owner, Mark Stanton, opened the Holly Diner, a stainless steel modular building with neon, chrome, mirrors, and ceiling tiles replicating 1950s era stamped tin tiles. The idea was timely but didn't work out for Stanton. In 2006, Stanton sold the diner.
George Chryssaidis knew he could make it a success. It is now Georgie's Diner and very popular due to George's special touches. The atmosphere and menu take customers back to a time in the past many of us have fond memories about but one of George's innovations, his use of his very own Frixa Olive Oil, takes things a step farther. He explained, "It's made from Koroneiki olives from my town of Frixa, Greece We use it in all of our dishes."
He told me breakfast it the most popular meal here and is served all day long. He pinned it down farther, "The omelets are the favorites. People don't know why they taste so good but it's the olive oil that makes the difference."
Georgie's menu reveals another fact hearkening back to the early diners: he serves many of his native Greek dishes. I noted that the omelets have two Greek choices, the Greek Style Omelet and the Gyro and Feta Omelet.
My friend, Barbara, met me for lunch and our server, Stephanie, was ready to lend a hand in helping us decide on the best choices that day. The menu was extensive and offered many Greek choices such as Spinach Pie, Mousaka, Pastitsio, two different Greek combo plates and Gyro, which I choose. They also offered many of the traditional diner choices from burgers to meatloaf as well as specials. They also have a good seafood selection and since St. Augustine is on the water, it is all fresh caught. Barbara opted for the Pot Roast Special.
Her pot roast was tender and delicious and a very ample portion. My gyro was so big I decided to use a fork and knife. Everything was fresh and tasty. Stefanie told me the meat was "a combination of beef and lamb roasted on their vertical rotisserie."
George also owns two other restaurants in St. Augustine, the Alcazar Cafe and Athena's Restaurant. Got to try those when I am not working on diners.
Angel's Diner in Palatka, Florida
You can get a burger and a chocolate shake almost anywhere but there is only one place in the world you can get a Black Bottom Sandwich and a Pusalow. In case you're never been to Angel's Diner in Palatka, Florida, I'll tell you what they are. A Black Bottom is some hamburger meat, fried bacon and a few other tidbits, chopped up, mixed with eggs, scrambled and served on a bun with lettuce, tomatoes, onion and mayo and there you have the best of either breakfast or lunch.
The Pusalow is chocolate milk, mixed with a squirt of vanilla syrup, and poured over ice. The pusalow was invented by a sweetwater chemist (AKA soda jerk) who worked for Porter Angel and later went on to become a Putnam County commissioner.
| | |
| --- | --- |
| | |
| At Angel's you know you are in a real diner | Black Bottom with all the fixings |
I sampled both the Pusalow and the Black Bottom and loved them. I had gone in hoping to interview the manager but she had just left. I had a major stroke of luck while I was talking to Brook, one of the longtime waitresses. She was giving me some of the diner's history when she looked out the window and said, "Oh, There's the owner, John Browning."
Browning had only a few minutes as he was heading for an auction but he graciously filled me in on the background. The diner was originally built as a train car dining room. Porter Angel bought it to Palatka and opened the diner in 1932 making it the oldest diner in Florida. John Browning told me it had originally been on the corner of Ninth and St. Johns Avenue and moved to its current Reid and Second Street spot about 1933. He explained, "It has only had two owners. When Porter Angel died, myself and my then wife, Diane, bought it."
The Brownings were old family friends and had a long association with the restaurant. John's father was once a curb hop and John had worked there in the 60s. John states, "Angel's is original: it's the real thing. It survives on love. My wife and I are divorced now but we still have this and are probably better friends. We have people who come in from all walks of life. It's had generations come in here."
Along with sampling the specials we had one of Angel's traditions breakfasts, two eggs, bacon, pancakes and choices of grits, southern fries or hash browns. Naturally I choose grits and my companion, Martin, had the hash browns. We left very well stuffed.
Angel's is open 24 hours a day and still has curb service. There is a sign in the lot that says "honk if you want service." Angel's represents what a diner was and in a few lucky places in the county still is.
For more info:
http://www.countrysbarbecue.com/broadway/
http://www.thealcazarcafe.com/georgies-diner
http://www.visitflorida.com/en-us/articles/2011/august/1850-angels-floridas-oldest-diner-parked-in-palatka-since-1932.html