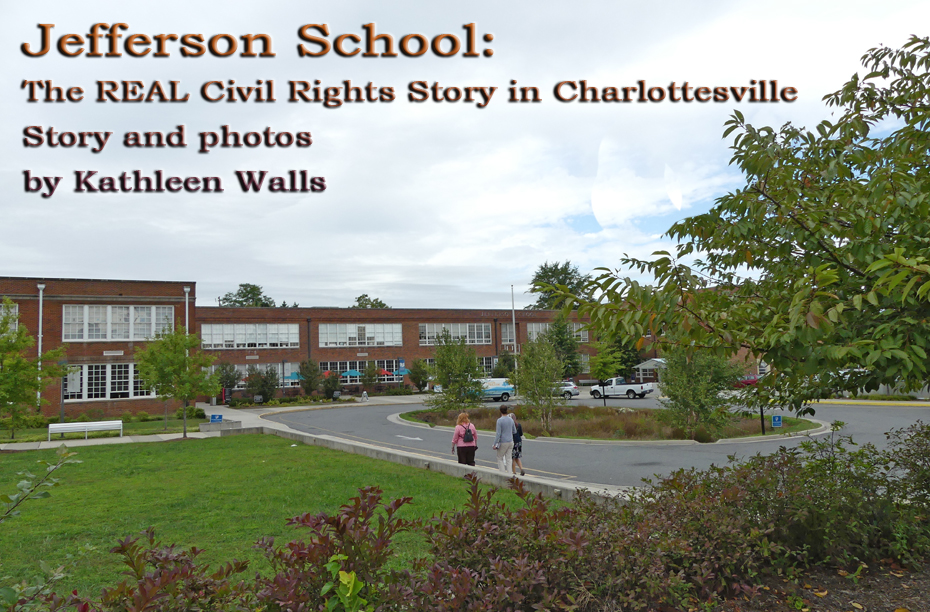 Imagine yourself an African American in Charlottesville, Virginia in 1865. You have never been taught to read or write. Suddenly you are a free person. Now for the first time, you can make your own decisions about your life. You need to get a job to earn money for food and shelter. With that comes going to a store and buying items. What do you need most to move forward and take your rightful place in society? A school. Jefferson School becomes your ticket to upward mobility.
New England Freedmen's Aid Society sent one teacher, Anna Gardner, to Charlottesville to teach former slaves rudimentary education. She named the school after the nation's third president. Jefferson School opened as a one-room school in the Delevan Hotel on West Main Street; once a hospital for wounded Confederate soldiers. If you came there that first day, you would have been one of eighty people from children to white-haired grandparents. Within two years they were running a night school. Jefferson was a regular school and a normal school that taught teachers. This was their stepping stone to complete equality in Charlottesville. Trace that rise from freedom to civil rights.
Nannie Cox-Jackson was one who benefited from and gave back to Jefferson School. Born at the dawning of emancipation in February 1865, she went on to pay it forward as a teacher in Charlottesville for 46 years. She was the home economics teacher and founded the school's football team. In her class, both boys and girls learned cooking and sewing. She started a hot lunch program and during lunch hour motivated the children to become all they could be. In 1969, a new school, Jackson-Via Elementary School, was built and partially named in her honor.
Jefferson School's early education program continued through the generations. Teresa Jackson-Price, Nannie's granddaughter, became Charlottesville's first African American librarian in an integrated school. In 2000, she was a force behind saving the Jefferson School. A real payback for what the Jefferson School had done for her and her ancestors.
The school's benefits that touched this one family spread throughout the community. Eugene Williams, who became the first African American to own an insurance agency, maintained that office in property visible from the Center's window is owned by the Jackson family. He became one of the main figures in the fight to integrate Charlottesville schools in the 1950s. Amazing that a school founded in 1865 could have such a connection to 20th century society.
Today, Jefferson School has been named a National Historical Site. It is still teaching and helping people. It moved to the current site in the 1890s and served as an elementary school for African American children until 1926. That year the city built the Jefferson High School for Black students. In 2002 it closed down as a regular school and was used for various uses including city functions as a transition school while new schools are being built, an adult school, a preschool and other functions until 2013 when Jefferson School African American Heritage Center was created.
Dr. Andrea Douglas, executive director of the center, was instrumental from the beginning of the Center's creation. She had been working at the University of Virginia as curator of exhibitions at the contemporary art. She is an art historian and knew how to set up an exhibition.
Dr. Douglas offered an insight as to why the African American population was ready when emancipation came. We already had a large free Black population in place."
There were people like Benjamin Bulloch and George Inge who already owned stores in Charlottesville. These all factor in to an institution like Jefferson School thriving here.
The Center offers plays, art, history, and a genealogy library, and publishes books that tell the African American story. Some of the programs are geared for young children and some for adults. Amazingly there are only two staff and many dedicated volunteers. Dr. Douglas stated, "Our goal is to make sure that this history is part of the county's history curriculum." Her vision of the Center's purpose is, "We operate as cultural center and try to match the intellectual capacity. This is a town with as many PHDs as in California."
Jefferson School African American Heritage Center welcomes introduces visitors to Charlottesville's African American history from Emancipation to present day. It is located on the second floor of the historic building and offers exhibits such as Yolonda Jones's Private Spaces, Pride Overcomes Prejudice and, Vinegar Hill: 1963 Life in the Neighborhood as well as the other cultural resources of the center offering plays such as August Wilson's Pittsburgh Cycle, lectures on current events, genealogy research, and activities that bring the community together to realize that all people are really one family. They have two published books and a walking tour app of the sites in Charlottesville related to the struggle for civil rights here. The app can be found at the Center's web site below.
Private Spaces is an I Phone photo exhibit offering intimate glimpse into the life of the artist's family. You fall in love with her cute kids: you see her husband engaging in simple household tasks and realize it is just a slice of normal American life no matter your race. It's the ordinary American family you are seeing here.
Pride Overcomes Prejudice is a much more detailed look at the life of African American citizens from Emancipation in 1865 through the Civil Rights Movement up to 1970. Through multiple forms of art we see the historic happenings that shaped the norms most of us accept today.
The exhibit, Vinegar Hill: 1963 Life in the Neighborhood is comprised of black and white photos taken in 1963 by then 16 year old Gundars Osvalds with a simple Praktica FX3 camera. Gundars was a high school senior then. When he heard that the old Black neighborhood of Vinegar Hill was doomed by an urban renewal project, he set out to photograph the neighborhood and its residents. Today, few of the original buildings in the Vinegar Hill district are still standing. These images are all that is left of the life that went on in Vinegar Hill except for older folks memories.
When Gundars brought the photos he had almost tossed in the trash can to Dr. Douglas, she was delighted. "The first thing I thought was that people need to see these images. When you look at most of the other images of Vinegar Hill they show just the buildings. These pictures show the human element within Vinegar Hill."
When you visit Jefferson School African American Heritage Center, you see the real heart of Charlottesville. This is a place, like the city itself, that welcomes all people regardless of race or any other factor that drives divisive hate groups that strive to separate us once more. It represents the signs you see all over the city of Charlottesville that tell us, "Love lives here."