Both women were African Americans who advanced the cause of equality for their people. Both were born in central Georgia within 15 miles of one another. Both grew to adulthood in Macon, Georgia. Both women believed strongly in the value of education for free blacks and founded schools. Both are memorialized in interesting places to visit in Georgia. Keep reading as I am going to tell you of two museums to visit that will bring the story of these amazing women to life for you.
In spite of my hunch that there had to be a link somewhere, the only possible connection I have found was offered by Corey Rogers, the historian at The Lucy Craft Laney Museum of Black History in Augusta, Georgia. Corey said, "According to one story I have been told David and Louise gave Lucy that middle name in honor of William and Ellen Craft. I have never been able to verify it but the Laneys and the Crafts would have been in Macon around the same time."
It makes a lot of sense to me. Lucy Craft Laney was born on April 13, 1854 in Macon. At that time, Ellen and William Craft had made their daring escape and were speaking on the abolition circle. Their speeches were covered in the Macon Telegraph and all of the abolitionist press across the nation. As educated free blacks, the Laneys would have read about the Crafts' escape. It was one of the most talked about escapades of the time.
To get the full picture visit the Tubman African American Museum in Macon, Georgia. (For more on the Tubman Museum click here.) I first learned of Ellen and William Craft from Dr. Andy Ambrose, the museum's director. He showed me the exhibit and filled me in on the story.
One of the Tubman's murals. Can you spot Ellen Craft?

Ellen was born in 1826 in Clinton, Georgia. Her mother. Maria,

was a mulatto slave, and as often happened then, her father was the plantation owner, Major James Smith. As you can imagine, Mrs. Smith was embarrassed by Ellen. The girl was very light and strongly resembled her white half sisters. When the Smith's daughter, Eliza,

married

Dr. Robert Collins of Macon,

Mrs. Smith gave Ellen to Eliza as a wedding present.

Ellen grew to adulthood in Macon as a personal house slave to Mrs. Collins. She wasn't abused but she was not free. She must have often looked at others no darker than herself who were on the other side of that immutable color line and envied their freedom. She matured into a large attractive woman and was allowed to marry William Craft, the slave of a Macon bank cashier, when she was around twenty.

William had been sold at the age of 16 to pay his master's gambling debts and watched his younger sister sold to someone else and taken away. The cashier who bought William kept him apprentised to a cabinet maker and William became a skilled craftsman. The owner kept most of the earnings but William was allowed a little money for himself.
Part of the Tubman's William and Ellen Craft exhibit

The combination of Ellen's appearance and William's savings allowed them to take a daring action. Ellen would dress in men's clothing and pose as a young plantation owner traveling with "his" slave, William.

Their favored status in their respective households allowed them to get a pass to be absent a few days near Christmas, thus allowing a little head start before they were missed.

On December 21, 1848, a young man dressed in fashionable trousers and coat with a top hat and green spectacles boarded a train bound for Savannah at the Macon station. The young man had a bandage around much of his lower face and his right arm in a sling, rendering him unable to sign any papers and loath to speak much. His large, very attentive body-servant accompanied him. Naturally, the servant had to ride in the "Negro" car while his master rode first class in the passenger car.

The escape was fraught with danger from the beginning. William spotted the cabinet shop owner on the platform looking into the cars while he waited in the "Negro" car for the train to depart. Ellen almost died of fright when the passenger seated next to her was a friend of her master who had seen Ellen many times. Feigning her injury, she did not speak to her fellow passenger.

They traveled from Savannah to Charleston and then Philadelphia by steamer. Ellen was treated attentively because of her injuries but the situation was never a lark. There were several harrowing moments during the trip north when they felt the game was up and they were about to sent back to their masters. Had they been apprehended they faced possible beatings, mutilation and even death when returned to their respective masters.

In Philadelphia on December 21, 1848 where they were welcomed by the abolitionists community and received their first reading lesson. They remained there three weeks and then went on to Boston where William worked as a cabinet maker and Ellen a seamstress. They were popular speakers on the abolitionists circuit. Usually William told their story and /Ellen remained on stage silently but occasionally she also spoke. They were widely acclaimed but their fame worked against them when the Fugitive Slave Act was passed in 1850. They left Boston for England just ahead of the slave catchers their masters had sent to bring them back to Macon.
Ellen in male costume with her quote


They remained in England for nineteen years until 1868. They both continued their education there. When they returned to Georgia with three of their five children, they saw the need for education for their newly freed people.

In 1870 they bought 1800 acres of land in Bryan County near Savannah. There they set up the Woodville Co-operative Farm School to help educate and find employment for freed African Americans.

One high note of the Tubman Museum exhibit is a image of Ellen Craft dressed in men's clothing and showing her famous quote made just after she had arrived in England, "For I had much rather starve in England, a free woman, than be a slave for the best man that ever breathed upon the American continent."

The museum is an interesting story in itself. It began as a small local attraction in 1981 and rapidly grew to fill the current museum's 8,500 square-foot building and become the largest museum of its kind in the southeast. It is slated to move into its new 49,000 square-foot museum soon. As you can guess by the size of it, the museum is filled with many other exhibits relating to African American history. It's a wonderful place to while away many hours. You will leave much the wiser for time spent there.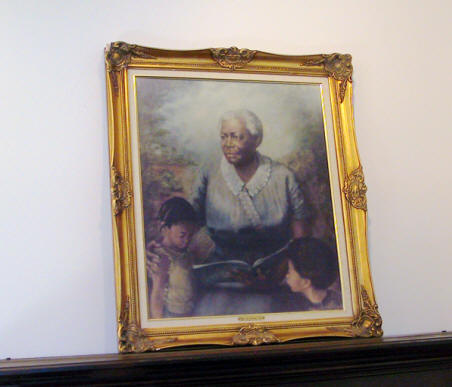 Lucy Craft Laney's portrait in musuem
For the inside scoop on Lucy Craft Laney, travel on to Augusta, Georgia to the Lucy Craft Laney Museum of Black History. The museum is a treasure chest of African American History as well as focusing on Miss Laney's accomplishments. Lucy Craft Laney was not a wealthy woman but her legacy is beyond price. What she gave to the youth of Georgia was something worth more than gold, knowledge. First and foremost , she was an educator.
Her influence reached beyon Georgia. Ms. Mary McCleod Bethune who later founded Bethune-Cookman College for Blacks in Daytona, Florida, worked with Miss Laney for a year and said of her, "I was so impressed with her fearlessness, her amazing touch in every respect, an energy that seemed inexhaustible and her mighty power to command respect and admiration from her students and all who knew her. She handled her domain with the art of a master."
Born eleven years before the end of slavery Lucy was the seventh of ten children born to Rev. and Mrs. David Laney. Her father was a Presbyterian minister who purchased his wife's freedom. Lucy was taught to read by the sister of her mother's former master. When she was just 15, Lucy entered the first class of Atlanta University and graduated with three others.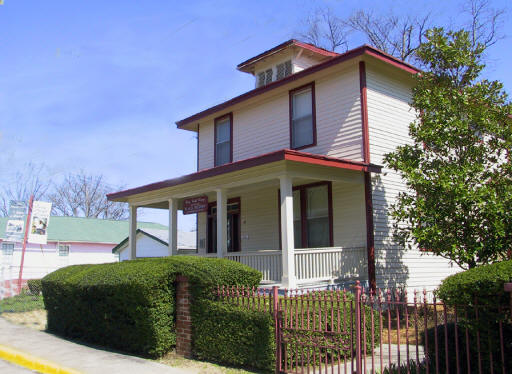 Lucy Craft Laney's former home, now the musuem

She began her teaching career in Macon, Milledgeville, and Savannah. Then Christ Presbyterian Church in Augusta offered her the opportunity to begin what would become her life's work. She founded the first school for African American children in the church's basement

on January 6, 1883. The school began with only six students but rapidly outgrew the little basement. When her first class graduated two years later, there were

234 students.

Lucy knew she needed funding to secure a larger building. She had no money but she did have boundless faith in her project. Scraping up enough for a one way ticket to address the Presbyterian Church Convention meeting in Minnesota. The church convention did not fund her project but did pay her way back to Augusta. Soon after she received a letter from Mrs. Francine E. H. Haines, President of the Woman's Department of the Presbyterian Church, who had heard Lucy speak at the convention as was impressed with her zeal. She offered $10,000 to fund the new school. Lucy was so grateful she named the school the Haines Normal and Industrial Institute.
Delta Sorority Room in the Lucy Craft Laney Museum

One of the first items you see when you enter the museum is a life-size model of a young black woman in nursing uniform . this represents another of Miss Laney's achievements. She founded the Lamar School of Nursing,

Augusta's first black nursing school. She also started the first black kindergarten After her death in October 23, 1933, her legacy lived on in the school she had founded which was renamed Lucy Craft Laney Comprehensive High School. Throughout Georgia and the country, other schools have been named in her honor. In 1983, she was inducted into the Women of Achievement of Georgia.

Her home, now the Lucy Craft Laney Museum of Black History, was damaged by fire in 1987. It was purchased by Delta, Inc, and restored to preserve her heritage and the struggle of African Americans to reach true equality through education. You will find not only the story of Lucy Craft Laney here but also other Black citizens of Georgia who achieved a level of greatness that might not have been possible without Miss Laney's gift of education to young Black children.

This is one museum in Augusta you do not want to miss. It may not be big in size but it represents the achievements of a lady whose legacy has influenced the entire county.

For more info:

http://www.lucycraftlaneymuseum.com/