On the Waterfront:
My Favorite Waterfront Restaurants
What better place to dine than looking out over a water view. Some of my fondest memories are of some of my favorite waterfront places. Here are a few.
Our group at Peace River Seafood
I recently had the good luck to dine with a group of other travel writers at the Peace River Seafood and Crab Shack In Punta Gorda, Florida. Wow! This place is amazing. If the seafood was any fresher it would have had to jump from the river, just behind the restaurant, onto the stove in the kitchen. They have a dock right there and local fishermen bring the day's catch directly to the Crab Shack.
The food was so good and it just kept coming. I got to sample almost everything and didn't find any I didn't like. Since I don't personally like Calamari, I didn't try that but those who did said it was tasty. I think my favorite was the blue crabs. They were huge and cooked just right. The mussels were some of the juiciest I ever tasted. I loved the shrimp and enjoyed the mullet and catfish even though I am more of a shellfish lover.
Our server, Bill, and Mayor Rachel

Atmosphere abounds at Peace River Seafood. It's no chain. That is obvious by the authenticity of the place. Owners, Jimmy Beal and his wife Kelly, are local. Jimmy is a crabber. The restaurant is housed in an simple Craftsman style bungalow shaded by huge old oak trees. A resident cat meets you as you stroll up the walkway. Inside, Gaspar, the resident parrot, croaked out a "hello" but why sit inside when you can enjoy the wonderful outdoor Florida weather. We sprawled at one of the big picnic tables where we could really dig into good seafood and not worry about making a mess. They even have an outside sink to wash up for all those finger-licking crab particles you don't lick off. They had a few interesting items on the menu like Thorton Branch Gator Gumbo, Myakka Slew Shrimp Creole and Bull Bay Stew but one can only eat so much delicious seafood without bursting at the seams.

Our server, Bill, just kept bringing the food until the table was overflowing then he juggled things around to make more room. He was taking no chances any of us left hungry. Fat chance of that. The side order of corn on the cob was tasty but I only had room for a bit or two. Had to save room for some of their traditional Key Lime Pie. Like all the rest of the food, it was true old Florida, yellow as it should be and a little tart as Key limes are naturally.
The wall of dollar bills in a fishnet

Someone asked about the dollar bills covering the inside dining room walls, a la Key West bars. He told us,

"Customers kept saying

that the seafood here was even better than the crabs they'd eaten up north.

One of the wait staff

responding, 'If I only had a dollar for every time someone said that!' and before long,

it became a tradition for customers to sign a dollar bill and hang it in the net on the wall."

Chef Jerry Collins stopped at the table to see how we were doing and explained that the only thing not caught locally was the salmon. "People sometimes get mad if we run out but we never know how much we will have as our supply is caught right here and cooked the same day. We don't do freezers much."

Punta Gorda mayor, Rachel Keesling, met us for lunch and told us even more good things about Punta Gorda and Charlotte County. With places like Peace River Seafood acting as ambassadors for the city, her job should go smoothly. Any city with a restaurant as good as this has to be a wonderful place to live.
Blue Pete's is really over the water
Blue Pete's
is located

in Pungo about 20 minutes from Virginia Breach.

It's a bit out the way and hard to find but well worth the effort.
I was not disappointed in eitherthe food or in its setting on the waters of Back Bay . Blue Pete's is named for the little duck like bird, the American coot, locally known as "blue petes." You are sure to see some. Not on the menu but happily swimming around the water behind the restaurant.
I dug into my Seafood Sampler filled with crab cakes, shrimp, scallops and flounder and a side of sweet potato bread smeared generously with orange marmalade, I could look out over the water and watch all kinds of birds searching for their dinner as well. That always make good food taste even better.
A fish plate at Blue Pete's
Blue Pete's began life as a rough bar located on a rustic wooden building built on stilts over the water. The owner. came over and told me about the history. "The original place was a rough and tumble bar back in the 1970s.
It was just a shack with four tables and a bar. Boaters and fishermen would pull in by boar and come in for a drink and then clean their fish on the back dock. They were a really wild bunch. All of them had guns and would sit on the back dock and shoot at things."
I noted that the brick looked really old and she told me that earlier there had been a tiny post office here. The stories and history here is as good as the food.
The landing at Cabbage Key. This is how Florida should look.

Cabbage Key Inn and Restaurant in Pine Island Sound

just off Lee County coast is one of my favorite islands off the Lee County Coast. It can only be reached by boat keeping it a real part of Old Florida. No cars just a few golf carts and bicycles; no highways, just paths and The only restaurant on the island is at the inn that was originally built in the 1930s by Mary Roberts Rinehart. But that is all you need to get great seafood or other choices.

The Inn's restaurant is famous for its "Cheeseburger in Paradise," believed to be the inspiration for the Jimmy Buffett tune. He is reported to have sat atop the island's old 65 foot water tower. There is also a dollar bill tacked to the wall bearing the chief Parrothead's autograph although he had never verified the cheeseburger claim. The dining room and bar are decorated with a collection of over 30 thousand one-dollar bills signed by patrons and stapled to the walls and ceiling. When it falls down, it is donated to a local charity.
The interior of the restaurant at Cabbage Key

The inn offers guestrooms or cottages for overnight visitors. The restaurant is open all day and serves breakfast , lunch and dinner. I have had both the breakfast and the lunch and can vouch for both.

The French Toast Breakfast Special and the old-fashioned bacon and eggs breakfast are both equally good choices. The servings are generous and everything was cooked to perfection.

For my lunch there I choose the Shrimp in the shell. Messy but delicious. Another member of the party did try the cheeseburger so I did get to sample the famous burger. Yummy, it does deserve it's name. The inn and restaurant have received the 2013 Certificate of Excellence form Trip Adviser.

The island residents have been known to ride out hurricanes on Cabbage Key because of its relatively high elevation. It is built on top of a 38 foot Calusa Indian shell mound making it the highest elevation in Florida. I guess the Indians liked their seafood too and that is the reason the shell mound is piled so high.

----------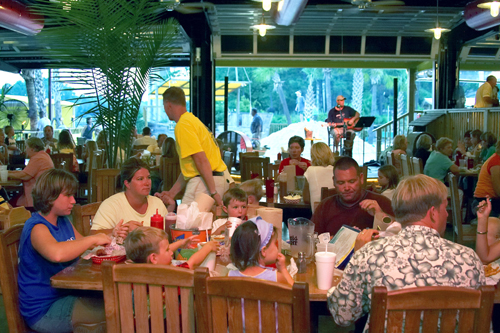 Lulu's

Lulu's

Sunset Grille

on the water at Gulf Shore, Alabama

. Seafood is great there.

Y

ou can sample

Lulu's own

Crazy Sista Honey Ale

here

. For those not in the know, Lulu is Jimmy Buffett's sister and the chief Parrothead himself has been known to drop in at lil' sis's place unannounced and sing a few songs.

Even without the relationship, Lulu's stands firmly on its own feet. If Lulu were related to no one on earth, her food would win her aclaim in her own right. The Half and Half Seafood Basket is my choice. I like the shrimp and oysters fried but you can choose fish if you prefer. The shrimp and fish can be grilled or blackened if you're trying to eat healthy.

Naturally, Lulu's also features the Cheese Burger in Paradise. The menus are pretty extensive and the view terrific.
Band at Lulu's
Aside from the food, which is tasty and generous, the drinks, which range from a simple brew to a smooth iced concoction,

and the music, a strong flavoring of Key West,

what more could you ask. Well it does offer more. Lulu's is pet friendly. When I visited I noted the sign at the door saying "all doge must be on a leash." Okay, fair enough. Inside we met Ranger who was indeed on his leach but it was only attached to him as he made his rounds visiting and getting petted by all of the dog loving parttons. He was so cute. His owner was happily ensconced at his own spot while Ranger made new friends right and left.
What a fun place! Lulu is passionate about Alabama's Gulf Coast. She says, "So come on, get back to the beaches we all love."
View of Monkey Island from Riverside Crab House

You can enjoy a great meal at Riverside Crab House in Homosassa, Florida

or a drink at their Monkey Bar (best spot for monkey watching) or the Yardarm at Riverside Resort. The seafood is tasty, and you can also watch the resident monkeys. Occasionally you can spot manatees in the water too. There is a doc to accommodate boaters needing a tasty meal or cool drink.

How the monkeys got their own island in the middle of the Homosassa River is an interesting tale. The island itself started out as a pile of rocks that were just below the water's surface at high tide, wreaking havoc on many boats that passed over them.

In the late 1960s, Mr. G. A. Furgason, who owned the attraction that is now Homosassa Springs State Wildlife Park as well as what is today the Riverside Resort, decided to help out the boaters and had some mud dredged up around the rocks. The result was an unattractive man-made island in the middle of the river. In order to make the island more attractive he had a little lighthouse constructed there.
Veronica and Mattie monkeying around

Then he got a brainstorm. He had some monkeys at the park that had been part of the polio vaccine experiment. Some of them were always getting out of their cages and robbing tourist's cars of candy and even biting visitors. He had jokingly said he "wanted to send them to Alcatraz." Now he realized he had his own version of a monkey Alcatraz. He put three spider monkeys and two squirrel monkeys on the island. He soon discovered he had created a popular tourist attraction. The tradition has continued, and today, when you visit, you will see five happy spider monkeys playing on the island. They have their own "condo."

I have lunched there several times and had a great time watching them play. My favorite dish there is the blue crabs followed closely by the Shrimp Alfredo. For the pasta or salad, you can build it your way and add toppings like shrimp, lump crab meat, chicken or any number of other tasty choices. They aim to please. It's hard to go wrong there. The view and their live music always makes good food even better.

After the meal, it's fun to walk out on their dock and watch the water birds. Pelicans are my favorite but there are many others you may spot, herons, egrets, ibises or gulls. Or you could take a few pictures to remember all the fun in their "Caught Monkeyin' Around" sign where you can put your own face in place of one of the resident monkeys.
Crackers ovelooking Kings Bay

Crackers Bar Grill and Tiki in Crystal River, Florida is located on Kings Bay making it a great manatee watching spot. The spring fed waters of the bay and Crystal River hold a 72% temperature year round making it a perfect place for these gentle giants to congregate. February is one of the best months to see them frolicking in the water but you could see them anytime.

That you can enjoy some of the best Florida seafood anywhere here is a bonus. Crackers Bar and Grill is not fancy but the food is scrumptious, hot and served in generous portions.

You can arrive by boat as well as drive here making it a popular spot for local boaters and those visitors lucky enough to discover it.
Crackers fish plate Photo credit Crackers

Their Coconut Shrimp appetizer is one of my favorites. It's enough for a lunch in itself but if you have a really big appetite try

their Combo Platter, y

our choice of Scallops, Oysters, Grouper, Gator, Shrimp, Pollock, or Chicken. You can have them fried, blackened, sautéed, or grilled.

This place has a big menu and lots of unusual items like gator and conch fritters. They even offer a different twist on the classic Reuben, Grouper Reuben. Again, there is a big sandwich menu. For the health conscious, there are a wide choice of salads or soups.

Crackers is a perfect place to dock and dine after a fun day on the water.
Always a happy crowd at Schooner Wharf

Schooner Wharf Bar in Key West is one of my all time favorites. It's one of the few places man's best friend is welcome to belly up to the bar.

You might find yourself sitting next to a purebred poodle or a Conch mutt but they are all surprisingly well behaved. When we visited before my dog, Romeo, passed, he was so happy to be allowed inside he sat and lapped his water and ate his portion with all the manners of a connoisseur.

The bar's co-owner, Evelina Worthington will be happy to show you the portrait of the Key West dogs hanging over the bar and tell you their story beginning with her own pup she got one night as a tip while she tended bar. She and her husband began as a small bar on a schooner and when they came on land the budget was so tight the bar consisted of a plank between two old filing cabinets. Even then they served quality stuff. The upscale liquors were kept in the top drawers of the cabinets.
There is usually live music going

Don't let the name "bar" fool you. it is also a top notch restaurant wining the "People's Choice Award: since 1993. The

Miami Herald commented, "Schooner Wharf is a slice of Key West before million-dollar condos began sprouting up like kudzu.... it's as funky as a pair of well-worn flips and every bit as comfortable, just a ramshackle open-sided bar, small stage and umbrella-covered tables set on a gravel patio. The menu is identical to those of dozens of other Keys dives.... The difference is the Schooner does them better. The oysters and shrimp are impeccably fresh, the chowder flavorful and spicy, and the fritters are actually worth eating. The mojo-marinated fish sandwich is great."
In memory of Romeo's visit to Schooner Wharf
They really summed up the Schooner Wharf in that comment. The menu is very extensive and ranges from breakfast through dinner and on to late night snacks. My favorite is the Drunken Shrimp. Cooking them in beer instead of plain water really makes a difference.
It's located on the wharf right next to where the Key West Flag Ship, The Western Union is docked. The Schooner Wharf Bar really is a taste of old Key West. Don't miss it next time you visit "The Conch Republic."
For more info:
http://www.crackersbarandgrill.com/
http://www.cabbagekey.com/dining/
http://www.riversideresorts.com/RiversideCrabHouse.html
http://www.bluepetespungo.com/
https://www.facebook.com/pages/Peace-River-Seafood-Crab-Shack-Market-and-Restaurant/199829513390384