It's not that I'm squeamish about staying in a centuries-old jail. It's just that I'd rather enjoy the comforts of a hotel.
This thought occurred to me as I toured Vieille Prison, known as the Old Prison, now a historic monument in downtown Trois-Rivieres, which is a Canadian city located between Montreal and Quebec City.
At this masonry jail-cum-tourist attraction, visitors can opt for a tour led by a former inmate. Michel, the tour guide leading me down hallways and in and out of cells, was incarcerated here in 1978 when he was 18 years old. His crime? Possessing 30 grams of marijuana.
I cringed at the plea that a prisoner had carved into a cramped cell's wall, and again I cringed when I saw the solitary confinement cell. The musty odor and the sterile, forlorn atmosphere were chilling. I wondered how many souls had known the oppressive isolation of this prison between its debut in 1822 and its closing in 1986.
A message on the wall of a cell at Vieille Prison (in Trois Rivieres)
The fact that I was in Trois-Rivieres was due to its location along the St. Lawrence River. I was on an exploratory mission to visit a few cities that border the St. Lawrence, if only for a one-night stay in each city. I regret having time to investigate only the downtown area rather than Trois-Rivieres as a whole, but what I saw was appealing.
I began my journey in Montreal and ended it in Quebec City. Oddly, what I remember most about Montreal and Quebec City is not the pedestrians livening the streets, not the great restaurants and attractions, but rather the reds that made these pretty cities pop -- the red blooms sprouting in local parks, red flowers for sale in stalls at local markets, reds on billowing flags above storefronts. Vibrant, vivid reds. Like a Crayola box on speed.
Trois-Rivieres seemed low key in comparison, an almost welcome change, at least for a day. As I was told, the city is so named because of its location at the confluence of the Saint-Maurice and Saint Lawrence Rivers, and the Saint-Maurice River appears to have three mouths. Thus, Trois-Rivieres -- three rivers.
July 4, 1776 remains the most cherished holiday for Americans. It was the birth date of their new nation, but July 4 belonged to Canada long before America claimed it. On July 4, 1634, a Canadian celebration took place --- the birth of Trois-Rivieres in the Mauricie region of Quebec. Because of its position along the St. Lawrence, the settlement developed into a vital fur trading center with a burgeoning population.
At the end of the 17th century, the Ursuline Sisters founded a convent in Trois-Rivieres. It was the Mauricie region's first school for girls. The Ursulines, founded in Italy in 1535, are an order of Catholic nuns devoted to teaching and care-giving.
Musee des Ursulines ( in Trois Rivieres, Quebec).
While strolling along rue des Ursulines, I found myself peering at, and admiring, a beautiful dome above an expansive, impressive gray and white building -- the Ursulines' monastery. They welcome visitors to peruse the exhibits at the Ursuline Museum inside.
The chapel with its statues and stunning architecture and frescoes, the Sisters' handiwork in textiles and ceramics, the convent garden, the permanent exhibition titled "Over 300 Years of Memory" that examines three centuries of community heritage -- they are an inspirational tribute to the selfless Ursulines.
The Sanctuaire Notre-Dame-du-Cap is another spiritual attraction in Trois-Rivieres. It is the second-largest Marian shrine in North America. Its history dates to the 1600s. Sanctuaire Notre-Dame-du-Cap opened in 1720 and is Canada's oldest church in which Mass is celebrated daily.
The church's basilica can seat 1660 people. Its dome rises to 125 feet and its jewel-tone stained glass windows are stunning, as are the church's gardens.
Trois-Rivieres touts itself as the once-upon-a-time world capital for the production of paper and pulp, two vital items needed for the existence and success of the newspaper industry, but we know that the huge growth of online newspapers has diminished newspapers' (and many magazines') print versions. This, in turn, diminished a need for the paper-and-pulp factory that once thrived in Trois-Rivieres.
Today, the filtration plant of Canadian International Paper (CIP), built in the early 1920s in Trois-Rivieres, is "Borealis, Pulp and Paper Industry Exhibition Centre," showcasing the history of the area's paper industry.
Borealis (Exhibition Centre), Trois Rivieres
The Centre offers an enlightening journey past machinery, descriptive panels, artifacts, and exhibits, and interactive opportunity. Get a close-up view of pulp fibers; feel the pulp in order to discover the connection between logging, lumberjacks, pulp, paper, factory workers and the community itself.
I learned how water is removed from pulp. It involves steam-heated cylinders. The paper sheet then passes through rollers that squeeze even more water from the paper. The exhibit reveals a lot more than this, and now that I'm armed with a greater understanding of the paper-making process, I no longer take newspapers for granted.
I even picked up an amusing morsel of trivia. Paper originated in China and was made from vegetable fibers until, in the year 105, a Chinese man observed women washing clothes, which gave him the idea to add woven fibers such as rope and rags, which created a more resistant grade of paper. Who knew? Maybe someday this will be a "Jeopardy" answer!
Many cruise lines offer cruises in the St. Lawrence region. This includes Fred Olson Cruise Line, Norwegian Cruise Line, Royal Caribbean Cruise Line, Holland America Line, Saga Cruises, and Crystal Cruises.
Cruising the St. Lawrence River is a serene and scenic experience. The river is fed by the Great Lakes. Flowing eastward for 745 miles, the river kisses the shores of Montreal, Trois-Rivieres and Quebec City.
In recent years, to accommodate a growing number of visiting ships, the Port of Trois-Rivieres created Hector-Louis-Langevin Park on the riverbank, built a pedestrian walkway to the park and debuted a new cruise terminal. It's lovely to stroll around Trois-Rivieres' waterfront.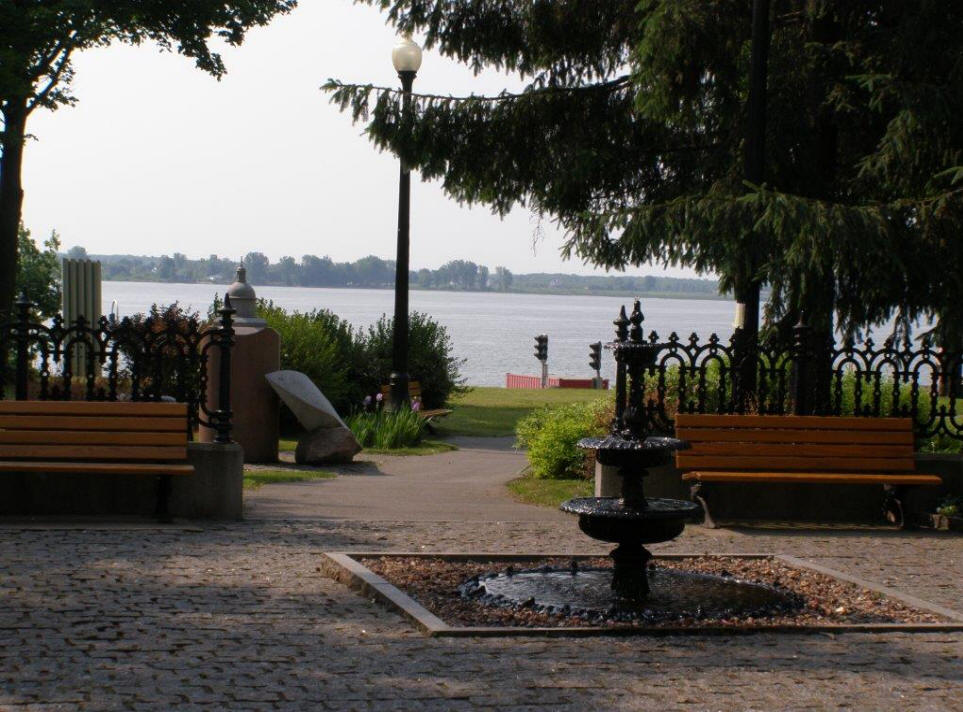 A view of the St. Lawrence River
In 2009, Trois-Rivieres was named the Cultural Capital of Canada, thanks to its Parisian-style cafes, historic sites and artistic venues -- street theatre, orchestra concerts, art galleries, museums, poetry festivals, a heritage trail, etc.
Speaking of art, as I leisurely strolled the streets surrounding the Musee des Ursulines, I came upon a sloped road, Cote Plouffe, with a long wall that had become a canvas for local artists. On the wall, they had painted an extraordinary fresco, La Fresque de Trois-Rivieres. Approximately 900 yards long, this painting is the largest of any historical fresco in Quebec.
La Fresque de Trois Rivieres (fresco)
Motorists drove by and bicyclists pedaled by, and I seemed to be the only one who noticed the long fresco. My guess is that the locals are used to this work of art and so they no longer "see" it. I, on the other hand, was smitten with it.
La Fresque de Trois-Rivieres illustrates the history of the city through its changing seasons -- its beginning as a fur-trading colony, its lumberjacks and other people, its industrial development and cultural influences, and the importance of the river. The artwork is beautiful, virtually an outdoor art museum.
I had a casual dinner at Sugar Shack Chez Dany, where the comfort food ranged from meat pies and salt pork to yummy pancakes. Sugar Shack Chez Dany is a restaurant inside a cabin with a rustic, wood-paneled dining space that reminded me of the dining room at my childhood summer camp.
I overnighted at the Delta Hotel Trois-Rivieres, conveniently located in the downtown core, and a brief walk to the riverfront. My comfortable guestroom was simply but tastefully decorated. The hotel has a restaurant, bar, spa, gym and indoor pool.
I'd jump at the chance to return to this hospitable city to explore the rest of it, because Trois-Riviere is tres enjoyable.
For information: http://Tourismetroisrivieres.com (800) 313-1123.