See map of this location

Travelers to the Adirondack find a wide range of lodging choices, from nationally known chain motels, to posh hotels, or, for those who like the more homey, friendly touch, bed and breakfasts. B & Bs abound in the region, nestled in the woods, along creeks or on hilltops. Each has its own character and special allure. Each has a unique story of how it was started, and of the people who poured their dreams into it.
In the Southern Adirondacks, near Lake George, one finds The Glen Lodge standing on a site where The Grove Hotel flourished as far back as the 1800s, set between the steel tracks of the old Adirondac Branch and the Hudson River. The Glen House, too, enjoyed a history of hospitality at that site. If that ground could speak, it would tell of ice jams and raging torrents that wrested the old covered bridge from its piers and swept it downriver, or of the early settlers who crossed in boats on their way north. It would tell of the glorious days for the Grove Hotel, of the railroad station, post office, the feed store and the sawmill that flourished here at one time, all long since gone. Perhaps the site was waiting to be rediscovered and resurrected when Doug Azaert arrived on the scene.
Doug grew up in Wilmington, North Carolina, and settled in the Adirondacks in 1982, teaching kayaking with some buddies. After a year or so, they realized that guiding rafters was more lucrative than teaching people how to paddle.
Speaking of those early days of the business, Doug said, "The first two years they did all the guiding, and I was just the chief cook and bottle-washer, and when I saw how much fun they were having, I knew I had to get in on that." The third year, he had his guide's license and joined the fun. That enterprise grew into Wild Waters Outdoor Center, a flourishing whitewater rafting business that also offers canoeing and kayaking. The business is headquartered at The Glen, a little settlement that spills over into the towns of Thurman, Johnsburg and Chestertown, where NY state route 28 crosses the Hudson and the Glen Creek flows into the Hudson.
The business was first housed in an early 1900s hotel-turned-youth-hostel known as The Glen House. Doug worked from season to season, enjoying the experience, but not sure where it would lead him. "I think it was not until the tenth year that I stopped mentally asking myself each fall what I'd be doing the next year." He had found his niche, and in the 1990s, on a blind date with a friend of one of his guides, he also found Aimee Paquin. Aimee explains that an old friend of hers, who guided for Doug, was soon to be married, and he and his bride-to-be had thought it would be nice if Doug had a date—Aimee—for their wedding. Well, it turned out that there was more than one wedding in Doug and Aimee's future. In 1997 they married, and she became an active participant in the business.
Changes were occurring in whitewater rafting in our region. Gone were the days when the clientele was limited to groups of men who came in the spring, played hard, drank hard and went home happy. Rafting became a family activity, and rafting companies extended the sport's season through fall, with summer becoming the most popular time. The weather is warmer, and rafters aren't huddled around in cold wetsuits. But with summer comes lower water, and lower water makes for more difficult rafting. More rocks are exposed, creating greater challenges for the guides. But with the extended season, which now runs from April to October, guides typically make eighty to one hundred trips downriver in a season, and have a chance to sharpen their skills. "People have found," Doug says, "that a rafting trip is a memorable way to celebrate a graduation or birthday, and even makes an outstanding bachelor party. Everyone is engaged in the activity, enjoying the beautiful scenery."
In the rafting business, safety is always the key issue, as guests are immediately made aware. Guides are all certified, having passed rigorous training and tests, not only in rafting, but also CPR and first aid. More than just guides, Doug's employees have learned that their role involves entertaining the guests, telling stories, sharing history and passing along information about the area.
In November 2000, fate forced a change. The Glen House burned to the ground. By the following summer, a new log structure had arisen from the ashes, to become The Glen Lodge and Market, a bed and breakfast with gift store, a business that was to become primarily Aimee's.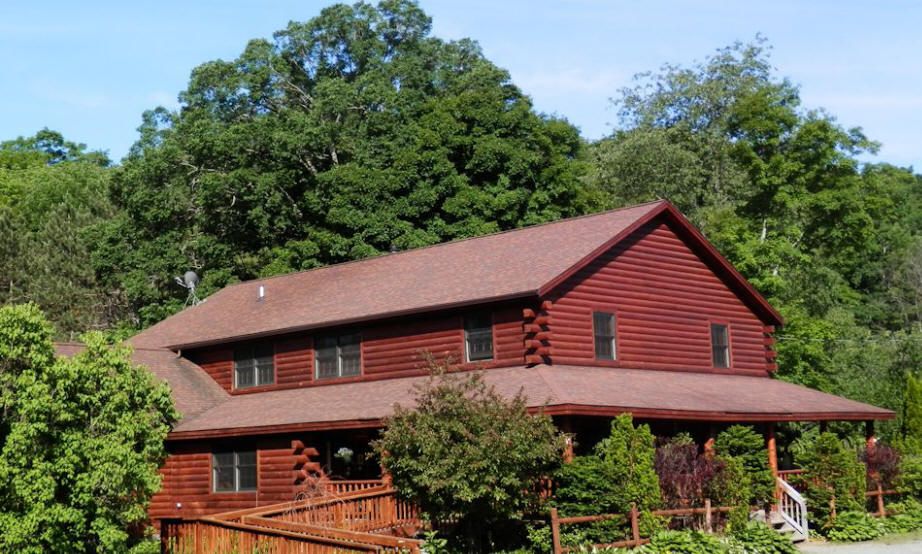 The cozy riverside B&B, with its cedar log furniture, colorful quilts and private baths, boasts many amenities its predecessor could not offer—features Aimee had learned were important to the changing tourist clientele. About sixty percent of the guests are Wild Waters clients, but the Lodge added a fourth season to the Azaerts' offering, serving as a perfect haven for skiers after a day on the slopes or cross country trails.
Guests of Doug and Aimee often are surprised and usually appreciative of the fact that they make efforts to operate "green" businesses. From kitchen to bathroom, bedroom to market, The Glen Lodge's household and laundry cleaning products are environmentally friendly, and recycling is a regular part of their day-to-day operation. Kitchen scraps are shared with a friend who raises pigs, and paper goods used for the rafters' dinners are biodegradable, and are composted. Aimee says their customers—if they are aware—like the idea, and many of them comment that they would like to "green up" their own homes a bit. She feels she gave up no advantages making the change to green products.
The Azaerts participate in National Grid's "GreenUp Program," buying exclusively electricity that is produced by wind power. "I think everyone should belong to the GreenUp Program," Doug says. "With wind power I know that none of my power bill payment is going to pay for coal. Who wouldn't?"
The Azaerts' two sons, Brent, aged 16, and Weston, 14, help out with the businesses. They both help out in the kitchen, landscaping, working in the store and outfitting rafting customers in the mornings. They are comfortable and poised way beyond their years, at ease talking with guests.
Neither Doug nor Aimee trained for the businesses they run so effectively today, but the attention to detail they exhibit shows enormous dedication. Doug will quickly admit that he just stumbled into the rafting business, learning as he went along. In addition to his state-mandated training, he quickly grasped the essentials of his trade. "It's not easy. It's important for a guide to always remember to stay focused on the job and the safety of the clients, and to be in good physical shape." He stresses that if someone wants to be a whitewater guide, he can't go into it expecting to just go out for a good time. "It's physically demanding, because you are lifting and loading heavy boats, and sometimes pulling passengers out of the boats or out of the water."
Aimee, trained in accounting but with some experience in the hospitality trade, mentioned that many people tell her they have dreamed of running a B&B. Although she loves her role as innkeeper, she explains that the job entails a lot more than a casual observer might realize. "The B&B owner is housekeeper, a cook, a concierge and a sales clerk, on duty twenty-four hours a day. You shouldn't attempt it if you aren't a 'people person,' someone who is very customer oriented."
It's clear that both Aimee and Doug are "people people," as well as entrepreneurs who understand the value of hard work and the importance of guarding the beautiful Adirondack environment in which they live.
For more info:
The Glen, 1123 Route 28 Warrensburg, New York 12885
Persis Granger organizes writers' retreats for those with works in progress who want a writing-intensive getaway with workshops, consultations and blocks of writing time, led by award-winning author Adrian Fogelin. Next offering Feb. 25 - Mar. 2, 2015.
See more at www.StGeorgeIslandWriters.com

Ads fund American Roads so please consider them for your needed purchases.
If you enjoy the articles we offer, donations are always welcome.
----------