When all 50 states join together for a celebration of craft, artisans and handmade in America, the echoes reach the far corners from small towns, rural backwaters to bustling cities. American Craft Week (ACW) surfaced about 7 years ago because there is so much creativity and excellent crafts produced in the U.S. but the industry did not have a special way to highlight the work. Not surprisingly Diane Sulg and Sherry Masters, the driving forces behind the event, live in North Carolina, an artisan state if ever there was one. Apart from all the town's celebrations listed on the ACW website, they also hold a vote in poll for the Top Ten Art Towns and this year a list of nominated "Rising Stars, 30 under 30" heralding young crafters on the up and up, will be announced later in the year.
ACW logo
ACW is a project of CRAFT (Craft Retailers & Artists for Tomorrow) and is held annually in October. This year it's an 'extended' week - 1-16 October, and why not? There is much to celebrate. The diversity of crafts made in every one of the 50 States, the US Territories and even some U.S. army bases aboard, is impressive. This is a snapshot of some of the creative places you should include in your trip planning during the October celebrations - and for that matter, all year long.
The Purple Pomegranate in Whitefish, Montana. Photo courtesy of gallery.
Remote and Big Sky aptly describe the lovely state of Montana. Nestled in it's Northern reaches is the picture postcard town of Whitefish, a self-described artisan town. Here you will find a gallery with the rather tropical sounding name of The Purple Pomegranate. There's a fabulous array of art and craft on offer and the place has character - including the two "owners," pooches Hardy and Symphony. I'll come clean, when I spoke to one of the owners, Ruth Lane, she did say I needn't mention Hardy and Symphony but as an animal lover, I couldn't resist.
During the ACW celebration The Purple Pomegranate will shine the spotlight on local jewelry artist Dona Miller. Miller works mainly with recycled silver putting some accents of copper and gold on various pieces. If she includes stone, they are either left in their natural state, polished, cut into cabochon or faceted. Miller credits her travels, learning about other cultures and their connection with nature and the spirit world as the main influence on her work
Montana artist Dona Miller at work in her studio. Photo courtesy of artist.
Delaware might be the second smallest state but it's big in art and Milford, in the center of the state focuses a lot of attention on the arts. In the historic district downtown artist Marcia Reed's Gallery 37 carries a treasure trove of fine art and crafts. Over the October celebration she will be highlighting a number of unique crafts, such as clocks made from found objects and handmade cigar box guitars.
The clock maker, Boss Brown Clocks, is well known Massachusetts artisan, Mark Brown. Brown and his wife, quilter Susan Brown, run their dual studio from a large studio behind their home. The eccentric artifacts that make up the clocks and the bright colors of her quilts make their two-story studio a wonderful place to create.
Musician David Reed not only builds the unique cigar box guitars but also plays them, is a songwriter/performer and was a founding member of Max Creek in 1971. The band is still jamming. Max Creek's music is also credited as an inspiration to bands such as Phish, moe and String Cheese.
Massachusetts musician David Reed's handmade 3-string cigar box guitars in Gallery 37, Milford, Del.
Not to be outdone, Mispillion Art League & Gallery, just across the street will also host various exciting craft events. There are mini workshops planned throughout the week highlighting a few of their member artisans such as Jack Camarote, woodcarving; Zelma Nicholas, Jewelry Designs; Bea Whitehead's Baskets and Pottery by Mimi Galligan and Maria Sadler just to name a few. The Art League plan to have their 13th Annual Fall Members show up in the gallery during the week. Plus there is an idea afloat to partner with the local craft brewery for fun and different craft ideas, including a Growler Decorating Contest and a sample night, where participants can sample craft beers as well as different art media.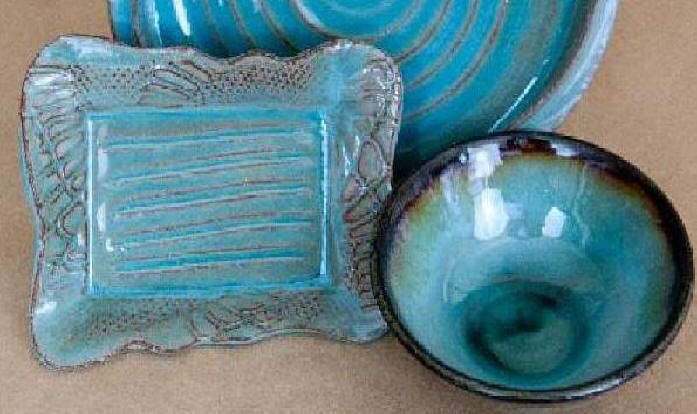 Pottery by Mimi Galligan at Mispillion Art League, Milford, Del. Photo courtesy of artist.
Further North in historic Newcastle, charming Penn's Place is run by Esther Lovlie with enthusiasm and love for her historic home. It's a coffee shop, crafts emporium and there's an outdoor area. It's a popular spot for food, wine, live music and theatrical performances.
This year they are creating an internship program to develop soft skills for budding high school art students, and also incorporate other departments within the school such as accounting students, to help build marketing and business plans. They will be welcoming William Penn High School students for the first internship. Students will bring in their own items to sell and work side-by-side with Penn's Place existing artisans to gain retail and work knowledge, while also allowing them to build their resume. This is an excellent educational experience to include in ACW.
Penn's Place in historic Newcastle, Delaware. Photo courtesy of Penn's Place.
Art is practically a way of life in New Orleans, La., and when a group of diverse local artists and artisans get together to run a co-operative, you get the vibrant and intriguing gallery, RHINO Contemporary Crafts located in The Shops at Canal Place. One of the missions of RHINO is education, so all the artists do demonstrations of their craft throughout the year and work with other non-profit organizations to bring the arts to the community. The quality and variety of the craft on display is excellent with artists such as Barbara Roberds, a mixed media artist and jewelry artist Maria Fomich on their roster.
RHINO Contemporary Craft Gallery in The Shops at Canal Place in New Orleans.
Photo courtesy of RHINO.
Roberds combines photography and recycling. Her photographic images are paired with pieces of salvaged architectural items, sealed to preserve the image, to form a unique piece of art. One of her favorite architectural elements to use is screen doors. Her eye is drawn to familiar images and many of her architectural subjects are of New Orleans. Some of her work focuses on the simple small town scenes reminiscent of her childhood days.
Carol's House - photos encased in salvaged wood by Louisiana mixed media artist Barbara Roberds.
A New Orleans native Fomich graduated from the Cleveland Institute of Art in Cleveland Ohio, with a degree in Jewelry/Metal Arts. She pulls inspiration from nature and culture for her jewelry designs. Her work is whimsical in form, expressive and often depicts a story of growth. She uses traditional metal smithing techniques from sweat soldering to cold joining to transform raw mixed metals into art.
Riveted cuffs by NOLA artist Maria Fomich at RHINO. Photo courtesy of artist
The Paseo Arts District in Oklahoma City, Okla., is home to 22 galleries within walking distance of each other on a two block street that has kept its Spanish revival architecture with original stucco buildings and clay roof tiles. Intermixed with galleries are several restaurants, art schools, art classes, boutiques and other businesses.
The galleries in the Paseo Arts District will join the ACW celebration with demonstrations in glass blowing, jewelry, pottery and other special events and exhibitions throughout the month of October. Highlights at A Jeweler's Art Gallery include Oklahoma artist James Huelsman. His 'Glyph Bracelet' is inspired by rock carvings and drawings made thousands of years ago. The piece was designed, forged and formed by hand, and the flush set diamond, ruby and sapphire stones add punctuation and dazzle to the intricate pattern. One of the driving forces for the area arts, is Sheridan Conrad owner of at A Jeweler's Art Gallery. She is working with the Will Rogers airport, to host an artwork exhibit at the airport. Conrad is also working with the metro libraries with an Outreach program for young adult services to exhibit work from the artists in many of the Paseo galleries.
Artist Gayle Curry's art can be found at Kasum Contemporary Fine Art in the Paseo's neighbor, the Plaza District. She has worked in variety of media and subject matter but she found encaustic wax has taken her to a new level of discovery in her journey as an artist. Curry says the fluid nature of encaustic, with its diverse character and individuality, is the ideal medium to capture unexpected concepts and emotions.
Glyph Bracelet by Oklahoma artist James Hueslman, Photo courtesy of artist.
An excellent place to start looking for something close by, go to the American Craft Week website. There are artists studios, galleries and organizations from all 50 states listed by state in their archives and for the current year. Their listing changes each year depending on who participates but it is a resource of magic. Also be sure to note the dates of the week long celebration, 7-16 October 2016, and go to any near you. It is a wonderful guide to support local arts.
Encaustic Monotype Flowers by Oklahoma City artist Gayle Curry. Photo courtesy of artist
BUSINESS INFORMATION:
http://www.purplepomegranate.com
https://www.facebook.com/Gallery-37-A-Destination-For-Artful-Living-367129096707339
http://tambouraproductions.com
American Roads and Global Highways has so many great articles you may
want to search it for you favorite places or new exciting destinations.