When traveling we savor new culinary delights. And now food tourism is big business. Cooking schools all over the world vie for attention.
You can travel to Italy or France for gourmet cooking lessons. There are workshops about healthy cooking at local rural retreats or refined dining at secluded B&B's. Top restaurants hold workshops. Micro breweries and distilleries have hopped on to the foodie tours, take the delightful Good Libations Tour in Kent County, Delaware. Everyone is trying new cuisines, new brews and unearthing delectable delights. Food tours range from taking a tour in a big city to a self-guided tour of a remote tiny island. Here are three choices of foodie tours I enjoyed from a large city, a small town and an isolated island.
Philadelphia Italian market street scene
Head to Philadelphia, Pa., the country's oldest Italian market is in the City of Love. Visiting the historic market is like stepping back in time and going back to Europe. Small shops line the streets and outdoor vendors jostle for space and hawk everything food related, from shopping carts to reasonably priced fresh fruit and vegetables.
Free Tours By Foot offers a tour of the market - there is no fee, you tip the guide as you see fit. Unlike most food tours, they do not have set samples at each stop. You buy what you wish at each stop.
Small section of Di Bruno's cheese counter
We visited a number of different shops from Anthony's coffee bar, a chocolate shop selling bacon covered with dark chocolate to Isgro Pastries, an old established family run bakery with a mouthwatering display of baked goods. They make the best cannoli I've tasted since Italy. I could have quite happily spent hours in Di Bruno's cheese shop sampling Humboldt Fog or their handmade burratini. Instead I just bought a huge amount of cheese to take home. There's also a shop on the tour with every kind of cooking utensils you can imagine. We enjoyed lively discussions with the guide, and visitors on the tour from overseas, about the myths and facts of a Philly cheese sandwich and inhaled the exotic aromas in a spice shop.
A delectable sample ready to leave the kitchen of the Peacock restaurant at 202 Dover
I'd recommend you take an easy to carry bag - it is impossible to do this tour, in fact this applies to any food tour, without collecting treats along the way. The variety of food on offer is truly a tempting range.
Easton & St Michael's, Md. are trendy, quaint small towns on Maryland's Eastern shore. One of the residents, Kathy Bernard, a host on 2 Boomer Babes the well-known radio show, and her husband, Bill, started Eating Easton and Eating St, Michael's a year ago.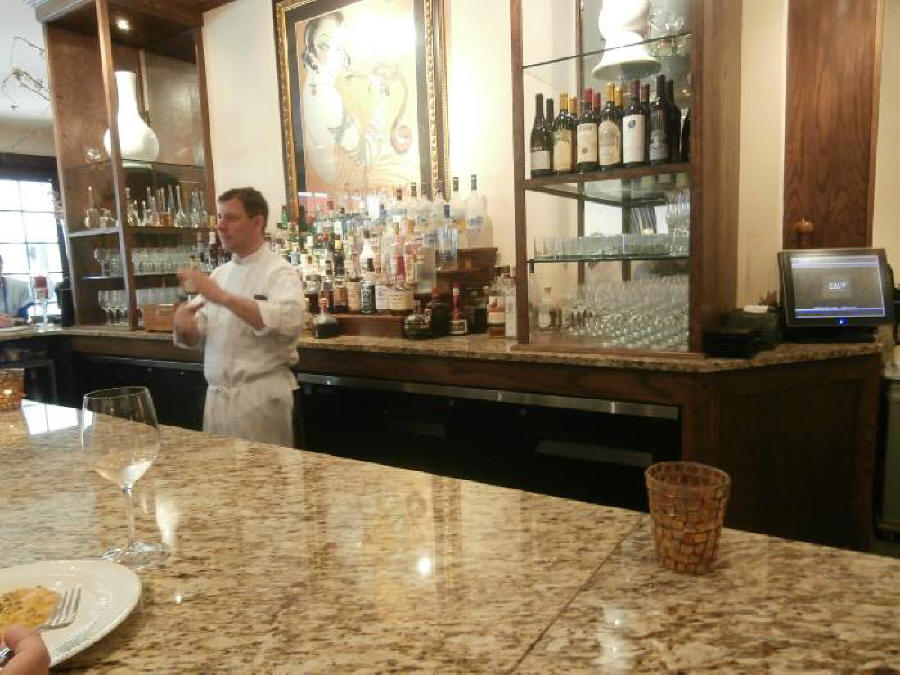 Scossa's chef Giancarlo Tondin explains how he came to Easton and his passion for food to the tour
A charming town, Easton, boasts a wide range of restaurants, pubs and a covered food market all within an easy walking distance. The tour starts with a quick look at the renovated theater in the center of town. The Bernards mix history and culinary facts as they guide the group to an interesting melange of food offerings.
They have a choice of places to stop and the day we toured we visited Out of the Fire for a gourmet sandwich and Scossa where chef Giancarlo Tondin gave a short talk on his culinary inspiration and then wow'ed us with a simple but delicious risotto. The Peacock Restaurant at 202 Dover St was a treat . It is in an upmarket B&B and it was interesting to see the old mansion restored to it's previous splendor. Apart from excellent samples of his food the chef took in to see his kitchen. We also stopped by Julia's, a new tiny sandwich place, and the food market. The market is housed in a historic market building and offers a wide variety of fresh vegetables and fruit to gourmet cheeses.
Crab traps on the side of the channel leading to Smith Island
Smith Island, a tiny island in the Chesapeake, Md. might seem a strange choice for seeking out local food. It's actually two islands but since there are only three hamlets it doesn't really matter. The hamlets are Ewell, Rhodes Point and Tylerton. Rhodes Point doesn't offer any eating possibilities, but Ewell certainly can.
Can you say crabs and Smith Island Cake? The crabs don't come much fresher and the cake is Maryland's official cake (who knew states had one?) The ferry ride from Crisfield on Maryland's Eastern Shore to Ewell, Smith Island gets you in the mood as you glide past marshes with tranquil scenes of water birds and rippling sea grass.
Ruke's crab cake - we're talking serious crab cake here
There are only two restaurants in Ewell - Ruke's, a colorful, rustic shop with a screened in porch and camping tables and the Bayside Inn Restaurant. I CHOSE to eat at Ruke's and was glad I did. I had the best crab cake I have ever had in my life. And the crab shacks were right next to the porch in the marsh. That is fresh crab.
The nine layer cake – white cake with chocolate icing – is highly regarded and while I think it's quite tasty, I never have been able to rave about it. I decided both establishMENTS should get my few dollars however, so I indulged in a delicious ice cream from the Bayside Inn.
The nine layer cake - white cake with chocolate icing - is highly regarded and while I think it's quite tasty, I never have been able to rave about it. I decided both established should get my few dollars however, so I indulged in a delicious ice cream from the Bayside Inn.
Ruke's restaurant has loads of character and perfect crab cakes
It's a place to find peace and quiet for a day or two, you will sample the traditional way of life and food. And take your sketch book, scenes waiting to be painted abound. There are a couple of Bed & Breakfast Inns and they fill up quickly. The islands are dry, so be prepared, and be mindful of the locals if you do bring some alcohol in. I'd check with the inn keepers first.
One of the intriguing aspects is the local dialect. Listening to a couple of locals chatting makes you think you might have been transported back to Cornwall. It's totally tranquil, rustic and charming. I highly recommend a trip to Smith Island for the crab, the cake and the serene atmosphere. Truly a rare find in this modern world. But it just shows... if you search out of the way spots, you will discover local culinary treats as good as any big city.
Bon appetite!
BUSINES INFORMATION:
http://goodlibationstour.com
http://www.freetoursbyfoot.com/philadelphia-tours/food-tours
http://www.eatingrehoboth.com
http://www.eatingeaston.com
http://www.visitsmithisland.com