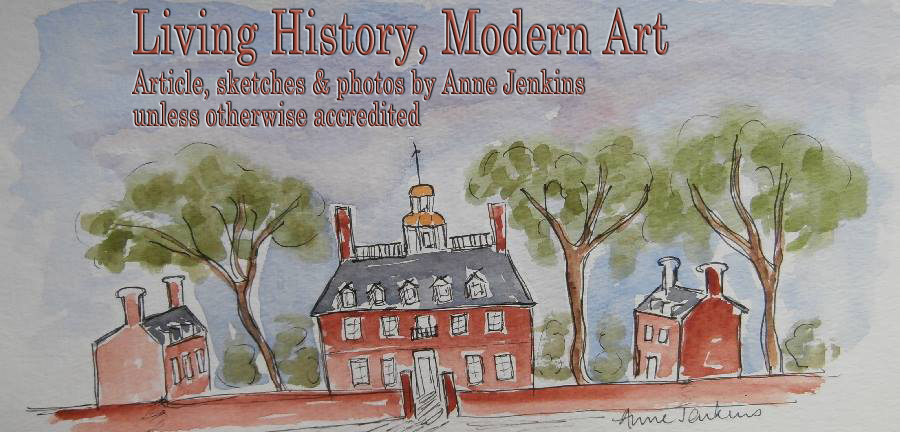 Conjure up a trip to Williamsburg, Va., and history immediately springs to mind. The neatly restored town perfectly chronicles the early history of the United States, complete with docents dressed in period costume and dusty wide streets. And while it is very essential, interesting and educational to 'live' history, there is another side to Colonial Williamsburg. An exciting and modern arts and crafts industry hides in plain sight in in the area.
My sketch of a section the quilt display at the Folk Art Museum, I definitely took artistic liberty.
An imposing building off on the side of the town, set apart by an expansive lawn, is the Abbey Aldrich Rockefeller Folk Art Museum. It is a large building housing many galleries but none of the galleries overwhelm. They are just the right size and contain wonderful glimpses in to the many genres of folk art.
At present on exhibit is an emotional and dazzling display of African-American quilts. There are about 12 quilts on display, each with a photo and a short history of the quilter. The ages of the quilts range from 1875 to present day and are rich in texture, color, pattern and history. The lighting and display encourages sitting and contemplating the lives of the artists and their dazzling quilts. You will be filled with admiration and awe.
My sketch of the delightful carousel in the Folk Art Museum.
Equally delightful to all children from 8 to 80 is "Down on the Farm," an exhibit which follows the adventures of Prince, a carved wooden dog, illustrated with bright cheerful paintings, glorious hand drawn children's books and much more. In other galleries the detail and history of a hand carved carousel featuring a cat, a camel, an ostrich and a pig or doll houses to take your breath away and keep you lingering far longer than you imagined.
The Quirks of Art is in a modern shopping plaza. Be sure to check out the clever and delightful
wind chimes in front of the store. Photo courtesy The Quirks of Art.
The exact opposite of historic buildings is the modern plaza of shops where the irresistible The Quirks of Art is housed. The cheerful brainchild of entrepeneur Jennifer Raines is filled to the artistic brim with objects to make you happy. I defy any one to wander through and not burst out laughing at some stage. The humor is rich, whimsical and quirky and I am not making light of it, 90% the art she carries comes from some of the nations finest artists and crafters.
Jenn Raines knows her artists and the work they do. It is interesting to hear her stories.
It is a happy place for young and old, connoisseur art collector or a just for fun, why-ever-not type of purchase. Don't miss seeing the wind chimes outside.
Jenn Raines owner of The Quirks of Art arranges some of the merchandize.
Photo courtesy of the Quirks of Art.
Not the sort of person to focus only on one thing, Jenn Raines is a founder of the highly successful Winter Blues Jazz Fest, a four day event held during the month of January. Although it only has a couple of years under it's belt, the festival has drawn large crowds during the quiet winter month with excellent performers. One of the co-founders is a chef, so there is the added attraction that some of the venues include wineries, breweries or restaurants. The 2017 festival is scheduled for January 12-15, 2017, make a note on your calender.
Owner Beverly Burgdorf with some of her art in Colonial Folk Art Museum
Folk art finds a home in the charming Colonial Folk Art Studio & Gallery tucked in a corner of the arts district. Owned and operated by Beverly and Davie Burgdorf, it is a combination of their talents and inspirations. Beverly is an accomplished artist and Davie has a passion for old books and maps.
The gallery is a treasure trove of some of the great outsider and folk artists such as Howard Finster. They also have four pieces by the late reclusive Agnes Robertson of East Aurora, N.Y. plus they feature local artists. Beverly Burgdorf knows her subject and her artists well and with folk artists there is always an interesting tale to be told.
The studio space at Colonial Folk Art Studio with 2 pottery wheels in the back.
There is a large airy studio in the back with two pottery wheels tucked behind a large table for workshops. Colonial Folk Art Studio offers classes in mixed media and pottery - Ms Burgdorf is an art teacher with a BA in Studio Art from Converse College. Artists can rent studio time over a set monthly time or just pop in for a few days. For instance, if you are staying in a time share for a week, you can make your own pottery piece from scratch and take it home.
"You can throw the clay Monday, I have it in the kiln that night, You paint it Wednesday and I fire it again." Ms Burgdorf explained. "And then you can take it home Saturday. People love the idea because it's so unique."
And some folks stay for much longer and find renting the studio very attractive. When I visited, Cela Laughlin of Michigan was working on one of the wheels. I asked how she landed up in Williamsburg. She told me they were looking for a place to spend the cold winter months away from Michigan and saw the studio for rent online.
"It's perfect. My husband practices his photography,' Ms Laughlin said. "And I get to play with clay every day."
Cela Laughlin of Michigan works a pottery wheel at Colonial Folk Art Studios
There are myrid arts events through out the year to enhance your visit, from the Williamsburg Spring Arts Festival which runs from end of March through the end of June to the Winter Blues Jazz Fest. Also seek out other galleries and studios. When you visit Colonial Williamsburg, immerse yourself in history - it's hard not to, but also, do take time to search out the arts. You will be so glad you did. And you might even get to throw a pot on the wheel and take home your very own piece of Williamsburg art.
BUSINES INFORMATION:
https://www.colonialwilliamsburg.com/do/art-museums/rockefeller-museum
http://www.winterbluesjazzfest.com
http://www.virginia.org/Listings/Events/WilliamsburgSpringArtsFestival
http://www.visitwilliamsburg.com
American Roads and Global Highways has so many great articles you may r>want to search it for you favorite places or new exciting destinations.