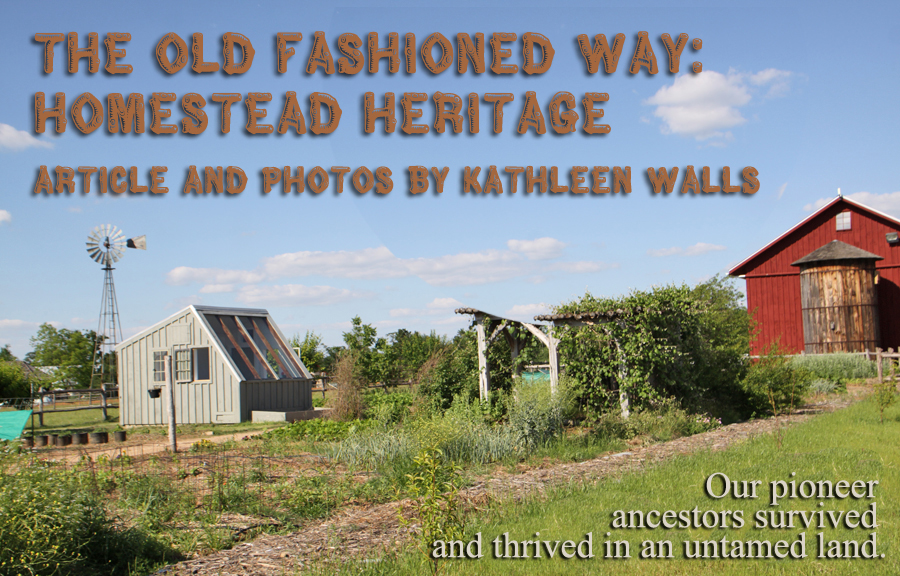 They did so because they were not dependant on anyone else. They grew their own food, made their own furniture and household items and learned to use what nature provided.

Homestead Heritage, a 510-acre homesteading community. on the Brazos River near Waco, Texas is emulating our forbearers quite successfully.
The community actually started in New York in the section known as
Hell's Kitchen. In 1973 the members began to get books and begin to learn this lifestyle. They moved to Texas and began Homestead Heritage. Many of the same people are still with the community.

The gift shop/visitors shop in a old barn.
We drove in and started our tour at the Visitors Center, a 200-year-old chestnut and oak log cabin originally built by Dutch settlers in New Jersey. It is still held together by the original mortise and tendons and secured with oak pegs instead of nails. Inside you a taste of what you will see throughout the community. All of the handcrafted objects you see are lovingly made by members of the community.
Nearby is their Cafe Homestead. The members built it themselves. Joe Slack, who was our guide on the Homestead explained how they kept the rustic appearance but made the building efficient and snug. He told us, "If you look closely, you can see that the logs are smooth on three sides so that the bottom and top stack well and the inside makes a flat wall and the outside is left natural."
Joe is a multitalented man. He builds and teaches guitar making as well as owning and operating the Red Wagon Barbecue trailer near the front entrance of the Homestead.
We ate there after our tour and the food was fantastic. Much of the items are either grown or baked here on the Homestead and others are locally produced. The cheese was especially good. Our waitress told us their homemade cheeses won first, second and third place in the 2011 Cheese Festival in Montreal.
Is that a gorgeous cheese plate?
Every old village had its blacksmith and Homestead Heritage is no exception. Caleb was quite serious about his desire to be a good blacksmith. He wanted to learn to make axes but no one in this country could teach him. He had to go to Sweden to learn. We saw a few of his hand made axes and agree, he learned well. He was hard at work at his forge when we entered the shop. He demonstrated for us by making an beautiful handmade nail.
Blacksmith and assistant making tools
Our next stop was the 1760s gristmill. It was in full production mode when we entered. Joe explained the workings of the mill which is water powered. He told us, "We grow some of our own wheat here. We do 18 kinds of grain here. The wheel is over 200 years old."
| | |
| --- | --- |
| | |
| The water powered gristmill | The water turns the wheel |
The spinning and weaving building was really enlightening. They grow their own flax to make linen. They even grow colored cotton. One of the weavers showed me a boll of brown cotton and told me they have planted a small patch of green cotton for next year. They do it all, spin the thread, weave the material and create a beautiful piece of fabric art.
| | |
| --- | --- |
| | |
| A weaver hard at work | A sample of brown cotton |
The woodworking shop turns carpentry into an art. The furniture that they make is simply beautiful. Joe explained, "Most of the work is done with hand tools not power ones."
Someof the items created in the woodworking shop
Their pottery is another example of turning an everyday utensil into an objet d'art. One item that caught my eye was their sauerkraut fermenting crock. It had a trough under the lid that you filled with water to prevent insects from entering while the cabbage was turning into sauerkraut. They use a wood fired kiln and get a beautiful glaze on their pottery.
A potter creating a work of art
Homestead Heritage offers classes in most of the crafts you see here so that if you wanted to build a chair or weave a blanket you could find a class to fit that skill.
What is most impressive to me is the agricultural setup. Every place you look that is something planted. There are flowers and beautiful bushes but so much of the space is used for edible plants. Joe, explained "most of the residents have their own home gardens ." Along with the normal herb gardens, vegetable beds and fruit trees, there have a very elaborate system of aquaponics going on here. Aquaponics is a cross between aquaculture and hydroponic. It's one of the newest things in the sustainable movement but has ancient roots.
A portion of the farming operation
Aztecs, Chinese and many ancient cultures practiced this system where the waste products of their farmed fish supplied nutrients for hydroponically grown plants, which re-purified the water that is then returned to the fish tanks. This is the ultimate recycling operation. The aquaponics greenhouse at Homestead Heritage contain multiple plant beds and a 4,500 gallon main fish tank. It was the first time I ever saw such a system in practice and I was impressed.
Another method well know to the Native Americans is companion planting. The folks at Homestead Heritage have made a study of this and know which plants complement each other.
The wicking beds
The Homestead Heritage stages two big festivals; Thanksgiving weekend and Labor Day. Either of these time is great to visit and get an overview of the settlement. They are also open year round to visitors Monday through Saturday from 10 A.M. to 6 P.M. Throughout the year they average about 60,000 visitors.
There is a religious aspect to this community but that is not an important aspect when looking at this place as an agritourism experience. I spoke with Joe about this. When I asked him about a person who might want to live and work at Homestead Heritage but not want to join the religious part he said in effect that it was not possible without a commitment to both the lifestyle and the religion giving as his reason, "It's all connected. We all need to be like minded."
I would not feel comfortable with any religion telling me how I was supposed to think, dress and live but as a visitor and observer, you can learn a lot about survival and the healthy way to grow crops at Homestead Heritage. It's well worth a visit.
For more info: