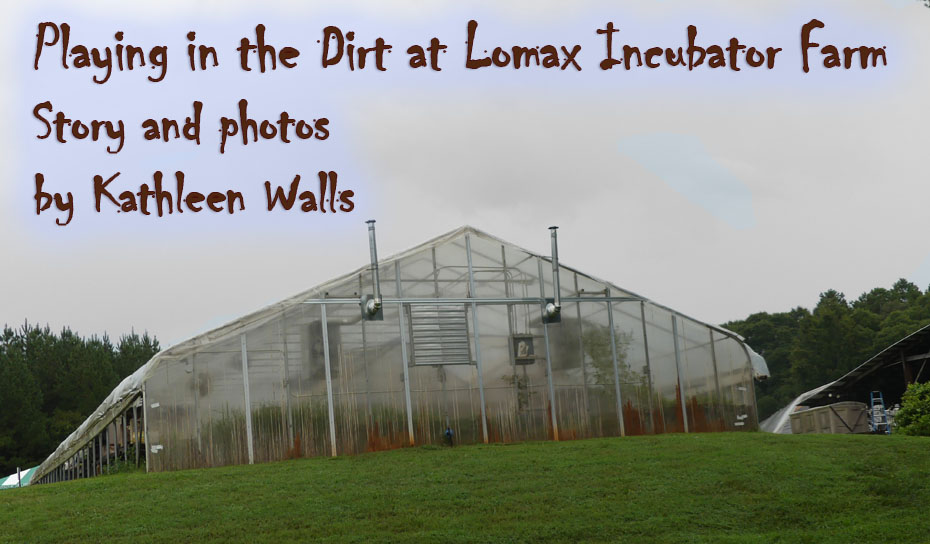 Would be farmers in Cabarrus County, North Carolina have an opportunity to get their hands dirty at Elma C. Lomax Incubator Farm. This is a unique opportunity for local Farmers-In-Training (FITs) to learn what it takes physically, emotionally, and financially to become a farmer. It allows them to rent cheaply, make mistakes in a safe place, and learn from them, in order to spin out into their own place. It's in its eighth growing season.
Aaron Newton shows some of the equiptment available to F.I.T.s
Aaron Newton, farm coordinator for Carolina Farms Stewardship Association (CFSA), explained the operation to us and introduced us to several F.I.T.s ranging from brand new to some already owning their own farm. Lomax Farm is a project of CFSA which is an almost 40 year old joint project of North and South Carolina to aid farmers. Aaron told us, "In 1950 a third of the population were farmers. Knowledge was passed on intergenerationally. Today it's only 2%. Who's going to train new farmers?"
The answer is incubators like Lomax Incubator Farm. In 2014 CFSA took over management of Lomax Farm from Cabarrus County. It offers a prospective farmer a way to lease a plot of land and use the needed equipment plus training at a much cheaper rate than starting out on their own.
Shelly Stanper explains her dreams
Shelly Stanper is brand new and will sign her lease this October. She told us "I have been playing around with a field where I'm growing a few vegetables and flowers." She will start with three 125 foot rows, acre wise about a 10th acre. She got into it because she loved cooking food and wanted to become more involved. "I want to be part of healthy food becoming more common."
Taylor Bryan will be new F.I. T. in October also. Her aim is growing mainly flowers for local florists She is a full time nurse at Charlotte Hospital in Obstetrics but she is hoping to transition completely from nursing to farming.
Bryan Rouse and Ben Street tell about their life as F.I.T.s
Bryan Rouse is in his first full season. Vegetables and flowers are his produce and currently his market is in nearby Huntersville but he is planning to start marketing in Cabarrus. He recently added a new plot here and will have a larger one next season. He got into farming when he started researching into the food treated with chemicals and genetically grown; he saw it was happening for real. He wanted to grow good food instead.
Dylan Alexander is already in his third year. He has the largest acreage here, about an acre and a quarter, and also has purchased his own farm, Alexander Acres. He produces seasonable vegetables and mushrooms. He is currently selling at farmers market and a little to restaurants. He had always been a back yard farmer but when he was diagnosed with MS about 12 year ago, things changed. He felt, "I wasn't happy with the treatment. Medicine made me feel worse. I tried changing diet and felt better; no processed food and good fresh food."
A few of Ben Street's seedlings in the greenhouse
Ben Street grew up in the DC area with no farming background. However he was interested in fitness. At the time he was working in front of a computer all day. He decided he wanted an outdoor life and began searching for a farmer to work with and learn about the business. Joe Rowland, of Rowland's Row Family Farm, took Ben on and as Joe was a former F.I.T. himself, advised Ben to apply to Lomax. In 2015, Ben became a F.I.T. He continued his day job planning to work it one more year while he saved enough to start his farm. He moved into a pop-up camper to save on rent money. Then unexpected tragedy struck. He lost his younger brother to drug addiction. The tragedy made Ben realize the fragility of life and he quit the day job and threw himself into farming wholeheartedly. He is now a graduate F.I.T. with his own farm, Street Fare Farm. His onions were featured on A Chef's Life season four premiere.
Allan Blake shows you're never to old to pursue a dream
Allan Blake no longer has a plot here but still volunteers to help the other at the farm. He has five grandchildren and said, "I want to give them good healthy choices." He has a five and a half acre farm with a pond on it called 'Mators and More. He grows mostly tomatoes thus the name.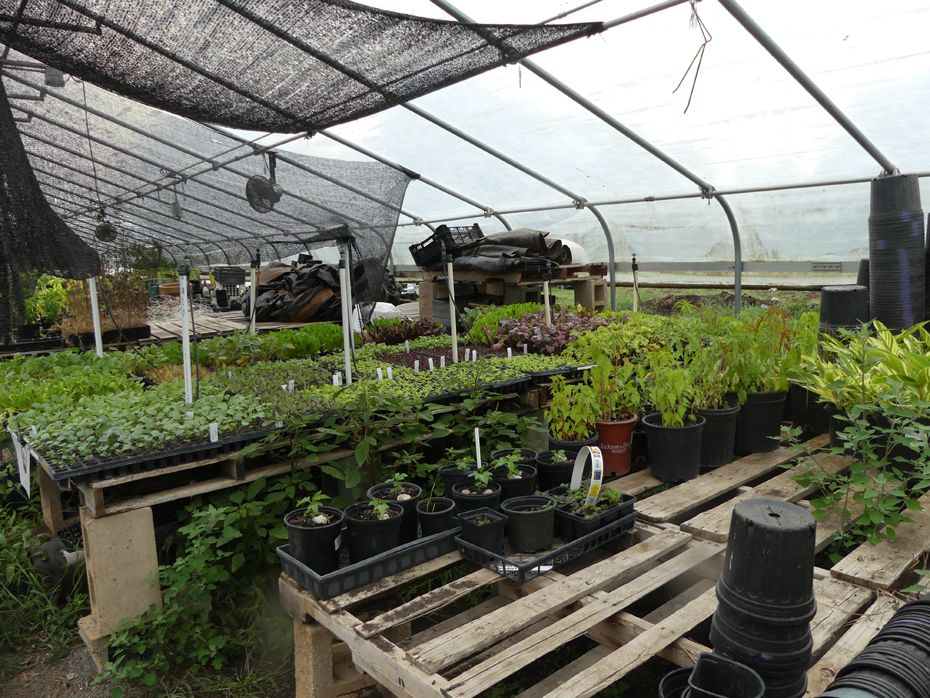 The greenhouse at Lomax
Coming in as a F.I.T. to Lomax Farm, they have to face some hard facts and a stiff training course. Aaron explained, "About 75% of farm families have off farm income. It's hard to make farming a fully paying proposition."
These F.I.T.s are highly motivated. They have to have a production plan looking about 18 months showing what they will grow, how much, where they will plant it, and where they will market it. Seven farmers will sign leases in Oct.
When asked in light of the hard life farmers face for so little compensation, we asked why they want to be farmers. Bryan summed up the answer for all of them, "It's not about us. We're growing food for people who don't have access to high quality food. That's what I'm trying to grow There's days when we are getting bitten by fire ants and stung by bees. I look beyond that, I'm just trying to grow food that people don't have to worry about what we put on it or what we plant."
If you have any interest in farming or even in seeing the difference between chemical laden processed food and fresh, clean food, you should visit Lomax Farm and talk to these dedicated people. It's best to call and make an appointment if you want to tour the farm.
Forget Superman and Wonder Woman, maybe we should envision this new generation of farmers as our latest superheroes.
For more info:
https://www.carolinafarmstewards.org/lomax-farm/