Pie Customs Around The Country
By Mary Emma Allen
As I study recipes and travel the country I find various customs involving pies...the types made and the times they're served. For instance, there is Pecan Pie in the South, Key Lime Pie in Florida, Strawberry Pie in season, Mock Apple Pie when you can't acquire apples, Vinegar Pie a pioneer hand down in the Mid West.
Pie for Breakfast
However, in New England, I've found pie for breakfast.
"Pie for breakfast!" people have exclaimed when I've mentioned this in other parts of the country. Not that this is a regular occurrence for us, but pie, especially apple, is an old New England tradition.
Farmers in "olden days" worked several hours before breakfast, so they were ready for a hearty meal when they came into the house. Apple is the one I've come upon in my research that's mentioned most frequently as breakfast pie. However, I'm sure other types were prepared.
It's said, when Ralph Waldo Emerson was questioned about the New England habit of pie for breakfast, he responded, "What is pie for?"
Various Types of Pies
Pie, according to definition, is a baked food composed of a pastry shell filled with fruit and usually topped with a pastry crust. You also can have a filling of meat, cheese, eggs or other ingredients.
Main dish pies consist of meat and vegetables, with quiche a variation on this. The English have long favored meat pies and refer to dessert fruit pies as tarts. The pie baking custom, both main dish and dessert type, was brought to this country by the colonists.
Neighborhood Pie Breakfasts
This food has found its way into our culture in pie eating contests, pie baking contests, pie tastings, and pie breakfasts. I recently heard of a neighborhood tradition of an "after Thanksgiving" pie breakfast, but you can institute it at other times as well.
For this, one invites neighbors, family and friends to breakfast the morning after Thanksgiving Day (or other holiday) for an enjoyable time of conversation, pie, pastries, and perhaps an egg type casserole, along with orange juice, coffee and tea. This also may be a way to use up leftover pies from holiday dinner. Each person can contribute something for the breakfast, sort of potluck st ye.
If morning isn't a convenient time, why not organize this as an afternoon affair? It could be a tea and pie social or open house when family members, who didn't attend your holiday dinner, can stop by and visit.
Or plan a luncheon, with everyone bringing pie and some other potluck type of dish. There are many variations to this as a fun time...throughout the holiday season.
What's Your Favorite Pie?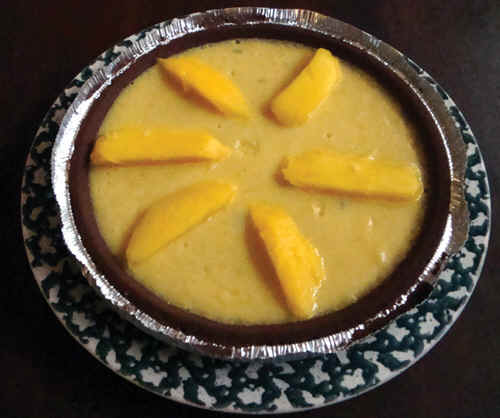 Key Lime Mango with a Choclate Graham Cracker Crust Pie
Photo credit Kathleen Walls
Even though apple pie is a traditional one for New England, whether eaten for breakfast or other times of the day, there are so many other varieties. My husband enjoys chocolate pie (deep, dark chocolate) along with apple. Strawberry rhubarb in season is another one favored, as well as his mom's recipe for strawberry pie.
Refreshments, after I taught a class in "Writing Your Family Stories" at a friend's home recently, consisted of lemon meringue pie. This was just as I liked it, with a tangy lemon filling, not a bland oversweet one.
Jim's Favorite Chocolate Pie...Chocolate lovers would enjoy this for breakfast!
Mix together 1/2 cup sugar, 2 3/4 tablespoons cornstarch, 1/4 cup cocoa (dark chocolate powder for cocoa), 1/8 teaspoon salt. Add a little from the 2 cups milk and stir mixture until smooth. Then add remaining milk gradually.
Cook in a double boiler or microwave until thick and smooth, stirring frequently while cooking. When thick, beat with an egg beater or wire whip for two minutes; then stir in 1/2 teaspoon vanilla. Pour into an 8-inch baked crust. Serve with whipped cream.
(c)2012Mary Emma Allen
(Mary Emma researches and writes from her NH home. She writes for children and adults and enjoys teaching workshops on "Writing Your Family Stories." E-mail: me.allen@juno.com )